Coastal Commission dedicates interpretive panel at lagoon to its founder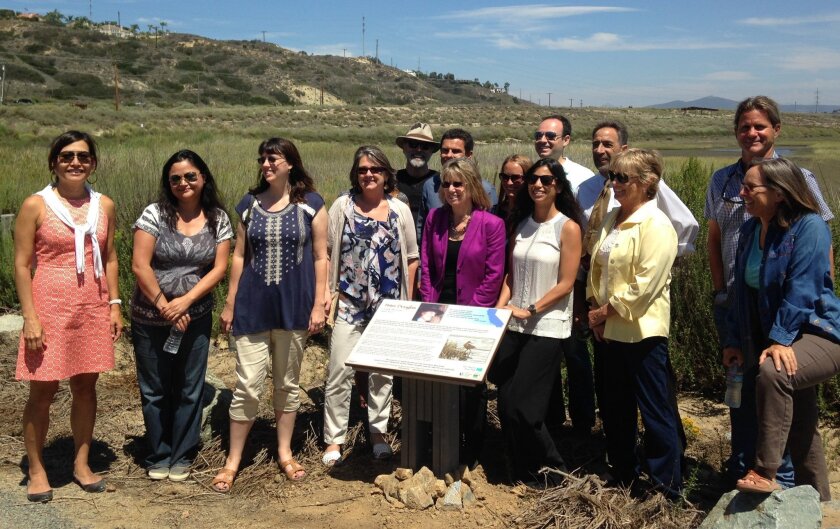 The California Coastal Commission recently unveiled an interpretive panel honoring its founder, the late Peter Douglas, at a trail entrance overlooking the San Dieguito Lagoon off San Andres Drive in Solana Beach.
For more than a quarter century, Douglas fought to preserve the state's 1,100-mile shoreline. He was the principal author of the grass-roots proposition that created the California Coastal Commission in 1972 and led to the subsequent Coastal Act in 1976. Douglas later served as the executive director of the commission, a position he held from 1985 until he retired from his post in 2011 after his lung cancer diagnosis.
Douglas died in April 2012. He was 69.
"He was a major influence in my life," said Del Mar Councilman Dwight Worden. Worden worked closely with Douglas when he served on the commission as a governor and president of the senate appointee.
Worden, who spoke at the Aug. 11 ceremony, recalled gathering signatures for California Proposition 20, which passed in 1972 and established the commission.
"He was much more than that wetlands," said Worden, an attorney with a background in environmental, government and land-use law. "He really was a living, breathing example of how good government could be when it was done right."
On a local level, Douglas also played an integral part in the restoration of the San Dieguito Lagoon, beginning with the designation of San Dieguito as the appropriate location for Southern California Edison's mitigation measures to offset impacts from its San Onofre Nuclear Generating Station.
"Peter held fast to his and our and other supporters' convictions that the funding should be used to complete a viable wetland project in one place — San Dieguito," remembered Trish Boaz, executive director of the San Dieguito River Valley Conservancy.
"It was at this famous Coastal Commission meeting that lasted past midnight that the commission approved the San Dieguito wetlands project — and therefore very fitting that (the interpretive panel at) these wetlands be named in honor of Peter."
More than 40 people attended the dedication ceremony. Speakers included Boaz and Worden, as well as Don Mosier, Del Mar councilman and chairman of the San Dieguito River Park Joint Powers Authority board of directors; Peter Shapiro, San Dieguito River Valley Conservancy president; Adam Birnbaum, Del Mar planning manager; Serge Dedina, Imperial Beach mayor and executive director of Wildcoast; Susan Hansch, Coastal Commission chief deputy director; Diane Coombs, former executive director of the JPA; and Jacqueline Winterer, Friends of the San Dieguito River Valley vice president.
---
Get the Del Mar Times in your inbox
Top stories from Carmel Valley, Del Mar and Solana Beach every Friday for free.
You may occasionally receive promotional content from the Del Mar Times.