Glamour takes the lead for new Del Mar fall racing season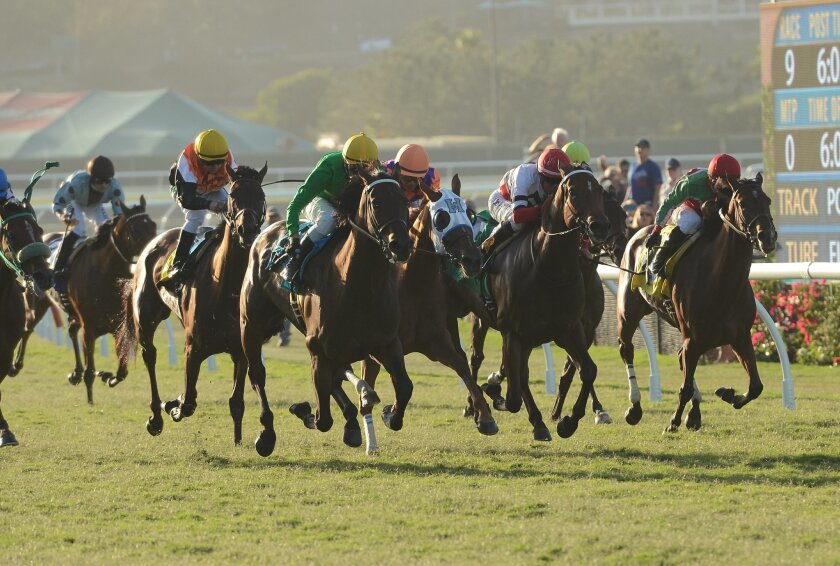 For Del Mar's fall meet, Hollywood is taking center stage.
The seaside oval is clearly defining its new "Bing Crosby Season" with a focus on vintage glamour and races that bear names of celebrities from years past. It's an homage to Crosby, the singer/actor who founded the track in 1937.
"We knew that this season would not be the same as summer, so we went for a whole different marketing plan," explained Chris Bahr, director of events and promotions.
DEL MAR RACETRACK 2014 FALL SEASON
Dates: Nov. 7-30
Where: Via de la Valle and Jimmy Durante Boulevard
Post time: 12:30 p.m. Thursdays and Fridays, noon Saturdays and Sundays, 11 a.m. Thanksgiving Day (Nov. 27); gates open 1 ½ hours before first post
Admission: $6 (Stretch Run and Clubhouse); free for children 17 and younger
Parking: $10 General, $20 Valet
Info: 858-755-1141, dmtc.com, delmarscene.com
Del Mar concert schedule:
Nov. 15: Reggae Fest with Iration
Nov. 29: Cake
The 15-day run kicks off Nov. 7 and concludes Nov. 30, with live racing action Thursdays through Sundays. Del Mar's famous blue-and-gold summer color scheme will give way to black and gold, and staff members will don classic black vests and white shirts instead of the carefree palm-tree patterned gear.
Because Del Mar absorbed racing dates from the shuttered Hollywood Park in Inglewood, it also picked up several of its major stakes. Among them are the $300,000 Hollywood Derby and the $300,000 Matriarch, both Grade I events, which will be held Thanksgiving weekend.
"We're going to have a strong emphasis on turf racing and 2-year-olds," said David Jerkens, Del Mar's racing secretary. "We'll be reaching out to European interests and out-of-state stables to add some special spice to the meet. Our Thanksgiving weekend includes a half-dozen major grass races, which should be well-received by our local horsemen, as well as an incentive for any outfits that are willing to ship runners."
And in keeping with its Hollywood theme, Del Mar has renamed several of its stakes to honor show-biz stars who had roots at the track. For instance, the Hollywood Prevue Stakes is now the Bob Hope Stakes, and the Cat's Cradle Stakes will be known as the Betty Grable Stakes.
New season, new events
Del Mar's fall meet will commence with a Vintage Hollywood Fashion Contest on Opening Day (Nov. 7), a concept similar to summer's One and Only Truly Fabulous Hats Contest, with prizes awarded in various categories.
Next is Track Diva Day, slated for Nov. 8. Women can spend the day with hostess Joanne Jones in the sixth-floor Seabiscuit Skyroom, which offers picturesque views of the ocean and racetrack, and listen to special guest speakers such as jockey Kayla Stra. The $75 admission includes a gourmet buffet, no-host bar, private mutuel clerks and self-service terminals, free parking, a program, raffle, trips to the paddock, an opportunity to watch a race from the winner's circle, and a group photo. For reservations, call 858-755-1141, ext. 3427; seating is limited.
On Nov. 15, the track will host a College Day Tailgate Party, which college students can attend free with a valid student I.D. Festivities will be held in the concert area west of the grandstand.
Before sitting down to a big turkey dinner on Nov. 27, families are invited to participate in the Thanksgiving Family Mile Fun Run, which benefits the Helen Woodward Animal Center.
"We're trying to start a tradition," Bahr said.
Participants will run one lap around the racetrack and finish with their photo taken in the winner's circle. Bahr said many jockeys are expected to take part in the event. Once the fun run is finished, Helen Woodward will hold a "Puppy Races Rescue Run" and will offer pets for adoption.
Those who sign up for the fun run will receive free parking, racetrack admission and a T-shirt. There will be prizes for children, an opportunity to make hats, face painting, holiday crafts and entertainers. The cost is $20 for adults and $8 for children who sign up by Nov. 13; it's $25 and $10, respectively, after that date. Register at delmarfunrun.com.
Several activities are planned during the meet's final Saturday, on Nov. 29. In honor of Movember — which raises awareness of men's health issues — those who have mustaches will be able to enter the track free. And during the Gala Parté, people can compete in the Man of Movember costume contest or vie for the Miss Movember crown. Concurrently, a Beer & Cider Fest will highlight more than 100 brews, from local to domestic, to seasonal ales and ciders. Five 7-ounce samples will cost $18.
The return of the concerts
While there won't be weekly 4 O'Clock Fridays this fall, Del Mar will still host two concerts.
The first is Reggae Fest with Iration on Nov. 15. It will begin at 2 p.m. on the Seaside Stage with The B-Side Players; after the final race, Vokab Company will play a short set, followed by headliner Iration.
On Nov. 29, alternative rock band Cake will entertain the crowd, with the performance expected to begin a half-hour after the final race.
Similar to summer, concerts are free with racetrack admission, or $20 after the last race. However, these November performances are restricted to patrons ages 18 and older.
Ponies and pigskins
No need to let football get in the way of a trip to the track: Del Mar will offer Paddock Football Lounges on Sundays, where enthusiasts can watch featured games at 17 Hands Pub, Paddock Tavern and Ballast Point Bar. They can also take advantage of food and beverage specials.
Fan favorites
Returning to Del Mar this fall is the Gourmet Food Truck Festival, set for Nov. 22. About 40 trucks are expected to be on site, presenting fare that ranges from grilled cheese to crab cakes. Patrons can quench their thirst in the beer garden.
Those who visit Del Mar that day will also receive a free, full-sized fleece blanket in the "Bing Crosby Season" colors, with paid admission.
From 8 to 10 a.m. Saturdays, visitors can eat breakfast and drink coffee while watching morning workouts during Daybreak at Del Mar. Former jockey Jeff Bloom will point out notable horses on the track, answer questions and provide behind-the-scenes info. It's free to attend, although there is a $10 parking fee. However, those who spend $25 or more on breakfast will have the parking fee deducted from their bill.
And of course, enthusiastic vocalists are welcome to "Sing With Bing" each day. For an opportunity to croon "Where the Turf Meets the Surf" between races, e-mail singwithbing@dmtc.com.
Betting on fun
For the serious horseplayer, the Del Mar Handicapping Challenge will be held Nov. 15-16. There is a $4,000 buy-in, with $3,000 designated for a personal live bankroll and $1,000 to the prize pool. All of the prize pool will be distributed back to the players; the top five finishers will qualify for the National Handicapping Championship in January in Las Vegas. For information, contact Bahr at 858-792-4294 or chris@dmtc.com.
More casual bettors who'd like help from the experts are welcome to attend handicapping seminars at 11 a.m. Saturdays and Sundays in the Seaside Terrace. Guest speakers will review the day's race card.
And finally, those who are completely new to the game can attend Newcomers' Seminars an hour before the first race. The seminars are held each race day in the Plaza de Mexico.
Easy on the pockets
Racegoers who want to save some money can take advantage of Free & Easy Fridays, offered every Friday except Opening Day. For free admission, program and seat — along with half-price domestic drafts, sodas and hot dogs — visitors need to present their Diamond Club card. Signing up for the free card is also easy — do it at a booth before entering the Stretch Run admission gates, and you can use the card for 50 percent off entry on other days.
Also, seniors age 62 and older can enter the track on Thursdays for free, with I.D.
Finally, there's the return of the "Pony Express" deal, in which $11 covers round-trip fare on the Coaster, Sprinter and Breeze; a shuttle from the Solana Beach North County Transit District station to the racetrack; and Stretch Run admission.
---
Get the Del Mar Times in your inbox
Top stories from Carmel Valley, Del Mar and Solana Beach every Friday for free.
You may occasionally receive promotional content from the Del Mar Times.