Fairbanks Ranch man arrested in attempted abduction of girl at Solana Beach school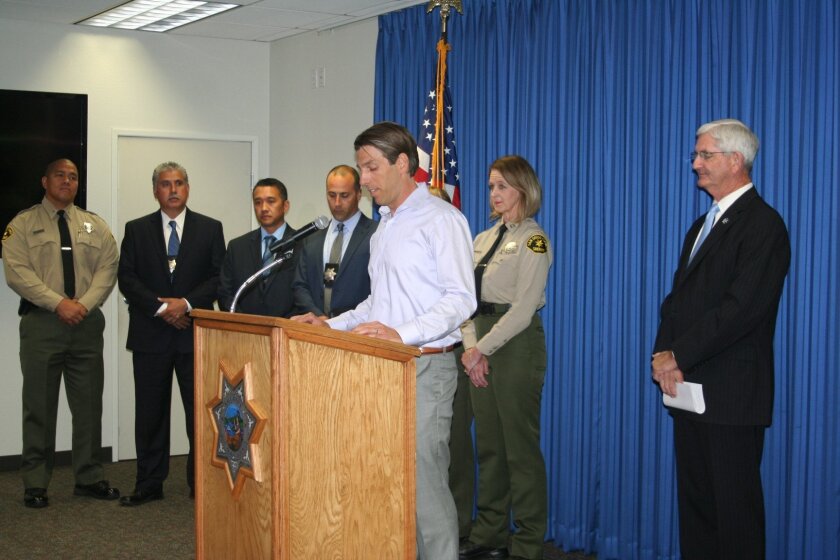 A Fairbanks Ranch man has been arrested in the attempted abduction of a child at a Solana Beach elementary school, San Diego County Sheriff's officials announced April 2.
Jack Henry Doshay, 22, was booked into the Vista Detention Facility late April 1 on charges of child cruelty, false imprisonment with violence and kidnapping in connection with the March 23 attempted abduction of a 7-year-old girl at Skyline Elementary School.
During a news conference at the Sheriff's Department headquarters in Kearny Mesa, Sheriff Bill Gore said Doshay was arrested shortly after 7:30 p.m. in Laguna Niguel.
Detectives had obtained an arrest warrant earlier in the day, but Doshay's lawyer, Paul Pfingst, helped coordinate the arrest by providing the address.
Doshay pleaded not guilty April 4 to the three felony charges. He is being held at the Vista jail without bail and faces up to 11 years in prison if convicted of all charges. A hearing to further discuss whether he will be granted bail is scheduled for April 9.
A readiness conference is scheduled for May 6 and a preliminary hearing is set for May 28.
"This guy messed with the wrong girl and the wrong community," said the victim's father, Mike Paeske, at the news conference. "We are so proud of our daughter for the way she handled herself during the attack and subsequent investigation. She is our inspiration and our hero."
Although arrested in Laguna Niguel, Doshay had been living with his parents in Fairbanks Ranch. Doshay is the son of Glenn and Karen Doshay, well-known philanthropists in San Diego. Glenn Doshay is a San Diego businessman and minority stake owner of the San Diego Padres. Doshay's brother lives near Skyline School but officials said there is no connection — to their knowledge — between the suspect, the victim and the school.
Doshay's arrest occurred nine days after the incident.
Witnesses reported seeing a man about 3:30 p.m. March 23 on the campus on Lomas Santa Fe Drive.
Although authorities initially said they did not believe the man physically assaulted the girl, they learned after talking with the victim that she fought the suspect as he threatened her.
The suspect approached the girl as she was heading to an after-school program. He reportedly told her that if she wanted to see her mother again she would cooperate. He allegedly put his hand over her mouth, tried to wrap packing tape around her head and attempted to pick her up, according to officials.
The girl kicked and screamed, attracting the attention of teachers and staff. The suspect ran. The girl was not physically injured.
The victim's father detailed the attempted kidnapping in a mass email March 24 to help catch the suspect and prevent similar incidents. In the email, he encouraged parents to talk with their children about "stranger danger."
"Never in our wildest dreams would we think this could happen to us," he wrote. "Please forward to as many people you can to help prevent it from happening to others."
The email, which was shared on local blogs and social media sites, helped bring attention to the case.
Based on the accounts of the victim, teachers and staff, the Sheriff's Department released a composite sketch March 24 of the suspect. The suspect was described as a white man in his 40s, about 6 feet tall with a medium build, light brown hair and tan skin. According to booking records, Doshay is 6 feet 2 inches tall, 165 pounds, with blond hair and blue eyes.
Volunteers helped distribute the sketch to local businesses around the community.
In the days following the incident, the Sheriff's Department and San Diego County Crime Stoppers received more than 150 calls and tips. The department looked at several potential suspects, Gore said, but detectives focused on Doshay.
"San Diego County families can sleep a little bit better knowing that one less threat isn't out there on the street," said Paeske, who thanked friends, neighbors, police and the greater community. "Now we begin the process of healing."
---
Get the Del Mar Times in your inbox
Top stories from Carmel Valley, Del Mar and Solana Beach every Friday.
You may occasionally receive promotional content from the Del Mar Times.