Former 22nd Agricultural board president shares insights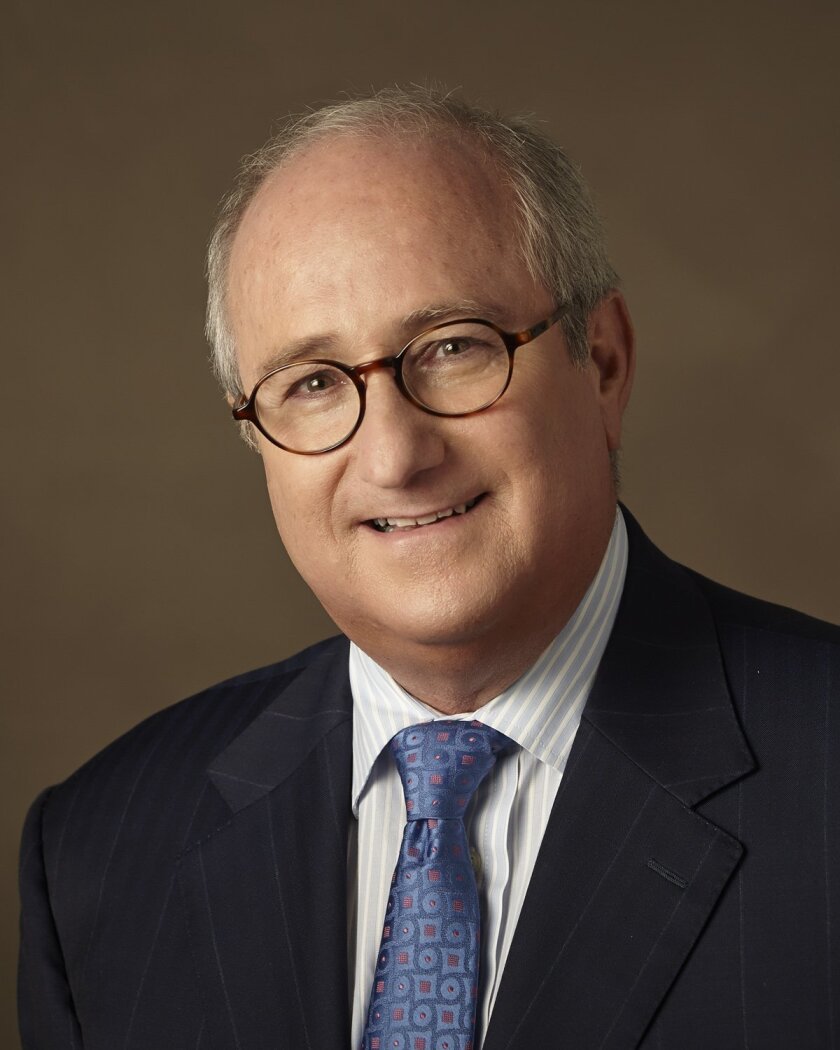 Carmel Valley resident Frederick Schenk – a longtime partner with San Diego-based law firm CaseyGerry – concentrates his law practice on products liability, serious personal injury and asbestos litigation. His is also keenly focused on giving back to his community, and recently finished a two-year term as volunteer president of the Board of Directors for 22nd District Agricultural Association (San Diego County Fair Board). Schenk, appointed to the board by Gov. Jerry Brown in 2011, has a longtime association with the San Diego County Fair Board, and was appointed previously by former Governor Gray Davis, serving from 2002 to 2006.
While Schenk has finished his fair board presidency, he will continue to serve on the Board of Directors until Jan. 2018. In this Q & A, he addresses some key successes achieved during his tenure, upcoming plans for the fairgrounds and some challenges the board may face.
What accomplishments are you most proud of during your tenure as board president?
I had the honor of serving as the chair of the 22nd District Agricultural Association for the past two years while working with a very effective and hardworking board – and was very proud and appreciative of their voluntary service. Also, I was very fortunate to work with a team of professionals that are considered amongst the best in the industry and for whom I have great admiration. During this time, we saw some very significant events and long-term changes take place. Last summer, we partnered with the City of San Diego to bring to our county a fair theme that honored the Panama-California Exposition which took place in Balboa Park beginning in 1915. It was a popular tribute to this world exposition and we drew over 1.5 million people to the fairgrounds during the month of June. We also approved and made major alterations to both the turf and dirt tracks in order to make the racing facility safer for horses and jockeys, as well as accommodate an increasing number of horses. These vital changes allowed us to qualify for selection as the site for the 2017 Breeders Cup – which will be a tremendous opportunity to showcase San Diego in the global horse racing community while drawing spectators from around the world.
I am also pleased that we were able to attract Kaaboo to the fairgrounds in 2015. This was a new venture for our community and one which has the potential to become a premier fall music and entertainment event for the county for many years to come. It drew attendees from across the United States and brought music talent from around the world to our outdoor and indoor stages for tens of thousands to enjoy. We expect that next year, the attraction will draw even greater attention and that the entertainment will exceed last year's premier engagement.
I am also very proud of what we have done to expand the educational opportunities for the children who attend the fair. We provide unique agricultural and livestock experiences as well as healthy eating education for children from across San Diego and beyond. Through the Don Diego Scholarship Fund, we offer the "Plant Grow Eat" educational events which provide buses for children who cannot otherwise afford to attend the fair. Additionally, fair employees visit schools and teach children about agriculture and healthy eating.
What goals would you like to see the fair board accomplish in the future?
Ideally, I would like to see our fairgrounds increase the number of people who are able to access our magnificent property during peak seasons while lowering the need for automobile traffic to the grounds. I hope that in the near future, we will be able to bring a seasonal rail stop to the property where the current right of way exists. We are working with SANDAG and other interested communities to find a way to achieve that goal. It would be located within the North County Transit District (NCTD) right-of-way and the platform would extend 1,000 feet to accommodate 10-car passenger trains, including the NCTD COASTER and Amtrak Pacific Surfliner.
Also, we need to refurbish and update existing buildings in order to accommodate the future needs of both people and the animals at the fairgrounds. The master plan includes these changes -- but much of what we hope to achieve depends on future funding. That remains the greatest challenge to phase in the many improvements we hope to achieve.
What are the plans for replacing the exhibit halls — how much will it cost and how will it be financed?
Demolition and replacing the exhibit halls are part of our Master Plan. There is no set time to start -- and all would depend on our ability to finance the project. The cost of replacing is estimated in today's dollars to be in excess of $100 million to $150 million, depending on design and amenities. Financing is not discussed as part of the Master Plan. Given our existing debt service, environmental obligations and the decline in racing revenue, financing will be a challenge.
What are the plans for converting the Surfside Race Place? Again, how much will it cost and how will it be financed?
The 90,000-square-foot facility averaged 3,000 people at its peak years, during the very early nineties. Unfortunately, horseracing, and in particular satellite wagering, has seen a continuous decline each year over the last 20 years. Today we average less than 400 patrons a day. The district has been investigating other uses that would complement our mission statement and produce needed revenue for years to come. We are currently studying the possibility of a 1,900- seat concert venue along with a restaurant/craft beer tasting room, with banquet space and also still incorporating satellite wagering. That cost could reach as much as $15 million.

A study is due out on the economic impact of the Fairgrounds, and how the Fairgrounds impact Del Mar and Solana Beach. When will the study be out and what will it be used for? 
We expect the study to be released in March or April. For years, the two local cities have claimed a negative financial impact from fairgrounds activities. However, district staff believes just the opposite is true and trusts that the study will bear that out.
Any insight on the new board president?
We are very fortunate to have Russ Penniman as our incoming board chair. Russ has served on our board since 2003 and is its longest standing member. Last year, Russ played an invaluable role in shepherding our bond refinancing efforts which will save us money and serve the needs of the district for decades to come. I have great confidence in his abilities to chair the board of directors over the next two years.
---
Get the Del Mar Times in your inbox
Top stories from Carmel Valley, Del Mar and Solana Beach every Friday for free.
You may occasionally receive promotional content from the Del Mar Times.