Parents of accused Colorado shooter focus on prayer as they await his trial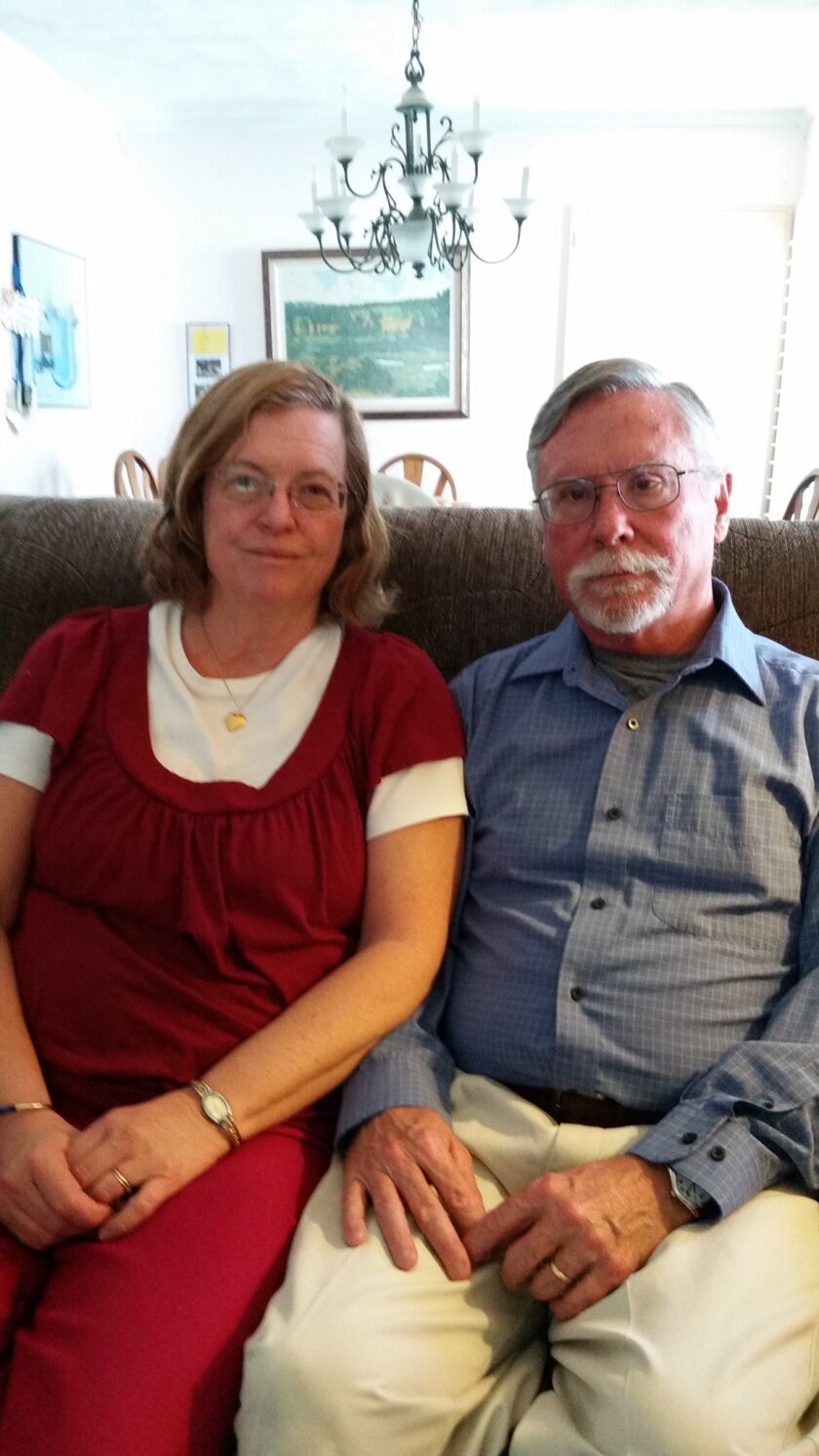 Arlene Holmes started writing in her prayer journal in 2013, as a private way of dealing with the stress in the months after her son, James, was arrested and charged with fatally shooting 12 people and wounding dozens more in a Colorado movie theater.
But she decided to make her prayers public — in a self-published book called "When the Focus Shifts" — as a way of drawing attention to her opposition to the death penalty, especially for the mentally ill, and her advocacy for improved treatment for those with severe mental disorders.
The slim volume, taken almost verbatim from the pages of her handwritten journals, contains her prayers and pleas on such topics as sympathy for the shooting victims, her own feelings of guilt and the sleepless nights she has endured since that fatal day nearly three years ago. The book was published March 9, and is available in print and digital form on Amazon.com and other websites. Proceeds will be donated to support mental health services.
"I think it was very courageous of Arlene. It's a very personal book for her. I'm hoping it helps other people who have kids with mental illness," said her husband, Bob Holmes.
The Holmeses, who live in Rancho Peñasquitos, granted their first media interview recently to discuss the book, their fervent hope that their son does not receive the death penalty, and how they are coping with the tragedy of the Colorado shooting and their son's role in it, as his capital murder trial approaches.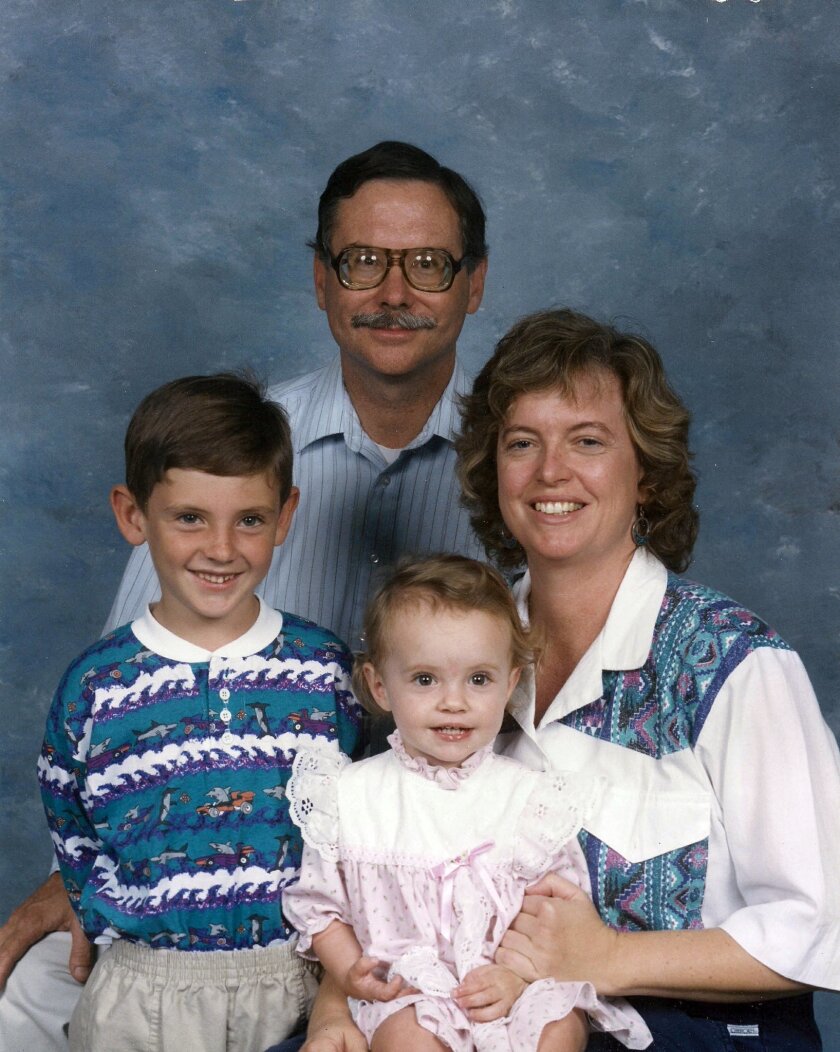 Opening arguments are expected to begin April 27 in Arapahoe County District Court in Colorado.
Among the prayers contained in the book is one for prosecutors who are handling James Holmes' case.
"I do not know what you have been through in life. I do not know why you want to pursue execution of a mentally ill man. But I pray for you, so that you will find peace in your life. I pray you will change your mind. Please stop this quest for death so you may focus on those who are alive," Arlene wrote.
In another, she wrote that she prays for the victims daily: "Please, victims, please, feel my prayers. I pray for you by name."
The couple turned to their church immediately after the 5:30 a.m. call on July 20, 2012, when their lives changed forever as they learned about the shooting from a reporter. Before that day, they had lived a normal life in the northern San Diego suburb, working and raising their children: son James and daughter Chris. Bob, 64, retired in 2014 after a career as an analytic scientist with a financial services firm. Arlene, 60, is a registered nurse, and continues to work part-time at a North County hospital. Their daughter is a college student.
On that morning in 2012, Arlene said she thought, "Who can I call, who will drop everything and come and do something, help us cope? I knew if I called the church they would come."
Along with support and prayer, she said, her church is taking up the cause of improving care for the mentally ill.
"This is starting to be a mission for churches in general," she said.
Arlene and Bob know the trial will dredge up painful memories for the victims, relatives of the dead and themselves. Even so, they are determined to attend.
"He is our son. We will go," she said.
But they continue to hold out hope that the district attorney will change his mind and accept a defense offer of a guilty plea in exchange for a sentence of life without parole, which they said would spare everyone the ordeal of a trial expected to last until Labor Day.
"He (the DA) could do it right now, today," said Arlene. "This would all come to a grinding halt if (James) could plead guilty, and the DA would accept the plea for life without parole."
A trial and subsequent potential appeals, said Bob, "delays the healing process for years and that's what can be avoided … a lot of pain and suffering by the victims."
The potential death penalty makes it even worse, the couple said.
"My basic feeling is it's immoral to have a state kill its own citizens, no matter what they did," Arlene said. "I've always thought it was wrong. Now I've had a lot of time to think about it, and how much it hurts people."
As the trial approaches, the couple continue to agonize over what, if anything, they could have done to get help for their son and possibly prevent the shooting.
"That's some of the guilt we have, that we didn't recognize he was ill and needed treatment," Arlene said.
Since the shooting, she said, she has tried to educate herself about mental illness, and one of the things she has learned is that brain disorders start early.
While they are limited in what they can say about their son before the trial, Arlene said, "Our kid was quiet, compliant, obeyed all the rules. He never bothered anyone, he never harmed anyone. That's a teacher's dream. So they're not going to earmark him as a problem child."
Growing up, James showed no affinity for guns, according to his parents, although news reports said he was heavily armed at the time of the theater shooting.
"We never owned a gun and (James) showed no interest in guns," said Arlene.
"This was definitely a function of his mental illness," said Bob.
Once the trial is over, said Arlene, she would like to speak at college campuses about the need for more effective mental health services.
For now, though, the family is bracing for the trial.
"I'm trying not to dread it, but it's just looming there," said Bob. "I'm just trying to get through each day."
Arlene said she will look to prayer to get through the pain and anguish of the legal proceedings, as well as seeking comfort for the victims and her own family.
"Because so many people like to blame the parents if a child is mentally ill, we have to reaffirm to ourselves every day that we were good parents and good people, and this still happened anyway," she said.
Originally published in the Del Mar Times/Carmel Valley News
---
Get the Del Mar Times in your inbox
Top stories from Carmel Valley, Del Mar and Solana Beach every Friday for free.
You may occasionally receive promotional content from the Del Mar Times.