Hyatt hotel proposed to replace Tio Leo's eatery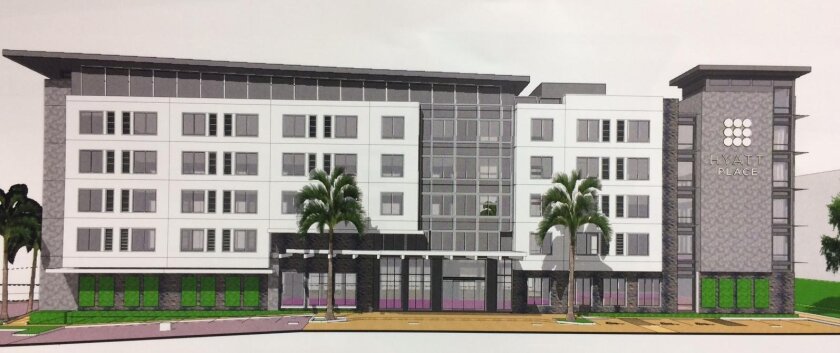 A five-story, 127-room Hyatt Place Hotel is being proposed to replace Tio Leo's Mexican Restaurant in Carmel Valley. Excel Hotel Group made an informational presentation to the Carmel Valley Community Planning Board on July 28 as the hotel project is currently in its second round of reviews with the city.
The site is located on the corner of El Camino Real and Carmel Valley Road, off Valley Centre Drive. Currently the site is home to Tio Leo's and surrounded by the Hampton Inn, the Residence Inn, the Del Mar Marriott and the existing parking structure.
The project will also be adjacent to another hotel in the works. Plans are underway for a mixed-use development called Costa Azul, which includes a six-story, 112-suite hotel, three new restaurants and 82,000 square feet of office space. Developers Fred and Hunter Oliver also developed the neighboring Residence Inn.
Neil Patel, with Excel Hotel Group, said they began working with the Tio Leo family as they look to develop the parcel. The proposed Hyatt Place will cater to corporate and leisure family travelers.
Carmel Valley Planning Board Chair Frisco White said he wanted to make sure Carmel Valley can support the additional hotel rooms.
Patel said that through their preliminary study, hotels are at an all-time high in occupancy with all of the business and travel destinations in the I-5 corridor.
"This will fill a unique niche in the market because it's all suites," Patel said, noting that suites will have separate bedrooms and living rooms that appeal to family and business travelers. They will also offer complimentary breakfast.
The new hotel will feature coastal contemporary architecture with a rooftop deck with views that will stretch out over the lagoon. As there is a 60-foot height limit in the zone, Patel said they will be asking for an exemption to go to 75 feet.
Stephen Jones, of Jones Ballard Architects, said that a challenge of the site is that there is no "back side," which requires that the project has interesting elevations from all sides. Jones said by breaking up the massing, using quality materials and a simple color palette, he thinks they have created something that will make for a distinct entrance into Carmel Valley.
"When it's all said and done it will be a strong anchor that fits into the community," Jones said.
Excel Hotel Group plans to return to the board for approval in the next few months as it continues through the city's permit process.
Patel said there is no timetable for the restaurant's closure as the hotel is in its initial, preliminary process with the city. He said the Tio Leo's group will ideally be looking for an alternative location for the restaurant.
---
Get the Del Mar Times in your inbox
Top stories from Carmel Valley, Del Mar and Solana Beach every Friday for free.
You may occasionally receive promotional content from the Del Mar Times.