Accomplished young scientist making an international impact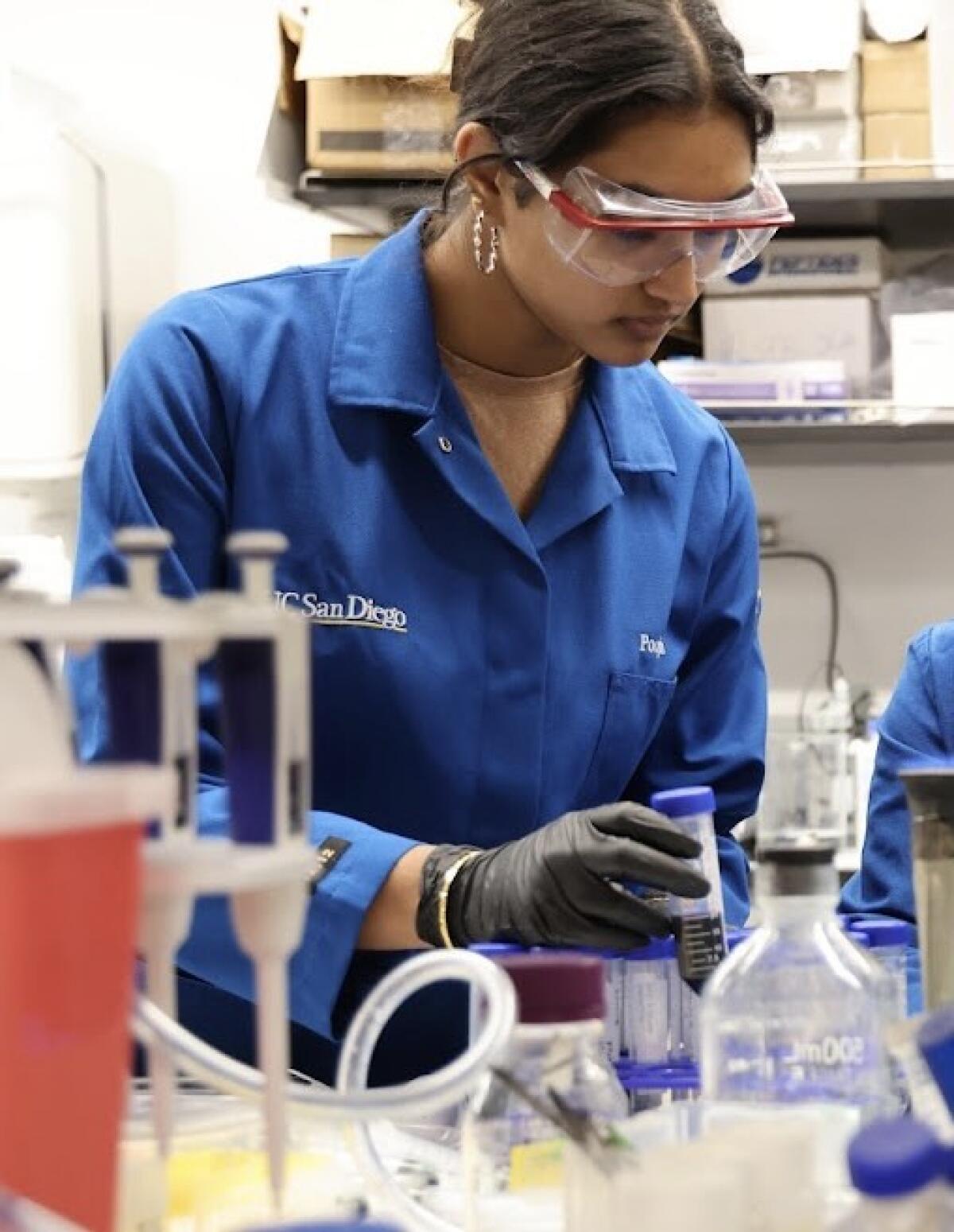 Carmel Valley teen scientist Sanjana Kumar hopes to use her passions for environmentalism and STEM to put her own stamp on the world, to go beyond the lab and really make a difference.
In the spring, the 17-year-old senior at Francis Parker was a finalist at the Regeneron International Science and Engineering Fair, rising to the top among over 1,600 young researchers from over 60 different countries. At the competition in Dallas, Sanjana took second place in the environmental engineering category along with winning special awards from Arizona State University and the Bruno Kessler Foundation for her project, "Engineered Living Material Breaking Down Pollution".
While in Dallas, she made connections that led to her being offered a fellowship to go to Italy over the summer and work at Fondazione Bruno Kessler, a lab funded by the European Union. She spent a month in Trento in the Italian Alps, the youngest scientist in the lab, working on air quality monitoring.
"I used to imagine scientists as people who think about science 24/7, and who love math and science more than anything else. But I did other things: I loved to paint, I loved to write, I loved to play the piano. I thought I couldn't possibly be a scientist because I don't only have an analytically wired brain," Sanjana said in her words as a finalist at the international fair. "I think in society, we often tell ourselves that, 'This is what a scientist looks like, so I can't be a scientist because that's not what I look like.' But eventually I realized that that creativity is actually a huge part of being a scientist, and that science needs people who are passionate about more than just science."
To qualify for the international science fair, Sanjana first had to win locally, which she did at the Greater San Diego Science and Engineering Fair in March. Her project, fueled by her passion for environmentalism, was to create a sustainable way to break down pollution by using 3D-printed engineered living materials. Her experiment took six months, working in UC San Diego's material science lab (where she was taking a class at the time) and she was able to successfully develop an engineered living material created from cyanobacteria cells that would degrade industrial pollutants with 70% efficiency.
"I like to joke that science is in my blood," said Sanjana who comes from a family full of engineers, both electrical and biomedical.
She started coding when she was a second grader and in terms of STEM, by the time she reached seventh grade, she loved computation and math so much that she started sharing her expertise by teaching at the Elementary Institute of Science, a nonprofit that reaches underserved students in southeast San Diego.
While she loves math, she is drawn to environmental engineering as a way to find fulfillment in being a scientist, doing research and knowing that she can impact people's lives in a direct way.
Sanjana was offered the Italian lab fellowship due to her work with machine learning and AI. As she is only 17, there were a lot of logistics to figure out in order for her to go abroad--her father happened to be on a work trip in Germany over the summer so they were at least on the same continent.
"I was really humbled to be given the opportunity," said Sanjana. She was the only scientist from the United States and as a teenager, no one else was even close to her age.
While in the lab, she was helping to create a cost-effective way to monitor air quality for the EU and better tackle air pollution—her work was finding a way to optimize the solution by using AI: "A very far cry from the material science I did," she said.
The language barrier, not being able to speak any Italian, was an initial challenge but the experience was incredibly meaningful and motivating for Sanjana.
"It was really refreshing to be among a community of such like-minded people," Sanjana said. " It's not often I see other people at this niche of environmental engineering and I found myself technically challenged every day."
While computation and machine learning is something she is really passionate about, it is also very technically challenging to be able to work with someone else's technology. Being part of a big international lab, she also felt a tremendous sense of responsibility. She made connections with incredible people from all over the world, all working toward the same cause—she came back to the U.S. even more inspired about making real change.
"I would never find fulfillment in ideas unless they actually have the opportunity to help people," she said.
At Francis Parker, Sanjana has honed her skills in robotics and is doing machining and programming all the time: "It's not my part-time job but my full-time job," she said. She spends hours in the school's robotics lab every day after school, sometimes from 4-9 p.m.
As she still loves computing and math, she continues to teach on the weekends at the Elementary Institute of Science and also competes in speech and debate (last year she was named one of the top 10 congressional debaters in the country), does Model United Nations and serves as president of her school's Gender-Sexuality Alliance. To complement her academic pursuits she also dances —taking early morning classes in Indian classical dance, Bollywood, ballet and hip hop.
"I just really like being busy and keeping myself occupied," she said.
Through speech and debate, she has become more knowledgeable about many social justice issues as well as local, federal and state government. She has added action to her words, gaining valuable experience lobbying with the local chapter of the Citizens Climate Lobby for the past four years. "Climate policy lobbying is something I really love to do," she said of raising her voice for federal climate resilience legislation, meeting with local representatives and organizing letter-writing campaigns.
In 2022, Sanjana was crowned Miss San Diego Outstanding Teen where she was inspired to take on another social justice detour. While competing in the pageant, her platform was raising awareness and donations about the refugee crisis at the Mexico-U.S. border—as her parents are immigrants, the issue is something that is very important to her. For the past two years she and her friends have made a commitment to community service, volunteering at San Diego refugee shelters.
For all of her hours of community service, she has been awarded the AmeriCorps' Gold Presidential Volunteer Service Award three times.
Through the Miss San Diego competition, Sanjana got linked up with the Yes on Proposition 31 campaign and last year spoke up as a youth advocate for the initiative to ban the sale of flavored tobacco, which usually targets children and low-income neighborhoods. The ballot measure passed in November.
Sanjana now has college in her sights and her plan is to major in environmental or nuclear engineering and then go on to law school.
"I want to go to law school to legislate renewable energy policy," Sanjana said. "I think that of all my research in a lab, the most frustrating thing I've learned is that it takes a really long time to trickle through the bureaucratic pipeline. Law needs more informed scientists to implement policy that's helping people, to give life-saving technology the opportunity to actually save lives because so much good work is stuck in a lab or in research papers that politicians will never understand."
With her ambitious schedule, she knows she might fit the cliche of the overly busy teen. She promises that she still gets in her eight hours of sleep at night.
"As long as you're doing what you really love and authentically pursuing your interests, I think you end up happier that way," Sanjana said.
Get the Del Mar Times in your inbox
Top stories from Carmel Valley, Del Mar and Solana Beach every Friday for free.
You may occasionally receive promotional content from the Del Mar Times.