Opinion/Letters to the Editor April, May, June 2020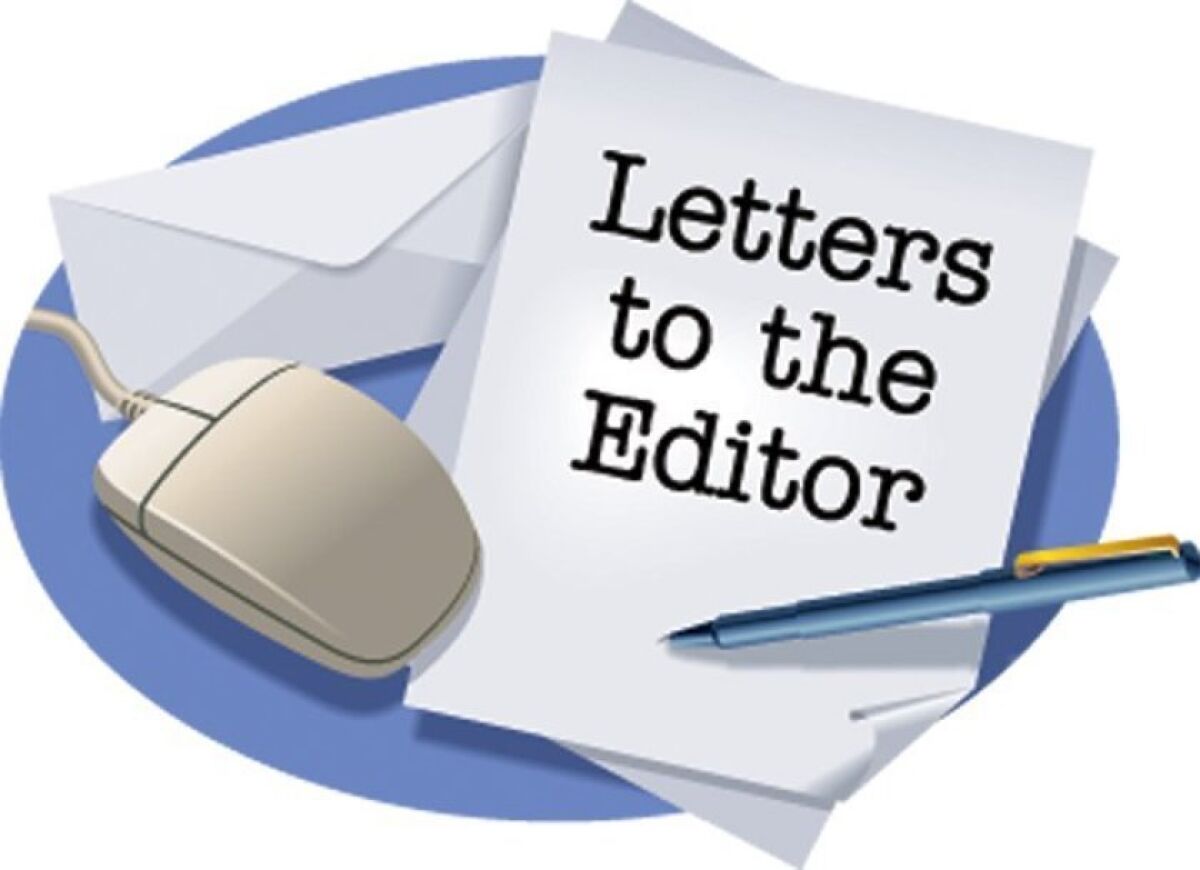 April 2 issue:
A heartbreaking but predictable scenario to keep in mind
Families are mourning a woman who was killed, and several others severely injured when a driver, allegedly impaired by marijuana, plowed into them at 2:35 a.m. on March 14. The driver is charged with manslaughter. This is a heartbreaking but predictable scenario. Liberty Mutual Insurance found that 24% of surveyed adults did not believe driving under the influence of pot was dangerous. Yet even small amounts can affect coordination, peripheral vision, reaction time, decision making, and the ability to judge distances and stay in one's own lane.
This is important to keep in mind for voters in Encinitas and Solana Beach who will soon face ballot initiatives sponsored by the pot industry. Have you seen the many billboards in San Diego advertising marijuana? How many have you seen warning of the dangers of drugged driving? I haven't seen any.
Kelly McCormick
Carlsbad
April 9 issue:
Appreciative of community newspapers
Thank you for continuing to publish the weekly North County community newspapers that bring us local news of importance to us. We receive our local information from your local weekly publications and it fills the void in coverage by our "local" radio and TV stations. Hopefully we will be able to continue seeing this essential news published by our local weekly newspapers throughout these trying times.
Jim Parrotte
Carmel Valley
April 16 issue:
Kudos to Solana Beach for approving flavored tobacco products ban
The City of Solana Beach should be applauded for passing a flavored tobacco products ban (4-08-20). This will have a significantly positive public health impact, especially on youth.
It sets an example for all North Coastal communities, who hopefully will do the same because what one city in our region does impacts the next. If flavored tobacco isn't available in one city, kids or those who buy for them, will certainly find out where they can get it.
Flavored tobacco products have become increasingly popular; 1.5 million more youth used e-cigarettes in 2019 than the previous year, according to the FDA, and 81% cited the availability of appealing flavors as the primary reason for e-cigarette use.
A united front would have far-reaching benefit, especially in this era of COVID-19.
Federal agencies and health organizations state use of flavored tobacco products and e-cigarettes impacts learning, memory and attention, and increases risk for future addiction to other drugs. Use of nicotine, marijuana, THC, and cannabinoid vaping products causes EVALI, lung injury, lung lesions, and makes users more vulnerable to infection and COVID-19.
A region-wide flavored tobacco ban would help mitigate serious health issues.
Peggy Walker
Solana Beach
Thank you to the people of San Diego
In response to the recent guest commentary "Let's stop the spread of this virus while we still can." What a slap in the face to the tens of thousands of people in San Diego affected by the shelter in place mandates. What do you think we are doing? I see pictures of beaches and freeways empty. I see businesses closed, some probably permanently. I see churches meeting online instead of in person. I see depression and child abuse rates increasing. And you say do more? Stricter enforcement? Stricter mandates? Perhaps we should start barricading people in their houses like China? My message to the people of San Diego is thank you. Thank you for taking this serious enough that you would alter your lives to benefit society as a whole. Keep up the good work and we will make it through. We are here to help.
David Higgins CRNA
Carmel Valley
April 30 issue:
Vulnerability is my choice
I'm 82 years old. I have numerous cardiovascular health issues. I resent being used as a pawn for a political agenda in the current virus pandemic. My family's ancestors survived the Sioux Massacre in Minnesota in 1862. My wife is a 5th generation native Californian, my grandkids are 7th generation and living in Del Mar. (That means in the 1870s, grizzly bears were probably on the ranch.)
I value my quality of life; ergo, I have a "do not resuscitate" clause in my trust. I have been taking care of myself and my family for a long time. WWII, polio, Korea, (the '60s which created many of our recent leaders), Vietnam, the Cold War, ad nauseam.
I, along with other Americans, can figure out how to deal with an event which will prove to be no greater than other epidemics or societal problems of my lifetime. Approximately 124 deaths in a county of 3.3 million people should indicate that hospitals, ICUs, and ERs are not overwhelmed. These facilities need to be re-opened for necessary non-COVID-related procedures. Early statistical anti-body research by USC and Stanford University shows that the number of COVID cases is actually 55-85 times greater in Los Angeles and Santa Clara counties than had been reported. These studies indicate that the mortality rate for those infected with the virus is between 0.1% and 0.5% (about the same as previous flu epidemics). I say take the same data-driven calculated risk Americans have always been willing to take. Open the city up!
We live under the governance of the U.S. Constitution and the people, not unelected experts or collective philosophies. If the elected officials choose to make demands (i.e. closing the beaches, etc.) declare "martial law." Otherwise, I will continue to use my best judgment as a freedom-loving individual. I am not helpless nor vulnerable.
Owen Hahn
Del Mar
May 7 issue:
Opinion: Grades, 'Credit/No-Credit' or both
On April 21, during the last San Dieguito Union High School District board meeting, the board had what some would consider a simple choice to make on a critical decision.
What type of grading system should the school district utilize during this school term?
a. Grades
b. Credit/No Credit
c. All of the Above
After three hours of focused discussions, the board majority (3-1-1) gave the superintendent direction to move forward on "Option B. Credit/No Credit." I strongly spoke out against the issuance of only C/NC this school term. Parents and students should be allowed the option to choose between C/NC or grades. As a parent, I would select grades, but allowing for Option C. "All of the Above" seems to work for everyone. Even in college, students have the choice between grades or C/NC. The advantages and disadvantages are well known and the choice is up to each student. Offering only C/NC appears to be an academic risk that could impact our students' academic futures. We also need to continue to motivate our students to reach higher. Do you really believe C/NC is a better motivator than grades?
This is an important decision for our college-bound students. As students pursue the colleges of their choice, grades may make a difference in the very competitive college acceptance process. Grades may also impact the ability for students to receive merit aid or scholarships. Our neighbor, the Carlsbad School District, just voted this week for "Option C. All of the Above." This will allow the students to choose a traditional letter grade for all courses (with GPA weight) or receive C/NC for all classes (with no impact on student GPAs). While many school districts are currently in discussion, all local private high schools (that I have spoken with) are giving grades as an option. According to the College Board AP Exam Webinar in April, 86% of AP teachers are still giving letter grades. Once again, the district students could be constrained when competing with students across the nation for admission and scholarships. Letter grades will also give our junior students a chance to improve their GPAs this semester, since ACT and SAT exams will not be required for college admissions in 2020-2021.
Our district is known statewide as a leader in academics. We raise our children to become future leaders and professionals within their chosen fields. Our children are educated here to conquer their challenges, reach their educational goals, and be successful in whatever occupations they choose. Our bar has never been simply "Credit or No Credit." Offering students a choice is a win-win option for everyone, so why is the district struggling to reach this conclusion? During these unfortunate and challenging times, the question is easy and the answer is obvious. What's best for the students? The answer is clear: "Option C. All of the Above" (grades or C/NC)!
Mo Muir
Vice President
San Dieguito Union High School District board member
Students, parents protest SDUHSD's 'Credit/No Credit' grading system
For our San Dieguito Union High School District School board trustees, managing education through the global COVID-19 pandemic will be the most important test of their educational and political career. Their legacy will be defined on how they led/governed through this crisis.
While there is no precedent for managing education in a global pandemic, there is a precedent that establishes the district as high performing and demonstrates that our students are prepared for the next level. Given this elevated status, it is unbelievable that the district choose a "Credit/No Credit" grading policy.
The minute our students hit junior high they are bombarded with planning for college and the importance of grades on future success. This pressure is not restricted to the straight A students, AP students or the elite, it is applied to all students. Our students use grades for all sorts of reasons: to motivate or demotivate, to receive kudos, to please the adults, to torture the adults, to stand out above their peers, to demonstrate rebellion, to be the first in their family to go to college and on and on. Grades for the high school student are the very fabric of what drives them to achieve a goal. Students work really hard for a variety of reasons: to secure the highest GPA possible to get into elite colleges, to apply for Merit Scholarships, to just work really hard to get a 3.0 GPA so they can get to a UC campus, or to work to get 2.0 GPA so they can participate on the athletic field or play Tuba in the band.
What makes SDUHSD special is the push given our students to excel, be better — improve your grades, improve yourself and soar. Now – they are being asked to do the work, but not receive a grade?
One thing we can all agree on, no one knows the best answer. So, let's err on the side of caution and allow a choice, the same choice being given by UC system schools to their students and private colleges like USC.
Give the same choice as the millions of high school students in the three largest school districts in California (LA Unified, San Diego Unified, Fresno Unified) and many of San Dieguito's peers, Los Gatos/Saratoga, Alameda, Sacramento Unified, Sweetwater UHSD and Corona Norco, to name a few, being offered a choice of a grade with a hold harmless clause.
As leaders, this board has taken an extremely short-sighted (almost panicked) view and crafted a plausible excuse to justify their lack of decision. It is time to consider the short-, mid- and long-term ramifications on the psyche of a young mind.
The school board's primary role is to set policy, not the superintendent, or the San Dieguito Faculty Association, or the executive directors of the Foundations; it is the school board's job.
Demand our school board give our students the choice to continue to soar.
Wendy Gumb
San Dieguito Union High School District
Community member and long-time student advocate
Let's open Del Mar Union School District for dialogue
We were heartened to read in your April 29 edition that parents from Del Mar Union School District (DMUSD) have been able to convey to the district their desire for increased live instruction and concerns about what school might look like this fall. Our previous outreach via email to the principal of Ashley Falls, the DMUSD superintendent and school board asking for more information and opportunities for dialogue was only kindly acknowledged by the Ashley Falls principal, Abby Domingo. Her response underscored the slow ramp up to live engagement between teachers and students taken so far; more than 7 weeks into the shutdown, our fourth grader receives only 2 hours of live school engagement weekly, of which only 1 is dedicated to instruction.
We recognize these are challenging times for DMUSD and teachers and appreciate their efforts on our children's behalf. The challenges to parents and students are equally daunting and also need to be publicly discussed. Young children are particularly limited in their ability to engage in self-directed learning, and parents have limited skills and if working, opportunity to support their learning.
As concerned parents and taxpayers, we are keen to dialogue with DMUSD to learn more about the district's perspective and plans to increase live education, recoup the lost instruction time, and to offer ideas and support. We request the district set up forums for public engagement so that our views and potential contributions can be duly considered during these critical times.
Eduardo Dunayevich
Carmel Valley
Open up the economy now
That was a great letter last week from 82-year-old Owen Hahn. I agree totally with what he had to say. We need to open up the economy here in San Diego and the rest of the United States immediately before long-term damage is done.
I believe we should do what we have always done during previous epidemics. Sick people should be quarantined and people that don't feel safe should be allowed to self-quarantine. The rest of us should be able to return to work and run our businesses using masks and self distancing.
The stay-at-home lockdown was supposed to be two weeks and then it was until we flattened the curve. The curve has been flattened. This is the United States and we, the people, shouldn't have to listen to the new dictator Gavin Newsom in Sacramento. He is passing laws by edict without the legislature or the courts being in session because of the stay-at-home orders. We have rights granted to us by the Constitution. We may have to take our rights back if we want to keep our country free.
Gary Parkhill
Carmel Valley
An ode to Governor Newsom
A tribute written for the occasion of the historic Broadcast-Connections made by California's Governor Gavin Newson during the 2020 COVID-19 pandemic (to the tune of Louis Armstrong's "What a Wonderful World"):
He's on cue at noon, a gaze to view,
He speaks of needs for me and for you,
And we think to ourselves, what a capable guy.
He sees numbers blue, but hopes for light,
Counts dark every day, "It's home best to stay!"
And we think to ourselves, what a competent guy.
The kudos for the women, much empathy he's found,
Stating "If we stay the course, we'll bring the numbers down!"
No more friends shaking hands, simply " How do you do?"
Still all really saying, " I love you."
He takes questions all, he answers truth,
Shared more of himself so we would be soothed,
For he cares for our State in this wonderful world,
Yes we think to ourselves, a great guy in our world!
Lynn Salsberg,
Solana Beach
One View:
Last notes on March primary
By Gordon Clanton
San Diego mayor. High drama: On election night Democratic Councilwoman Barbara Bry trailed Republican Councilman Scott Sherman by more than 3,000 votes in the close race for the second spot and a ticket to November. But late-arriving mail ballots gave Bry an advantage of more than 1,000 votes.
Bry's veteran consultant Tom Shepard suggested that many Democratic voters held their mail ballots until Election Day because they were unsure, with the large and shifting field of candidates, whom to support for president.
Bry's come-from-behind win sets the stage for a two-Democrat runoff in November – right where we were before Sherman's very late entry into the race.
Bry, with 23 percent of the primary vote, will face Assemblyman Todd Gloria, who was supported by 42 percent. Business-friendly Bry will draw support from some Republicans, but Democratic voters outnumber Republicans by roughly two-to-one in San Diego. So I expect more drama.
San Diego City Council, D-1. As with the mayor's race, this eight-candidate contest was marked by a post-election, come-from-behind win that produced a two-Democrat runoff. Community activist Joe LaCava ran first with 24 percent. On Election Night, firefighter Aaron Brennan held the second spot. But late voters gave the edge to attorney Will Moore, past-president of the Carmel Valley Democratic Club. Moore finished with 17 percent of the vote to 15 percent for Brennan. The First District includes La Jolla, Carmel Valley, and Del Mar Hills, Heights, and Terrace.
Congress. Another two-Dem runoff: In the District 53 race to replace retiring 20-year Democratic Congresswoman Susan Davis, Qualcomm heiress Sara Jacobs (29 percent) will face Council President Georgette Gomez (20 percent) in November.
Meanwhile, in the backcountry of CD 50, Republican Darrell Issa (remember him?) defeated Carl DeMaio for the right to face Democrat Ammar Campa-Najjar in November.
These San Diego-area Congressional races should be of interest to all voters in the region, regardless of where they reside.
Clarification. County Measure A, to require voter approval of new residential development in rural areas, was narrowly defeated, 49 to 51 percent. Good news for developers.
Measure B, which would have confirmed county supervisors' approval of the 2,135-home Newland Sierra development north of San Marcos, was soundly defeated, 42 to 58 percent. Bad news for developers.
—- Gordon Clanton teaches sociology at San Diego State University. He welcomes comments at gclanton@sdsu.edu
May 14 issue:
Schoolchildren need to be protected from fires, infection and law firms
Bond Measure MM was passed with over 60% of voters approving needed upgrades for schools across the Del Mar Union School District (DMUSD), including the construction of Pacific Highlands Ranch Elementary and the necessary rebuild of Del Mar Heights Elementary (DMHE). The current state of disrepair of DMHE is well known by the community of parents, teachers and children. Children are currently in portables that lack running water, meaning there are no sprinklers in case of a wildfire. There are no sinks for hand hygiene in the portables, which is particularly critical in the COVID-19 era.
Recently, a small group of legally and financially well-connected individuals have created a shadow corporation, "Save the Field," to attempt to derail the democratic process. They have retained the Procopio law firm which sued the Cardiff School District and obtained a $500,000 settlement paid out by taxpayers. That was money that should have been used to help the students.
The use of the "Cardiff Coercion" maneuver benefits only law firms and well-connected clients but hurts the community. Save the Field's attempts at copying this playbook and weaponizing CEQA against our schoolchildren and their safety are frivolous. Why else would they be forced to hide behind the veil of a shadow corporation, as reported in the Del Mar Times (www.delmartimes.net/news/story/2020-04-23/heights)? If the CEO (Kelley Huggett), CFO (Shana Khoury), and secretary (Nermin Nergis) of Save the Field are not the group's leadership as they themselves state in the article, they should do the right thing and name the actual leaders of their shell organization. The Del Mar community, the teachers and staff, but, most importantly, the schoolchildren deserve to know who is pulling the strings in this movement.
The Del Mar community and its children deserve to have its democratic vote honored, and "Save the Field" and the individuals who lead this organization cannot be allowed to function in the shadows, without any public accountability, as a shell corporation for individuals to hide behind. Now is the time to come together and support the safety of the schoolchildren and staff, and move forward now with the rebuild of Del Mar Heights Elementary.
Sandip Patel
May 28 issue:
Thank you Del Mar Heights community!
A heartfelt letter of thanks to our entire Del Mar Heights community and to everyone involved in the Del Mar Heights rebuild process. While tough at times, the school will be better for the attention and efforts given by so many.
Our DMUSD school board members, district staff and architects went above and beyond to ensure questions and concerns were addressed and thoughtfully answered.
Community members, teachers and staff showed up en masse to provide input with a goal to improve the final product.
Above all else, I am thrilled for the current and future children who will have the privilege to attend school at the new facility. This school will be an amazing asset for our entire community. I hope we can now all put difference of opinion to the side and move forward as neighbors and friends, as that is truly the Del Mar way.
Tricia Dixon
Olde Del Mar
Will they teach Dr. Seuss at the new Del Mar Heights School?
Dr. Seuss, a local boy from down the road in La Jolla, published the Lorax in 1971. A favorite of early educators (almost) everywhere, it tells a story of shortsighted greed doing long-term harm to under-appreciated community resources. It ends with the author challenging its childhood readers not to let the story's mistakes be made again.
The school district is poised to tear down Del Mar Heights, a school older than the story itself.
In its place will rise a new school, with all the latest bells and whistles and a price-tag that will fit right in with the local property values. This should be a cause for celebration, particularly in a community that values education as much as we do in Del Mar.
Sadly, it is not.
The new school design takes into account everyone's interest but the kids'. It offers ocean views, high ceilings, and a new avenue along the length of campus.
The kids' playing field, in sharp contrast, is slashed. Too small to fit little league games, it will be an unrealistically tight fit for six grades of kids at recess.
School advocates assert this is a small price to pay for parents' driving convenience and improved parking.
How harmful will this new paved avenue on campus and its idling traffic jam of parents be to the kids' air quality? We won't know — the school board and the developers decided not to do an environmental assessment. Perhaps they were afraid of what they might learn.
Given the budget that the community had gladly given them, they could have come up with a rebuild that did not trade a kids' playing space for parking. Instead they gave us a fancy campus with a nice new paved road and precious little room for our kids to play -- and a lot of community acrimony.
In a few years, of course, this will all blow over. Del Mar Heights school will be shiny and new, for a while anyway. Neighbors will calm down, stop sticking signs on one another's yards, and come to their senses. Parents will forget that Del Mar once hosted little league baseball, and kids will settle into a crowded playground unaware of how much better it could have been.
And maybe, after being dropped off on the brand new road built where the playground used to be, the kids at Del Mar Heights will read Dr. Seuss, unaware of how close to home he really is.
Garrett Anderson
Del Mar
Freedom requires adherence to regulations
Recently, my friend and our dogs visited Dog Beach at the San Dieguito Rivermouth. We used leashes, as required. The tide was low so we walked around the point, to the north. On the way back, I removed almost a dozen bags of dog poop left on the cliffs.
As I was putting them into the trashcan, a man with his pooping doberman on leash just covered up the poop and walked away. My face was masked. I offered him a bag. His face was not covered but he had earbuds in and seemed not to hear me, so I spoke louder, asking him to pick up his dog's poop. He accused me of being rude. I told him I was simply speaking louder because of my mask and his earbuds. To his credit, he took the bag, picked up his dog's poop and took two other bags from the box there.
People who use poop bags and leave them on the cliffs are a good reason not to allow dogs on the beach. People who realize their responsibilities and can overcome their selfishness are needed for such privileges, including not wearing masks in public, to continue. Freedom requires it.
Glen Rasmussen
La Jolla
Let's think about this
Ninety-nine percent of those afflicted with COVID-19 virus recover. We have far more information now regarding the severity of the contagion than was available to us, even a few weeks ago.
In 1637, Rene Descartes said, "I think, therefore I am." Almost four centuries later, I fear many of us have lost the capacity for rational thought.
As I write this letter, here are some current statistics from EISB, COVID-19 daily update County of San Diego (Epidemiology and Immunization Services).
1) Deaths 249 (county population 3.3 million)
a) 31 deaths under 60 years of age
b) 0 deaths under 20 years of age
c) 8 deaths with no underlying cause
d) Average age of death: women 80 years; men 78 years
e) Nearly 50% of national deaths have been in nursing homes
Hence, some questions.
1) Why are schools still closed?
2) Why do people under 60 years of age have to wear masks or practice social avoidance? (at 82 years of age, I will make my own decisions regarding masks, distance, etc.)
3) Why are beaches closed for sun bathing, sitting, reading, etc. when the virus has a 20-second life in sunlight and vitamin D enhances immune systems?
4) Why are states that have already opened having fewer deaths?
I have many more questions. I will leave you to your thoughts. I hope they are rational.
Owen Hahn
Del Mar
June 4 issue:
To seek justice is to reaffirm our own humanity
Beloved neighbors, now is the time to speak our values as a community. My generation was taught that speaking about race makes us racist. We struggle to say "BLACK lives matter" because we are post-racial, color-blind. This, unfortunately, is not true now and has not been true for the last 400 years. To stay silent in the face of systemic racism is to perpetuate its strength and to deny the lived experience of black America. We cannot wish equality into existence. We cannot change what we do not acknowledge. This is about assault on black bodies and black minds. The conscious and subconscious degradation of black humanity. Police brutality. Callous murder. Mass incarceration. Discrimination in education, health care, and housing. Poverty and impoverishing mentalities.
To seek justice is to reaffirm our very own humanity. This moment is both singular and universal. We will all need this collective strength in the midst of all our other current crises. Our beautiful youth are teaching us to speak peace and demand change.
Their lives risked for our future. They cower under desks to survive and kneel before the flag for justice. They are not the enemy. Like so much of the black experience, opportunists, anarchists, white supremacists, and elected officials try to manipulate and mangle this massive display of love with hate. This violence is not the protest. It is the desperate writhe of those who will do anything to win. We cannot let them.
Nicole Forrest
Olde Del Mar
Uniting our youth is essential
Last year, an editorial in a major area paper observed that the ethnic studies curriculum seemed more about imposing predigested political views on students than about widening their perspectives. Recently we were admonished that one's vote reflects whether you are truly a member of a particular ethnic group.
As a grandmother of Del Mar students, that promotion of ethnic group think troubles me, and I thought of busy, concerned Del Mar parents who may not have time to read up on current educational plans regarding ethnic studies.
School districts will be free to pick and choose from the ethnic studies curriculum that is eventually approved. But cherry-picking from a huge document (that omits many small groups lacking political clout) can result in "grievance studies" tailored to the predominant ethnicity of various school districts. This will further the divisions in our country. However, a course in civic responsibility would offer a chance to unite our youth, which is essential if Americans are to successfully face the unknowns that lie ahead.
A close look at racial and ethnic history, if honest, will reveal that human nature is deeply flawed. The much maligned Founding Fathers understood this. Their profound declaration, that all men (generic, inclusive usage) are created equal, and endowed by their Creator with unalienable rights to life, liberty and the pursuit of happiness, announced a struggle against the worst in human nature.
Part of American history has been our inevitably ongoing effort to achieve this ideal, which runs counter to all human history. We must prepare high schoolers to honor this vision if we value it.
Julia Lutch
Davis, Calif.
One View:
Lasting benefits from the pandemic?
By Gordon Clanton
As we hunker down in self-quarantine, this is a good time to contemplate possible long-term benefits of the challenging time through which we all are passing.
The coronavirus pandemic reminds us that we need a national health care system that guarantees care for all. Perhaps this experience will push us toward some form of universal coverage. The pandemic has inspired countless individual acts of generosity as neighbors step up to help neighbors. Perhaps, going forward, we can work together to strengthen the safety net for all.
The pandemic has raised general concern about poverty in America and about the plight of the homeless. Perhaps, after this, we will be a more empathetic and compassionate people, especially as we come to appreciate that sick people sleeping in our streets put everyone's health at risk. Perhaps, seeing more clearly the plight of those near the bottom of the economic ladder, Americans will unite in support of the $15 minimum wage. Long-term, growing inequality is the greatest threat to American democracy.
Because of the virus, millions of Americans are "working from home," doing the jobs they did before, but doing them remotely. Another possible benefit of the pandemic is that it shows us many jobs can be done from home, at least some days of the week.
If most desk jobs were done from home just one day per week, the savings in time and gasoline and reduced pollution would be incalculable. Most businesses probably would need to have everyone on deck one or two days a week, but perhaps our experiment with working from home will show us that more of our work could be moved to the home office.
Now most bosses resist having employees work from home, as it takes them out of the boss's surveillance, out of the boss's minute-by-minute control. But the pandemic may teach us that working from home on certain days makes a lot of sense.
A final possible benefit of the current crisis is that we might embrace ambitious New Deal-type measures to temper the economic downturn. Defying their own traditions, Republicans in Congress recently supported massive government spending to help individuals and businesses survive.
Perhaps we could find bipartisan consensus to support, for example, major repairs to the deteriorating interstate highway system and other strategic roads and bridges. Such a national commitment to better roads, and to infrastructure generally, would generate thousands of new jobs in all parts of the country. Increased federal investment in childcare, education and job training will be needed to support the economic recovery that lies ahead.
— Gordon Clanton teaches sociology at San Diego State University. He welcomes comments at gclanton@sdsu.edu

Get the Del Mar Times in your inbox
Top stories from Carmel Valley, Del Mar and Solana Beach every Friday for free.
You may occasionally receive promotional content from the Del Mar Times.