Letters to the Editor/Opinion June, July, August 2020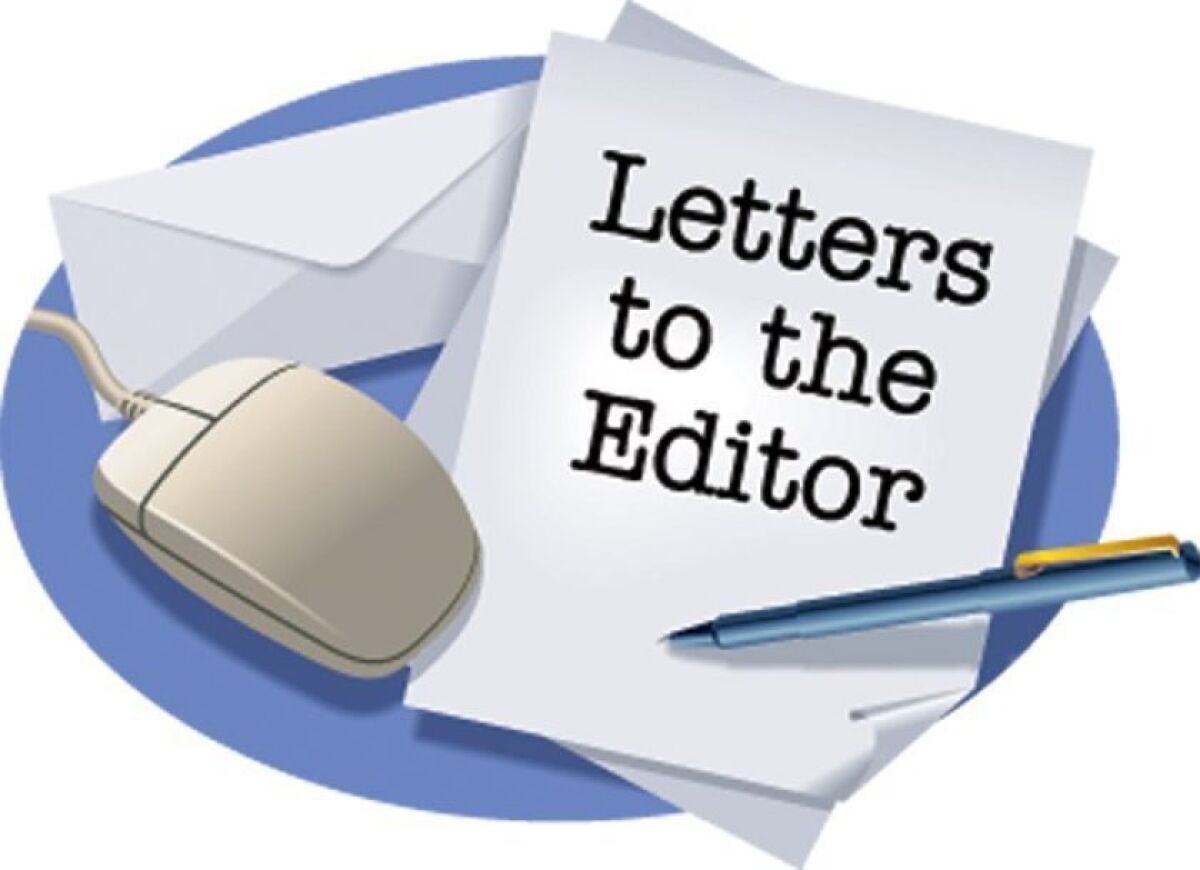 June 11 issue:
Egalitarian wealth and racial equality
In recent months, many black people were killed by police: George Floyd, David McAtee, Natosha McDade, Breonna Taylor, Sean Reed, Steven Demarco Taylor, Ariane McCree, William Green, and the list goes on and on.
Study shows a significant percentage of U.S. population is racially biased. Historically, Canada (the Act Against Slavery of 1793) and Argentina (the first Constitution of Argentina of 1853) abolished slavery without a civil war, unlike the great America. Yet, after the 13th amendment was passed in 1865 to abolish slavery, a second system of slavery arose as vividly unearthed in 1991 with the skeletal remains of more than 400 Africans in NYC. It is undeniable that racism was a serious problem in the past and still is.
However, the class divide is much deeper in the U. S. than black and white. The current protest is triggered by police brutality and the primary demand is police reform. Nonetheless, Covid-19 pandemic shows the cruel reality of how easily poor people can lose their lives and jobs. While capitalism creates wealth, without protecting the workers, the environment and the infrastructure, economic growth is unsustainable and financial instabilities occur frequently. When the poor, living from paycheck to paycheck, are unable to pay rent, medical bills, or college tuition, the economy will turn south. Besides bankruptcy could be a major disease away, if working in an expensive area, they can easily become homeless. It is astonishingly sad that some Disneyland employees could not even afford to rent an apartment in Southern California. Moreover, the aristocracy medicine, affordable only by the rich, is ineffective to fend off the pandemic. As demonstrated in Taiwan, the national health insurance helps control the spread of Covid-19. With 23.8 million people and 110 miles away from China, Taiwan has registered only 443 cases and 7 deaths. Therefore, as a start, the national health program, together with a minimum wage that is pinned to the local cost of living, will help strengthen social stability.
Despite the military might against external threats, the U. S., lacking the safety net for internal defense, is vulnerable for great recession as evidenced by the subprime mortgage crisis not long ago. Thus, the bottom-up economics is needed to maintain financial stability by reducing wealth disparity. Singapore did it well by giving people the chance to make money with money. The 90+% of home ownership makes Singapore the richest country in Asia with an average per capita wealth at nearly $300,000. Singapore can do it, there is no reason why the U. S. cannot. To help black people, and therefore all of the people, become affluent needs be the country's commitment so to alleviate racism in its entirety.
James J Y Hsu
Solana Beach
Teacher mystery: Is this Groundhog Day?
COVID-19 has brought many challenges to our community, our schools and our students, and now one of Torrey Pines High School's favorite teachers has mysteriously been placed on leave. Is this Groundhog Day? This situation feels eerily similar to Mr. Harvie's first disappearance during the 2016-2017 school year.
In 2016, when the administration announced that Mr. Harvie had "retired," none of that made sense to his students. The community of students, alumni and parents came to his support and demanded his reinstatement at a standing-room-only school board meeting.
Everyone knew that he had not "retired" willingly, but had been forced out by the administration. Their rally cry was to simply "call him." If the school board was certain he had retired willingly… they should be confident that he would not want his job back if offered. After a vote they called him and he eagerly returned to teaching.
For 30 years, Mr. Harvie has inspired students and reminded them of their potential, often telling them they are "the smartest people [he] knows" while they shouted out answers and he wrote them down eagerly. Students register for AP Physics just for the opportunity to learn from Mr. Harvie. As described by Neilah Soliday, the managing editor of the TPHS yearbook:
"To be in Mr. Harvie's class is a privilege. Not only is it an opportunity to engage in positive, encouraging interactions with an adult role model, but it is also an amazing experience to learn from someone whose passion for physics is so evident in his teaching. I'm among the many students who praise Mr. Harvie as a man dedicated to the education and wellbeing of his students. Torrey Pines has seemingly lost a brilliant educator and an important member of the Falcon community."
On March 30, Torrey Pines Assistant Principal Michael Santos emailed the students and family of Mr. Harvie's 2019-2020 classes. In the email, Santos described Harvie as "on leave," and offered no further explanation when asked. The announcement continues to arouse suspicion among students as the timing of this "leave" is questionable. Considering the current pandemic, those who would object to Mr. Harvie's dismissal have been left with severely restricted access to the administration and limited opportunity to voice their concerns. During the June 4 SDUHSD board meeting, I (Jessica Misak, a Torrey Pines High School senior) publicly requested more information regarding Mr. Harvie's absence. Immediately I was told it "is a personnel issue and will not be discussed any further," and was muted before my designated two minutes to speak were up.
One thing is certain: if this situation took place during normal circumstances, scores of his present and former students would be lining up to support Mr. Harvie — a quintessential teacher and Falcon — in front of the school board.
Jessica Misak and Neilah Soliday
Torrey Pines High School seniors
Edison unprepared for COVID-19 disaster
Disasters of any kind bring me right back to spring 2011 and the triple nuclear meltdowns in Fukushima, Japan. After months of confusion, mixed messages – and, finally, elevated radiation levels in locally-grown food -- I evacuated my family from Japan to north San Diego County. As we have rebuilt our lives, my attention has shifted from Fukushima to the disaster-in-waiting at the seaside nuclear waste repository in San Onofre.
COVID-19 has us sheltering in place. How would we isolate during an evacuation? What would more than 8 million people living within 50 miles of the shuttered San Onofre Nuclear Generating Station do if, in the event of a radiological release, they had to up and leave?
Last month, on questioning from Rep. Mike Levin, a Southern California Edison vice president played down the utility's lack of resources and plans to evacuate people living near the shuttered nuclear plant, where workers are in the midst of transferring 3.6 million pounds of highly-radioactive waste from cooling pools into dry storage.
Edison Vice President Doug Bauder offered this mealy-mouthed reply:
"In fact, in June 2015, the NRC approved the SONGS Permanently Defueled Emergency Plan, which eliminates the requirement for SONGS-specific off-site emergency plans. However, more general 'all hazards' emergency plans remain in place with local cities and counties. At present, Camp Pendleton remains our partner for initial responses to fire, rescue, medical, and medical transport needs. We also have a full-time and a part-time nurse practitioner on site, as well as a robust and well-trained security force. SCE has memorandums of understanding with local health care providers regarding health or medical treatment for employees and contractors. They have assured us they can continue to provide medical care, if necessary."
Is he joking?
Bauder seemed unaware – or he just didn't care -- that our health care system and emergency responders are stretched to their limit with the pandemic. He also hasn't explained how the waste transfer qualifies as an essential activity and what is so urgent about the dangerous work that it can't hold until the global crisis is over.
Edison's determination to plow ahead follows a pattern or recklessness that includes a near-catastrophe in 2018 during the bungled loading of 50-ton waste canister. The steel canisters themselves are vulnerable to failure from scratching, gouging and corrosion -- especially since their storage location is a stone's throw from the ocean. If this weren't enough, sea levels are rising and the storage vault is located near an earthquake fault.
Contractors at the nuclear plant should stay home like the rest of us. Work should resume only when Edison can show that evacuation, emergency response and medical infrastructure is in place to provide for our safety.
Cathy Iwane
Board of Directors,
The Samuel Lawrence Foundation
Private property flag placement should have owner's consent
With the 4th of July approaching, real estate agents and local businesses need to be reminded that placing flags on private property without the owner's consent is unethical and, in some places, illegal.
Although this action is well-intentioned, it's presumptuous to assume everyone wants to display a flag in front of their house. And, at a time when this country is so divided, it may be inflammatory.
There are so many issues surrounding this, including:
• Lawns are private property, and nobody should be placing anything there without the owner's permission. Imagine if we all went around placing flags or banners or signs on our neighbors' lawns. We wouldn't be allowed to do it.
• Many communities have intentionally put up No Soliciting signs, so why would they want flags – the symbol of our country – being used to advertise a business for profit?
• Some businesses even go a step further, adding "God Bless America" to the flag. Separation of church and state is a major tenet of this country, and religion is a very private matter to people.
• COVID-19 is still a real threat. During the pandemic, especially, no one should be placing objects that have been touched by/breathed on/exposed to others on someone else's property without that person's consent.
For those homeowners who do appreciate the gesture, maybe HOAs can email residents to ask who wants one and then forward that list to the realtors.
Or, instead of placing flags on July 4, maybe local businesses could do a real community service by sending out a reminder – maybe a refrigerator magnet? – in the fall and spring when it's time to change the clocks and switch out smoke alarm batteries. Just don't do it on people's private property.
The Fourth of July is a sacred celebration of our country's freedom. That freedom includes the right to choose how we want to commemorate that important day and whether or not that includes displaying the flag.
Lois Mark
Carmel Valley
Let the bidding begin
Re: Phil Diehl article "Fairgrounds faces possible closure without financial aid" Solana Beach Sun, June 4, 2020
Covid 19 has exposed some systemic issues: Lots of people are in bad health with severe "underlying conditions," too many hungry, many financially insolvent and government ineptness. The latter two are exposed in your article stating that without $20 million federal (tax-payer) money the Fairgrounds could close or be sold.
What is really exposed appears on page 24 raising questions of fiscal mismanagement and public employee union contracts with governments and quasi-government entities like the 22 DAA. "156 full-time permanent employees with a total average monthly payroll of $1.7 million." That's $10,897 per employee per month – most of whom I assume are not working from home!
Unlike all private sector companies making prudent adjustments with CEOs taking half pay, employees being furloughed or receiving half pay or having to take PTO without pay to help weather the forced financial downturn, you state "the government doesn't allow furloughs!" No wonder the Fairgrounds is in financial trouble!
Is this a major "systemic problem" with government and public employee unions?
I recently heard when the stay at home order was issued, that San Diego's mayor, in an attempt at good fiscal management, announced he would furlough 800 "non-essential" city employees. Immediately the union blocked him evidently because of a "no furlough" public employee contract with government. Is this true at all levels of government? Who would sign such a contract? While private sector employees suffer what makes non-essential government employees so special?
Financial, economic and now virus downturns usually result in new efficiencies being utilized; contracts renegotiated, salaries cut, etc. I thought unions had rainy day funds for this type of thing. Why are we taxpayers asked to bail out bad contracts?
We hear the term "public servants" used a lot. Reading your article, I'm confused just who is the public servant, them or us? I guess we are not all in this together.
Cites, counties and states always seem to need more money. Selling the Fairgrounds to private ownership will provide the state badly needed cash now, property, sales tax revenue to all down the road and more efficient, creative and effective uses. We continually talk about needing affordable housing but no land, or where to house our homeless. Well, there's plenty of land, potential for creative uses, job creation, horseracing, shows etc, etc and the state won't have to worry about money again or an insane labor union contract.
Let the bidding begin.
Dave Ferguson
Solana Beach
June 18 issue:
Concerns about SDUHSD fall reopening options/lack of mask requirement
The letter below was sent to the San Dieguito Union High School District board, superintendent and San Dieguito Academy principal. It was also submitted to this newspaper for publication. The letter was submitted Saturday, June 13 so timing references in the letter are referenced as of that date.
I received the survey with the options for the fall. I am very concerned by a couple of points noted for these options:
I am troubled that students will not be required to wear masks. (Followup from this letter's author: The superintendent sent a lengthy reply to me, noting that "no final decisions have been made.") Allowing students to forego face coverings is a significant and unnecessary risk to the teachers, students, and their families' health. Numerous scientific studies support wearing masks as an effective way to reduce the risk of transmission, and the county health department has ordered that "All persons… shall wear [a] face covering whenever… within six feet of another person who is not a member of their family or household."
Also, I noticed in the new survey sent this week that it says that if you pick the remote/hybrid option, not all classes may be available. Could you offer the opportunity to be remote when possible, but come to campus just for the courses that require it (with masks)? We are concerned that if we select this option out of concern for the safety of our family, that you will prevent our son from taking some classes that he may want or need. It is frustrating to have to choose between our family's safety and access to courses that may be important to his education.
I would also request that you provide a more visible outlet for parents to give feedback. I only learned of ThoughtExchange from the the Solana Beach Sun article this week. When I read the article, I searched for and found the link at the bottom of an email titled "Superintendent's Update"; the nonobvious placement of the ThoughtExchange link in the email and the lack of mention of a request for input in the email subject line made this opportunity very easy to miss. And this ThoughtExchange link now says, "This exchange is now complete" and won't allow further input even though you sent the email only three weeks ago. I also find it frustrating and odd that the new, much more visible survey (linked in bold text as "Survey Link") sent to parents this week has no place for any feedback or comments. Given that you only received 3,700 "thoughts" (as noted in the Solana Beach Sun article) from a district the size of SDUHSD, I would strongly recommend and ask that you give parents a more visible avenue for input and feedback on these newly published options.
Thank you,
Jason Knapp
A concerned parent of an SDA sophomore
Flags on the lawn: Abide by the United States Flag Code
This Independence Day, may we please find that no Realtor advertised by sticking little American flags in our yards. Please abide by the United States Flag Code which states: "The U.S. flag should never be used for advertising in any manner whatsoever."
In addition, the code states that nothing is to be attached to the flag's staff (like a "complements of" flyer), nor is it to touch the ground or other objects (hedges, fences, etc.), much less be set out in the sprinklers, unwanted and unattended.
While not meant to be, this is disrespectful of the flag and the holiday. Tell others of the profession to stop doing this and perhaps have the tattered and soiled flags still seen in some yards from last year, picked up. Those who wish to display the flag correctly, will. Thanks anyway.
RA Stewart
Solana Beach
USA Ret.
June 25 issue:
Approving affordable housing would help undo economic injustice
It's heartening to see Black Lives Matter signs sprouting throughout Del Mar. Yet, in March 2020 Del Mar voters shot down Measure G, the Marisol initiative that would have created 22 affordable housing units. As in the past when Del Mar citizens used canards like traffic, noise, and lowered housing values to kill affordable housing, that vote was a statement: Del Mar rejects working toward social justice when it demands change in our own backyards. But perhaps today's nationwide call for justice will be loud enough to pierce the walls of Del Mar entitlement. By approving and building affordable housing, the good people of Del Mar can show that their commitment to undoing 400 years of American economic injustice goes deeper than yard signs.
Mark Johnson
Del Mar
Americans are right to be skeptical of public health officials on coronavirus
Only a few months ago, I advised friends and family members against purchasing face masks. My actions were motivated by my faith in public health experts and elected leaders who, at the time, stressed that face masks were not effective in preventing the general public from catching the coronavirus. Much to my surprise, however, White House health advisor Dr. Anthony Fauci recently admitted in an interview with TheStreet that public health officials downplayed the efficacy of masks early on to ensure they would be available to health care workers. Since then, he has changed his tune, now urging people to wear masks in public.
By actively discouraging the use of and downplaying the effectiveness of masks at the beginning of the pandemic, Dr. Fauci and other medical experts have amplified the belief that masks are useless to combat the coronavirus. It's no surprise why Americans are divided on wearing masks. This confusion could have been avoided had public health experts been more truthful from the start of the pandemic.
Shahen Boghoussian
Solana Beach
July 3 issue:
Poverty is the root of many issues we face
In times of crisis, we need change. Recently, the deaths of George Floyd, Breonna Taylor, and others brought forth attention towards police brutality. Police brutality has been going on my whole life, from the 2014 shooting of Michael Brown, to present day, with officer Derek Chauvin brutally murdering George Floyd. These acts are immoral and cruel. We need a change, to ensure that what happened to these individuals never happens again.
The problem is there is no law that destroys racism. While we can pass bills to limit the power of the police, it won't fix the systemic racism that destroys our country. However, this issue is larger than racist cops. This problem arises from a financial imbalance between Blacks and Whites. A study from the Kaiser Family Foundation explains that in the United States, 22% of people living underneath the poverty line are Black, whereas only 9% are White. Statistically, since more Black people live underneath poverty lines, along with poverty and crime being directly related, these Black neighborhoods are more likely to be over-policed, causing police brutality.
In order to stop police brutality, we need to hit poverty hard. The U.S. needs to address that poverty is the root of so many issues we face, and take steps to end it. Representative Scott Peters efforts to end global poverty are commendable but, as a community, we can do more. Start by supporting the Borgen Project, an organization working towards ending global poverty. They are truly an amazing cause, pushing poverty to be the most important issue. Together, we can do better.
Melinda Lu
Carmel Valley
Mayor Haviland's vote does not support Del Mar and all the small cities
On Friday, June 26, 2020, the San Diego Association of Governments (SANDAG) met to consider the small cities' appeal to modify the regional housing allocation formula that assigned required new housing units to each city.
The formula adopted in September 2019 disproportionately assigned additional housing to the smallest cities, including Del Mar. Del Mar's allocation more than doubled from 61 in 2010 to 163 today. Solana Beach's rose from 340 to 875. At that time, Ellie Haviland, who was then Del Mar's deputy mayor and our representative to SANDAG, voted "Yes" to approve the unfair allocation – against the wishes of the other small cities.
The other small cities appealed the decision to SANDAG. Del Mar declined to join the small cities appeal because the City Council majority of Dwight Worden, Ellie Haviland, and Sherryl Parks were against doing so.
SANDAG finally heard the appeal this past Friday.
When the vote was first taken, 12 of 18 SANDAG jurisdictions approved the small cities' appeal. This would have reduced the assigned housing numbers to be submitted for approval by the California Department of Housing and Community Development by 55% for all the small cities, including Del Mar.
Mayor Ellie Haviland once again voted against the small cities, including her own City of Del Mar.
However, that was not the final vote. SANDAG has a "direct vote" and a "weighted vote" option. A weighted vote gives the City of San Diego immense power based on population. If only a few other jurisdictions join the City of San Diego, just a small number of jurisdictions can overturn a direct vote by taking a weighted vote. That is what happened this past Friday. After the first vote, one of the opposing jurisdictions called for a weighted vote on the appeal.
With this weighted vote, the appeal failed. Mayor Ellie Haviland yet again voted against the interests of her own city, and therefore we now have to zone for an additional 163 housing units somewhere in Del Mar. This did not have to happen, but Mayor Haviland supported it all the way to the end.
Mayor Ellie Haviland should be held to account for her decision. We cannot continue to change low-density zones to high-density residential without serious repercussions including traffic congestion, view blockage, air quality, green open spaces, and our small city quality of life.
Our mayor should represent Del Mar, not San Diego.
Suren Dutia, concerned 30-year resident
S Gay Hugo Martinez, former council member
John Imperato, former vice-chair Sea Level Rise Committee
Why 120 days notice for Fairgrounds employees?
I can't understand what is going on at the fairgrounds. Two weeks ago they announced that they needed a loan for $20 million because "state law" says they cannot layoff employees. There are 156 employees at the fairgrounds and it is closed! One week later, they changed their tune and said they can layoff employees but said "state law" says they must give 120 days notice. I looked up the state law and the notice is only 60 days and no notice if the employee has been there less than six months. We are dealing with big $$$$ numbers. Can the board give us a clarification?
Jim Benedict
Del Mar
Composting during quarantine
To my community,
Are you bored during quarantine? Are you looking for a way to help the environment? Do you want a cheap and organic fertilizer? If so, you should try to do something called composting.
Composting is when you put food scraps in a bin and let bacteria naturally decompose the waste into nutrient-rich fertilizer. This fertilizer can be put in gardens and plant beds in your yard. You do not need fancy equipment to compost. All you need is a bin and some food scraps. You can build a compost bin out of wood by simply making a box with the top open. Then, just put your food waste in and let it decompose. After a few months you will have nutrient-rich fertilizer for your plants.
Composting is also good for the environment because it recycles food waste naturally and makes it into an organic fertilizer. And since these food scraps are going into your compost instead of being thrown away, less waste goes into the landfills. Since we began composting, my family has reduced our landfill garbage to one bag of trash every two weeks. How amazing is that!
If you are bored during quarantine and want to save money on fertilizers for your plants, you should try composting. Composting costs almost nothing, is easy to do and does not require much equipment. Best of all, your yard will look amazing from all of the nutrients.
Alex Hassanein
Boy Scout, Troop 782
One View
More Black cops.
More Black chiefs.
By Gordon Clanton
Amid unprecedented national and international peaceful demonstrations of protest, let us remember that police brutality and the unequal treatment of Black people by police are very old problems, deeply rooted, structural, systemic, resistant to change. Despite various attempts to "reform" police departments, White police officers continue to beat and kill Black men and distrust of the police in Black communities deepens.
So consider the benefits of more Black cops and more Black chiefs of police.
More Black cops. What if mostly Black neighborhoods were policed by mostly Black police officers? Racial tension between cops and neighborhood people would be dramatically reduced. Community trust in the police would grow. Cooperation with the police would increase.
To achieve the goal of mostly Black police officers serving mostly Black communities, state and federal governments would need to provide funds for hiring additional Black cops until every police force (and sheriff's office) in the nation has enough Black officers to police its mostly Black communities. Because Black distrust of the police is a national problem, the national government must help fund more Black cops for Black neighborhoods.
More Black chiefs. What if more police chiefs were Black, especially in cities with large Black populations? Again, racial tension would be reduced and community trust in the police would grow.
The chief of police (or sheriff) makes the policy and sets the tone for the department. Law enforcement agencies are top-down, paramilitary organizations. To change police culture, we need new chiefs who will not tolerate or cover up police misconduct.
If the chief is White, some of these same benefits can be gained by having a Black officer among the chief's top commanders, responsible for supervision of Black officers serving Black neighborhoods.
When the Black community sees Black beat cops reporting to a Black commander or a Black chief of police, tensions will be reduced and trust will grow.
Of course, many Black communities have additional problems that come with decades of poverty and governmental neglect. And additional police reforms are necessary, especially community oversight, limiting use of force, better training, body cams, and the de-militarization of our police.
Getting rid of police departments is not the solution. We need an entity to protect us from crime and disorder. In fact, sociologist Max Weber defined a government as a group claiming a monopoly on legitimate use of force within a territory.
But the call for police reform is legitimate. One badly needed reform: More Black cops and more Black chiefs.
— Gordon Clanton teaches sociology at San Diego State University. He welcomes comments at gclanton@sdsu.edu
July 9 issue:
Haviland's votes reflected Del Mar's best interests
The three-person letter attacking Mayor Haviland's votes on housing at SANDAG was a gross distortion of the facts and a clear pander to the political agenda of those opposing her re-election. Haviland's votes were principled and reflected Del Mar's best interests. Under SANDAG's weighted vote system there was no way Del Mar could offload some of its housing fair share to other cities.
Continuing to whine about our housing allocation when we have the worst record in the region only bolsters our elitist reputation. Instead we should focus on the very careful analysis of the recent housing task force which shows in great detail how we could achieve our fair share and more.
We can make this happen if we dispense with political attacks and work together.
Bud Emerson
Del Mar
July 16 issue:
All factors should be considered to produce needed housing
On Friday, July 10, SANDAG approved the final Regional Housing Needs Assessment (RHNA) with support from only 6 of 19 jurisdictions using a weighted vote. The RHNA process is one by which SANDAG assigns to each city the number of housing units it must plan for through 2029. Given the current housing shortage this is obviously a very important process that deserves the appropriate effort to get it right.
The City of Solana Beach is committed to doing its part – during my time in office we have approved multiple projects at maximum density plus a density bonus. Not many other cities are approving housing at maximum densities. However, I am unable to support the current RHNA methodology because it does not take into account the unique situation of each city nor does it consider where housing can be more easily produced. In fact, since the methodology was first brought to the full board over a year ago not a single substantive change has been adopted. Multiple proposals made by myself and others to improve the methodology were always overturned by a weighted vote of the board minority. Furthermore, every time this process has moved forward it has done so over the objections of a super majority of the board.
To understand how unbalanced the allocations are consider this: Solana Beach has been assigned 875 units for this housing cycle. Using comparable allocations based on size, Encinitas should get over 4,200 units, however, they only were allocated 1,554. Similarly, Carlsbad should get over 8,100 units instead of 3,873, and Solana Beach already has a higher percentage of housing as multi-family units than any other North Coastal city! This demonstrates why all factors should be considered, otherwise we simply won't produce the needed housing.
In a recent letter a writer suggested it was time to stop "whining" and start "working together." I'm not sure if it's whining to point out the cold hard truth, but if so, we need to continue doing that. The truth is that this RHNA plan will not produce the housing our region needs. To get there we do need to work together, taking into consideration all salient factors such as available land, sea-level rise, and coastal access. However, we have been left with a one-size fits all approach forced upon the region by a small minority of cities through wielding their big stick of the weighted vote. They chose this vs. doing the hard work of evaluating each cities' circumstances and crafting the best possible plan. In 10 years when we look back at why we yet again failed to develop the housing the region needs we can point to this decision being adopted, over the objections of 70% of the jurisdictions, as a key factor why.
David Zito
Councilmember, City of Solana Beach
SANDAG board member
Del Mar Mayor Haviland – Getting the record straight
The letter written by Bud Emerson and published in the July 9 edition of the Del Mar Times is incorrect. Not only did Mayor Ellie Haviland vote against the interests of Del Mar at the first SANDAG meeting on the housing allocation, but to the dismay of her other small cities, she voted once again against Del Mar when the small cities appeal was heard by the SANDAG Board of Directors about two weeks ago.
She sided with the City of San Diego against Del Mar both times. Bud Emerson and Mayor Haviland cannot deny the truth about that.
The letter to the editor exposing the actions of Mayor Haviland was written by Suren Dutia, Gay Hugo Martinez and John Imperato; all three are upstanding and respected citizens of our community. The hard facts they presented cannot be disproved.
Hershell Price
Del Mar
Haviland vote a disappointment for my small city too
There's a saying in Solana Beach: "Del Mar Plan, Solana Beach Headache."
Never has this saying resonated more powerfully than when Ellie Haviland, rotational mayor of Del Mar, disappointed her own constituency as well as Solana Beach by voting down a well-reasoned, logical appeal to SANDAG for small city exemptions to affordable housing quotas.
The small cities, including mine, opposed the increase because the formula used to calculate the allotment was disproportionately increased more for small cities than what was previously proposed. In Del Mar's case, SANDAG counted all the fair workers as full-time employees and didn't count their housing at the Fairgrounds.
Emerson's letter last week reveals how rationally he and Haviland think. In his first paragraph, he called letter writers from the previous week that stated clearly what Haviland's vote meant, "a clear pander to the political agenda of those opposing her re-election." Then he goes on in his last paragraph "we could achieve our fair share and more…if we dispense with political attacks and work together."
He attacks the other guys' political agenda, then makes a plea for no more political attacks?
No wonder Solana Beach needs more extra-strength aspirin.
Carla Echols-Hayes
Solana Beach
July 23 issue:
Fair board should reject temporary housing proposal
I listened to the July 14 fair board meeting regarding the proposal from Fixx Solutions to provide up to 1,200 temporary housing units to shelter homeless veterans. While staff pointed out their various subcommittees are reaching out to experts to fill in their knowledge gaps and they would report to the committees with their findings, it appears as if the next time the public hears from the board, a done-deal decision will be announced.
I was disappointed that at the conclusion of the public comment period there was no response to the valid concerns voiced by some of the public speakers. Specifically, many of us have concerns about the experience and viability of the proposing company, Fixx Solutions. I have great compassion for anyone who is homeless and is suffering from physical or mental illnesses, drug addiction and lack of opportunity and relevant job training. Fixx Solutions states they will have support staff on-site to help all of these individuals, but their proposal does not go in to this all-important area in more detail. Who will be providing this help? How will they effectively assist the up to 1,200 individuals with a variety of needs that are proposed to be housed at the horsepark location? Who is going to feed the residents? Does the wastewater system have adequate capacity to serve this many people? Is there enough bandwidth for each to have a phone? Additionally, given there is no public transportation or safe walking routes to shopping, job interviews, job training or jobs, are the temporary residents to sit in their trailers all day? This location is unsuitable for this sort of rehabilitative use.
Additionally, the 22nd DAA will have to seek a Coastal Development Permit from the California Coastal Commission. They will likely see that many of these units will be located in the flood zone at this property, and that the intensity of this activity does not comply with the intent of the facility.
While the 22nd DAA is in dire financial straits now, it appears it wasn't in great shape before the COVID-19 pandemic. Given the smaller Orange County Fair's board accumulated $54 million in reserves and the San Diego County Fair's board has not been able to put aside nearly that much if any in reserves, an entirely new strategic vision must be crafted through a Strategic Planning process. The Fixx proposal would hinder the implementation of any outcome of that exercise. I encourage the fair board to reject this proposal as it would be wholly inadequate for the proposed residents, and would impede any much-needed longer term strategies for the 22nd DAA properties.
Lesa Heebner,
Former mayor and council member, City of Solana Beach
Zito's analysis of the housing shortage well done
David Zito's analysis of the housing shortage and the number of new assignments to Solana Beach is a brilliant example of putting together knowledge, understanding and wisdom to develop a reasonable balance based upon size, current density, available space and other factors. I often wonder about the education and experience of many of the members of school boards, SANDAG, utilities, and other governmental bodies that control our roads, transportation, etc.
Paul Sims
Solana Beach
Local governance
The July 16 paper printed a letter from Solana Beach council member David Zito that decries the weighted vote process used by SANDAG regarding violating property rights in how housing is to be built and priced. Property owners should never be told at what price they can sell or rent the property they own. Hence the entire idea is flawed, but it is quite understandable that the larger cities, with more votes and hence paying more of the total tax burden, get to determine the actions going forward. In the vernacular of the time, that is called "following the money," and those that pay get to call the tune. That is only fair, unless a person thinks they have a right to force someone else to pay for what they want, simply because someone else can.
However, in other Solana Beach activity, one can read that as the town moves to join a larger CCA(community choice aggregation) as the "go it alone" CCA has apparently not worked out to the council's satisfaction (electrical power is now priced at parity with SDG&E, and an SDG&E customer could get at CCA initiation, and still can get, 100% renewable power from SDG&E). Solana Beach is facing similar status in the new CCA as it does with SANDAG. The new CCA is a Carlsbad, Del Mar and Solana Beach government-run activity backed by the taxpayers' deep pockets. Recent activity to affect financing displays the Carlsbad importance to the government entity, where Carlsbad contributes 90% of the credit option financing guarantee, Solana Beach 7%, and Del Mar the remainder. Refer to Resolution 2020-112, a city staff report for consideration by the city council.
So Zito bemoans the minor role of Solana Beach in SANDAG, but I wonder if he is doing the same about the new CCA arrangement. Carlsbad contributes the overwhelming amount of money to the new CCA. Carlsbad will call the "tune."
Bill Stoops
Solana Beach
Aug. 6 issue:
Not the time to approve salary increases for highest paid employees
At the July 22 Del Mar Union School District (DMUSD) Governing Board of Trustees meeting, the board members voted to approve a salary increase for Superintendent Holly McClurg and for the assistant superintendents of the district. While I have no doubt that the superintendent as well as all district staff have been working harder than ever amidst the current chaos surrounding school reopening, this increase in effort and workload required to assure safe and equitable access to education in light of the current pandemic is certainly not unique to DMUSD. We are fortunate in that DMUSD is not in a dire financial situation that so many school districts around the country are in. In fact, during the district's presentation to the board members about measures being undertaken to assure a safe return to school, not one board member questioned the financial impact of the many measures proposed and already enacted by district staff including the hiring of additional teachers in order to ensure smaller class sizes than usual and the purchase of items to promote hygiene and sanitation among other expenditures. Does a lack of financial difficulty equate to a reason to increase the compensation for the district's highest paid employees? Why not use that extra money to go further in trying to provide equity and extra help for special education students or students in households where there will be no adult willing nor available to supervise at home learning? These are going to be the children who will be the most disadvantaged by the changes to schooling.
Of note during the same meeting, district staff gave a presentation that illustrated some steps the district will be taking to confront prejudice and discrimination and to promote inclusive and safe communities across the district. I applaud the district's effort and intent in this regard. Though I wonder how salary increases for the highest paid employees of one of the most affluent and least diverse districts in the county is a step toward this goal of equity and inclusivity. In fact, it perpetuates one of the most pervasive problems in our country — the growing divide between rich and poor, the continued enrichment of those already at the highest income levels to the detriment of those in our society who are struggling, who are more likely to be people of color. By approving these salary increases during a time of struggle for both the education system and the workers in this country as a whole, DMUSD appears out of touch and is setting the wrong example for our communities and, especially, for our children.
Stephanie de los Rios
Del Mar
There should be two options in every school
I am appalled by San Dieguito Union High School District's decision to follow the lead of other districts in the state in not opposing Governor Newsom's school closure order and starting the school year in a full distance learning mode. This is a decision based on politics and fear-mongering. There should be two options in every school — full distance and full in-person. If families do not want to send their children to school, then they can choose full distance. They should not, however, be allowed to dictate what all families do. Additionally, many of the families in support of distance learning are also hiring teachers and tutors to teach small groups of children. How is this right if it is so dangerous for children to be together?
I am disappointed that affluent families will be widening the achievement gap because they can afford to create micro-schools for their children. As long as families who are willing and able to pay for private tutoring can mitigate the damage that distance learning does, there will be little reason for politicians to push for schools to reopen.
Erika Daniels
Cardiff
The letter below was sent to San Dieguito Union High School District (SDUHSD) Superintendent Robert Haley, the SDUHSD board and to this newspaper for publication:
Leadership and charging students (Where does the money go?)
Hello Superintendent Haley and SDUHSD board,
School districts are in unprecedented times, and when strong leadership needed to be shown, SDUHSD failed to rise up. What students, parents and taxpayers have seen in the SDUHSD is leadership lacking when students depend on it most.
For example:
Students work hard to learn the curriculum taught by their teachers, the outcome for the student is that their learning is reflected in an earned letter grade. The fiddling and missed opportunity to lead was right in full public display. Thankfully, the voices of a diverse collective of students, parents and community members collaborated and put forth a compromise the was in the best interest of all. Board members with over 20 years board experience and those with teaching backgrounds should be ashamed of their initial decision, and at no point should ever take a victory lap for reversing their ruling.
Now it is time to remove bad actors and the arrogant behavior associated with this district. It is not in the best interest of students, especially now. With board members moving on, let's hope new candidates and/or the outgoing can show the parents and the public where the money in the district is being used for the benefit of all students in the district.
Parents have lost or have been idled from their jobs, money is tight, yet you allow the continued poor behavior of parent and student financial fleecing off public school facilities. Clearly you approve, because you will not show or release any public records regarding this troubling action. Pictured below is the district Facebook page celebrating the school connected Foundation award for transparency.
Actions have also been illustrated on Twitter (see the image of post below). Where the Torrey Pines football program is charging students $450 to use their public school weightroom facilities? There are many students that cannot make this financial commitment and, as we have seen, those that don't pay, can't play or get the opportunity to be recognized. Those that can get hoisted to the top as financial influencers that build the Torrey Pines school and district.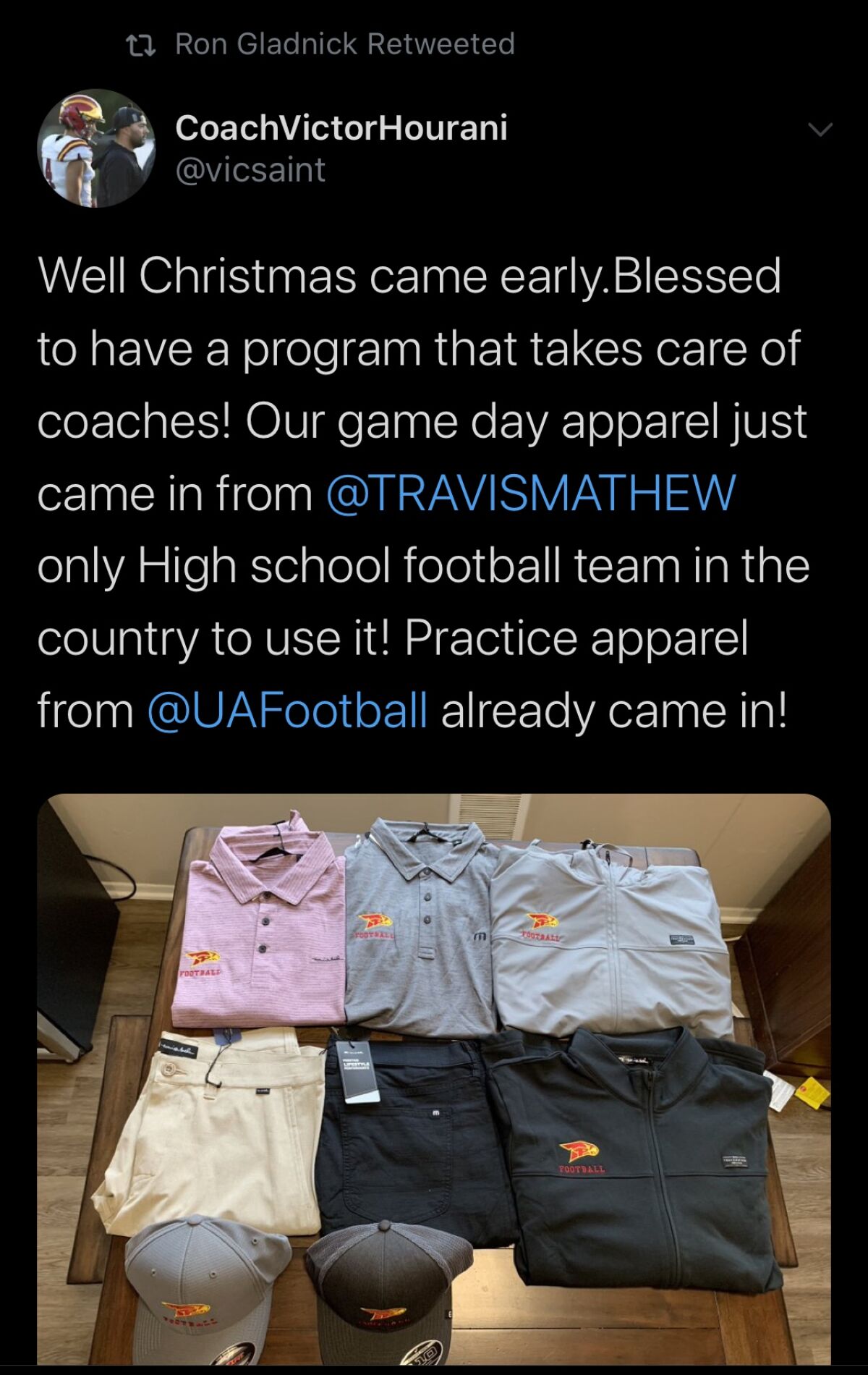 This behavior has gone on for too long and needs to be corrected immediately while events are in a holding pattern.
Dr. Haley and Principal Rob Coppo (TPHS Foundation principal) should forfeit their raises and salaries to repay the monies that they clearly allow and promote students have to pay to access their public school campuses.
Student safety, wellness and equality depends on strong leadership.
Looking forward to your actionable next steps.
Nathan Gumb
Carmel Valley
One View
Anticipating November
By Gordon Clanton
Two of the most important regional races on the Nov. 3 ballot are for mayor of San Diego and for county supervisor, District 3.
Mayor. The new mayor will be a Democrat. The finalists are Assemblyman Todd Gloria and Councilwoman Barbara Bry. In the March primary, Gloria led Bry by almost 20 points. And Gloria is endorsed by the County Democratic Party.
You can hear and question Gloria and Bry via Zoom Thursday, Sept. 10 at 6 p.m. Find link to this free event at rsfdem.org.
Bry is giving up her First District council seat to run for mayor. Again, two Democrats are the finalists for that job, engineer and community activist Joe LaCava from La Jolla and attorney Will Moore from Carmel Valley.
Supe. In the pivotal D-3 supervisor race, Republican incumbent Kristin Gaspar faces Democrat Terra Lawson-Remer. Gaspar, who ran unsuccessfully for Congress in 2018, has aligned herself with Donald Trump and his border policies. This may hurt her chances for re-election, as Trump is losing ground with district voters. Terra recently was endorsed by the Sierra Club and the League of Conservation Voters. The far-flung district includes Encinitas, Solana Beach, Del Mar, Carmel Valley, Escondido, and much of the I-15 corridor.
In Del Mar. Battle lines are forming for the most consequential city council election since 1988. With three of five seats up for grabs, the council majority is at stake. As the traditional coffee with candidates is not safe, voters should seek to meet the candidates one-on-one by phone or by Zoom. Do your homework. Ask tough questions. Learn about the issues Del Mar faces and the alliances that will contend for control of the council in November.
Remembering John Lewis. I met the late congressman and civil rights icon some years ago at a fundraiser in southeast San Diego for Congressman Bob Filner. I was moved by John's personal warmth and steady sense of purpose. He hugged me, called me his brother. More recently, I arranged for John to speak to the Rancho Santa Fe Democratic Club, but he canceled a planned visit to UCSD because of a labor dispute.
John was one of my heroes, fearlessly progressive across a range of issues, a profile in courage. He followed the path of non-violence in his relentless pursuit of racial and economic justice. His life challenges all of us to commit ourselves to making "good trouble."
— Gordon Clanton teaches sociology at San Diego State University. He welcomes comments at gclanton@sdsu.edu
Aug. 13 issue:
Good reasons not to take a totally rigid hard line on masks
The Del Mar Times (Aug. 6), reports on the San Diego County's emergency health order with an emphasis on the requirement for facial coverings (masks). The order is to be backed up by fines of up to $1,000 dollars and 90 days in jail. This fine is out of the reach of many already financially-pressed people, and the jail sentence is almost a death sentence under current conditions.
The Del Mar City Council has jumped into this issue by hiring two deputies who will "… talk with people and attempt to gain their compliance before issuing citations," according to Capt. Herbert Taft, Sheriff's Department's North Coastal Station. This discretion, backed up by dire consequences and deferred to arresting officers is a familiar pattern under much criticism nationally. Del Mar has taken a risky path.
There are good reasons in terms of the epidemic not to take a totally rigid hard line on masks. Mask use for families is recognized as impractical in certain situations. However, people whose lives are intertwined socially (e.g., neighbors, coworkers, members of the same club) are, all across the country, informally defining themselves as "family" units with regard to mask usage. A group of four ladies in California meet weekly to sit and chat by a backyard pool. They socially distance but don't wear masks. They agree to keep tabs on each other. A group of eight Kiwanians in Colorado meet once a week at each other's yards to discuss their projects. They don't wear masks but agree to keep track of each other and notify their Kiwanis Club if anybody in their group gets sick.
Rather than take a hard line on this national trend, common sense optional rules for these defined families should be formulated. At a minimum, if someone in your "family" gets sick you help them, make sure they get treatment, and inform other family groups and relatives what has happened. At the same time, the value of masks outside these general family units should be strongly stated but not enforced by prison and fines. Reporting to the government should be optional.
People in defined families are instinctively organizing themselves in ways which, if acknowledged and respected, can collectively deal with important aspects of the contact tracing problem better than the state- sponsored methods now running into big trouble. Del Mar should not adopt policies that support the criminalization of this process.
Stanley Gill Williamson
Del Mar
Mask expansion will backfire
The Del Mar City Council voted to spend $20,000 in taxpayer dollars on two part-time mask enforcement deputies and also requested that the county health officer require mask wearing permanently anytime someone leaves their home. One council member suggested "This...could end up backfiring and attract COVID deniers to come march in Del Mar." I agree it will backfire by further hurting local businesses as this will most certainly discourage people from spending time/money in the village as they work to keep the doors open and bounce back from Newsom's unnecessary shut down which devastated our economy and severely impacted millions of California families (much of this not yet fully understood). The actual data (not models) clearly supports that Sweden (10,000,000 people/5,700 deaths) had it right with no stay- at-home order, kept schools open, didn't close businesses, the general public did not wear masks, and hospitals were not overwhelmed. With herd immunity established and growing it appears they've turned the corner whereas we continue to push off the inevitable by strangely continuing to quarantine the healthy. I digress.
Speaking of data, it would be great if the council would follow up with the specific scientific data/study (not someone's "expert" opinion) that validates not only the science behind masks preventing COVID (the Italians found out the hard way that masks didn't protect their healthcare professionals) but that wearing masks full time all by your lonesome prevents COVID (I'll wait patiently). Personally, I've played along wearing one when required only out of respect to those who fear the virus or are vulnerable but, statistically, as a healthy middle-aged adult I have a much greater chance of dying in a freak accident than by COVID. Therefore, I have no interest in masking up when I'm nowhere near others nor am I interested in big brother breathing down my neck threatening $1,000 fine or 90 days in jail because I was within 5'6" of someone unmasked (this is a slippery slope the Australians in Melbourne are finding isn't so popular). Maybe the plan is to keep people like me out of the village? Well, if so they win. But I can promise I'm hardly alone and feel bad for our local merchants and families. I also wonder how this turns out for the City of Del Mar who may struggle to pay the bills absent planned tax revenue and it's completely reasonable that the Feds won't and shouldn't be there to bail out poor decision making by leadership.
Robert Kench
Del Mar
Beware of anonymous 'push' poll
Be very wary. An anonymous "push" poll is being sent online to Del Mar households. The secret sponsor, using names like Del Mar Forward and Woodpecker, is calling their product an opinion poll but the obvious objective is to sway voters using loaded or manipulative questions without admitting it. No one knows if they are Del Mar voters, what is their source of funding, or even if they are citizens of this country.
The American Association of Public Opinion Research denounces these push polls as "incompatible with authentic polling."
We have a right to know who they are and why they are trying to mislead us.
Bud Emerson
Del Mar
Be the solution to the pollution
How fortunate we are to live in an area of abundant natural and cultural resources. Surrounded by protected parks, beaches, a highly functioning lagoon, ocean breezes, and a gorgeous natural habitat including endangered birds, there is one particular feature that is often overlooked and many times taken for granted, the San Dieguito Watershed.
This natural drainage system, one of the largest of the 11 watersheds in the county, is also the longest, spanning 60 miles from a small spring on Volcan Mountian near Julian, it flows through four distinct eco-systems as it reaches the Pacific Ocean near the Del Mar and Solana Beach border.
As creeks and tributaries add to this stream of water, it grows to become the San Dieguito River which meanders through several towns and valleys before it reaches the Del Mar Lagoon then flows into the ocean. Many years ago, particularly during the summer, local Native Americans followed the river pathway and found it to be a rich source for food, shelter and recreation.
We are grateful now to have this unique river run alongside much of the 55 miles of dedicated open space called the San Dieguito River Valley which provides us with hiking, biking, riding paths, indigenous plants and trees, wild life, and relief from city life.
Over the last century, the natural flow of the San Dieguito River has changed. As agricultural irrigation, fresh water sources, water storage for emergencies, and protection of housing developments downstream became important, two dams were built, Lake Sutherland Dam and the Lake Hodges Dam, and soon after in 1937, the Fairgrounds was established. As this stream of water winds around the Lake Hodges Dam, continues its journey through Del Dios Gorge, then heads west to the San Dieguito Lagoon before entering the ocean, its contents have changed.
Not only does it now contain urban runoff from storm water, lawn irrigation, and sediment pollution from the surrounding development of homes, roads, and traffic, it contains bacterial contamination from pet waste, pesticides and herbicides, fertilizers and trash.
We can do better than that! Perhaps we have just become too complacent and need a reminder?
Here are some of the habits we can all develop to reduce the pollution and keep the river less contaminated as it flows into the ocean:
Pick up and properly dispose pet waste in your trash; choose biodegradable fertilizers, pesticides and herbicides; avoid putting oils and grease down your drains; save your trash and recyclables for your trash bins; make sure your trash bins are securely covered; use safer cleaning products when possible; sweep patios, walkways and driveways to save water and prevent pollution being washed into a storm drain; and compost or put yard waste in recycling bins…just to name a few.
Protecting our watershed as it enters the ocean should be a priority!
Carol Kerridge
Del Mar
Aug. 20 issue:
Imagine a different vision
While the proposal to put housing for homeless vets in the Del Mar Fairgrounds has been pulled due to overwhelming local opposition, the story is not over. What was revealed is a greater issue — the extent of institutionalized prejudice and elitism expressed by the speaker who said that homeless housing, "contradicts the mission and vision of our community." Why is reaching out to help vulnerable people at a time of crises not part of the vision of all communities? How different the world would be if it were.
Laura C. Streichert
Carmel Valley
Find location solution for HeyJojo Productions theater program
The following letter was addressed to below and sent to this newspaper for publication:
Dear Solana Beach Mayor, Deputy Mayor, Council Members, City Attorney, Parks & Recreation Manager,
HeyJojo Productions theater non-profit group currently does not have a solution of where they can meet as a result of COVID-19. The intent of this communication is to please help find a location solution for this theater group for HeyJojo not to stop.
HeyJojo Productions runs year-round with children 5-17; they have a small studio in Solana Beach they cannot currently use due to COVID-19. They asked La Colonia County Park in Solana Beach, however, they were told the park is being used solely by the Boys & Girls Club.
The director (Jolene Bogard) has a very spacious backyard at her home in Solana Beach so she temporarily moved a camp there for rehearsals. However, due to a neighbor complaint of pick-up/drop-offs, on Tuesday, Aug. 11 at 1:15 p.m. the San Diego County Sheriff, the Solana Beach City Code Officer and a County Health Official went to her home and asked to shut down her operations by 3:30 p.m., which she did, based on a Solana Beach City Code violation of having a home-based business.
Once the shelter-in place order was established, HeyJojo went virtual right away. When day camp restrictions lifted in mid-June, she opted to create an outdoor relief with summer camps. Ms. Bogard sent families COVID-19 health information before camps started, she got tested herself and she studied how other camps worked in small "pods" to keep children safe. HeyJojo staff takes temperature readings when the children arrive, all children always wear masks, hand sanitizer is distributed several times during rehearsals, they are outdoors, and in cohorts. HeyJojo's board meets regularly, which includes several health care professionals who are parents of the children, and they have been continually assessing the COVID-19 situation. HeyJojo is doing all the right things.
I'm a mother of 2 children (12 and 11 years old) who have been part of HeyJojo for over 4 years. HeyJojo Productions is a lifeline for the children's mental, emotional and physical health and is a lifeline for me as a working parent during these trying times. Jolene (a volunteer, who is managing director) and staff pour their hearts out for these children; the children at HeyJojo are friends and they are very well behaved. They recently performed at San Dieguito park outdoors as a "drive-in"; it was very-well received by park rangers and asked to come back.
There have been very limited options for children this summer, and with most schools being virtual in the fall, HeyJojo will be one of the very few safe options for children to attend.
With the recent home-based business violation, I ask you that you please help us find a location solution for HeyJojo Productions to continue operating within the community. Thank you.
Kathy Bossinger
(parent of 2 children in HeyJojo Productions)
Aug. 27 issue:
NIMBYs united
Let me be the first to congratulate Laura Streichert for her letter to the editor in the Aug. 20 edition of the Carmel Valley News, regarding the housing of homeless vets at the Del Mar Fairgrounds. The "elitists" of the community will always oppose any proposal that jeopardizes their property values under a thin veil of "contradicting the mission and vision of the community." This is really a shining example of a "Not In My Backyard" attitude towards people who vowed to serve and protect the very people who are willing to turn their backs on vets' misfortunes.
Make no mistake about it. The NIMBYS will unite in their opposition to defeat the proposal to house homeless vets for no other reason but greed. "Greed" is their only mission and vision for the community.
Rich Jagoda
Carmel Valley
Housing for the homeless needed
I strongly agree with Laura Streichert's Aug. 20 letter titled "Imagine a different vision" where she condemns opposition to allowing homeless housing at the Del Mar Fairgrounds.
We need to provide housing for the homeless.
The fairgrounds location would not impact more upscale neighborhoods in Del Mar. I support helping the homeless.
Maureen Finkelstein,
Solana Beach
Get the Del Mar Times in your inbox
Top stories from Carmel Valley, Del Mar and Solana Beach every Friday for free.
You may occasionally receive promotional content from the Del Mar Times.