Opinion/Letters to the Editor January, February 2021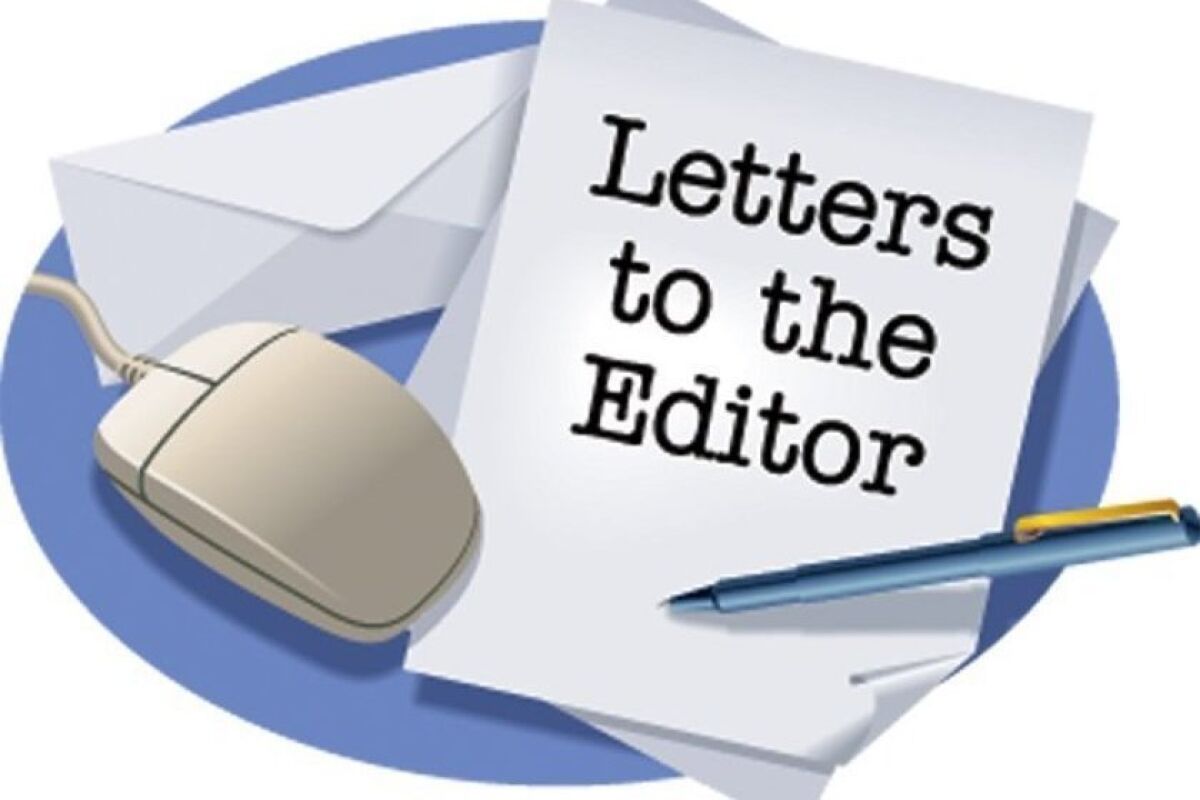 Jan. 7 issue:
Stop Del Mar Horsepark from permanently closing
We must act now to stop the 65-acre Del Mar Horsepark from being closed and turned over to developers. This irreplaceable community treasure at the corner of Via de la Valle and El Camino Real is our region's only remaining public equestrian facility and public riding school in operation for the last 26 years.
If Del Mar Horsepark were to close permanently, equine sports would become endangered in San Diego County. This beautiful, iconic park provides:
 One of our region's few remaining public riding schools
Del Mar Horsepark provides a home for families to introduce their children to the joy of riding without the expense of owning a horse. Kids learn responsibility, empathy, and develop mental and physical self-confidence through horses. The retired race horses and older show ponies who work at Horsepark would have few other options if this facility closes.
 Reliable pandemic-resistant annual revenue exceeding $1 million
2020 revenue totaled $1.34 million from horse shows during pandemic, a significant revenue source during Covid-19 along with Fairground's racing meets. Horse shows provide jobs for thousands of ancillary businesses — veterinarians, feed stores, equipment vendors, farriers, grooms, and trainers — as well as significant visitor-serving income to local lodging and restaurants.
Preserves and protects our agricultural and equestrian heritage in San Diego County
People live here for the open spaces and to enjoy an outdoor lifestyle, which for many involves horses. Horsepark's equestrian use upholds the mission of the 22nd DAA (District Agricultural Association), the state agency that owns the facility and the Fairgrounds. It is not suitable for more intense use as it is located on a 50-year floodplain, bisected by high-energy transmission lines, without adequate sewer or water infrastructure for residential development.
 Significant public and equine community support
Over 9,000 people signed our Change.Org petition: http://change.org/SaveDelMarHorsepark. We all value our region's agricultural heritage, open space and Horsepark's 42-year legacy of horse shows, public riding school, and equine therapy enjoyed by generations of children and families.
Instead of closing Horsepark, we urge the 22nd DAA board at their upcoming Jan. 12 meeting to consider proposals by experienced equine operators who would improve water remediation, renovate the facilities, retain the public riding school, allow Fair parking, and generate needed income. This aligns with the 22nd DAA's agricultural mission, equestrian heritage, and our community character.
Further information can be found on the Friends of Del Mar Horsepark website at www.friendsofdelmarhorse.com.
Carla Hayes Solana Beach
Laura DeMarco Del Mar and Rancho Santa Fe
Robin Crabtree Del Mar
Evangeline Gonzalez Stanley San Diego
Happy New Year to all the residents of Del Mar!
As Mayor of Del Mar for the next year, I hope to be a catalyst for bringing our community together for the benefit of all Del Mar residents. We are facing an unknown future with diminished operating funds to accomplish all that will be needed. Working together we can go a long way toward reaching our goals. That is what I will be focused on.
Del Mar is not a large city. Del Mar offers its residents and visitors something completely different! It is an adorable tiny village conveniently located a few miles from a world-class university and a biomedical research & development nexus — with miles of natural beach and bluff that connect to a world-class state preserve (Torrey Pines) and golf course (Torrey Pines again) and a river coast to crest trail that will soon be complete, ending at our lagoon (protected by the low commercial density NC zoning) and North Bluff (protected by low-density, low-impact residential zoning).
We must continue to fight together for these precious natural resources and for Del Mar's quaint village character — all endangered by the State's onerous housing laws and NCTD's intent to install 2+ miles of ugly 6-foot fencing right down the middle of Del Mar, from one end to the other.
We must stay strong. It is up to us to save and preserve so much for so many. With your help, we can succeed.
Terry Gaasterland, PhD
Mayor, City of Del Mar
One View:
My lunch with Joe Biden
By Gordon Clanton
Although I have been a political junkie since my teen years, only once have I had lunch with someone who would become president of the United States. Over many years, I have met scores of candidates and elected officials, but none who made it to the White House.
Senator Joe Biden was not yet vice president when he visited the City Club of San Diego in 1990, just past his first run for president in 1988.
The now-defunct City Club, one of America's great public forums, was established in the 1970s by the noble work of my friend George Mitrovich, who died at 83 in 2019. That day, I was honored to be seated at the table with George and the senator.
Over lunch the future president engaged with everyone at the table, listening to them, one by one, asking thoughtful questions, paying attention to what they said. Joe charmed every one of his lunch companions.
The senator's speech to about 150 City Club members was excellent – substantive, compelling, aspirational, and laced with well-timed self-deprecating humor about his recent unsuccessful presidential bid. He was tall, articulate, nice-looking with a great smile. I found myself thinking: This guy could be president of the United States some day.
After Joe's speech, a Republican City Club member approached me from the audience. Although the City Club was non-partisan, this fellow said he could tell from my questions and comments at previous meetings that I was a Democrat. Then he asked with some exasperation: "Why is it that your guys (Democrats) are so much better speakers than our guys (Republicans)?" Then he added: "This guy could be president of the United States some day."
PS: Joe served Delaware with distinction in the US Senate from 1973 to 2009 before being tapped for vice president by Barack Obama. He ran for president twice before. Now 78, he will be our oldest president. In 1981 Ronald Reagan seemed to many "too old" at 70. So is 78 the new 70?
I wish Joe luck. He will need it. Things are in a terrible mess: the coronavirus pandemic still peaking, the economy in shambles, unprecedented racial and political division, our international alliances in tatters. May the New Year be a time for healing.
—- Gordon Clanton teaches sociology at San Diego State University. He does not speak for SDSU. He welcomes comments at gclanton@sdsu.edu
Jan. 14 issue:
SDUHSD principals are irreplaceable and deserve our support
As students in San Dieguito Union High School District, we have experienced the challenges of moving to online learning. We have watched teachers adapt their curriculums to the demands of new and unfamiliar platforms. We have watched students work to acclimate to these new curriculums and the unusual structure of the school day. What has been a constant throughout these changes have been our principals, who have supported both us students and our teachers.
In my experience, principals have acted as linchpins for the community, helping bring together students, parents, and teachers in ways each of those individual groups cannot. They are trusted to fairly represent all of their constituents and, especially during these pressing times, have navigated the disparate interests extremely gracefully and effectively. Principals work to protect students and guide them through difficult decisions—decisions which are becoming more and more common as our environment becomes more and more stressful. SDUHSD principals have demonstrated their commitment to our community, inside and outside of school hours. They are irreplaceable elements. And they deserve our support as much as any of our teachers. We ask on behalf of SDUHSD students that we give them this support and praise them for all they do for us.
Joshua Charat-Collins,CCA
Irene Chung, CCA
Madeleine Moon, TPHS
Ayush Agrawal, CCA
Andrew Gao, CCA
Sebastian Charat-Collins, PTMS
Lucas Beltran, SDA
Lukas Nepomuceno, CCA
Much gratitude to SDA's principal and assistant principal
I consider myself fortunate to have worked as a high school teacher for half of my teaching career at San Dieguito High School Academy. SDA has always attracted good students, staff and administrators.
I had retired before Adam Camacho became the principal at SDA, so I did not have the pleasure of working with him as a teacher. However, I volunteered at the school and, before the pandemic, I would often see him on campus. Adam always greeted me by name, with warmth and a big smile on his face, making me feel welcome.
Once retired, I helped organize a group of SDA's AVID students to read with the elementary students at Paul Ecke Central Elementary School (PEC) in the after-school program (AVID = Advancement via Individual Determination). On the drive to PEC, I enjoyed our conversations together. Most of the AVID students were Latina/o and would be the first in their families to be college bound. They spoke fondly of Mr. Camacho, happy that a Latino was their principal, someone who could "understand them better." I remember one student saying that Mr. Camacho always looked happy. This is what a good principal does: He listens to students, and with warmth and kindness, making them feel safe and accepted. I know that during this pandemic Mr. Camacho is tirelessly working to keep his staff as safe as possible.
I also want to compliment SDA's Assistant Principal Celeste Barnette. Her open mindedness and big heart have helped make the teachers and their students at SDA feel respected. I was part of a group of retired teachers from SDA who had been coming to SDA once a week, during the pandemic, with treats and drinks for the staff who were on campus. We set up our table near the check-in station by the Health Office. Ms. Barnette always greeted us enthusiastically. She posted our photo on SDA's Facebook page, praising our effort effusively. Her exuberance and positivity motivated us to continue our presence up until winter break.
Amidst COVID cases surging, heated debates about reopening schools, and the attack on the U.S. Capitol Building, I felt it necessary to spotlight two excellent school leaders in SDUHSD who positively impact so many human beings. Much gratitude goes to Adam Camacho and Celeste Barnette.
Ronette Youmans
Retired teacher, SDA 2014
Encinitas
SDUHSD leaders applauded for their work, support and care
I am a parent of students at both La Costa Canyon High School and San Dieguito Academy. I am writing in support of both schools' administration and faculty. We have all been faced with an unfortunate and unusual situation this past year, COVID-19. There is no blueprint on how to deal with it but I applaud our district for all of their work, support and care. We have many wonderful leaders who truly prioritize the needs and safety of our students and teachers. They communicate with us on a regular basis and they support our students, all while keeping up with the ever-changing landscape.
My husband was an educator for 16 years so I have seen first-hand what educators do for their students. Through his eyes I have also seen what principals do for their staff and students. They create safe spaces to learn, they celebrate the successes of their staff and student body, they champion school spirit and create contingency plans (especially important this past year).
Both of my high school children have felt connected and supported since starting virtual learning last March. They are comforted in knowing how seriously our administrations are taking the known risks of COVID-19. It is unfortunate they cannot attend in-person instruction but it is imperative that our children, our families and our community remain safe and healthy. The pandemic is world-wide, it is not isolated to North San Diego County. We should not be harsh with our educators, with the administration and staff during this already stressful time. Do I miss watching my son play soccer? Yes, but I know he will be able to play when it is safe.
This past year has taught me and my family, more than ever, the meaning of community and care. We must make sacrifices to keep others safe, we must modify our lifestyles to help others. We should commend our children for their resilience and for adjusting to the changes we all have faced. Thank you to everyone at La Costa Canyon, San Dieguito and the entire school district for keeping our children safe, informed, supported and encouraged.
Suzy Jackson
Encinitas (Olivenhain)
Political institutions should effectively incorporate science into policy
School reopenings have been a contentious issue, but the argument that teacher unions are the obstacle to reopening is divisive and misinformed.
The failure is that our political institutions do not effectively incorporate science into policy. While I was still board president of the Encinitas Union School District in 2020, I received a letter from respected area pediatricians calling for schools to reopen full time. They cited recommendations from the American Academy of Pediatrics and pointed out that Dr. Fauci also thought students should be in school.
Who am I to override expert medical opinion? Politicians are not epidemiologists. As a district we are beholden to the San Diego Department of Public Health Orders, which instruct our San Diego school districts to adhere to the California state guidelines to inform our reopening strategies. The very word "guidelines" is the first mistake, because it implies recommendations, not requirements.
The California Department of Health should be issuing school reopening protocols. Doctors, epidemiologists in particular, should update protocols to reflect what scientists learn about how the virus is spread. Do not leave science up to political interpretation. When the science uncovered that the virus is likely spread by aerosol droplets, the protocols should have been updated from "consider installing" to "must install" medical-grade air filtration systems, while also clearly stating that no one method will be effective at stopping the spread and that schools need layers of preventative strategies.
Why have some private and elementary schools reopened while others did not? Because schools with fewer pupils per classroom and adequate space could do so in accordance with the guidelines. "Consider ways to establish separation of students through other means if practicable, such as, six feet between desks…" Where "practicable?" No scenario is practicable for large high school districts to reopen while maintaining any meaningful distance between the students. The guidelines need to state more explicitly what the protocols for large high school districts should be. Currently health officials cannot articulate a safe reopening scenario for large school districts where distancing, small cohorts and quarantining protocols are not feasible. If the medical community believes schools should open nonetheless, because the risks of not going to school are greater, then put it in writing.
Currently, the guidelines state that schools can reopen for in-person instruction once their county has been in the red tier for two weeks. If the medical community believes that it doesn't matter what the case rate in the community is, they need to state so in plain language. If medical professionals cannot definitively make these determinations in the policy documents that districts are required to follow, please do not expect laypersons to make these calls when people's lives are at stake.
Rimga Viskanta
Former EUSD Board President 2020
Board Member 2016-2020
Life can be enjoyed safely outdoors unmasked
Sherri Carson's recent letter (Dec. 31 issue titled "Lack of mask compliance") includes a story about a grandfather who died from Covid, and then asks the San Diego Sheriff to go to skateparks, the beach, and walking trails to fine people not wearing masks. Those are not the guidelines in San Diego County, according to the website, nor common sense. I don't see grandfathers hiking on trails, or ever at a skatepark. The San Diego website states that masks are not required if you are exercising solo or with your own family members outdoors if you are six feet or more from others. We always wear masks inside all stores, walking around outdoor malls, and pumping gas, but we escape to beaches and parks with members of our family, so we can enjoy life safely unmasked.
You are able to socially distance from others at California beaches and parks because there is plenty of room to do so. We leave grandparents and other immunocompromised relatives at their home where they should not be mixing with anyone right now. We were at Powerhouse Park in Del Mar the other day on the grass all afternoon, and there were many people enjoying the warm weather there, on the beach sand, and surfing. I would say less than 5% of people were wearing masks, and that is their choice. Almost every group we saw were family "pods" far apart from other families, or teens playing games and trying to enjoy life. And since the indoor mask mandate started, I've only seen four people inside stores and my local market without masks or with their nose hanging out, and all four were over the ages of 65, and all were told to leave by the manager and cashier.
Carla Mapes
Carmel Valley
Editorial note: According to the California Department of Public Health individuals are exempt from wearing face coverings in the following specific settings:
• Persons in a car alone or solely with members of their own household.
• Persons who are working in an office or in a room alone.
• Persons who are actively eating or drinking provided that they are able to maintain a distance of at least six feet away from persons who are not members of the same household or residence.
• Persons who are outdoors and maintaining at least 6 feet of social distancing from others not in their household. Such persons must have a face covering with them at all times and must put it on if they are within 6 feet of others who are not in their household.
• Persons who are obtaining a service involving the nose or face for which temporary removal of the face covering is necessary to perform the service.
• Workers who are required to wear respiratory protection.
• Persons who are specifically exempted from wearing face coverings by other CDPH guidance.
For CDPH updates and more information, go to: bit.ly/3bHvrMd
See county information and updates at: bit.ly/3bCGru6
Jan. 28 issue:
Article one-sided
I want to express my disappointment with your recent headline "news" titled, "Let Them Play" (Jan. 21, 2021 issue). This article would have been better placed on the Opinions page, as it contained highly biased and one-sided reporting. The article cites a politician, coaches, and a student athlete, but not once was an expert in public health, infectious diseases, or epidemiology consulted to provide science-based opinion on the current restrictions on athletic competitions. Certainly politicians, coaches, and high school students are not qualified to make judgments about the science behind COVID restrictions. Additionally, the politician quoted in the article, San Diego County Supervisor Jim Desmond, doesn't even represent our district, and the supervisor who does, Terra Lawson-Remer, was not interviewed for this piece. There was no challenge to Supervisor Desmond's characterization of current restrictions as "arbitrary," a very politically-charged term that should have been questioned by the reporter and could have been answered by the public health experts who recommended the restrictions. If the goal of your publication is to get the restrictions on youth sports overturned, that's fine, but you should put such editorializing where it belongs and not mimic certain news outlets by trying to confuse editorial opinions with news or facts.
Paul Silver
Carmel Valley
Feb. 4, 2021:
Solana Beach is a breath of fresh air
If you're conscious of the harms of tobacco smoke — first, second and third-hand -- and want to avoid it, you'll do well to live, dine and play outdoors in Solana Beach.
In a report just released by the American Lung Association, the "State of Tobacco Control Report 2021 (SOTC)*, Solana Beach scored second highest of the County's 19 cities for General Tobacco Control policies in a tie with Escondido. El Cajon had the highest score for first place for local Tobacco Control Policies.
The Lung Association report gave Solana Beach the highest grade, an "A", for the two categories "Smokefree Outdoor Air" and "Reducing Sales of Tobacco Products" policies, and a "B" grade for Overall Tobacco Control Policies.
The city's A-rated "Smokefree Outdoor Air" rating relates to smoke-free policies for dining establishments, entryways, public events, recreation and service areas. The city has been acclaimed for enacting the first smoke-free beaches policy in the nation.
Policies for "Reducing Sales of Tobacco Products" include the Solana Beach City ban on flavored tobacco products enacted in April last year (2020). The city was the second city in the county to enact such a ban. The Lung Association report said to date, 83 municipalities have passed policies restricting the sale of flavored tobacco products to protect youth and all residents from the harms of tobacco.
While outdoor air and other policies rated an A, the city scored low for Smokefree Housing policies. That's because the city, like many others, has no official policies related to nonsmoking apartments, condominiums or common areas in multi-unit housing projects that are privately owned. However, many of these local projects have adopted their own smokefree policies. Municipal policy could be considered if the city decided to develop or own a multi-unit housing project.
Regarding the city's high score for tobacco control, Mayor Lesa Heebner commented, "We have one of the most comprehensive regulatory frameworks for a smoke-free environment on the books. Many other cities are playing catch up to us!"
Keep up the good work, Solana Beach! Residents breath easier because of these policies.
Peggy Walker
Solana Beach resident and San Diego County Tobacco Control Coalition member
San Dieguito Alliance for Drug Free Youth
*The American Lung Association's State of Tobacco Control (SOTC) 2021 national report tracks progress on key tobacco control policies at the state and federal levels as of January 2, 2021.
Kristin Gibson is a valuable asset to our schools and our kids
In San Dieguito Union High School District (SDUHSD) area 5, serving the southeastern area of the district and many Carmel Valley neighborhoods, a recall effort is underway to remove respected Trustee Kristin Gibson. This effort is being led by one of Gibson's opponents in 2018. It is important that voters in the district and stakeholders in the greater SDUHSD community understand what a recall will do. It will:
• Cost taxpayers money that should go to educating students.
• Further destabilize and divide the district and cause chaos during an already uncertain time.
• Potentially set a precedent of recalls in SDUHSD when a candidate does not win.
The most important question I have about this recall is: Why recall Kristin Gibson?
She has been a dedicated public servant for our schools since 2010 when she was elected to the Del Mar Union School District Board of Trustees. She provided unparalleled governance in that district with dignity, integrity, and a growth mindset. Under her leadership, DMUSD received the California School Boards Association Golden Bell Award in 2017.
It was not surprising that voters elected her to serve on the SDUHSD board in 2018.
She is a lecturer at SDSU and the co-director of the university's Cognitively Guided Instruction Professional Development Collaborative. She understands what it takes to learn and teach. She has completed more training and coursework in school governance than other trustees. All her professional life, she has prioritized the education of students.
What others may not know is that Kristin is the most thoughtful and deliberative trustee we could have working for our students. She meets with any stakeholder, any time to discuss how education can be improved for students. She replies to emails. When you talk to her, you learn she considers her service as a school trustee to be an honor, not a step to higher office. She studies for every decision she makes and has rejected pressure to violate best practices of governance. School administrators know she weighs their recommendations discerningly. She is an educator, a consummate professional, and by now, a veteran trustee who understands a trustee's responsibilities.
Kristin Gibson is a valuable asset to our schools and our kids. She guides our district with experience and clear understanding of how to achieve success and progress in our district. We are lucky she is willing to serve as a public servant, and I urge all my neighbors in area 5 to express support and thanks for her long-standing service.
Jen Charat, parent of three SDUHSD students
Carmel Valley
Expensive sand project should be reconsidered
It seems ironic that your article on the Army Corps of Engineers allocating money for the beach sand project was published the same week that ads came out for a bluff-top home in Solana Beach on the market for $18.995 million. What a fine example of socialism for the wealthy!
After many years of maintaining a reasonable policy that government was not responsible for protecting the property of people who build close to the edge of an eroding bluff, the property owners finally got to the local politicians and now the taxpayers are on the hook for an open-ended project with an initial cost estimate of $167 million! Of course the politicians are hyping it as a safety issue and good for tourism, but the cost-benefit analysis that supported the project included the value of oceanfront real estate on the plus side. Clearly the taxpayer will be paying to protect someone's $18.995 million bluff-top investment.
I would find this only mildly irritating if I were not concerned about negative environmental impacts from this project. The beaches of Encinitas and Solana Beach are enhanced by shallow reefs just offshore. These reefs are responsible for the wave shape at all of the most popular surf spots in our towns, and are also irreplaceable habitats for marine life. Indeed, the environmental impact statement for the project admits that some of these reefs will be smothered and destroyed by the amount of additional sand proposed in the project. It also states that destroyed near-shore hard-bottom habitat cannot be replaced, and for that reason the amount of sand proposed for Encinitas was drastically reduced from the initial proposal. The only concession for Solana Beach was that the sand would not be placed immediately on top of the tidepool area at Tide Park.
This past summer there were many days when there were no parking places available anywhere near the beach, but I never saw a day when there wasn't room to put a towel down on the sand. The limiting factor for the number of people who can enjoy the beach is access, not the amount of sand on the beach. Much of the momentum for this project came during the late '90s and early '00s during a time when several severe winters had stripped much of the sand off local beaches. Since then the sand has gradually returned, and this year had the most sand on the beaches that I have seen in my 60 years in North County. Let's take a serious second look at this expensive and unnecessary boondoggle.
John La Grange
Solana Beach
One View:
Memoir: Swimming the Mississippi
By Gordon Clanton
I grew up in Baton Rouge, Louisiana, an industrial city of 150,000 on the banks of the Mississippi River. Protected by levees, Baton Rouge is the state capital, the home of Louisiana State University, and the nation's farthest-inland deep-water port.
When I was about 17, I determined that I should swim across the river. I anticipated that I would not live my adult life in Louisiana and I felt this crossing was something I needed to do before moving away.
So I enlisted my best friend Bobby Williams to join me for the Big Swim. And I recruited a support crew, two machinists who worked for my Dad at Clanton Machine Shop, Pete Rounceville and Walter Rivette. (Louisiana people often have colorful names.)
Pete was quite the outdoorsman. He owned a hunting and fishing camp on a bayou near Lake Verrett. I spent some weekends there.
Walter was an amateur artist, oil painting mostly. Long after I left Baton Rouge, I learned that Walter had taken his own life.
Pete had a small outboard boat and a trailer. We entered the river from a landing near downtown Baton Rouge. Heading upstream we passed the towering state capitol and the smokestacks of the refineries and other industries that made my hometown "the Petro-chemical Capital of the Gulf South." We went under the towering highway bridge.
Bobby and I had identified what we considered the best place for our swim. About a mile north of the bridge, the river bends sharply to the west and then sharply back to the north. We entered the river at the second bend so the section of the river we crossed ran east and west.
We anticipated that the river current would push us further downriver as we crossed but a back current on the west bank pushed us away and required that we swim around the point and through the lower bend to get to muddy western shore. The river is about a mile wide. We probably swam two and a half miles to cross it. The warm river, of course, smelled like a sewer.
All this was under the supervision of Pete and Walter in the small boat. Pete, who also was a rodeo cowboy and a turtle rancher, held a lasso with which to rescue us if we got in trouble.
A great day on the Big River . . .
— Gordon Clanton teaches sociology at San Diego State University. He welcomes comments at gclanton@sdsu.edu
Feb. 11 issue:
The kindness of people will always prevail
My wife Harriet and I have lived in Del Mar for 55 years. As I approach my ninth decade of life, my physical body has been wracked by arthritic pain and lack of mobility. My mind has been boggled by the many street riots and by the invasion of our citadel of democracy. This invasion has put our nation in disrepute.
With this turmoil of my body and mind, my heart still fills with the love for the United States, my adopted country and its basic goodness. This era of political division and mismanaged pandemic does have a silver lining. We have been fortunate in having relatives, friends and neighbors reach out to us. We have exchanged more food within the last year than in the previous 55. People call from all over the world regarding our well being and sympathies for the turmoil in our nation.
The kindness of people and the powerful American soul trump any mental and physical misery!
Maneck S. Wadia, Ph.D
Del Mar

Get the Del Mar Times in your inbox
Top stories from Carmel Valley, Del Mar and Solana Beach every Friday for free.
You may occasionally receive promotional content from the Del Mar Times.