Opinion/Letters to the Editor May 2021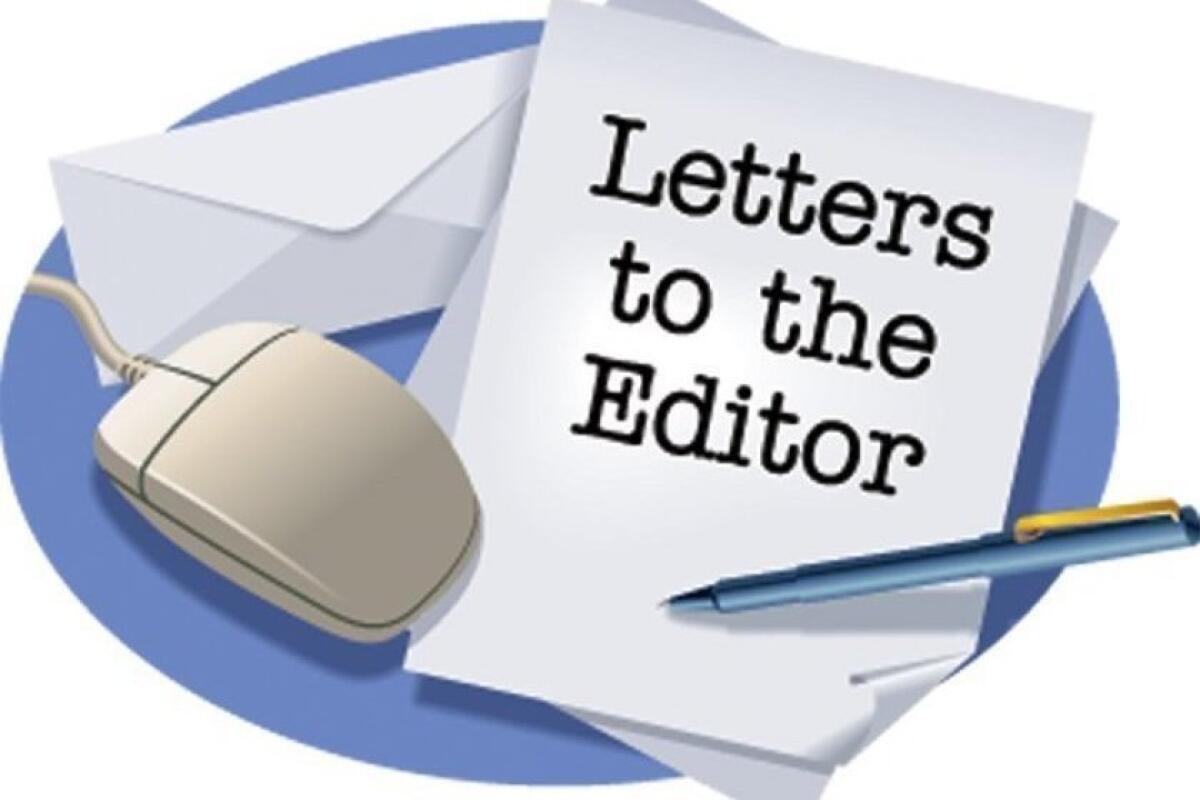 May 6 issue:
An open and fair election in Area 5 would help instill trust in the end result
Excellence. . . respect . . . transparency . . . integrity. These are the values that have made the San Dieguito Union High School District number one in San Diego County. Superintendent Bill Berrier, who served from 1972-2001, laid a stable foundation under which we have thrived as a district. For years after he retired, we enjoyed stability and continued excellence. We built state-of-the-art facilities through Prop AA and created an atmosphere for student achievement that is the envy of San Diego County.
Recently, our well-respected Area 5 board trustee resigned, and within 20 days, a new trustee was appointed without regard for community input. Because our board is elected by area, the recent appointment put that replacement decision squarely with four sitting trustees, none of whom are Area 5 constituents.
In partnership with our community, the educators of SDUHSD launched a petition for a special election in Area 5. This would ensure a proper introduction to the candidates, and thereby allow 26,000 voters to have an informed choice through a fair, transparent and public process. We do not have an opinion on any of the seven candidates who applied for this position and would welcome the opportunity to get to know them all in an open and fair election.
Some have concerns that a special election could be costly. While factors may mitigate that, it is important to point out that this board majority chose to prematurely buy out our superintendent's contract at a cost of $280,000. This fiscally irresponsible decision allowed this majority to name an interim superintendent within a mere 48 hours of Dr. Haley's resignation. In prioritizing use of district funds, we support choices that uphold our values and respect our community.
Also of primary concern to us is the chaotic nature of our board's decision-making process, most notably since Trustee Gibson's resignation. The process of filling the superintendent and trustee vacancies was rushed, not transparent, and fraught with abuses of power, all circumventing board policies and Education Code.
In this pandemic, we have also seen hostility grow within our community -- hostility and disrespect for teachers, administrators, parents, and the very fabric of public education.
We cannot stand by.
We don't just work here - we live here, our children go to school here. We are your children's teachers, counselors, and educational specialists dedicated to serving all students. As we strive for continued excellence, your schools depend on the integrity of their leaders, on sound processes and sound choices. In this case, an open and fair election in Area 5 would help instill trust in the end result. On that, we cannot put a price.
Duncan Brown, on behalf of 96 co-signers/local teachers, the names of whom can be seen on the Teachers of San Dieguito Facebook page.
One View: Best route for Del Mar train tunnel
By Gordon Clanton
Recent studies by SANDAG show that a route beneath Crest Canyon is the highest rated of five potential choices for a railroad tunnel that would take the tracks off the crumbling coastal bluffs in Del Mar. A shorter second tunnel would penetrate "Miramar hill," just south of Sorrento Valley Road. The Del Mar and Miramar tunnels would reduce the travel time between Oceanside and San Diego from 56 minutes to 39 minutes. Travel time from Solana Beach to Old Town would be reduced from 31 to about 20 minutes.
The proposed tunnels would permit double tracking (two-way traffic), removing a major bottleneck to both passenger and freight service between San Diego and Los Angeles, the second-busiest rail corridor in the country.
SANDAG (the San Diego Association of Governments), the North County Transit District, and other local agencies have talked for years about removing the tracks from the bluffs, but only recently have the agencies received grant money for the preliminary studies required.
Construction will cost $3 billion or more. Completed tunnels probably are 15 to 20 years away, but these studies are a big first step.
Recall fever update. The April 1 column called attention to the current rush of recall campaigns, including those targeting Governor Gavin Newsom, San Diego Council President Dr. Jennifer Campbell, and perhaps Supervisor Nathan Fletcher. The campaign to recall the governor got the needed signatures, so Newsom will face a statewide vote of confidence by the end of the year.
Now Carlsbad Councilwoman Cori Schumacher faces a recall campaign led by Carl DeMaio, radio talk show host and former San Diego councilman. DeMaio also is the founder of Reform California, a well-funded political group pushing for the recall of Gov. Newsom.
Schumacher is pro-labor and an advocate for strong enforcement of COVID-19 public health restrictions. She supports having Carlsbad join other cities in the creation of a community choice energy program to provide residents with electricity from renewable sources.
Recalls are usually a bad idea except in cases of criminal activity, corruption, or gross malfeasance. Recall campaigns are expensive (perhaps $400 million for the recall of the governor), divisive, even polarizing, distracting elected officials from doing the people's business. Gov. Newsom and Dr. Campbell are up for re-election in June of 2022, just a few months past the proposed recall votes. Why not let voters settle these matters at the polls?
— Gordon Clanton teaches sociology at San Diego State University. He welcomes comments at gclanton@sdsu.edu.
May 13 issue:
Board to blame for special election petition
The May 6 opinion column by Marsha Sutton on the San Dieguito Union High School District and the petition for a special election to fill the Area 5 trustee seat does exactly the opposite of what the author claims she wanted - i.e. "a fresh start" for the district. Instead, it continues to vilify the teachers' union (SDFA). The petition is not just backed by the SDFA or its members. It is backed by voters in Area 5 who want to exercise their right to choose their representative. The petition is also not a referendum on Mr. Humes. It is a referendum on a board who's majority appears to believe it can operate above or beyond the law.
Had the board of trustees (i.e., Ms. Muir and Mr. Allman) truly been concerned about not wasting money, why did they proceed with the appointment process in such a rushed and unlawful manner (i.e., holding private interviews and meetings held with certain candidates not permitted under the rules)? How could they not know that — given the levels of distrust that currently exists with this board — proceeding in such a fashion would almost undoubtedly lead to a petition? It would have been more fiscally responsible to have taken the full time it had allotted to it for the provision process and conducted the process in a truly transparent and public fashion. So if the district has to pay for a special election the board has no one to blame but themselves.
Jennifer Daniel-Duckering
Carmel Valley
Commentary language divisive
Marsha Sutton's recent commentary "Stop the madness" is full of inflammatory language and erroneous statements. Sutton writes that the purpose of the petition for a District 5 school board election is to remove a recently appointed board member. This is an absolute lie. The truth is that SDUHSD teachers (some of whom live in District 5) and District 5 families want and deserve an election. They are the ones gathering the signatures and signing the petition to hold an election.
I believe that the "unconscious bias" that Sutton refers to is actually conscious bias on the part of Mo Muir and a couple of board members, none of whom live in District 5. Mrs. Muir would much prefer to control who is appointed, rather than give the choice to the 25,000 registered voters in District 5.
In extremely divisive language, Sutton asks why does "the teachers union get to demand" an election. It's not about "getting to demand." It is the democratic right of SDUHSD families to elect their board members to truly represent them. Sutton also accuses the teachers union of "calling the shots." If that were true, we would not have been given only 5 days to review all of the District 5 applications, then directly after the interviews, rush the vote for who will take the empty board seat.
I am genuinely concerned that your newspaper has granted Marsha Sutton a column where she writes highly charged and untruthful commentary.
Ronette Youmans
Retired SDUHSD teacher
Mr. Humes deserves a chance to succeed
As the parent of a Torrey Pines student, I wish to strongly express my support for the compelling Stop the Madness opinion column authored by Marsha Sutton. The fact that the teachers' union wishes to spend over $500,000 from the district's general fund – at the expense of students - without even assessing the qualifications of Trustee Ty Humes is outrageous and reflects grossly misaligned priorities.
If the union opposes Mr. Humes' credentials, it should articulate such reasons. If the union truly doesn't like "the process" by which Mr. Humes was legally and appropriately appointed, it should seek to change the law on appointments. As is known to anyone paying attention, the union's position has nothing to do with "process" but is instead a shameless play for political leverage.
Our students, families, teachers and administrators deserve better than a union so zealous to advance its political interests. If Mr. Humes fails as a trustee, let him be voted out in November 2022. Until then, he deserves a chance to succeed.
David Peck
Let's get kids back on track
As a resident of SDUHSD Area 5 I was very pleased when Ty Humes was appointed. I know him to be an upstanding citizen who has been involved deeply with our community, his credentials are exemplary.
It is my understanding that a special election would cost us $500-$650K and in these times of financial hardship for many due to the pandemic I feel that the benefit of funneling that money to our students is more important than holding a special election with the purpose of removing such an outstanding candidate who will provide much-needed diversity to our school board.
Thank you for publishing Marsha Sutton's excellent commentary. I would so much like to see us settle down and take on the difficult task of getting all the kids back in school and back on track. We are blessed to live in such an academically excellent district and I feel this special election is an expensive luxury that comes at the expense of our children.
I appreciate hearing a variety of views from your paper and I always look forward to Marsha's columns.
Kathleen Bell
Yes to special election. No to SDFA
Mr. Duncan Brown's letter motivated me to support the Special Election in Area 5.
You are probably shocked since I had been a loud voice against the teachers union and the San Dieguito Faculty Association (SDFA) practices since 2018.
It is an oxymoron for Mr. Brown to promote "respect," "integrity," and "transparency," while the SDFA, along with their trustees, obfuscated these transparencies and failed proper board governance.
Some may falsely claim I'm upset because I wasn't nominated. You are wrong! I am humored by the false narrative, which is conjured up by a small group who fear to be exposed due to their shameful and cowardly behavior.
Just a reminder, after losing to Ms. Gibson in 2018, I concluded the race gracefully, "We Made a Difference! Thank You!"
Some may perceive my brutal honesty as "aggressive." However, I remain loyal to truth and principles.
Many fear the truth, but I respect it. Many fear controversies, I embrace it. Open and honest conversations are essential for high-quality decisions, conflict resolutions, innovation, and bridging differences respectfully.
In 2021, I initiated the Recall Gibson Petition. I knew if we change the board composition, we can ensure schools to reopen. I believed that students and their families should have the right to choose DL, In-Person, or a Hybrid. I also believed school personnel shall have the option to return to work based on their special circumstance. In March, Ms. Gibson resigned.
During September 2020 through April 2021, much hidden from the naked eye and some in plain sight, community members endured harassment and threats from the "heroes" of the Reopen SDUHSD page. I remained silent because my priority was to help reopen the schools. However, as the hostility and shameful behaviors intensified, I could not remain silent. The supporters of Reopen page continuously attack, spread lies, incite hatred, assault volunteers, and intimidate anyone who dares to speak out against their views. Our community is deeply polarized.
Are these practices acceptable? I asked the Reopen page supporters. They replied, "They (SDFA) do it, why shouldn't we?" I then asked, "Are these the role models for your kids?" some replied, "It's a fair game."
This is not the change I wish to see!
And for these reasons and more I support the Special Election!
I encourage you to support a democratic process
(1) Let 26,000 registered voters elect their trustee
(2) Shift from special interest to independent voice for students
(3) Shift from hidden agenda to transparency with integrity
Concerns about funds? The SDUHSD received $8 million in CARES stimulus that should be allocated for students' programs.
Eighteen months is a long time to cause irreparable damage to our community.
Join me and sign the petition. My email is SDUHSD.Area5.Election@gmail.com
Lea Wolf
Carmel Valley
May 28 issue:
The legacy of SDUHSD Area 4
42.31% — that is how much of the San Dieguito Union High School District (SDUHSD) Area 4 vote Michael Allman received in 2020. He won by 326 votes. As we embark on a recall of Mr. Allman, we implore this community to take a hard look at how Mr. Allman won the seat – a seat held for 24 years by Joyce Dalessandro.
As many in our community know, Joyce is a beloved community volunteer who literally built our schools from the ground up. Mrs. Dalessandro's accomplishments are too numerous to recount in this space, but there is a reason she is the 2020 DeDe Alpert School Board Member of the Year. Like Joyce, we are community volunteers who have tirelessly worked inside our schools and out to make our schools and our community safe places where gratitude and compassion are in abundance and all students, parents and staff are cared for and taken into account. Our track record and commitment to this community and our schools speaks for itself as does Mr. Allman's lack thereof. And that is why, in a commitment to protecting the integrity and respect of our school district, we have followed the lead of our daughters and have signed on with 6 other community members to launch a recall of Michael Allman. In doing this, we proudly walk alongside our San Dieguito Faculty Association (SDFA). SDFA is 620 members strong, and those members are our neighbors, friends, favorite teachers, counselors, speech and language pathologists and so much more.
Over the summer we will be walking alongside the SDFA and our community to knock on every door needed to secure not just the 5,008 required signatures, but so many more because this is not a community of division, racism, cyberbullying, lies, cheating or hate . . . it is a community of gratitude, compassion, connection, love, honor and dedication – all things that Joyce Dalessandro taught us and built our schools on. We hope you will join us. To find out more, please e-mail GratefulinArea4@gmail.com.
Stephanie Kowack and Heather Dugdale
SDUHSD: Unions valuing absolute control versus student success
In regard to the San Dieguito Union High School District (SDUHSD) teachers union attempt to recall board member Michael Allman - let's evaluate Allman in light of the goal of the SDUHSD which should be to educate students in the best possible way. Prior to his election the board was fumbling in its response to Covid-19 with its schools in a 100% distance-only mode while other districts had managed to reopen. When Michael was elected last November, he navigated through the bureaucracy to get the SDUHSD schools teaching kids on campus as so many others around the county, state, and country had already safely and successfully done. To do this he had to fight back against a Christmas Eve lawsuit from the teachers union halting the district's approved re-opening plan as well as counter a recent union petition to remove a majority-appointed trustee, Ty Humes, in order to have a special election. Note that the well-qualified Humes was unanimously selected to finish out the term of an open board seat after the union's favored pick quit her position midway through her term.
In light of this progress, the union has again chosen to play the obstructionists by now trying to recall Allman. When are the union lackeys going to put aside their petty indifferences and choose to put the students' needs first? I remain hopeful that enough in the community can recognize the out-of-touch union's antics for what they are and send a resounding message that the path forward for success for all constituents – students, teachers, staff – is when the primary goal of the district is to educate our students in the best possible way. With this outcome all will prosper. There is an influential group watching (hint – they are all under the age of 18) that are depending on the adults in the room to start acting like it. Our students deserve better. Most can clearly see the union effectively compromising the students' futures in the name of maintaining power for their members. This is a tired argument whose time has passed. For the kids' sake, let's move on.
Thank you,
Mike Tanghe
Del Mar (father of a SDUHSD student)
Demotion of principal: Carmel Creek community wants answers
The Carmel Creek community is outraged by the demotion of Principal Lisa Ryder to a non-administrative position, by the Solana Beach Schools District Board of Education and Superintendent Brentlinger. On May 10, the superintendent stated that due to "unforeseen circumstances," Principal Ryder was removed from her position. The community was appalled and petitioned for an investigation. See Change.org. (Principal Ryder).
The Solana Beach School Board meeting was announced for May 20, at 6:30 p.m., allowing public comments. However, they began taking those comments at 5:15 p.m. while many community members scheduled to speak were not yet present. Many were denied the opportunity to speak. Board President Vicki King was asked about the time change and why the public didn't receive notice. She responded that they "hoped the public would be notified of the change." Hope is not a requirement of the Brown Act. Timely notification, open meetings available to all, and the First Amendment's guarantee of free of speech are requirements.
District leadership also violated the community's freedom of speech when signs and yellow ribbons, supporting Mrs. Ryder, were removed from school grounds, and from public and private property across from the school. Board President King told children receiving awards at the meeting to "use your voices and be heard." Hypocrisy isn't what we want our children to learn. Mrs. Ryder wouldn't have stood for that.
The suddenness and secrecy of these events are distasteful. The board still hasn't addressed the petition signed by well over 200 community members. On May 21, Supt. Brentlinger responded by sending an email to on-site scholar families (disregarding on-line scholars), stating that an investigation wasn't necessary, based on "staff" recommendation. But that's misleading. It is the superintendent's recommendation, not that of teachers, administrators, nor classified staff. It's unfair to claim it is the opinion of many, when it is not. She also stated that administrative positions such as Principal Ryder's, "do not require improvement or remediation plans." Perhaps they should! Especially after Mrs. Ryder's 14 years in the district, working tirelessly to ensure the safety and success of students!
It seems that in the last three years, rather than focusing on students, district leadership has been more concerned with dictating the minutiae: how administrators and teachers should do their jobs, what staff should say, how emails should be written, and how working moms should (or should not) care for their children. Repercussions can be grounds for demotion. Staff shouldn't be afraid to speak their minds for fear of retaliation. Open communication based on mutual respect should be allowed. The board promised to "provide a child-centered education, to ensure a stable learning environment, sensitive to individual needs." We cannot allow freedom of speech to be stifled or the right of due process to be denied. The community, especially our children, deserve that and stability, transparency and trust in our leadership.
Respectfully,
Ann Schon, Esq., parent
and PTO volunteer
Christopher Gardner, parent
and SBSF Co-Site President

Get the Del Mar Times in your inbox
Top stories from Carmel Valley, Del Mar and Solana Beach every Friday for free.
You may occasionally receive promotional content from the Del Mar Times.