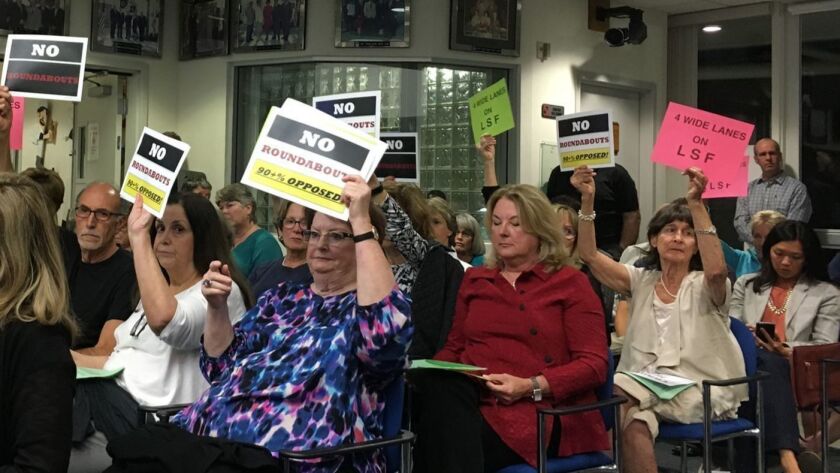 A room that had for weeks been filled mostly with opposition was met with sighs of relief on Sept. 26 when the Solana Beach City Council unanimously agreed to not consider any roundabouts on a busy city street.
The council had been originally scheduled to discuss eliminating three of the four proposed roundabouts on Lomas Santa Fe Drive, dotted along the east side of the four-lane road between Las Banderas and Highland, which is a little less than three-quarters of a mile. One traffic circle at Lomas Santa Fe Drive and Highland Drive would have remained on the table for a study in the original motion. The originally proposed project would have also included reducing four lanes to one.
However, toward the beginning of the agenda item, council member Lesa Heebner instead propositioned that the council proceeds with the project without any roundabouts or lane reductions, after receiving confirmation from the city manager that the goals of renovating the road and slowing traffic could be achieved without them.
The alternative to the roundabouts is to revise street striping to include buffered bike lanes and install center medians. Other proposed elements of the project include updated benches, bus stops, a "pocket park" at Lomas Santa Fe and Stevens Avenue, curb extensions, additional on-street curb parking, buffered bike lanes, raised/landscaped median islands, continental pedestrian crossings and a multi-use trail on the road's north side.
Further, City Manager Greg Wade noted Sept. 26 that 71 percent of residents were opposed to the roundabouts, while 29 percent were split between studying four roundabouts, studying one roundabout at Highland and studying a hybrid version with two or three roundabouts.
Heebner said she made her decision following weeks of public comment, largely in opposition of the roundabouts and hoped the action would show residents that council members do listen to their concerns.
"Democracy is messy," she said. "Getting the right decision sometimes takes a while. ... Through all of this kind of messy democracy, what we're witnessing is active citizens and their representatives striving for a more perfect union. My hope is the means we choose after tonight is not anger or mistrust… but that we choose to work together to make a more perfect city."
Prior to the council's unanimous vote, 20 residents spoke both in favor and in opposition to the roundabouts. At the prior two council meetings, where the matter was discussed, most speakers were opposed to the roundabouts, citing concerns that they would slow public safety response times, make it difficult for people to evacuate in the event of an emergency, promote an unbalanced traffic flow, and create safety hazards for pedestrians attempting to cross roadways.
But some residents on Sept. 26 said it was too early in the process for the council to halt studies on the roundabouts.
Leanne Marsh, a resident of Solana Beach for seven years, believed the traffic circles would increase property values and make the street safer. She said the council should not base their decision solely on residents who have come out to speak in opposition.
"Basing our determination on who comes down or gives comments can be dangerous," she said. "It's important to get the feel of the community in a more quantifiable way."
Dorothy Dean, a visually-impaired, 84-year-old resident and cyclist, urged the council to consider at least one roundabout to control speed on Lomas Santa Fe. She added the city should encourage drivers to take an "etiquette class" on how to use the traffic circles.
Those who had been in opposition to the roundabouts — sporting "Residents Against All Roundabouts" shirts and holding signs against the idea — thanked the council members for their decision.
Ted Axe, general manager of the Lomas Santa Fe Country Club and a resident of Carlsbad, noted roundabouts had been installed in his city but were removed months later because people didn't know how to drive in them.
Christy Whalen, manager of the Rancho Santa Fe Association, said commuters from her city would be affected by the additional traffic as a result of roundabouts on Lomas Santa Fe.
"With further restrictions, I think we'll be sitting on your roadways rather than traveling down your roadways," she said. "Any sort of restriction would make it more difficult for us to shop [in Solana Beach.]"
All the council members agreed with Heebner with little debate.
Mayor David Zito, who formerly worked in science and engineering for 30 years and described himself as "data-driven," said he found it "very challenging and somewhat personally difficult" to support the motion.
He noted that general data has shown roundabouts are safer than controlled intersections.
"What we don't know is if those same results apply to Solana Beach," he said, adding he wishes the city would have been able to study that. "The design is critically important to be able to do this correctly."
He said he decided to support Heebner's motion to show residents that the council has heard their concerns and added the opposition to roundabouts was "putting the whole project at risk."
"We are listening and we are hearing you," he said.
---