Roundabouts, development hot topics at Solana Beach candidates forum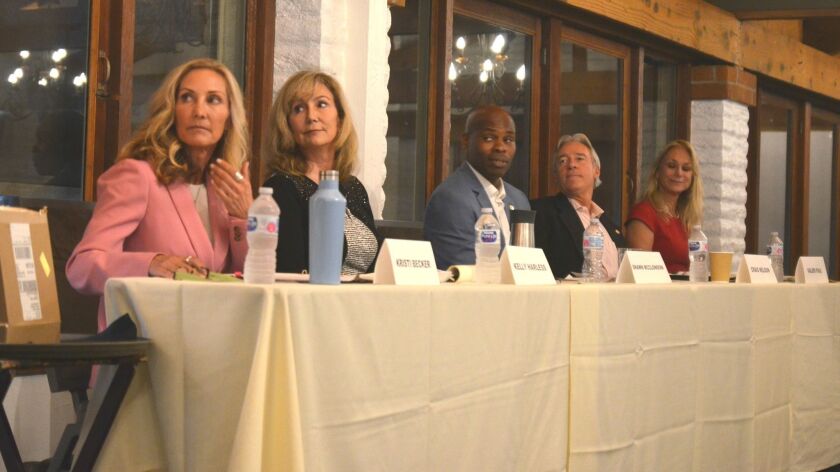 Solana Beach candidates appeared to agree Oct. 9 that land use was the city's most critical issue and that the city should not resort to roundabouts to improve Lomas Santa Fe Drive.
But the candidates — Kristi Becker, Kelly Harless, Shawn McClondon, Craig Nelson and Valeri Paul — also clashed at their second forum when discussing ideas like how Lomas Santa Fe should be improved, how the council should move forward with discussing the street, and how the city should approach a controversial high-density project in nearby Del Mar.
When it came to the roundabouts — which have been widely opposed by residents at city council meetings for months before the council eliminated them from consideration Sept. 26 — all of the candidates expressed opposition. They also agreed the number of lanes on Lomas Santa Fe should not be reduced. However, when discussing how future discussion of improvements on the street should be handled, some candidates shared different ideas.
Nelson, a 15-year resident and finance executive who has been "fiercely against" roundabouts, believed citizens from all areas and organizations should be added to a "study group" to evaluate options.
"Everybody that has a stake in this should have a seat at the table," he urged.
But Becker, an attorney who grew up in Solana Beach, said the city does not have the resources to fund such a group. Instead, she said the discussions should happen organically and should be open to the public.
"Let's all talk about it," she said. "Let's not limit it to a few people on a commission."
In regard to development and housing, the candidates agreed the council should find ways to add more affordable housing. They also said they believed such housing should not be restricted to certain age groups, although they also appeared to agree that the senior housing at Solana Highlands was a good idea.
Each of the candidates also shared concerns about the proposed Del Mar Resort project, which is currently planned to include 251 hotel rooms, 76 residential units and event space on 16.5 acres at Camino Del Mar and Border Avenue. Although the property is in Del Mar, many Solana Beach residents have shared concerns about increased traffic and blocked views.
McClondon, a nine-year resident and online marketing consultant, said Solana Beach should be able to benefit financially from the project.
"Whatever happens with that resort, Solana Beach should get more revenue than what is proposed currently," he said.
But Harless, a 20-year resident who has served on Solana Beach's View Assessment Commission, said extra revenue would not make up for the inconveniences as a result of the project.
"Our quality of life is not for sale," she said.
Paul, a former school teacher, believed city assets that could be used at the resort, like water, could "help give residents a voice" when it came to the project.
"When I read about this resort, it sounds like it's going to suck our commodity — which is water — if we don't plan right," she said. "This is the time right now to get on board and start talking to get a plan in place."
Solana Beach residents will be asked to vote to fill two candidate seats in the Nov. 6 election.
---