Del Mar man helps with swim across Pacific Ocean, collecting debris
A Torrey Pines High School graduate has taken his passion for the ocean toward helping a man collect debris from the ocean and swim about 5,500 miles across the Pacific Ocean.
Brian McNiece, a Del Mar resident who has a degree in marine systems engineering from the U.S. Merchant Marine Academy, has for months been out at sea on a vessel called "The Seeker" with Ben LeComte, a French-born long-distance swimmer who is attempting to swim between Tokyo and San Francisco while collecting debris samples to study the ocean. Previously, LeComte swam across the Atlantic Ocean.
As part of the 10-person crew for what has become known as "The Swim," McNiece has swum alongside LeComte, helped complete science protocols and shot footage to document the team's progress and their findings.
McNiece, 25, recently discussed his role on the boat, the team's mission and what life out at sea has been like.
This Q&A has been shortened and edited for length.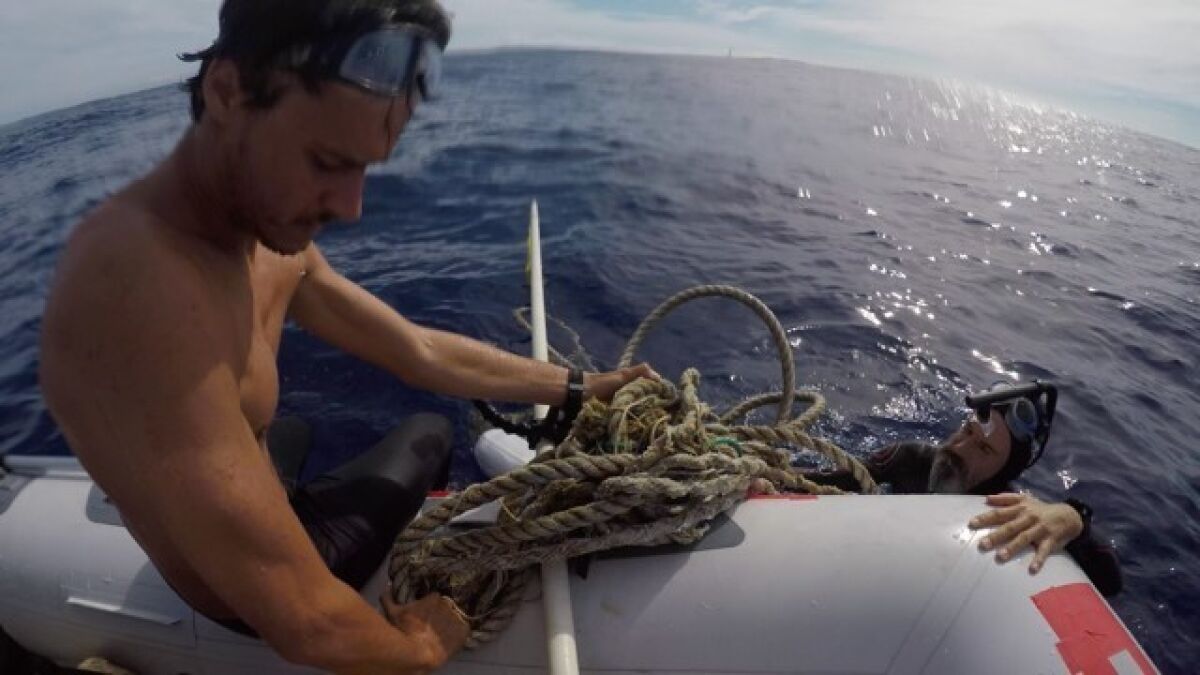 How did you come upon this job? What is your background?
My degree is in marine systems engineering which I received from the United States Merchant Marine Academy, a federal service academy located in Kings Point, NY. (I would highly recommend any aspiring military academy college eligible individuals to look into it.) I graduated in 2016 and since then have been an active member of the Marine Engineers Beneficial Association (MEBA). With MEBA I sailed onboard large commercial vessels, including container and tanker vessels, as a 3rd assistant engineer. In August I completed my most recent contract onboard the SLNC PAX, a Navy-contracted commercial tanker and saw a posting on a sailing forum asking if anyone was available in Japan. A quick video interview, 40 days later and, bam, I'm almost 1,000 miles offshore of Japan.
What attracted you to this job? Why is Ben's cause of collecting debris from the ocean and raising awareness to ocean pollution important to you?
I have been looking for experience onboard sailboats in order to get a captain's license for my own boat one day. The opportunity to work toward my dream while being part of a team trying to break some world records and raise awareness about ocean plastics got me pumped. ... I have always wondered where all of the packaging, wrappers and plastic debris end up once they get tossed. I'm quickly finding out that a lot of that waste doesn't stay in the landfill but instead migrates thousands of miles to pollute our oceans and affect the ecosystems there.
What will the debris samples be used for?
Each debris sample that is collected is recorded with a GPS location, brief description and a picture is taken. The goal is to use the pictures as a visual representation as we cross the Pacific as to what is actually out here and give people a better idea of the scale of the problem. Once back on land it is the hope of some onboard that the most prominent pieces are used for some type of collage of the voyage. For me, as long as marine life isn't getting stuck or choking on it, the collage is take it or leave it.
What have been the most exciting parts of being on the crew?
One of the most memorable things happened when a large pod (20 or so) of pilot whales began breaching in front of and around Seeker. The pod created a protective barrier between us and what looked to be newborn calves in the center. We recorded the pod communicating amongst themselves and it was the first time I have seen and heard pilot whales.
Have there been any moments that have made you nervous?
The most nervous I have been is when Ben got injured by the dinghy propellor during rough weather. I was onboard Seeker and seeing him coming back to the boat with blood streaming down his forehead made me extremely concerned for his health and our ability to get him adequate aid this far offshore. Thankfully it wasn't nearly as bad as it looked as facial wounds tend to bleed alot even if they are superficial. His snorkel took the brunt of the damage and had a large gash through it.
What challenges do you face in the job?
Every day there is something breaking or another obstacle for us to overcome. The most recent challenges include troubleshooting our reverse osmosis (fresh water maker), repairing broken/corroded electrical connections and determining the best course for Ben as we exit the Kiroshio current. We confront each challenge as a team and work through the best possible solutions with the resources we have aboard. Other challenges include cooking decent meals from canned food (not an easy task), finding a comfortable sleeping spot when the rooms are hot/humid, and the close living conditions with nine roommates on a 67-foot sailboat. Not much privacy onboard but we make do with what we have and keep our spirits up knowing our family and friends back home are cheering us on from beyond the horizon.
What has it been like swimming with Ben?
Swimming with Ben is one of the most amazing honors and experiences from this expedition. It's not every day you get to swim beside someone who swam across the Atlantic Ocean in one of the most unexplored and remote places on the planet. The longest I have swum with Ben is three hours and it was definitely a challenge keeping up. One of my biggest fears is of the unknown/sharks when looking into the deep blue depths but I figure if Ben is there beside me at least the shark/giant squid gets to choose between us.
What are your goals for this journey?
During this journey my goals are to get better at free diving/lung capacity, write a daily log, swim 100 miles with Ben (I'm at about 13 miles now), make a hammock from a fishing net, work up to a full eight-hour swim (difficult as someone's gotta drive for the cameramen), release a turtle/shark/other animal from marine debris, learn to make canned food taste good and work on my Spanish/French.
Get the Del Mar Times in your inbox
Top stories from Carmel Valley, Del Mar and Solana Beach every Friday for free.
You may occasionally receive promotional content from the Del Mar Times.