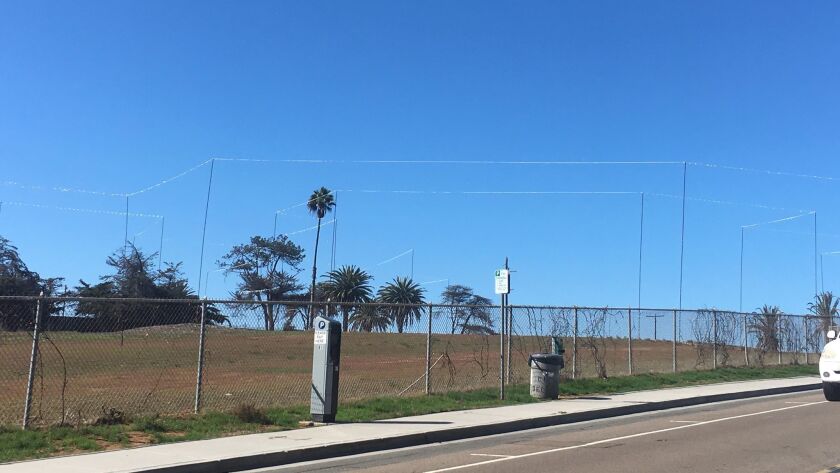 A developer who plans to build a controversial five-star resort in coastal Del Mar vowed Oct. 17 to listen to concerns expressed by residents and board members at a joint workshop of the Del Mar Planning Commission and Design Review Board.
Chris Beucler, CEO of Encinitas-based Zephyr Partners — which is proposing to build a multi-use resort on 16.5 acres at Camino Del Mar and Border Avenue in Del Mar — said his group understands that certain residents' views will be impacted if the project is constructed as proposed and plans to address view impact concerns. Zephyr, a mixed-use developer, is teaming with The Robert Green Co., a hotel developer, to craft the project.
As part of a commitment to residents, Beucler announced at the meeting that his group had planned to remove the controversial story poles — which preview possible building heights — on the project site within the next few days.
"We want to create a special place on a special piece of property for the residents of Del Mar and Solana Beach," Beucler said in an opening statement at the meeting at Del Mar City Hall.
As currently proposed, the Del Mar Resort would rezone the land and place 251 hotel rooms, retail shops, restaurants, event space, 76 residential units and 15 affordable rental units on the property. Currently, the site is zoned for two-story estates at a maximum of 26-feet tall. About one-third of the property is vacant and undeveloped. If approved as currently drafted, the land would be rezoned to accommodate buildings 46-feet in height.
Planning Commission Chair Ted Bakker expressed concerns about the height, noting there were no similar buildings of that size in Del Mar. Others questioned if elevator shafts and other elements could exceed the limit.
"It's like you're going to the extreme in height here," Bakker said. "There's nothing at 46 feet that we allow at all... I'm concerned about that and how it would apply to the community plan."
More than 80 speakers from Solana Beach and Del Mar signed up to discuss pros and cons of the project as proposed.
Many Solana Beach residents contested that their coastal views would be impacted as a result of the project and, ultimately, their properties would be devalued. They also rejected the idea of rezoning.
"The only reason to rezone the building is to make a boatload of money," said Solana Beach resident Tracy Weiss. "I see now, standing in this beautiful new building, that you could use the [transient occupancy] tax."
The Solana Beach City Council unanimously agreed Oct. 10 to express its opposition to Del Mar for the project negatively impacting its residents. However, that council does not have authority over decisions about the project because the resort would be located in Del Mar.
Supporters of the project on Oct. 17 considered the resort a rare "gift" that could bring in tons of revenue for the city and for local businesses.
"When you look at the demographics and the affluent people that will visit this resort, there's no doubt in my mind that businesses will benefit from this," said Bob Fleet, Solana Beach resident and owner of Del Mar Pizza.
Beucler said, based on a preliminary analysis, the resort could bring in nearly $8-million in tax revenue annually. He added Zephyr has also committed to a revenue share program with the City of Del Mar for sand replenishment, which will be given in perpetuity, along with the transient occupancy taxes.
Others also said amenities such as public restrooms and job opportunities are positive elements of the project.
Zephyr representatives have also claimed they will re-open access to nearby trails but opponents argued access has not been closed off and that was a tactic Zephyr used to gain supporters.
They also expressed concerns that the water rates could go up for all customers, including homeowners, if the resort receives its supply from the Santa Fe Irrigation District. While that option had been considered, McMenamin said, Zephyr is now pursuing water and sewage service from the City of Del Mar.
Naysayers also warned traffic in the area would worsen, especially on Border and South Cedros Avenues in Solana Beach.
Beucler said Zephyr will continue to study traffic impacts and mitigate to pre-project levels. At a recent Solana Beach City Council meeting he said that the additional traffic from the resort will be more on the scale of smaller events, such as the Del Mar Mud Run or the San Diego Cat Show, rather than KAABOO or the county fair, which attract more visitors.
Terry Gaasterland, a design review board member, questioned how the resort would enforce parking.
McMenamin said said a current parking analysis indicates that about 27 spots will be eliminated along the south side of Border Avenue to add an additional southbound lane on that street. He said to help offset that loss, Zephyr plans to include more than 700 parking spaces in the project, some of which will be dedicated for public and staff use. The group will also encourage workers to use alternate modes of transportation, such as a shuttle system and the train, McMenamin said. A shuttle system and free electric bicycles would also be available to resort guests, he added.
But Planning Commissioner Philip Posner argued public transportation isn't largely used in the area and questioned how much that option would actually be utilized by resort employees and guests.
Gaasterland said she believes the project as proposed does not fit with the community plan due to the height, effects on green open spaces on the north boundary and other reasons. She also said Del Mar should be a good neighbor to Solana Beach and consider the impacted residents there.
"It would effectively be a very large spot zoning," she said. "I hope you will take to heart all that you've heard today and really rework this."
Nate McCay, planning commission vice chair, considered step one as mitigating the zoning changes from light residential to mixed-use commercial. He said he intended to focus on land use issues at this stage of the process.
"It's always difficult when a property is vacant and people have been living with the fact that it's been vacant for a long time," he said. "Any construction will impact views, whether it's just houses or a resort."
Because the meeting was a workshop, no formal decisions were made. The Del Mar City Council is set to review and provide direction on the project in November, according to city staff.
---