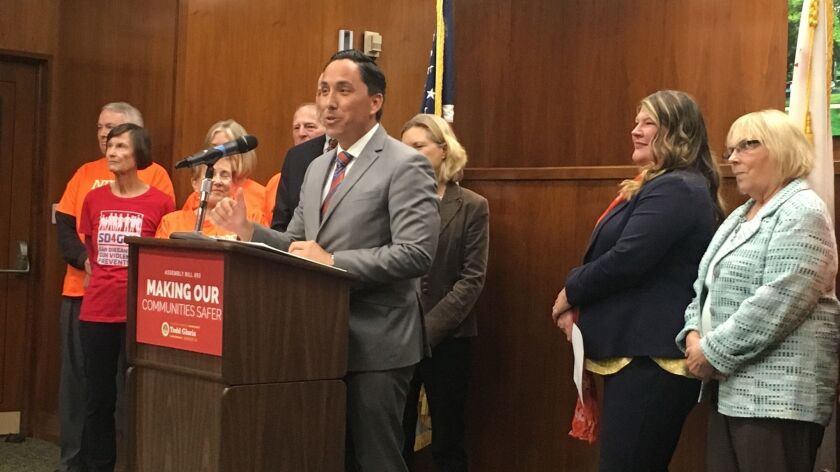 A group of San Diego politicians has banded together with one message: the sale of guns and ammunition has no place at the Del Mar Fairgrounds.
Assemblymember Todd Gloria (D-San Diego) — who represents the 78th District, which includes the fairgrounds — introduced Assembly Bill 893, which would prohibit the sale of guns and ammunition at the North County event space, at a press conference Feb. 22.
Flanked by local government officials — including 76th District Assemblymember Tasha Boerner Horvath (D-Encinitas) and Del Mar Council members Dwight Worden, Terry Gaasterland and Sherryl Parks — and advocate groups, Gloria said he considers gun violence the "real emergency of the United States."
He pointed to a recent shooting in Hillcrest, where a man entered a restaurant and fired about 20 bullets while customers and employees were inside.
"We need change, and that will not happen through thoughts and prayers," Gloria said. "It will happen through action and legislation. That is what AB-893 represents."
The Assemblymember took issue with such sales taking place on the state-owned property, where gun shows take place each year.
"Fundamentally, I believe it is wrong for the State of California to profit or to benefit from the sale of firearms and ammunition," he said. "Without question, I acknowledge that gun ownership is a Constitutional right in the United States, and I know that there are plenty of responsible gun owners out there. However, the fact remains that widespread accessibility to these deadly weapons produces a public safety threat that we must address."
Horvath, who co-authored the bill, added she believes that the actions on public land reflect the values of the entire state.
She noted the City of Encinitas, where Horvath formerly served as a council member, supported the City of Del Mar in its March 2018 resolution to regulate firearms locally and remove guns from the fairgrounds.
In September, the 22nd District Agricultural Board of Directors (fair board), which oversees the fairgrounds, voted to temporarily stop the gun shows until staff members develop a policy that could ban the sale and possession of firearms on the property.
Crossroads of West holds its shows at more than a dozen large locations in four western states, all on public or city-owned property. It stages the two-day gun show at the Del Mar Fairgrounds five times annually.
In January, Crossroads filed a lawsuit against the fair board for its decision.
AB-893 is currently pending referral to the appropriate Assembly committees for review. Gloria said the bill could be on Governor Gavin Newsom's desk by the fall.
If the bill is signed into law, gun sales would no longer be allowed on the fairgrounds beginning in 2021.
Rose Ann Sharp, Del Mar resident and founder of the gun violence prevention advocacy group Never Again CA, said she was hopeful the bill would pass.
"We asked Todd Gloria to help protect our communities and he did," she said. "He listened and he acted. This concise, clear legislation goes to the heart of the issue: the state does not belong in the business of promoting and profiting from the proliferation of firearms and ammunition sold on state-owned property. The state does belong in the business of making our communities safe."
---