Adaptive surfers ride a rising wave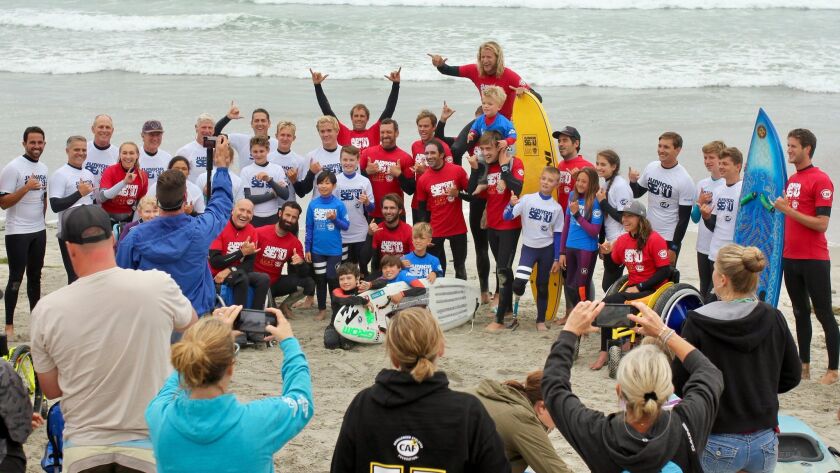 The scene in front of the Del Mar Lifeguard station on Friday morning, June 23, at first glance looks much like any other: a handful of parents fussing over their fidgeting kids, eye rolls and grimaces aplenty as they squeeze into wetsuits and smear on sunscreen.
But then a closer look: volunteers flit from child to child in a blur of hugs and high-fives, showing off various prosthetics and specialized surfboards to see which might fit them best. Soon, the 10 kids, their parents, and two dozen shaggy-haired surfers whir into increasingly excited commotion as they venture out into the choppy waist-high surf.
Welcome to Day Two of the two-day youth surfing camp by the Challenged Athletes Foundation. Thanks to a $250,000 grant from the Junior Seau Foundation, the Sorrento Valley-based CAF launched the camp last summer to introduce surfing to physically-challenged kids, recruiting families from San Diego, Los Angeles County and as far away as Toronto, Canada.
Sure, Casey Townsend first put her daughter Adelynn's wetsuit on backwards. And sure, CAF's Travis Ricks had to try a few options before getting her prosthetic just right. But being from a small town tucked away in northeast Oregon, the morning's woes are a problem Townsend felt lucky to have.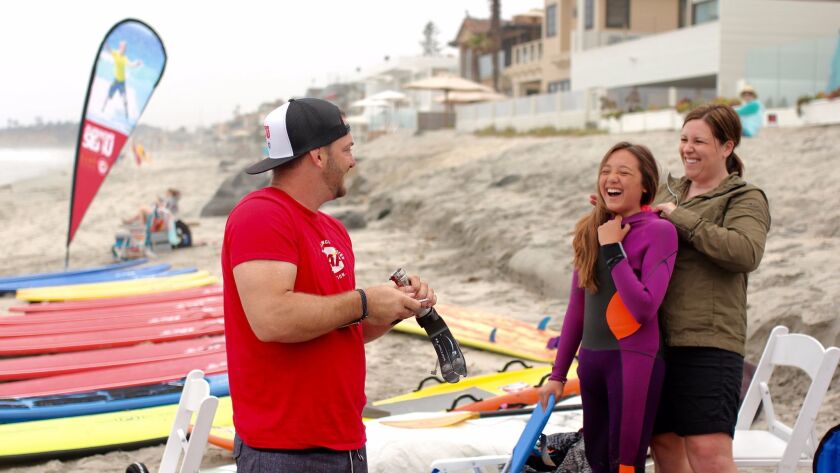 "It just makes your heart happy. You sit here and you soak it all in: how amazing," Casey said a few minutes later as she watched Adelynn, 12, beam with joy in the whitewash. "These people are like angels on earth helping our children be immersed in things other kids can do. As a parent you're taken aback. Look at her: she's a happy little thing. She loves it out here."
Like Adelynn, most of the kids were new to the sport, and cheers went up whenever one of them caught even a moment's ride. But they only had to look as far as Alana Nichols and Mike Coots to see the surfing heights to which they can aspire.
Nichols, a San Diego resident, had paddled out to the offshore break, dropping in on one long ride after another. She broke her back snowboarding in 2000, and after two admittedly dark years, CAF gave her a wheelchair and helped rekindle her competitive fire. She's since competed in five Paralympic Games — in wheelchair basketball, skiing, and sprint kayaking — claiming three gold medals in all.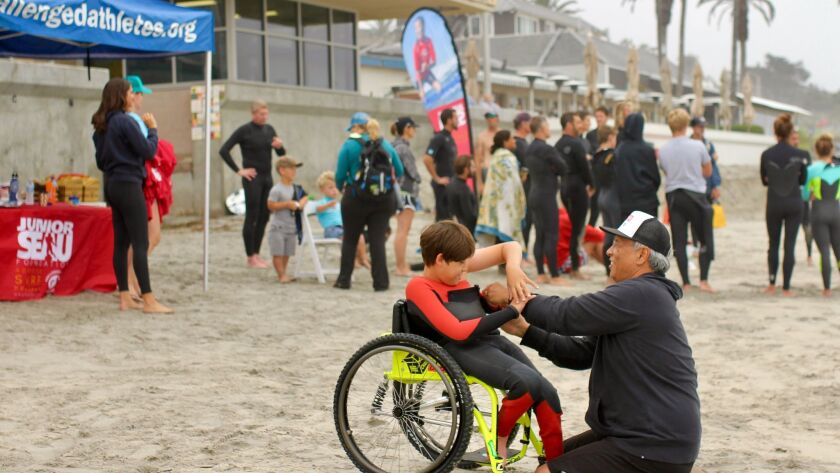 Coots, meanwhile, is on this morning, more than happy to stay in the shorebreak with the kids.
It's been 15 years since a tiger shark took the bottom half of his right leg in the surf off Kauai, and he's now one of adaptive surfing's most active ambassadors, traveling the world to compete and to photograph the sport's elite. But for one blissful moment on Friday, all that couldn't hold a candle to his role in helping one of the campers catch his first-ever ride.
"It was better than any wave I caught all winter long in Hawaii," Coots said. "To see him get his first wave, his father on the beach with the biggest smile ever — there's nothing like that in the world. For me to be a part of it, it felt like I was riding my first wave for the very first time."
Opportunities like those were in despairingly short supply when he decided to get back into the water after his 2002 shark attack.
"When I started, there was nothing," he said. "I would Google 'surfing with a prosthetic' and no images would appear. It was an empty search."
As he spoke, many of the sport's best were at the Australian Adaptive Surfing Championships. Brazil hosts several adaptive surfing competitions. After an event in Hawaii next month, Coots and the world's best will face off at the ISA World Adaptive Surfing Championships, which returns to La Jolla from Nov. 30 to Dec. 2.
"Everything is going at such a fast pace. There's a lot of events happening worldwide and I think there will be a tour here very soon," Coots said. "There's a lot of momentum building on this wave. It's an exciting time to be an adaptive surfer."
And with surfing set to make its Olympic debut at the 2020 games in Japan, hopes are high that adaptive surfing will make it into the Paralympic Games four years later — at which Coots is bound and determined to bring home gold for Team USA.
Not if Kumaka Jensen has anything to say about it. The Orange County 10-year-old's confidence was sky high on Friday after paddling into a wave on his own for the first time. And with his dad Stewart's careful coaching, he figures it'll be no time at all before he's catching waves alongside his four brothers on the many surfing trips they'll be taking between now and 2024.
He does some quick math: he'll be 17 by then. When asked if he'll be ready, he could only answer a big, resounding, unhesitating:
"Yes!"
Check out more photos on our Facebook page: www.facebook.com/mydelmartimes/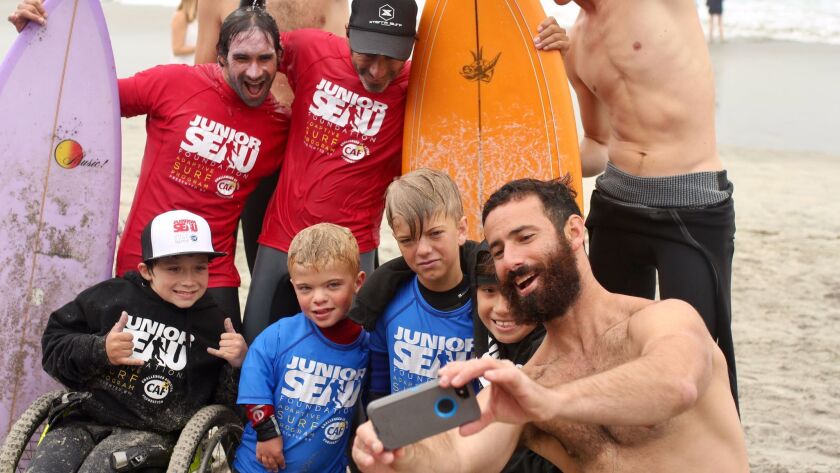 ---
Get the Del Mar Times in your inbox
Top stories from Carmel Valley, Del Mar and Solana Beach every Friday for free.
You may occasionally receive promotional content from the Del Mar Times.