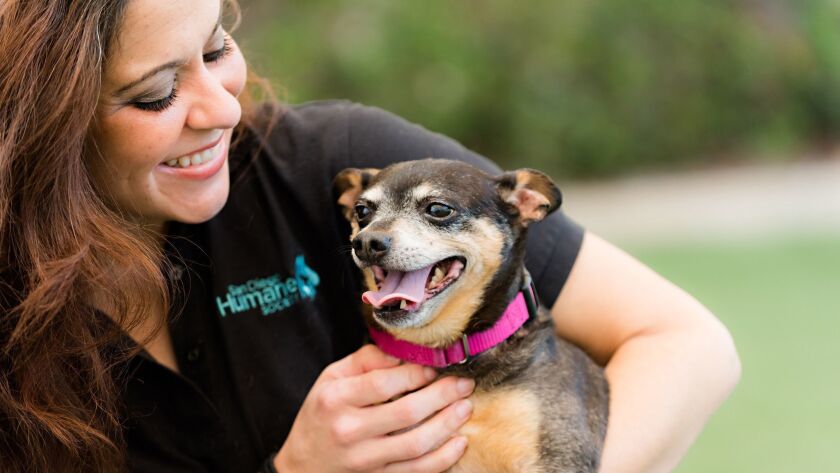 The San Diego Humane Society is closer to reaching an agreement to take over animal services for the city of San Diego.
At the San Diego City Council's Budget and Government Efficiency Committee meeting on April 19, the committee forwarded the $10.9 million contract to the full City Council for consideration on April 30. If approved, the Humane Society would handle all of the city's animal sheltering, medical and veterinary services, acceptance and care of stray or injured animals, dog licensing and more.
"We are confident that we are bringing forth a strong agreement that continues animal services without interruption, that protects the welfare of our animals and does so with an eye on the value of taxpayer dollars," said Ron Villa, deputy chief operating officer.
The "difficult" situation the city is in was created a year ago when the county decided to terminate services to city residents. In March 2017, San Diego County announced it would no longer offer animal services not only to San Diego but to five other contract cities: Carlsbad, Del Mar, Encinitas, Santee and Solana Beach. The current contract terms will expire on June 30.
The county's department of animal services had seen a 20 percent increase in its budget since 2013 due to personnel costs, facilities, and customer demand for expanded hours such as keeping shelters open on Sundays. The city of San Diego represented 60.4 percent of the county's animal services budget.
The San Diego Humane Society was the only respondent to the city's RFI (request for information) to take on the responsibility of managing over 18,000 homeless animals a year.
"We believe the quality of care the Humane Society would provide is of the highest level," Villa said, noting the initial contract is for 18 months rather than a long-term five-year agreement.
SD Humane Society CEO Dr. Gary Weitzman said after a very long year of analysis and negotiation with the city, they are proud to be able to offer their services to San Diego.
"There are 45,000 animals in San Diego County shelters each year, and it takes the entire community to ensure they are all safe," said Weitzman. "We will never go back on our promise to stay at zero euthanasia of healthy and treatable animals."
During public comment, numerous staff members and volunteers from the Humane Society spoke about the organization's commitment to kindness, care and compassion.
The San Diego Humane Society was one of the first animal welfare agencies formed in the United States and has served the region for 138 years, rescuing, rehabilitating and re-homing animals in addition to investigating neglect.
Weitzman said the organization will be able to enhance existing services for both human and animal constituents by streamlining operating efficiencies, expanding hours of services and coverage, and creating a safety-net for pet families throughout the city. It offers services such as caring for injured, orphaned and sick wildlife (nearly 13,000 birds and mammals a year) as well as its unique 24-hour kitten nursery—critical as orphaned and injured kittens under eight weeks old are considered high risk for euthanasia due to the level of care required.
A behavior center works to save the lives of animals that don't do well in a shelter environment and it works to help people keep their pets through programs like PAWS, providing free spay and neuters, vaccinations and microchips to low-income pet families.
The SD Humane Society already contracts with six cities throughout the county – Escondido, Imperial Beach, Oceanside, Poway, San Marcos and Vista, as well as five Indian reservations.
In addition to its co-located facility with San Diego County Department of Animal Services at Gaines Street, it also operates two full-service campuses in Oceanside and Escondido. As the Humane Society will not have access to the Bonita or Carlsbad shelters, it has secured additional space to meet the needs of more animals at its Oceanside campus.
Those who spoke in opposition addressed what they believed to be deficiencies in the contract. Tawnie Ashley, a board member for the Dogs Fur Days Rescue and representative of San Diego Rescue Coalition, said the contract includes only a "vague and unclear" section about working with rescue groups and includes a target live release rate of only 80 percent. The live release rate is the percentage of animals leaving the shelter alive no matter their health or behavioral status and the county currently has a rate of 86 percent.
Ashley said that the county is required to contact rescue groups for animals that are considered untreatable or unadoptable and at risk for euthanasia, giving them a chance to be rehabilitated and re-homed.
"Twenty percent of animals might not make it because the city has chosen not to hold its contracted animal services agencies accountable as the county has done," Ashley said. "The contract is an abdication of responsibility and a failure for our most vulnerable."
Amy Pat Rigney, of Horses of Tir Na Nog equine sanctuary, said no "medically manageable, unhealthy" horse has had to be euthanized in the county decade due to its partnering with rescues to take in un-adoptable animals.
"The city's willingness to even consider reducing live release rates leaves us gravely concerned about horses and livestock," said Rigney, telling the story of Franky, a horse who was abandoned last year and was emaciated with an uncurable spinal condition but is now thriving on the ranch. "For his sake and the sake of other horses and livestock in the city of San Diego, please raise the bar, don't lower it. San Diego deserves the best."
In response to the public comments, Weitzman said the Humane Society "100 percent" believes that the Rescue Coalition and all rescue groups in San Diego are their partners.
"There is absolutely no way that we can perform these services without the partnership of the rescue groups," Weitzman said. "There isn't a group that we would not work with and we can't wait until we can open up the doors and sit and talk with them about what they need to save these lives."
He said they agree with many of the recommendations made by the Rescue Group Coalition and many are already considered best practices by the organization.
As far as its live release rate, Weitzman said the Humane Society has had a rate of 93 percent or higher for the last six years.
"We have not euthanized a healthy or treatable animal since the turn of the century," he said. "I'm a veterinarian and there's absolutely no way I could tolerate in my own organization anything lower than the highest standard of life-saving for those animals."
He said he had no intention of dropping the release rate for the city of San Diego.
Labor was also a contested piece of the contract language as David Lagstein, representing the local Service Employees International Union (SEIU) and the county's animal services employees, said he wanted to ensure that the contract included good employment practices. He said many of the county workers may be forced to accept equivalent jobs that offer 20 percent less wages and less healthcare and retirement benefits.
Councilmember Georgette Gomez requested in her motion that the city review adding labor piece language to the municipal ordinance.
"I believe that the welfare of our workers is as important as the welfare of our animals," Gomez said.
The county is currently going through the managed competition process for animal services for the unincorporated county. The SD Humane Society will compete with the department of animal services for the work and a final decision is expected in August.
---