Canyon Crest student earns $10K scholarship for superbug research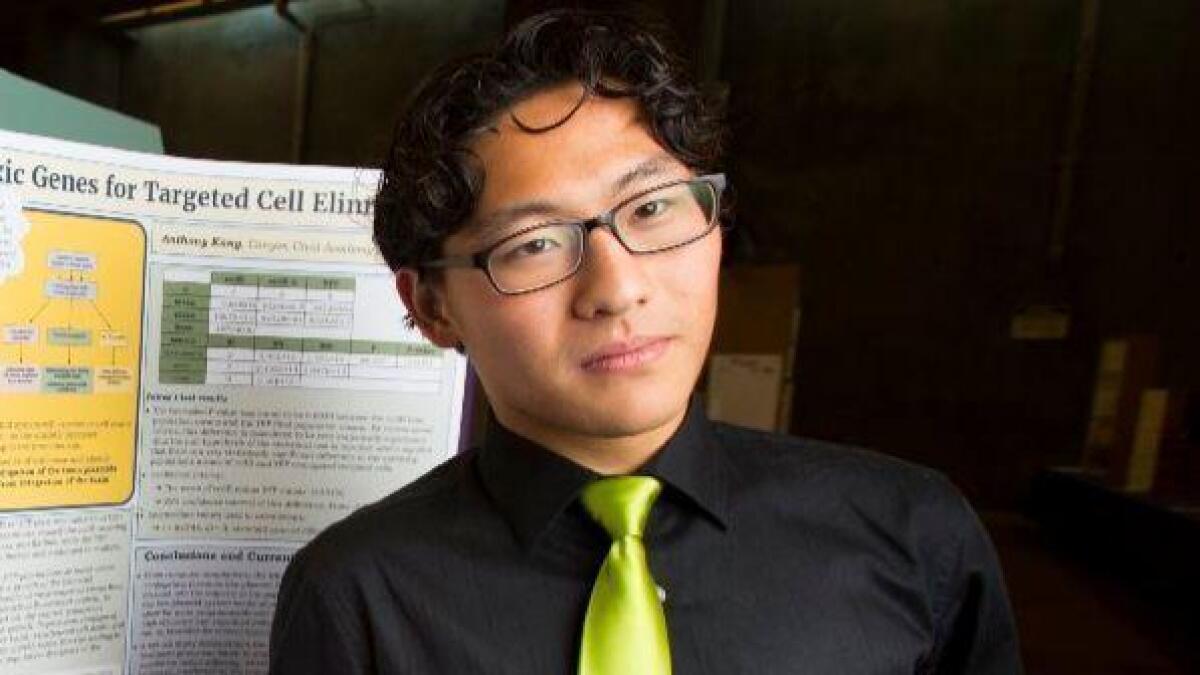 Canyon Crest Academy graduate Anthony Kang earned a $10,000 scholarship for his novel approach to treating superbug infections.
Kang, who graduated in June from Canyon Crest, part of the San Dieguito Union High School District, was one of 20 students across the country to win scholarships from the Davidson Institute for Talent Development.
The institute is a Nevada-based educational philanthropic organization founded by the former owners of Davidson & Associates Inc., an educational software company. It grants the awards to highly gifted students for projects in science, technology, engineering, math, literature, music and philosophy.
"I think it's really unexpected," said Kang, 18. "It's a huge honor, and it's an affirmation of the work I'm doing so far, and encouragement for the work I'll be doing in the future."
Kang's project is a new approach to beating antibiotic-resistant bacteria, which tricks deadly microbes into absorbing genes that destroy them. He's been working on it for several years, and last year won a top prize at the Greater San Diego Science and Engineering Fair for his work.
"I wanted to develop a long-term solution, so what I did was look into the genetics involved in anti-bacterial resistance in bacterial infections," he said.
Much of the research on drug-resistant superbugs focuses on developing new antibiotics, but the bacteria eventually overcome each new class of drugs. That's partly because they use a process called conjugation to swap helpful genes among their populations, he said.
"It's how these genes can spread within a bacterial infection really quickly, like a wildfire," Kang said. "Kind of like children with (trading) cards, when they see a gene that might help them survive, they share with other members of their population."
He figured out a way to use that process against them, adding a toxic gene to one that's helpful to the bacteria. When the bugs absorb the useful gene, the harmful one that hitchhiked along with it produces bacteria-killing toxins that may defeat the infection.
Kang said he did bioinformatics analysis to find the best genes to use as weapons, and then spliced them in a laboratory. His initial tests showed that bacteria populations decreased after exposure to the combo genes, although it would take many more steps to see if it works better than antibiotics, and eventually test it in human trials.
He's not sure if he'll continue the project, but said he plans to pursue similar research topics. In September Kang will start a seven-year program at Northwestern University, in which he will earn both a bachelor of science and medical degree.
--Deborah Sullivan Brennan is a reporter for The San Diego Union-Tribune
---
Get the Del Mar Times in your inbox
Top stories from Carmel Valley, Del Mar and Solana Beach every Friday for free.
You may occasionally receive promotional content from the Del Mar Times.