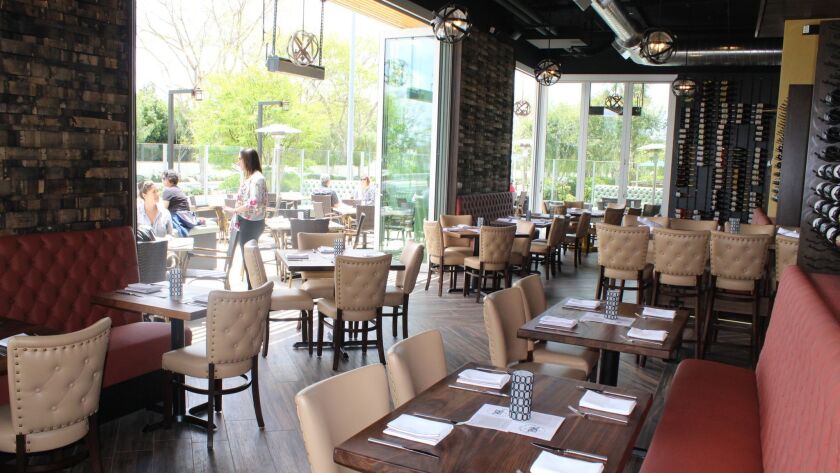 Carmel Valley's first beer tasting room and a new restaurant The Barrel Room have arrived side-by-side at the Merge project on Carmel Country Road and Carmel Mountain Road.
Brett Preston, executive general manager of The Barrel Room and the Mason Ale Works Tasting Room and Kitchen, said since the May 29 openings, the community response has been great—people stopping in for a bite from the ballet studio upstairs and neighbors walking and biking over from their homes.
"Local residents have been excited to have a restaurant they can skip over to really easily," Preston said.
Both eateries are part of the 3 Local Brothers Restaurant Group, the group behind Urge American Gastropub (with locations in Rancho Bernardo and Oceanside), Brothers' Provisions, Mason Ale Works, Mason Coffee Works and the original Wine Barrel in Rancho Bernardo which opened first in 2007.
"Our first three restaurants were all in Rancho Bernardo," said 3 Local Brothers co-founder Grant Tondro. "The demographics of Carmel Valley are incredibly similar to RB and it felt the right place to be. It's such a beautiful part of town and very under-rated as well as under-served.
"There's real community there. We've always tried to build the types of places we wanted to go to in the types of places we wanted to be and Carmel Valley fits both of those very well."
Preston, who been with the company for eight years, said that the cool thing with the 3 Local Brothers' concept is that each restaurant has its own uniqueness. Even as they have opened a second Urge and now a second Barrel Room, each has their own distinct character.
Most abundantly different is that Carmel Valley is quite a lot bigger than Rancho Bernardo and also has a full liquor license, allowing them to expand into craft cocktails. Featured cocktails on the menu include That Pink Gin Drink that mixes prosecco, gin, lavender and lime and the Wine-Hattan with rye, St. Germain, Sauvignon Blanc and peach bitters.
Inside the new restaurant, creamy white leather chairs and red leather banquettes pair with rustic wood tables, floors and walls uniquely covered in reclaimed wine barrels. Racks of wine bottles divide the main dining room from the bar area and the restaurant has an airy indoor-outdoor feel due to the walls of accordion windows that open up to the outside to patio seating along the front and side.
"The patio has been really popular," Preston said.
The extensive wine list includes about 140 selections with over 40 by the glass. The list includes a wide range of high-quality wines in a variety of styles—"from a seasoned veteran to a first timer, you should be able to find something that you'll love," Preston promises.
Barrel Room Executive Chef Trevor Chappell and Chef de Cuisine Justin Braly have created a menu that Preston said is "broad in its inspiration". It includes sandwiches and paninis, salads, pizzas, pasta dishes like artichoke and ricotta ravioli, cheese and charcuterie boards and "eclectic entrees" from prime New York steak to pistachio crusted seabass. The menu also features sharable plates and sides like tempura cauliflower, bacon-wrapped blue cheese stuffed dates and crab stuffed squash blossoms.
"We picked our favorites from 12 years in Rancho Bernardo and brought them over here and added to the menu," Preston said. "We will see what the community responds to and play around with (the menu)."
The two spaces share a community room, across the hallway from The Barrel Room and attached to Mason via a sliding door. The plan is to be able to book that space for private events as much as possible—since opening, Preston said they have already hosted a bridal shower.
Carmel Valley's Mason Ale Works represents the first satellite tasting room for the brewery—the beers are brewed out of facilities in Oceanside and San Marcos.
"We opened up our first craft beer focused place in 2010 (Urge) and it was right before the whole scene started to explode in San Diego. We were lucky enough to get to know a lot of the people that helped build this industry to what it is today," Tondro said. "As a direct result of those friendships, we developed a high level of interest in someday opening our own brewery and after a few years of trying, were finally able to bring that to fruition in 2015."
The tasting room was done in an industrial modern look, featuring lots of wood and brick, accented by black Mason jars, pops of bright yellow and a uniquely lit tree root chandelier. The front of the space features a fridges stocked with Mason beers as well as an assortment of cheeses and snacks and like The Barrel Room, it has a full outside patio for guests to enjoy.
"It feels completely different than the Barrel Room. It should be two unique experiences, which is kind of the goal," Preston said.
The bar's 20 taps will be in constant rotation starring Mason's core beers and limited releases. Mason's core beers include the Willy Time Belgian style white, the Respeto Mexican-style lager, American IPA Jambi, the rich hoppy red IPA Charley Hustle and coffee stout Cash.
The tasting room will be the exclusive spot to find many Mason brews created by Matt Webster, including special releases like a smooth-drinking triple IPA called The Duke, a tart cherry Berliner Weisse called Riot Grrrl and Jackie, the White Russian-inspired cream ale.
The tasting room will be the place where Mason can showcase collaborations with local breweries as well as Mason Snale Works, barrel-aged beers that are the result of the brewery's constant experimenting to find different flavor combinations.
A casual dining menu pairs with the beers, featuring pizzas, sandwiches, salads and shared plates like pretzel bites with housemade beer mustard, pork belly poutine and "Crispy Olives": Castelvetrano olives with Marcona almonds and pimento.
The tasting room is also playing around with Mason beer cocktails, with an evolving lineup that currently includes a concoction called Cherry Chocolate Head Change with Mason Ale Works Cash, Wild Turkey 101 Rye, Luxardo cherry liquor, lime juice, egg whites and cherry puree.
---