County fair's beer festival brings the craft-beer gospel to the masses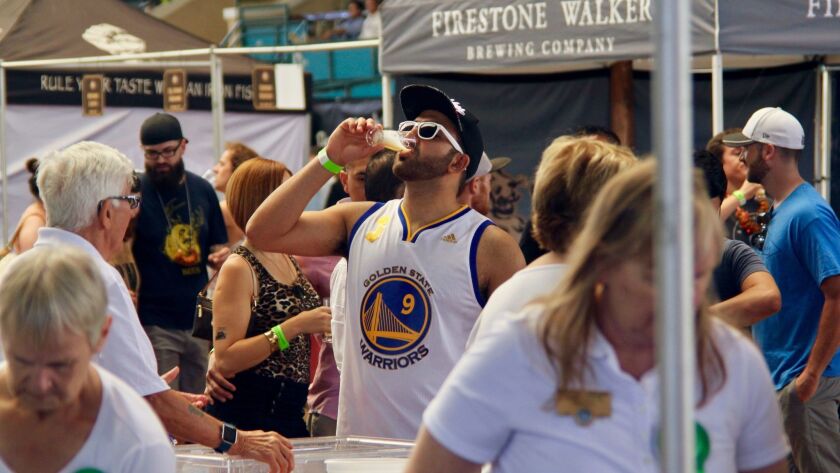 The menu of offerings at the San Diego International Beer Festival has grown so vast and varied that even its co-founder (and local beer impresario) Tom Nickel is at a loss to keep up.
"I'd be surprised if I even get to try 20 or 30 in the festival's three days," Nickel said. "There's just no way to sample everything."
That's 1,500 beers in 51 categories from a dozen countries and nearly 30 states — 360 of which were poured at the five sessions that are spread out over three days, June 16-18. As the 1,200 attendees on Sunday, June 18 happily threw back the unlimited pours at the Del Mar Arena, Nickel reflected on how far the festival has come since he helped it evolve from the county fair's home-brewing contest. He pointed to hard-to-find brews from Belgium and Australia — even one from Tibet — as evidence of what he might love most about the three-day extravaganza that now attracts more than 8,000 people.
"This is more about the everyday beer drinker rather than the diehard craft drinkers," he said. "Doing this during the fair means we capture a different crowd than the people who are going to, say, North Park or the Brewers Guild Festival or the Stone Brewing Anniversary party or any of those other big festivals around town. At those you're preaching to the choir a little bit. Here we get a lot of people who are curious about craft beer but maybe not really steeped in it yet."
Despite how much the festival has grown since its 2007 debut, it hasn't outgrown its local roots. North County breweries hold their own year in and year out: Pizza Port Brewing Company and The Lost Abbey are safe bets to nab gold medals, not to mention the slew of winners from the region's emerging beer hotbed between Sorrento Valley and Mira Mesa, a hub that now boasts more than two dozen breweries and a pair of distilleries.
Leading those breweries was this year's overall champion, AleSmith Brewing Company, which had two of its beers win top honors in their respective categories: Private Stock for the British-style strong ales and Old Numbskull for the barley wines.
"We always like to bring some beers that get the beer geeks excited — like one we showed earlier today, Noble Empire, our bourbon-barrel-aged imperial porter, which retails for $32 a bottle," said Eric McCoy, a sales rep for AleSmith. "We always like to pour something like that, but we also make sure to pour something for the people, which this year is our pilsner, a little bit lighter and kind of for a less-discerning palate."
Taking top honors in a region as suds-obsessed as San Diego, Nickel said, brings with it a level of prestige roughly on a par with winning a wine award in Napa Valley.
"This keeps getting better and better every year," McCoy said. "The quality of beer is getting better and there's more breweries involved, which means more competition, which means more prestige, and that's driving even more breweries to come in."
All that growth has now brought the festival to a tipping point.
Two years ago, the competition portion of the festival drew 900 entries. This year the India pale ale (IPA) category alone brought in 100 of the 1,500 entries overall — so many that the Del Mar Arena barely has room for them all.
That trajectory has compelled the festival's managers to meet this summer to figure out whether to break off into a standalone event not during the county fair, a decision complicated by the fact that the fair's beer, wine and liquor festivals have become a key part of the fair's strategy for keeping attendance — and relevance — up.
"We can't really grow any bigger in this space so the decision has to be made of whether this is the size we want to be or do we want to let this keep growing," Nickel said. "Certainly if we moved into something like O'Brien Hall or one of the fairground's other big venues, we could handle more breweries, more people, have it maybe be a four-day event."
For more information and a list of this year's festival winners, visit www.sandiegobeerfestival.com.
---
Get the Del Mar Times in your inbox
Top stories from Carmel Valley, Del Mar and Solana Beach every Friday for free.
You may occasionally receive promotional content from the Del Mar Times.