Bird Rock Coffee opens new location in Del Mar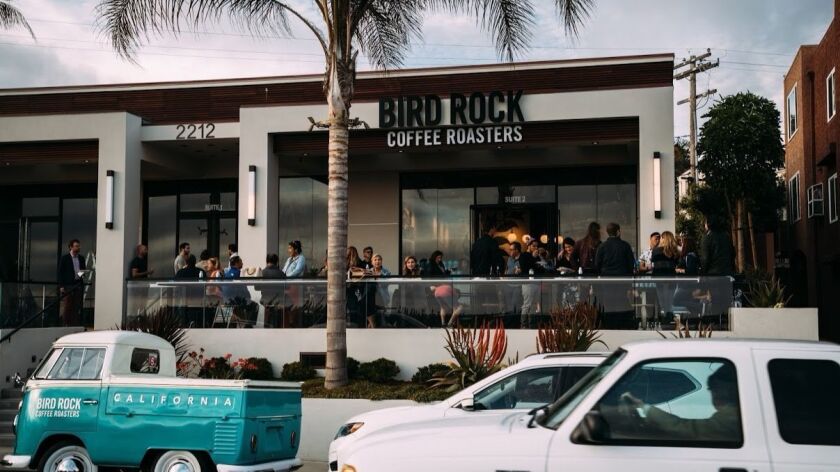 Bird Rock Coffee Roasters is set to open its fourth and newest location on Carmel Valley Road in Del Mar next week. The brew house boasts incredible views of the Los Penasquitos Lagoon, stretching out to the ocean from a newly expanded deck.
Specializing in "farm-to-cup" coffee, Bird Rock has built relationships with coffee farmers all over the world and takes pride in sourcing the very best. Every bean has an origin story and Bird Rock roasts and prepares its coffee with the "upmost respect to those who grew it."
"The Bird Rock motto is 'Empowered by great coffee,'" said owner Jeff Taylor, who has spent most of his life in relentless pursuit for the perfect cup of coffee.
The company was born in the La Jolla neighborhood of Bird Rock in 2002—in its humble beginnings founder Chuck Patton was roasting beans out of the VFW Post in Bird Rock and had a coffee kiosk on Turquoise Street before landing in the current location on La Jolla Boulevard. Patton went on to open two more locations in Little Italy and Linda Vista.
Bird Rock has been under the ownership of Taylor and his business partners since 2017. A former award-winning photojournalist for several newspapers and wire services, Taylor always had a love of coffee. When he moved to Topeka, Kansas in 1992 for a job with the Topeka Capital-Journal, he realized he had been taking his daily latte for granted.
"When I got there, there was no coffee anywhere. It was a shock to me," Taylor said. "So I opened up my own small shop so I could have a good cup of coffee."
He talked his friend, Fred Polzin, into opening PT's Coffee. As they were the only game in town, the shop did well and they were able to open a second location, both of them with lines out the door.
One day Taylor had a rude awakening, thanks to a customer's frank admission: "Your coffee really isn't very good."
"That didn't sit well with me and I went on a mission to find the best coffee in the world," Taylor said.
Taylor dove into coffee research and bought his own roaster in 1997, going through many roasting trials and errors—"I had a lot to learn."
Taylor decided he had to work directly with the farmer at origin to secure truly great coffee. He took his first trip to Guatemala in 2000, touring the country and working with producers, learning as much as he could.
"What I learned made a difference," said Taylor, who, at his peak, spent eight months out of the year traveling in Latin America. He collaborated with farmers on their harvest to make better coffee, creating increased profit for the farmers and a sustainable producer relationship as well as unique, exclusive and delicious coffee.
PT's Coffee Roasting Company now has two locations in Kansas and one in Kansas City, Missouri, and is among the leading coffee roasting companies.
Ten years ago, Taylor met Patton in Nicaragua.The pair bonded over their shared values and love for coffee and their disbelief that they got to do this for a living.
As years passed, Patton expressed to Taylor that while he loved the coffee aspect of his work, the day-to-day of running a business could be draining.
"I told him if he was ever interested in selling to let me know," said Taylor, who would jump at the chance to move to San Diego.
In 2016, Taylor got the call. The partnership has been perfect— Taylor had his first son Phoenix three years ago and the busy travel lifestyle no longer suited him so Patton remains as Bird Rock (and PT's) coffee buyer, continuing to travel the world seeking the best coffee. Bird Rock's seasonal Monkey Bite Espresso gets its name from an encounter Patton had on a coffee-sourcing trip to Kenya.
After Taylor bought the business in 2016 and began the process of moving to San Diego, one of the first places he visited was the Del Mar and Carmel Valley area—as he drove down the lagoon-lined Carmel Valley Road he thought: "That would be a great spot for a coffee shop".
Next week, the vision will be complete as the new Bird Rock opens. The large deck has an enviable view and plenty of places to perch for a cuppa. Inside, murals mark the walls as well as Taylor's photographs from his coffee adventures.
The location will be introducing new products such as fruit-infused waters and some toast recipes, but the main focus remains on the superior quality coffee, from seed to cup.
Taylor states it simply: "We do great coffee. That's what we do."
---
Get the Del Mar Times in your inbox
Top stories from Carmel Valley, Del Mar and Solana Beach every Friday.
You may occasionally receive promotional content from the Del Mar Times.