Canyon Crest Academy graduate named Bank of America Student Leader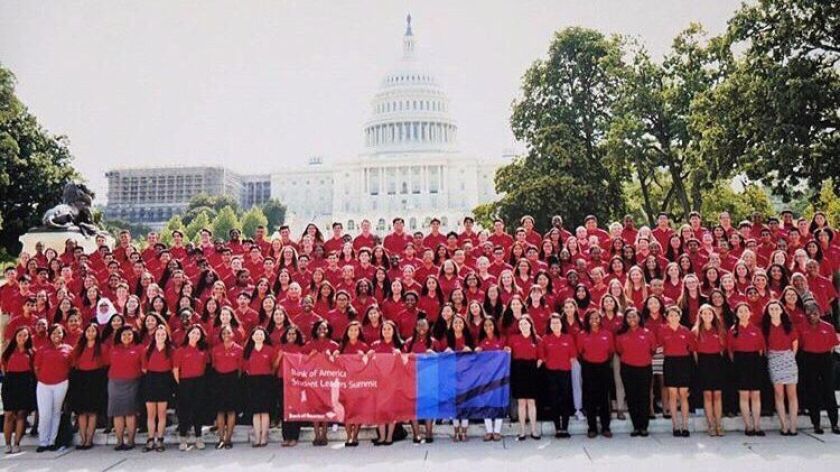 This summer over 200 standout high schools students were selected to participate in the Bank of America Student Leaders program. The program offers high school students who are engaged community citizens the opportunity to build their workforce and leadership skills through a paid summer internship at a local nonprofit, as well as attend a national leadership summit in Washington, D.C.
Five students from San Diego were selected, including Alexander Zhang, a recent graduate of Canyon Crest Academy who will attend Columbia University in the fall.
"Through Student Leaders, we're building pathways to success for young adults in the region and giving voice to the next generation, who will help develop a more diverse and inclusive society," said Rick Bregman, San Diego market president of Bank of America. "By engaging young people in meaningful and relevant work experiences that helps build resumes and manage paychecks, we can help advancing economic mobility."
Zhang and the rest of the students from San Diego were given a paid internship at 2-1-1 San Diego, a resource and information hub that connects people with community, health and disaster services.
"We are thrilled to partner with Bank of America in the Student Leaders program," said John Ohanian, 2-1-1 San Diego president and COO. "These extraordinary high school students bring their passion for leadership to 2-1-1, helping us increase our impact while leveraging their distinct skills."
Zhang was one of 200 San Diego students to apply for the Student Leaders program.
"I was looking for something to do this summer as last summer I worked in a lab and I wanted to keep my options open," said Zhang.
He was drawn to the Bank of America program for its community service aspect, as in his sophomore year, Zhang founded the Music Outreach Club, bringing classical music performances to nursing homes, hospitals and community events.
In addition to his talents on the bassoon and piano, Zhang is also very science-minded and is proud of two research projects he has been involved with while at Canyon Crest Academy.
Two years ago after his grandmother became ill with a blood disease, possibly myelodysplastic syndromes (MDS), he wanted to learn more about the disease and contacted Dr. John Che, a local bioinformatics professor at UC San Diego.
"Since then, we've developed a classification system using MDS patient data that could be used for personalized treatment, possibly improving the diagnostic rate from the current 50 percent to 80 percent, or even higher," said Zhang, who was able to present the study as first author at the American Association of Clinical Chemistry's international scientific conference in Philadelphia last August.
Last summer, Zhang was selected as a full-time intern at The Scripps Research Institute, sponsored by the Life Sciences Summer Institute. He spent seven weeks focused on developing a vaccine for Dengue fever. He was invited to present his findings at several regional conferences.
After visiting family in China this summer, Zhang has been at the 2-1-1 internship for the last two weeks. The interns' project for the summer is to create a youth ambassador program, targeting youth in the community to make them more aware of the services 2-1-1 provides as well as create volunteer activities for students.
"We hope to target the special needs of students at each school and emphasize how 2-1-1 can help alleviate some of those problems," Zhang said.
At 2-1-1, he has seen how a nonprofit runs from top to bottom, which he says will help him at Columbia University where he hopes to continue his community service efforts with Music Outreach.
On July 9-14, Zhang traveled to Washington, D.C. for the Bank of America's Student Leadership Summit along with the leaders from across the country. They were able to attend multiple seminars with a variety of speakers, including Barbara Bush, the co-founder of the Global Health Corps. The seminars focused on issues of politics, social work and nonprofits, and the leaders also had the opportunity to visit local representatives on Capitol Hill. The San Diego group was able to speak with Congresswoman Susan Davis from the 53rd congressional district.
"I really enjoyed Congresswoman Davis. She asked a lot of questions about college and higher education for students," Zhang said. "She really took the time to listen to us and what we thought."
Zhang said it was very meaningful to meet his fellow student leaders, all from very different backgrounds but all sharing a similar mindset of being passionate about helping their communities.
"Being in San Diego, I feel sheltered from a lot of the problems others face and like I'm living in a bubble," Zhang said. "I found that people from other states have a lot of different problems in their communities that I am not familiar with, things I've heard about but never known. To talk to someone who was familiar with those kinds of problems, that was really eye-opening."
For Zhang, one of the most powerful messages he got from the summit was from guest speaker Omerina Cabrera.
Cabrera grew up in Bronx, New York, with a single parent, experiencing homelessness three times. She and her twin brother struggled to stay in school and she was on track to drop out until she found a counselor and mentor that changed her life. The mentor cared and encouraged Omerina to pursue a better future, helping her get placed in an elite New England private school. She is now going to George Washington University. Unfortunately, her twin brother did not have the same support — he is now incarcerated, showing how much of a difference it made for someone to encourage and guide her.
"It was very inspiring to me because education is something I've taken for granted," Zhang said. "It's powerful to see she has succeeded."
While Zhang did not apply for a specific major at Columbia, he is interested in chemistry and would like to be on the pre-med track and plans to attend medical school after he graduates.
The experience in Washington, D.C. helped him learn a lot more about healthcare and global health in general. When he gets to medical school he is interested in pursuing the field of public health or traveling to third world countries to participate in global health service projects.
"I'm interested in using the idea of science and its knowledge to positively change the world," Zhang said.
---
Get the Del Mar Times in your inbox
Top stories from Carmel Valley, Del Mar and Solana Beach every Friday.
You may occasionally receive promotional content from the Del Mar Times.