Teenager's non-profit brings books to children in Brazil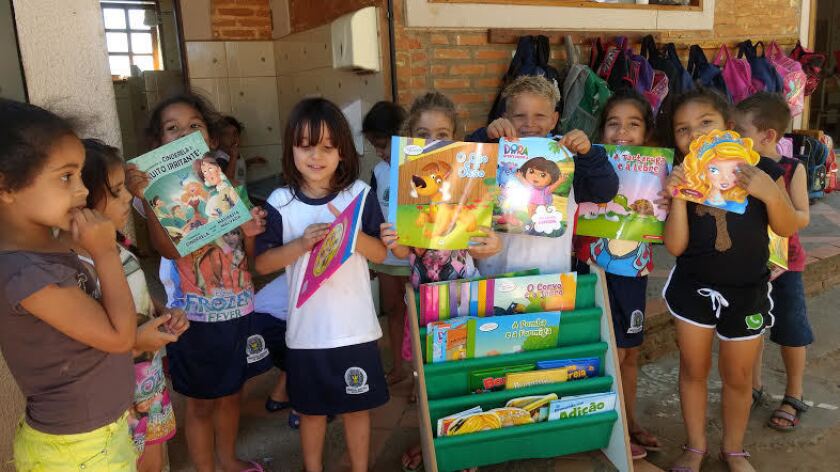 With her nonprofit Books for a Change, 15-year-old Torrey Pines High School sophomore Beatriz De Oliveira is sharing the love of reading with young children in Brazil. In less than a year, Bea has donated hundreds of books that reach more than 2,500 children in Brazilian daycare centers, called "creches."
"It has been really incredible," Bea said. "I want to spread the passion of reading. Once you start reading, you can't really stop. It helps as an entertaining pastime and a foundation of reading makes learning easier. I want to help those kids look toward their future and everything they can do."
Bea was born in Brazil and lived there until she was 3 years old. She often returns to Brazil to visit relatives and on a trip a few years ago, she accompanied her grandmother to a local public daycare.
In Brazil, the government funds public daycares for children whose working parents are unable to care for them during the day. Bea came to donate some toys as her grandmother taught English lessons and she was surprised by what she found: There were no books.
"There was not a single book in the daycare, I was shocked," said Bea, an avid reader who was always surrounded by books growing up. "In a building of 200 kids there was zero books."
Bea learned that there was no funding to provide books for the creches. As a result, she found many children lack the foundation of reading and concepts learned from books and go into the educational system unprepared and fall behind and repeat grade levels. A Regional Project for Education in Latin America and the Caribbean study found that the rate for repetition in elementary school grade levels in Brazil is 24.5 percent, with most children coming from areas of poverty.
"A problem as simple as a lack of books in a daycare can lead a very bright child to lose hold of a promising future, continuing through the path of poverty and violence that prevails in the favelas and poor suburbs in Brazil," Bea said. "I love reading and it's always been a part of me. I wanted to do something to help my home away from home."
At just 14 years old, Bea started Books for a Change, with the idea to donate book shelves filled with 40 to 50 books each to the daycares. She designed her own logo, website and business cards and collected donations. In an effort to make her donations count, she did her research on the best books for each age group.
As she travels to Brazil once a year, she was able to see the impact of her work on a trip last August. She won't soon forget the sight of a 4-year-old child so enthralled by a book that they didn't want to put it down.
"Some of them have never even seen a book before in their entire lives," Bea said. "It's amazing. When they see the books brought in, it's the cutest thing. It means a lot to me to think that I'm giving them a chance, because reading is definitely something that they need. I'm giving a chance to someone who otherwise wouldn't have had that opportunity."
Since beginning her nonprofit, Bea has formed a partnership with the Secretary of Education of Sertãozinho. The program is flourishing, with 400 books and 10 bookshelves donated to the city on June 22.
This summer, Bea plans to make videos in Portuguese that will help teach children how to read with basics and activities — she hopes that they will become an online resource that will reach even more people.
Bea is also working to share the love of reading closer to her San Diego home. She has donated books to orphanages in Mexico and, on July 20, she donated 50 books to the Rady Children's Hospital operating room. She hopes to replenish the library of books every few months.
Bea would love to see her organization grow and hopes to start club chapters at local schools.
"I would love to get the whole community involved," Beatriz said. "It would be cool to see what an impact an entire community could make."
To learn more about Books for a Change, visit booksforachange.org.
---
Get the Del Mar Times in your inbox
Top stories from Carmel Valley, Del Mar and Solana Beach every Friday.
You may occasionally receive promotional content from the Del Mar Times.