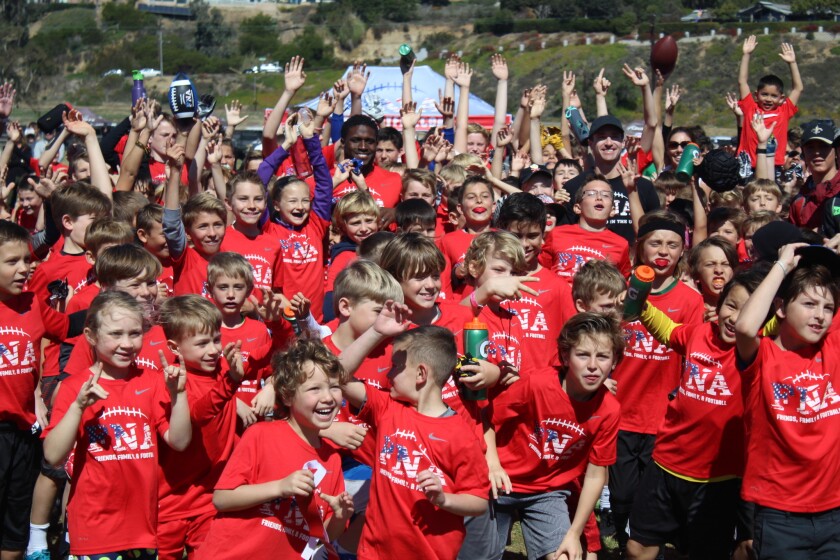 NFL quarterback Drew Brees' new co-ed youth flag football league Football 'N' America Carmel Valley/Del Mar held its first flag football camp on the San Diego Polo Fields on Feb. 24.
"What did you learn today?" Brees asked the boys and girls after they rotated through a series of stations on the polo fields, taking tips from Brees' former New Orleans Saints teammate Reggie Bush, other ex-pros such as wide receiver Greg Camarillo and 14 enthusiastic varsity football players from Torrey Pines High School. Members of the football staffs from Torrey Pines and Santa Fe Christian and former college players were among the 28 coaches at the camp.
Kids chimed in that they learned how to run fast with the ball and to catch better—"If the ball is chest high or higher, put your thumbs together. If the ball is below your chest, you put your pinkies together," Brees reminded the players. Players piped up that they learned how to hold the ball with three points of pressure, to respect their team as well as their opponents and how to juke— one player demonstrated some ankle-breaking moves on Brees.
As one girl said, "You don't have to be the fastest, it's all about having fun."
"That's what I always tell my boys and that's what I always tell my teams: Do your best, have fun, never quit," Brees said.
Brees' Football 'N' America's inaugural spring season is set to begin on March 11 and already nearly 600 kids have signed up to play. All games will be played on Friday nights.
"We hope that you saw a lot of familiar faces from around your neighborhood and from around your schools because that's what this is all about, getting families together and really enjoying this great game of football," said Commissioner Trent Tracy, who is also the physical education teacher at Sage Canyon Elementary School.
Brees has started six FNA leagues around the country, including four in Louisiana and one in Tennessee and a big part of all of the leagues is to give back to communities in which they play—the Carmel Valley/Del Mar league has selected the Challenged Athletes Foundation as the recipient of some of the funds from the league this year.
As part of that community partnership, Brees invited Challenged Athlete Foundation ambassador Jami Marseilles to speak to the kids that day.
"I look different, my legs are part robot. I think it's really cool!" Marseilles said, standing in front of the campers on her cheetah-print running blades.
Marseilles lost both of her legs to frostbite after she and her friend were stranded in their car for 11 days during a blizzard while driving home from a ski trip in New Mexico in 1987. She spent the next several years learning to walk on her prosthetics. She had never exercised before, describing herself before the accident as "lazy," but she learned to love exercise and the feeling she got from challenging herself.
After watching the 1996 Paralympic Games, Marseilles decided that she wanted to run. She began to train and compete and spent many years on the U.S. Paralympic track and field team.
In 2001, she became the first double amputee woman to complete a half-marathon and in 2015 became the first female double amputee to complete a full marathon. In 2016, she was the first double amputee woman to finish the Boston Marathon.
"I've learned to embrace my differences because as we look around, we all look different," Marseilles said. "The beauty of sports is that it brings us all together. When you get out on that field, you are a member of a team and you have an opportunity to do your best."
She encouraged the kids to dream big, work hard and as Brees stressed: have fun.
---