'Hoppy anniversary': The Brewers Taproom celebrates one year in Encinitas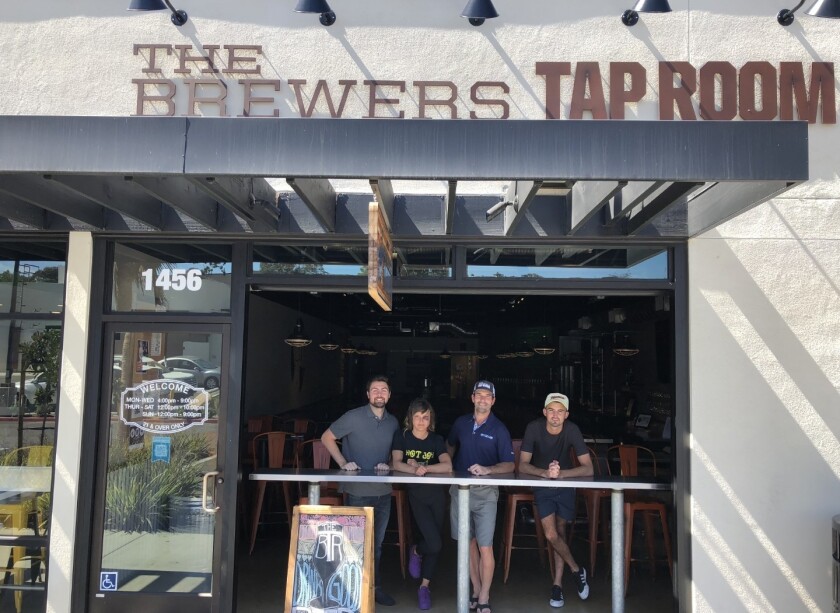 The Brewers Taproom will toast its one-year anniversary Thursday, July 26 through Saturday, July 28. Chris Duncan opened up the tasting room in Encinitas Village Square a year ago to honor the best in independent craft breweries in San Diego and Southern California.
"It's been really fun, we're having a blast," said Duncan, a self-described "beer nut" and former homebrewer who left a background in the healthcare and pharmaceutical business to pursue his passion for great craft beer.
As the revamped Encinitas Village Square continues to grow (coming soon: donuts!), Duncan said he hopes the Taproom will also continue to grow. He said every day a newbie comes in who lives in the area and has just discovered them —"There's still a lot of people who haven't heard of us yet."
The Taproom will celebrate its birthday weekend with its first-ever brewery collaboration, the special release of Hazinitas, a hazy IPA (India pale ale) they collaborated on with Dos Desperados Brewing in San Marcos. The "insanely crushable" 7.2 percent IPA is hopped with Citra and then dry hopped with 22 pounds of 100 percent Vic Secret Hops—the Taproom will have a bunch of kegs of Hazinitas on tap, pouring $4 pints all anniversary weekend.
As part of the weekend celebration, guests can enjoy $5 pints Thursday through Saturday and free pizza from Flippin Pizza from noon to 3 p.m. on Saturday (one slice per beer while it lasts).
With 25 taps, The Brewers Taproom always has a wide variety of styles on tap, from pilsners and pale lagers to porters and stouts. The Taproom only orders up one keg of each brew and rotates in a new one when it's kicked.
"Our beer is always changing and that's what our regulars really like," said Duncan, who is Cicerone certified (like a sommelier but for beers) as is all of his staff — they can expertly identify all of the different flavors in a beer and better educate customers on beer styles and history.
Duncan said his number one rule is that the breweries on tap have to be independent—that is his way of supporting small breweries.
"The whole reason I started this taproom was because I saw how challenging it was for small breweries to get their beer into restaurants, bars or grocery stores because it's so competitive and they don't have a lot of resources," Duncan said.
Their taps turn over quickly so a lot of different beer goes through the taproom. Duncan has dedicated five lines for "roomies": They will always have a beer on tap from Stone Brewery, Modern Times, The Bruery, Lost Abbey and Burgeon Brewery, one of Duncan's favorites as the owners are local, La Costa Canyon High School graduates.
Duncan said the biggest trend in beer right now is hazy IPAs also called "New England style," made in response to the West Coast style of hoppy, and strong, clear IPAs. New England-style IPAs use fruity strains of yeast or different oat grains that contribute to the hazy characteristics, giving it a unique texture and mouth feel.
"They are called 'juice bombs' because they literally taste very juicy," Duncan said. "We have dedicated a line to always have a hazy IPA on. That's really been the one that moves the quickest for us."
Since opening a year ago, Duncan created a mug club for regulars, called "Muggers." The taproom has an old-school time clock and people have to punch in 30 times in 90 days to become a part of the club and get their mug engraved. So far 48 Muggers have claimed their mugs and there are still two spots left as the club will be capped at 50 members.
The Taproom is not allowed to fill growlers by law but they do have a selection of bottles and cans to go. While they don't serve food, guests are welcome to bring in food—Brewers Taproom will also have food delivered for customers as well.
The Brewers Taproom is located at 1456 Encinitas Boulevard. Hours are Monday from 4 p.m. to 9 p.m., Tuesday through Thursday from noon to 9 p.m., Friday and Saturday noon to 10 p.m. and Sunday noon to 9 p.m. Check out what's on tap at thebrewerstaproom.com.
- Business spotlights are developed through this newspaper's advertising department in support of our advertisers.
---
Get the Del Mar Times in your inbox
Top stories from Carmel Valley, Del Mar and Solana Beach every Friday.
You may occasionally receive promotional content from the Del Mar Times.