The Bully's era in Del Mar could be coming to a close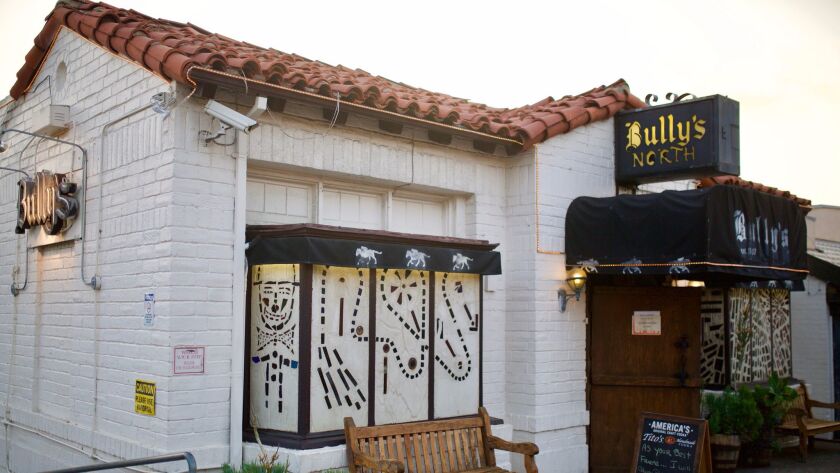 The fate of Bully's North, the iconic pub and restaurant in downtown Del Mar, is coming to light as a Beverly Hills-based restaurant group prepares to give the city's architectural review panel a look next week at its plans to raze the 50-year-old establishment and build an upscale eatery twice the size in its place.
Hillstone Restaurant Group will present site plans and schematics on July 26 to the city's Design Review Board (DRB). Next week's presentation is strictly an informational meeting — with no decisions made — but it will offer the first wide audience for Hillstone's vision for a 5,200-square-foot restaurant with a three-level parking garage.
Bully's is just less than 2,200 square feet. To achieve the added space, Hillstone is designing a platform structure, in which the back half of the restaurant will be mounted on posts, hovering over the alley behind Camino Del Mar.
Hillstone has been eyeing the property on Camino del Mar for nearly two years, and reached an agreement with Bully's owner to buy the property if its plans are approved. Hillstone sketched up a proposal and shared it with Bully's neighbors last summer, as required by city rule. An Initial Study under the California Environmental Quality Act (CEQA) began in October.
CEQA review is expected to wrap up in October, followed by DRB review before the end of the year. Because of the complexity of the construction, build-out will likely last well into 2019.
"A good estimate would be six months from the beginning of the year [for the permitting process] and another 18 months to build it," said Kelly Wallace, Hillstone's project designer. "That would be a great scenario."
The project will not require city council review unless the DRB's decision is appealed, said Evan Langan, the city planner overseeing the project. The parcel also falls outside the purview of the California Coastal Commission, he said.
If approved, the project could help breathe new life into Del Mar's lagging downtown, which is set to undergo a facelift next year that will start to transform the corridor into a more walkable, vibrant district.
"This would be the first new commercial building downtown in more than 30 years," Langan said.
Hillstone is a family-owned enterprise founded 40 years ago that now owns and operates 50 restaurants across the country, including in Beverly Hills, Santa Barbara, Napa Valley, Corona del Mar and Irvine.
"We look at a lot of places and we spend a lot of time doing so," Wallace said. "We are always looking for great little towns or great cities with a vibrant community, beautiful places, interesting places and spaces in communities that we can be a part of. We're excited about the opportunity to be a part of the Del Mar community. It has a lot going for it, its history and its beauty."
So far they are working on an open-kitchen design with a full bar and room for 27 tables, inside and outside.
"We haven't 100 percent branded it yet, but it'll be similar to our R+D Kitchen concept in Santa Monica and Fashion Island and Dallas — similar to that concept, but with a local twist," Wallace said. "We've talked about some nods to the history of the place, some memorabilia. That'll be part of the discussion with the current owner. That's part of her family's history."
Bully's owner, Beverly Yuhause-Becker, did not return a call by press-time requesting comment.
Lester Holt and George Bullington opened the original Bully's in La Jolla in 1967, financed in large part by stud fees from one of their horses. They opened Bully's North two years later and a third location in Mission Valley in 1971. Yuhause-Becker, Holt's daughter, took over the Del Mar and La Jolla locations after Holt's death in 1995. In 2008, she ruefully shut down the La Jolla location, having fallen on hard times.
Wallace said she did not know whether a decision has been made on keeping the Bully's brand. But after a year of tweaking designs, Hillstone does know that the property will require complete demolition. When Hillstone first looked at the project, they wanted to preserve the original façade onto Camino del Mar, which predates the Bully era.
"Unfortunately, after we worked through it with our contractor and our engineers, we aren't going to be able to save that piece of the building," Wallace said.
---
Get the Del Mar Times in your inbox
Top stories from Carmel Valley, Del Mar and Solana Beach every Friday for free.
You may occasionally receive promotional content from the Del Mar Times.