39 trees saved, 35 to be removed by SDG&E at Carmel Mission Park
A grassroots resistance to tree removals helped local residents save 39 mature pines from being cut down at Carmel Mission Park.
At the Carmel Valley Community Planning Board's Sept. 27 meeting, SDG&E presented its revised plan for tree removals in the park under the transmission corridor off Carmel Country Road—the plan originally called for 74 trees to be removed but due to community "passion and perseverance," the tree removals have been scaled back to 35.
"I think it is a huge win for personal democracy meaning that if we, as citizens, have a question about what's going on in our community and we really fight for it we can change the outcome of our future," said resident Tara Mackey.
SDG&E's new plan includes the removal of 35 pine trees in the park and crown-reductions for the remaining 39. SDG&E will be replacing the trees that are removed at a two-to-one ratio, for a total of 35 trees. The community will be involved in discussions for the exact species and location of the new tree.
The removals are expected to occur in late October or early November, with the trimming to begin in early December.
Carmel Valley neighbors Mackey and Alan Nawoj learned of the removals in late fall 2017, kicking off a 10-month effort of going door-to-door to raise awareness and circulating a petition to save the endangered Torrey Pines that garnered 4,295 signatures. The effort become very personal for Mackey, who attended various Carmel Valley Maintenance Assessment District (MAD) and planning board meetings and "inundated" SDG&E and city representatives with e-mails expressing her concern over the fate of the park's trees.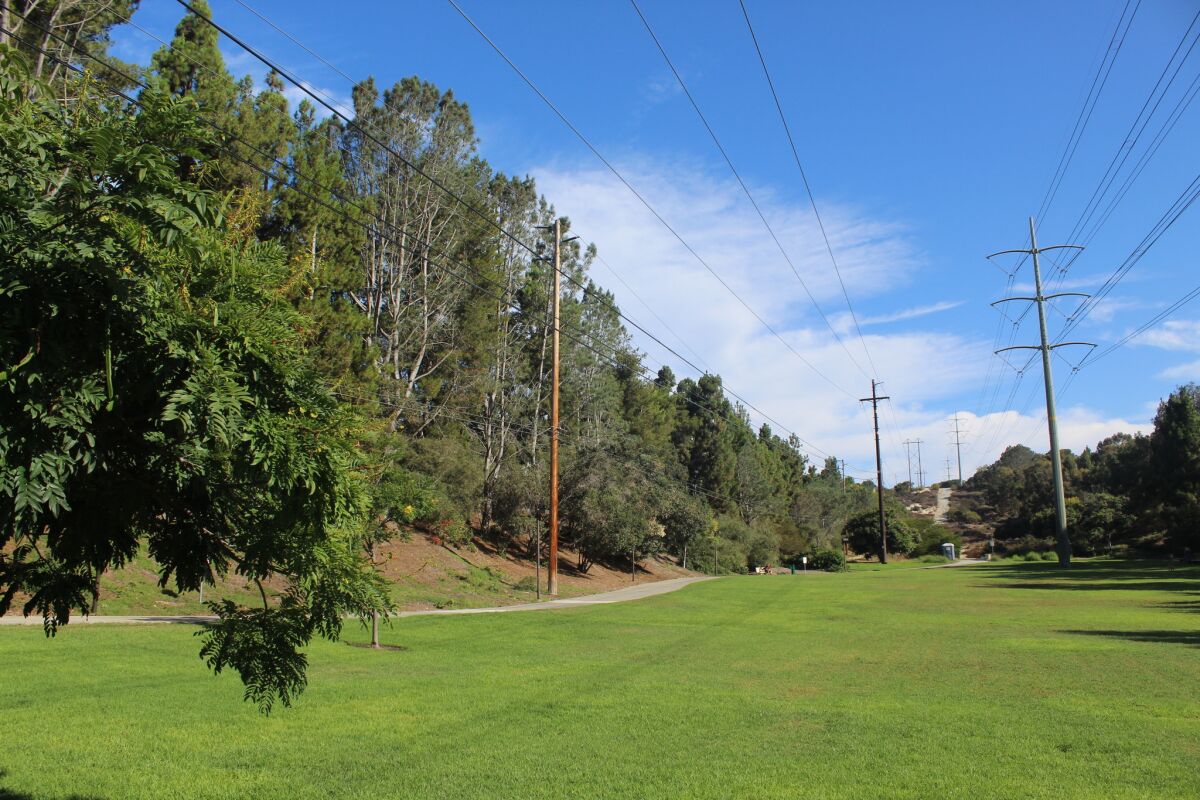 Mackey said her goal was to facilitate a collaborative effort between the community, the planning board, the city and SDG&E, which she felt was more than accomplished.
"We saved 39 trees that otherwise would have been gone last year," Mackey said. "Personally, I look forward to the beautification project moving forward. I want to make sure that we don't have to have this conversation in the future and also we do make the park as beautiful as possible so that those stumps are not noticeable."
At the Sept. 27 meeting the board approved SDG&E's revised plan and applauded Mackey's efforts.
"Over the years we've had a number of non-board citizens who have stepped up and made things happen.Thank you for stepping up this time, you're the latest in a long string of people who have done that and it's made the community better," board member Ken Farinsky said to Mackey. "The more we get community members involved and get things done, the better the community is."
According to SDG&E's vegetation management department, the removals are necessary to prevent the 60-to 80-foot trees from falling and knocking into one of three transmission lines that run though the park, the largest being 230 kilovolt. Don Akau, vegetation and pole integrity manager at SDG&E, said there is a history of felled trees in the park and many have been planted on the wrong location on a slope where the tallest trees start to lean and uproot, posing a risk to public safety as well as utility reliability.
Greg Peck, a forester with SDG&E, said after attending several MAD meetings they realized that the community was really concerned and opposed to the 74 removals in the park.
"I took it personally," he said of coordinating an effort to conduct further analysis of the plans for Carmel Mission.
SDG&E presented a revised plan for 40 removals at the August planning board meeting, which was followed by a Sept. 17 field meeting at the park coordinated by Steven Hadley, community outreach director for Councilmember Barbara Bry. Representatives from SDG&E, the city parks and rec department, the community's hired master arborist and residents spent two hours going tree by tree and finding common ground.
Hadley thanked Mackey for her community activism and SDG&E for its willingness to listen.
In reviewing the 40 trees that were proposed to be removed, the community's master arborist Bradley Brown concurred that 35 were appropriate candidates for removal. These trees either already showed signs of uprooting and failure or that there was enough potential for failure given the branching, height, and slope conditions. In those cases, Brown agreed with SDG&E arborists that crown reduction would be too substantial and the trees would not survive.
SDG&E arborists agreed with Brown to reduce the crowns on the remaining five trees rather than remove them.
"I hate to see any trees go because of what is, essentially, years of poor urban planning," Mackey said. "But after spending time with the arborists from both sides, I have to respect their decisions that some of these trees, while perhaps not dangerous, are simply just not healthy because the city or whoever's responsibility it was to take care of them, has been neglecting them for a long time."
"I do want to remind the community that for every tree that is coming down, there will remain a stump," Mackey added. "I encourage everyone to go enjoy the park as it is now, because this change will be drastic and noticeable. It will never look the same."
Get the Del Mar Times in your inbox
Top stories from Carmel Valley, Del Mar and Solana Beach every Friday for free.
You may occasionally receive promotional content from the Del Mar Times.