CCA students display 2,977 flags to honor every life lost on 9/11
Canyon Crest Academy students organized an event on campus Tuesday, Sept. 11, to honor the lives lost on 9/11, a collaboration between two campus clubs: the Young America's Foundation (YAF) and the Political Action Committee.
Through the YAF initiative, which is reported to be the largest nationwide campus project observing the memory of those lost on 9/11, CCA students displayed 2,977 American flags to remember those people killed during the terrorist attacks on Sept. 11, 2001.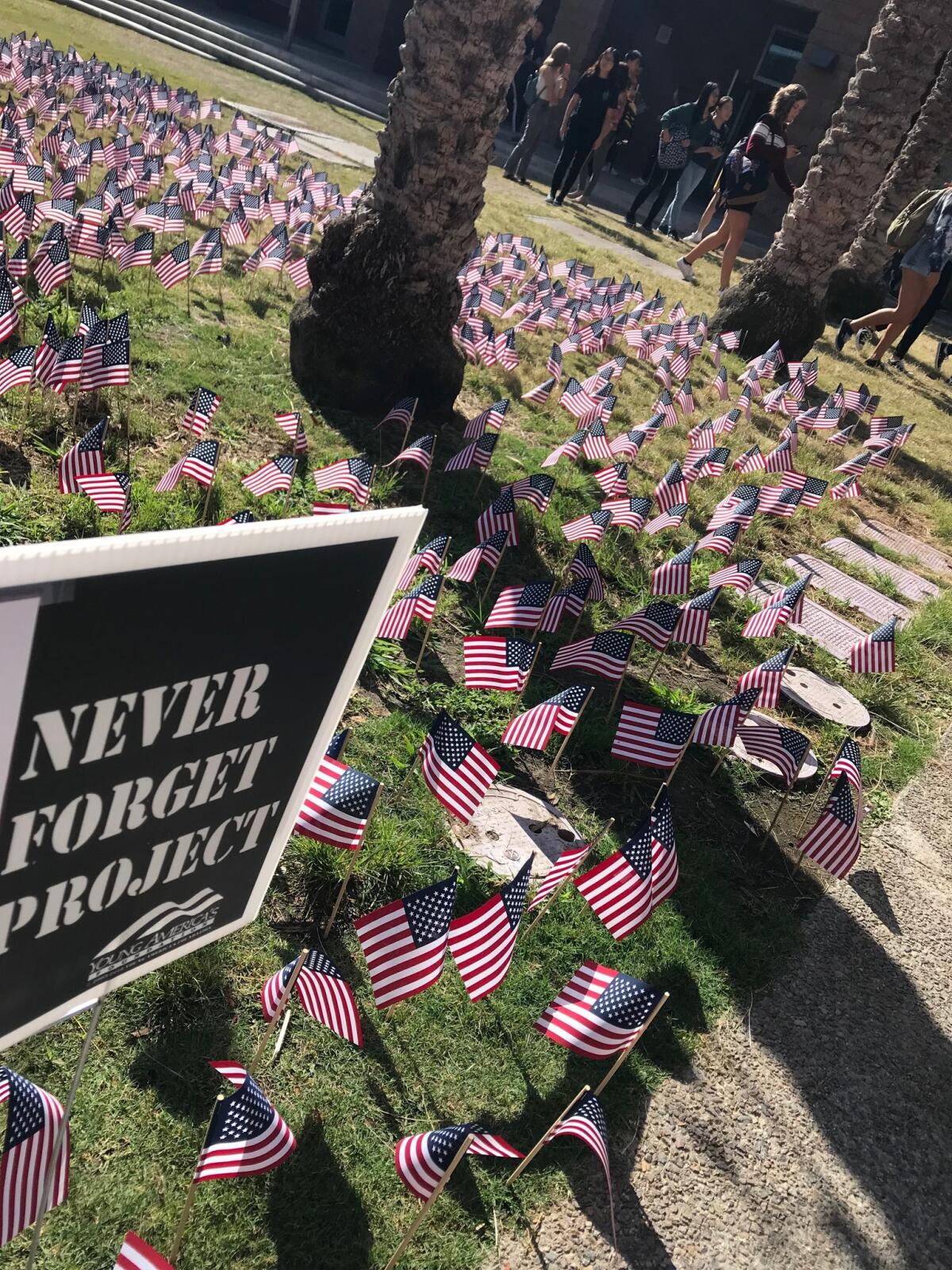 "We wanted to participate in something that was patriotic and inclusive. Something that honors the lives of those people who died on September 11th and remembers the sacrifices of the first responders and their families," said James Wilkey, CCA student and one of the directors of the CCA chapter of the Young America's Foundation. "We were proud to partner with the Political Action Committee Club for this campus event. They agreed that honoring those lost on 9/11 is important and we enjoyed hosting this event with them."
Through YAF, over 200 schools participated in honoring the victims of 9/11 by displaying 2,977 flags. From the beginning of this nationwide initiative, over 10 million flags have been displayed on school campuses to commemorate the events of 9/11.
"Most of the kids at CCA weren't even born when the 9/11 attacks happened but they didn't hesitate to get involved," said Wilkey, a Rancho Santa Fe resident.
The members from the two clubs were busy placing flags in the ground and as students began arriving at school, they were invited to participate.
"Pretty soon we had about 100 kids helping us to place the flags and complete the project before the morning bell rang," Wilkey said. "It was great to see everyone working together to accomplish something special that honored the lives of so many great people."
Get the Del Mar Times in your inbox
Top stories from Carmel Valley, Del Mar and Solana Beach every Friday for free.
You may occasionally receive promotional content from the Del Mar Times.