Cathedral Catholic baseball team honors inspirational player Brycen Newman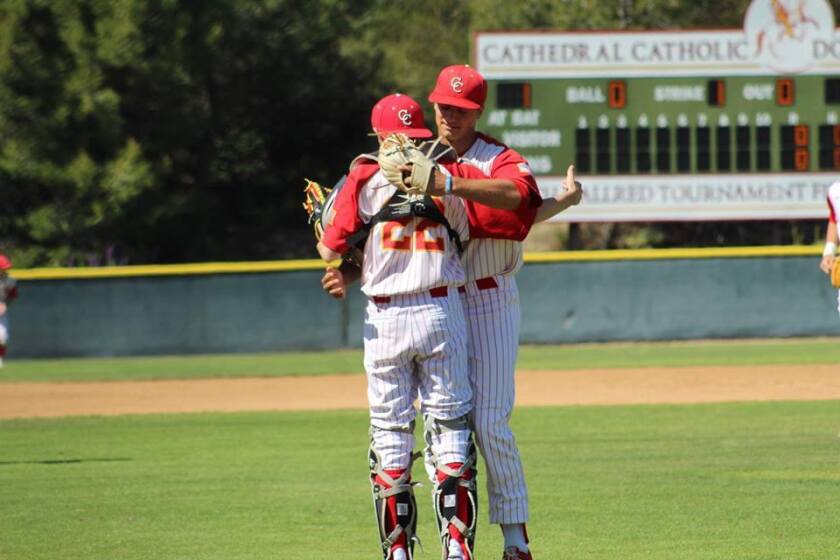 The Cathedral Catholic High School community has been rallying around senior Brycen Newman since he was diagnosed with brain cancer after his freshman year of high school. The school did not let Brycen battle alone, showing him love and encouragement throughout his treatments and helping him in his efforts to raise over $10,000 to support brain cancer research.
Prior to his diagnosis of medulloblastoma, a rare brain cancer, Brycen was a two-sport athlete at Cathedral, part of the baseball and football teams. While his competitive playing days were over, football and baseball team coaches Sean Doyle and Gary Remiker made sure that Brycen was always a part of their teams. He became an inspiration on campus, with his courage, perseverance and resilience motivating his teammates and classmates to be their best.
At Cathedral's May 17 Senior Day baseball celebration, Coach Remiker announced that they are retiring Brycen's # 3 jersey along with commissioning an artist to paint a mural in Cathedral's home dugout of Brycen.
As an incredible show of love and support, Coach Remiker put Brycen in the game to receive the first live pitch of the May 17 game against St. Augustine. A former catcher, Brycen caught the perfect pitch from his friend Nick Nastrini, who he has played with since he was 10.
For the game, Brycen wore #22, the number of one of his oldest friends Bradley Polinski. Bradley and Brycen have played travel ball together for the Del Mar Riptides since they were 7 years old. A huge supporter throughout Bryce's battle, Bradley would draw a #3 outside the batter box everytime he came up to the plate to hit.
The pitch was emotional for everyone on the field and in the stands—Brycen received his last pitch of his baseball career on the same field where he hit a walk-off double in the 10th inning to help Cathedral win its first freshman championship in school history three years ago.
"That is the first pitch that Brycen has received since he was operated on in July 2015," wrote Brycen's dad Rick Newman, who was moved to tears by the moment. "Brycen was such a natural behind the plate, he looks that good even after two 10-hour brain surgeries, chemo, radiation and one year of intense physical therapy and not playing baseball for the past three years."
Following the pitch, Brycen went to the mound where all of his teammates ran in for a hug. The Saints batter at the plate even stopped to applaud.
The moment would not have been possible without the support of the CCHS baseball coaching staff: Head Coach Remiker, Pitching Coach Rob Reiter and Hitting Coach Anthony Stabile. The Newmans also want to give a special thanks to the coaches and players at St. Augustine for allowing for it to be a live pitch that counted in the game.
Brycen will graduate from Cathedral on June 2 and will be attending UC Santa Barbara in the fall.
---
Get the Del Mar Times in your inbox
Top stories from Carmel Valley, Del Mar and Solana Beach every Friday.
You may occasionally receive promotional content from the Del Mar Times.