Two local residents honored at UC San Diego's 44th annual Chancellor's Associates Faculty Excellence Awards
Del Mar resident Emilie Hafner-Burton, Ph.D. and Solana Beach resident Pamela Radcliff, Ph.D. are among six UC San Diego faculty members who were honored April 11 at the 44th annual Chancellor's Associates Faculty Excellence Awards for going above and beyond to make a positive difference in their teaching, research and service, according to a news release.
"I applaud the outstanding contributions of these faculty members whose research and teaching powerfully resonates across our campus and around the globe," said Chancellor Pradeep K. Khosla. "They are bold changemakers and tireless student advocates who see the classroom—and the world—differently, full of boundless potential for positive impact."
Each year, faculty members across campus are nominated by their academic peers for their exemplary contributions to the university. Final selections are made by a committee of Chancellor's Associates donors. Each honoree receives a commendation and an honorarium of $2,500.
Hafner-Burton, a professor of international justice and human rights, was honored for "Excellence in Research in Humanities and Social Sciences."
Hafner-Burton conducts groundbreaking research on protecting human rights and accelerating international compliance. She is lauded for pioneering innovative global-conflict strategies, as imparted in her book, "Making Human Rights a Reality." Hafner-Burton also launched the university's Laboratory on International Law and Regulation, serves on the Committee on the Status of Women, and contributes to the Women Going Global student organization as a steadfast advocate of diversity.
"Professor Hafner-Burton is recognized by her peers in political science as one of the top scholars in the world working on international politics and human rights; she is a foremost scholar on the subject," said Dean of the School of Global Policy and Strategy, Peter F. Cowhey. "Since receiving her doctorate in 2003, Professor Hafner-Burton's research has been both prolific and groundbreaking, challenging much of the conventional wisdom in policy debates. For example, she has shown how international trade agreements can strengthen the protection of rights. She truly personifies UC San Diego's excellence."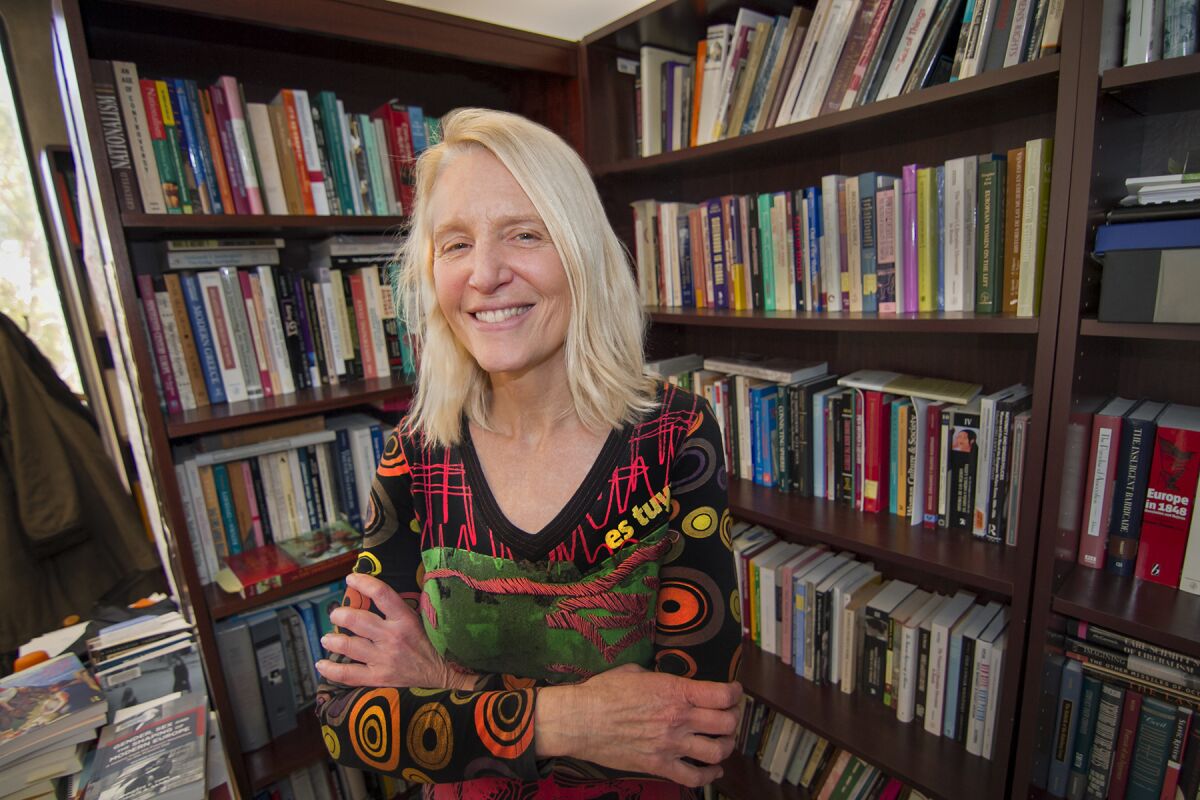 Radcliff, a professor of history, was honored for "Excellence in Graduate Teaching."
Radcliff has cultivated the nation's premier graduate program on modern Spanish history at UC San Diego. Each year she organizes a symposium that provides opportunity for scholars to present their work to peers and engage with field specialists. Radcliff is a devoted mentor for graduate students, encouraging learners to explore evolutionary arcs and seek thought-provoking connections. She has also authored an interpretive synthesis, "A History of Spain: 1808 to the Present," regarded by peers as "a magisterial work."
"Professor Radcliff is dedicated to her graduate students, providing the necessary leadership to develop them as professional historians and for academic careers," said Dean of the Division of Arts and Humanities Cristina Della Coletta. "She has worked with dozens of history graduate students in formal and informal settings. Her outstanding accomplishment is her dedication to developing a top-notch graduate program in modern Spanish history. There is no doubt that she should receive credit for attracting high-level graduate students in this field to UC San Diego."
To learn more about Chancellor's Associates, visit chancellorsassociates.ucsd.edu/
Get the Del Mar Times in your inbox
Top stories from Carmel Valley, Del Mar and Solana Beach every Friday for free.
You may occasionally receive promotional content from the Del Mar Times.