New Del Mar City Council members welcomed at City Hall ceremony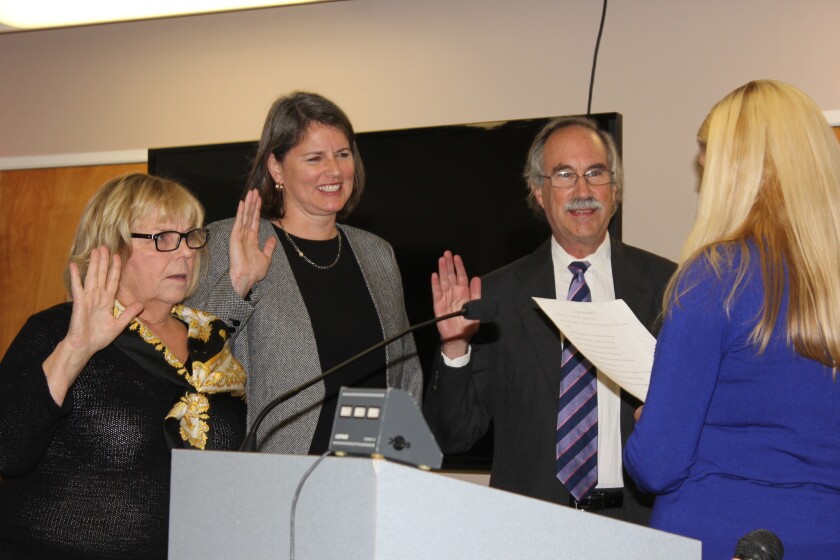 After certifying the results of the Nov. 8 election, the Del Mar City Council welcomed two new members, bid farewell to two departing members and appointed council members Terry Sinnott and Dwight Worden, respectively, to serve as mayor and deputy mayor for 2017.
The ceremony took place at a special meeting on Monday, Dec. 12.
Dave Druker, who had served three previous terms on the council, was the top vote-getter on Nov. 8 from a field of six candidates. Joining him will be Ellie Haviland, who previously served on the city Planning Commission. Mayor Sherryl Parks won a new four-year term on the council, while Councilman Don Mosier is stepping down after eight years and Councilman Al Corti lost his bid for a new term.
In her remarks, Parks praised Mosier's wisdom, leadership and knowledge of science. And she said Corti played a big role in launching construction of the new city hall, which is now underway.
"You are a go-to guy. You get it done," Parks said, addressing Corti. "You made this (the City Hall project) happen sooner than it would have."
Council members read resolutions listing the accomplishments of Corti and Mosier, and then Ashley Jones, administrative services director, administered the oath of office to Druker, Haviland and Parks.
During a reception held after the ceremony, Haviland said her priorities on the council will come from the comments she heard from residents during the election campaign.
For example, she said, it is time for the council to move forward with a plan for short-term rentals, a controversial issue because many property owners rent their homes to vacationers, but some residents complain about noise, traffic and other problems caused by the visitors.
Haviland said she also wants to "bring more vibrancy downtown," and, "I'm very excited to get to help implement our climate action plan."
Druker said he is looking forward to climbing "back in the saddle," for another four-year term on the council.
In the election, he said, voters sent a clear message: "Keep Del Mar Del Mar. Ensure Del Mar remains a special place to live, it's not like anyplace else in the world."
Druker said he will work to preserve the rules that led to property values increasing five-fold over the past 20 years, and to "ensure that people's voices are heard."
Mosier said he feels he is leaving the council on a high note.
"I think we got a lot done, we made the city much more environmentally friendly," he said. Mosier plans to remain active in civic affairs by volunteering for local boards and committees. He is currently seeking a seat on the San Dieguito River Valley Conservancy, he said.
Corti said the evening was "bitter sweet," because he lost his bid for re-election, but will now be able to pursue other interests, such as spending time with his family, golf, travel and consulting work.
He attributed his loss to his positions on some key issues, which he said may have swayed voters who disagreed with him. For example, he said, he made it clear that he was against banning short-term vacation rentals outright, instead pushing for strong regulations.
Also, he said, he was a big supporter of Del Mar creating its own police department. And, he said, he advocated for balance between the rights of residents and those of property owners on development issues, which may have hurt him with some voters.
Along with the council election, city voters in November approved Measure Q, a one-cent sales tax increase that will generate some $2 million annually for city services and infrastructure projects, and they rejected Measure R, which would have required a public vote on some development projects.
---
Get the Del Mar Times in your inbox
Top stories from Carmel Valley, Del Mar and Solana Beach every Friday for free.
You may occasionally receive promotional content from the Del Mar Times.