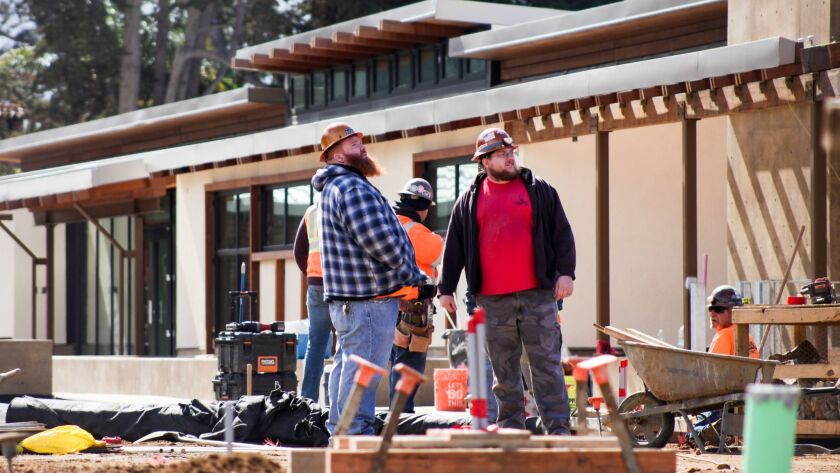 After nearly three years of planning, construction and unprecedented endeavor, a mere three months remain before the City of Del Mar moves into its sprawling new city hall and civic center on Camino del Mar, followed by a grand opening ceremony a month later.
Officials say construction of the 9,000-square-foot city hall and 3,000-square-foot town hall—set amid a 15,000-square-foot plaza with panoramic views of the Pacific—will wrap up in April. City employees expect to move into their new offices in May and June. Once they're settled in, the city will celebrate its massive feat with a dedication event on June 30—a few weeks more than two years since Del Mar demolished its dilapidated, outdated city hall on the 1.5-acre site.
Assistant City Manager Kristen Crane updated the city council on the project's recent milestones at its Feb. 20 meeting. Finished concrete has been poured in the plaza. Installation of skylights in the breezeway already lent an open, outdoor feel. Inside the city hall and town hall, workers are busy putting ceiling grids, HVAC systems and motion detectors into place. City staff met this week with the fabricator of the dais from which residents will chastise—and occasionally praise—council members.
"Ta-da it's finished," Crane joked as she showed a photo of the plaza with its finished concrete in place.
Such levity embodies the city's remarkable feat in keeping the project on track: at $18 million, the facility is by far the biggest, most expensive capital project Del Mar has ever attempted. Despite dozens of unexpected complications—foremost being last year's particularly wet winter and difficult soil conditions discovered during excavation—the project has been able to hew closely to its expected timeline while staying comfortably within the city's contingency budget.
The next two months will bring a flourish of finishing touches: installation of acoustic wood panels, the audio-visual system for city council meetings and special events, details on the amount, variety and arrangement of outdoor furniture. Irrigation lines will go in soon, which will allow landscaping work on the west side of the sound wall to begin. Next month, the city will award the contract for the solar-and-battery energy system that will provide nearly all of the facility's power when the sun is shining.
The last large piece is to finalize the facility's operations, maintenance, special events and traffic plans. As with the Downtown Streetscape project—the city's multi-year, $5 million plan for infrastructural upgrades in Del Mar's downtown corridor, the first phase of which the council approved on Feb. 20—city staff are piecing together the maintenance and operations plans that will lay out the difference in cost compared what the city has now.
---