Attorney, three-term congressman face off in 52nd District
A self-described counter-terrorism attorney is facing off against three-term incumbent Rep. Scott Peters in the 52nd Congressional District, which encompasses Carmel Valley, La Jolla, Poway and Coronado, as well as a number of other San Diego communities.
Republican Omar Qudrat is running against Peters, a Democrat, in a district with about a 5 percent Democratic registration advantage. According to the county Registrar of Voters office, some 34 percent of the district's voters are registered as Democrats, 29 percent are Republicans and 32 percent declined to state their party preference.
In an interview, Peters said his priorities if elected to a new two-year term on Nov. 6 include supporting veterans in San Diego County, as well as focusing on economic priorities to drive job creation in such sectors as tourism, the military, and science and technology.
He pointed to planned major investments by the military such as a $700 million training facility for Navy SEALs, and $300 million in upgrades to the Miramar Naval Air Station, as well as increases in the research budget of the National Institutes of Health, as funding that will boost job growth in San Diego.
Qudrat's campaign did not respond by press-time to multiple requests for an interview.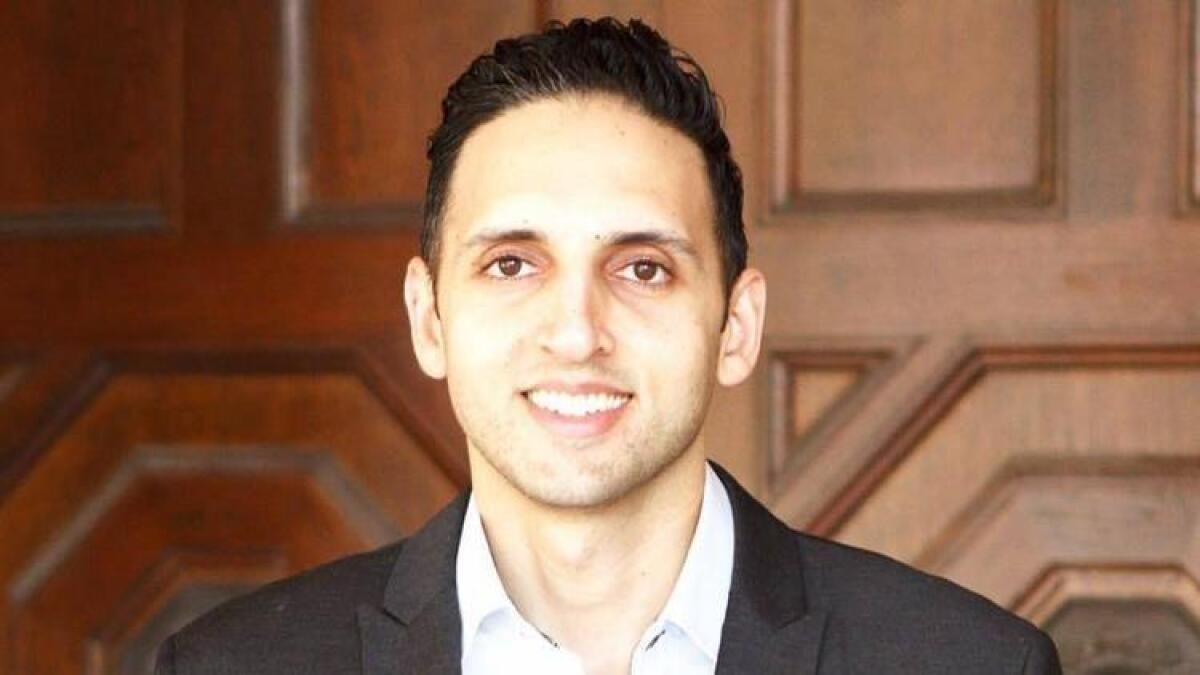 According to his campaign website, Qudrat and his two sisters were born and raised in Southern California. Qudrat's parents emigrated to the U.S. from Afghanistan in the 1970s. Qudrat earned a B.A. degree from UCLA, then earned graduate and law degrees from Syracuse University.
He served as a civilian attorney with the Department of Defense in Afghanistan, and as a prosecutor with the office of the Chief Prosecutor of Military Commissions, where he worked on bringing criminal charges against alleged terrorists, according to his website.
Among the issues listed on Qudrat's website are veterans' homelessness, solving education, economic opportunity and defending our nation.
Peters, who was first elected to Congress in 2012, previously served as a Port District commissioner and on the San Diego City Council, where he held the post of council president.
He has authored bills addressing educational issues, to limit the amount of interest that can be charged on student loans, and a provision that would allow employers to pay a portion of their employees' student loan debt, a benefit that would not be taxable to the employees.
"We have to make sure people who live here are educated and trained for the jobs of the future," which includes programs at colleges and universities, as well as community colleges and technical schools, he said.
He also advocated allowing immigrants with advanced job skills to work in the United States after earning college degrees in this country, rather than being immediately sent to their home countries.
In an effort to come up with workable solutions in areas such as healthcare and immigration, Peters said, he is a member of bi-partisan groups in Congress, such as the Problem Solvers Caucus, which includes 43 representatives from each party.
"Anybody who has a good idea has my ear," he said.
He also belongs to a bi-partisan group focused on climate solutions. "The first step is to get representatives in a room who are willing to talk about it," Peters said.
While Peters said he joins other Democrats in considering healthcare as a right, not a privilege, he does not support a single-payer solution such as Medicare for all, because he believes the majority of Americans who get their health insurance through their employers are satisfied with their coverage.
Rather, he said, the focus should be on helping people who can't get health insurance, which is why he opposed efforts to repeal Obamacare, also known as the Affordable Care Act.
Peters also said he supports gun safety measures such as closing a loophole that allows gun purchases on the internet and at gun shows without a background check. He opposes a Republican effort to force states such as California to honor concealed-carry permits issued in other states.
"We have to stand up against bad laws and stand up for California's good laws," he said.
Peters chairs a new Democratic political action committee that seeks to find moderate Democrats who can win in suburban districts similar to his own. "I think the chances of us taking the House are pretty high," he said.
While he pledged to work toward electing a new president in 2020, he is not advocating impeachment of President Donald Trump if Democrats do win a majority in the House.
"I think it's very premature," Peters said. "I'm not focused on that at all. Democrats should focus on winning elections and providing policy alternatives which we know are superior to the ones out there. At least we should give (Special Prosecutor) Bob Mueller a chance to finish his work."
Get the Del Mar Times in your inbox
Top stories from Carmel Valley, Del Mar and Solana Beach every Friday for free.
You may occasionally receive promotional content from the Del Mar Times.