Council to weigh in on contentious issue of short-term rentals in Del Mar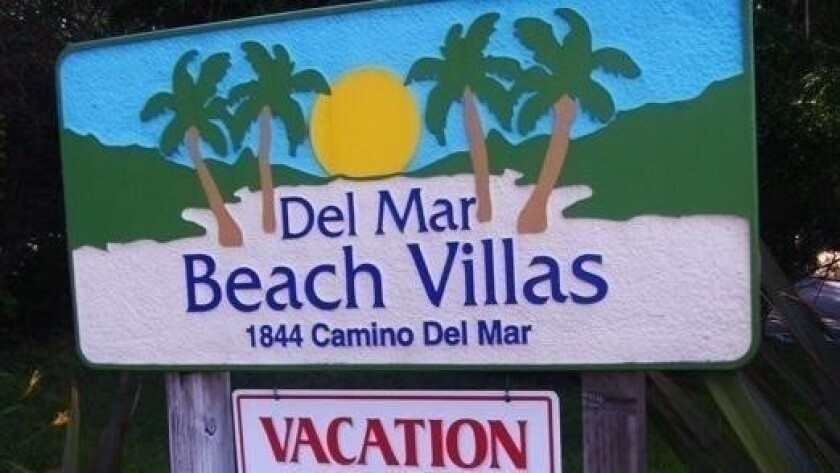 The Del Mar municipal code is silent on whether short-term rentals of houses and condominiums to vacationers is permitted in the city's residential neighborhoods.
Although the practice has gone on for years - some say decades - in Del Mar, the lack of specificity has created a sort of legal vacuum that allows both sides of the issue to claim the law is on their side.
On April 17, the Del Mar City Council will consider the question of whether short-term rentals are currently allowed in residential zones, the first step in what could be a long battle over the issue, one that may very well end up in court no matter which way the council votes.
The issue of short-term rentals has become increasingly controversial in recent years with the rise in popularity of online vacation rental services such as AirBnB. The issue has divided residents of Del Mar, and it became a major issue in the 2016 City Council election.
And Del Mar is not alone - the city of San Diego is also grappling with the issue of short-term rentals, as are communities across the country and internationally.
On one side are residents who say they rely on the income from temporary rentals, and that the rentals also benefit local businesses.
On the other those who contend that short-term rentals are changing the character of their neighborhoods for the worse, and contributing to such nuisance problems as noise, litter and parking woes.
In February, following a contentious hearing, the Del Mar Planning Commission was unable to issue a ruling on whether short-term rentals are allowed in the city's residential zones. That non-decision brought the issue back to the City Council.
Ralph DeMarco, part of a group that supports short-term rentals with "reasonable regulations" to protect residents from nuisances, said both past practice and city documents show that short-term rentals have long been considered part of the fabric of the community.
"Short-term rentals are allowed and have always been allowed," said DeMarco. "It would be really foolish for the city to pursue banning them because it won't hold up in a court of law."
According to DeMarco's thinking, if the city wants to prohibit the practice by changing city law it can do so, but that would trigger a review by the California Coastal Commission, which he said would reject the city's action.
But Betty Wheeler, part of a group called Save Our Neighborhood Del Mar, said the city's "permissive" municipal code is such that, "If it's not in there, you can't do it."
She and her group want the council to rule that "Short-term rentals, meaning under 30 days, are not allowed in residential zones," and begin enforcing that determination.
DeMarco said city documents acknowledge the existence of short-term rentals, and even newspaper ads dating back for decades show the practice was common.
The very nature of a beach town, DeMarco said, is that visitors will bring noise and traffic during the summer months.
"You should have known that before you bought the house," DeMarco said. "What they (short-term rental opponents) want to do is shut down the town and not let anyone else in I guess. I don't think that makes sense."
Wheeler and others on her side of the issue, however, contend that short-term or vacation rentals should be confined to commercial or visitor-serving zones, and kept out of residential neighborhoods. They argue that in the past, people rented their homes for the entire summer or horse-racing season, but not for a few days at a time as is common now, with frequent turnover in renters.
"If this is about gutting our community for the almighty dollar, I guess we ought to do it," said Ed Yuskiewicz, also a member of the Save Our Neighborhood group. "But Del Mar has never operated that way."
Group member Robin Crabtree said ads on AirBnb describe properties as having accommodations for as many as 16 people.
"That's a very recent phenomenon. That is what has spurred the interest in enforcing our residential codes. It's a fundamental change to our neighborhoods," Crabtree said.
"It's the intensity of usage," said Yuskiewicz.
The group also contends that if the council determines short-term rentals are not allowed under current Del Mar law, no change to the law is needed, and therefore no Coastal Commission review would be triggered.
Del Mar Planning Manager Tracy Elliot Yawn said a firm that provides monitoring and enforcement of short-term rental regulations for government agencies estimated there are about 500 short-term rental listings in Del Mar, a number that can change frequently.
The city has not regularly tracked complaints related to short-term rentals, she said, but a review of city records shows only three public nuisance-type complaints regarding short-term rentals between 2011 and 2016.
Over the past year, since a moratorium on new short-term rentals was enacted in Del Mar, the city has received nine complaints about properties in violation of the moratorium, Yawn said. Of those, six were determined to pre-date the moratorium, one was not being used as a short-term rental, one was found in violation of the moratorium and one is still being investigated, she said.
In September, the city established a hotline to receive complaints about violations of the moratorium on new short-term rentals.
Del Mar has 2,063 total residential units, according to information provided by the city, and as of the 2010 U.S. Census, 54 percent are owner occupied and 46 percent are rentals. The city also has about 354 hotel rooms.
---
Get the Del Mar Times in your inbox
Top stories from Carmel Valley, Del Mar and Solana Beach every Friday for free.
You may occasionally receive promotional content from the Del Mar Times.