Dance studios forced to leave Sorrento Valley will come together at Merge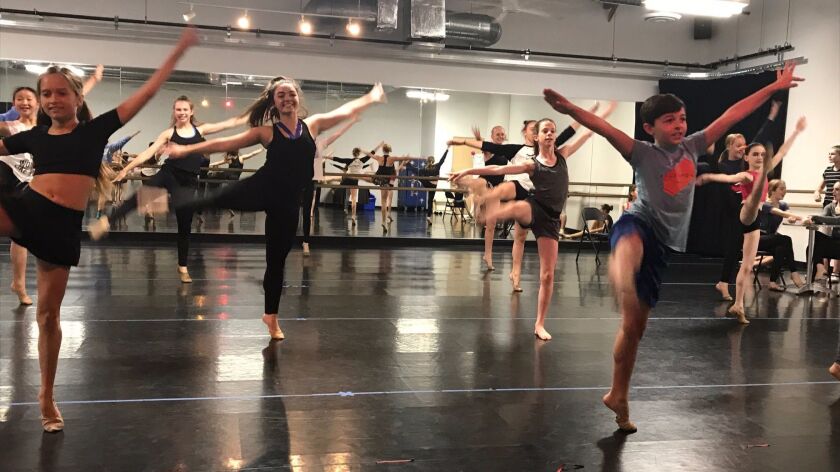 In the largest dance studio at Royal Academy of Performing Arts, young dancers tap, twirl, leap and dance on pointe in a big, vibrant recreation of a number from the musical "La La Land" for their upcoming annual recital.
In the next state-of-the-art studio over, little tykes in tutus finish up a beginning ballet class as parents watch classes in action from a roomy parent lounge.
All of it has been owner Francine Garton's dream, finally realized in 2014 when she moved to the large Sorrento Valley space from the studio she had outgrown in Carmel Valley. Less than three years after moving in, she will now be forced to leave it all behind.
In February, Royal Academy of Performing Arts, Del Mar Ballet and Inspired Movement were all notified by the city's Development Services Department that they were in violation of the zoning.
Both Royal Academy of Performing Arts (RAPA) and Del Mar Ballet must be out of their studios by July 31.
"My world fell apart," Garton said of receiving the notice. "I can talk about it now because I feel like I'm numb."
The zoning in Sorrento Valley allows a mix of light industrial, office and commercial uses but does not allow instructional studios. Instructional studios are defined as "uses that provide a place where skills including dance, art and martial arts are taught to individuals or groups." Instructional studios do not include educational facilities.
Within less than a mile from the studio there are several businesses that fall under "instructional studios," including art and music studios, a volleyball club, a karate studio, several yoga studios, a barre studio and specialty workout gyms that offer group exercise classes. Yet only the three dance studios were targeted as the city is "reactive not proactive." According to Michael Richmond, deputy director of the Development Services Department's Code Enforcement Division (CED), the city had only received complaints about the dance studios.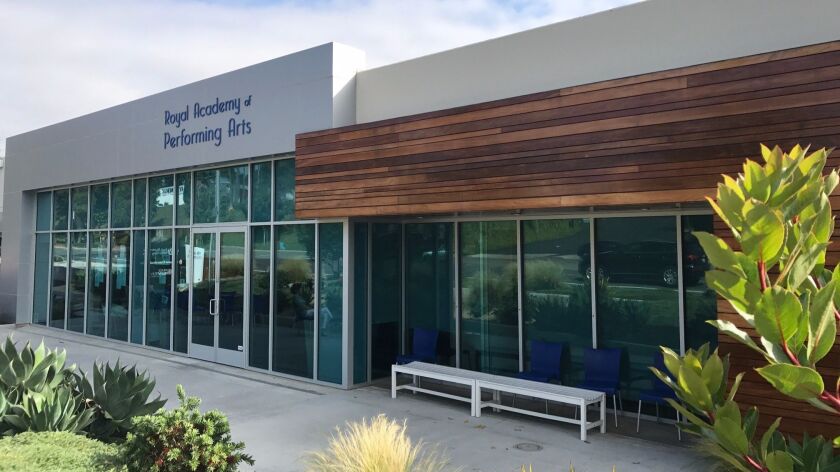 "CED responds to citizen complaints regarding alleged land use and building code violations on private property," Richmond said. "CED does not perform proactive enforcement at this time."
It is city policy to not identify the source of complaints but the studios believe that it was a competing Carmel Valley dance studio.
At one point Garton said she felt like RAPA would have to shut down entirely and she pictured herself on stage at the June recital saying a painful, final goodbye.
"I've put my heart and soul and everything I've got into this," Garton said.
Garton opened Royal Dance Academy in the Piazza Carmel shopping center in 2001, expanding multiple times while her studio grew in popularity. For years she talked about her vision for RAPA and it finally became a reality in October 2014. She invested "everything she had" into the 15,000-square- foot building — creating five state-of-the-art dance studios, a large retail section, dressing room and quiet study room for dancers, parents lounge, conference rooms and office space.
An anonymous letter arrived in November 2016 — telling Garton that she was "breaking the law" and "putting children in danger." She nearly fell out of her chair reading the letter, handing it off to her landlord.
"We thought it must have been a hoax," Garton said.
When she heard Del Mar Ballet had also received multiple anonymous letters and a letter from the city, she encouraged them that it was nothing, there was no possible way they could close down the studios for violating the zoning — if they did, they would have to close nearly every door on the street.
Garton will never forget the day in February. She had just finished teaching a class and her mother, Madeline Wilson, who works at the studio's front desk, let her know the city had called them too. The city then sent a Civil Penalty Notice and Order which required compliance within 30 days.
Garton called the city asking if it was a joke and found that the investigator had already been out to visit RAPA and the other studios.
"'Can you not see the faces of the kids and all of the joy?'" Garton said she asked the investigator "There's an energy, a buzz, a beautiful atmosphere, creativity, laughter, it's like one big gorgeous family. I asked , 'You can't really close it, can you?'
"I'm sobbing at the city, thinking 'I can't believe that this is really happening.'"
According to Richmond, all of the dance studio operators contacted the department and began working toward compliance.
"The San Diego Municipal Code describes the various remedies and procedures for enforcement, including fines," Richmond said. "CED's goal is to work with owners to achieve voluntary compliance."
Garton retained a lawyer and found out that to fight the zoning would cost a lot of time and thousands of dollars. The stress and the fear was often too much to take over the next few months and although it broke her heart, because she had put so much into the building, she realized that she would have to let it go. She couldn't risk losing her business and displacing her dancers.
While she felt like the city was practicing selective zoning, for the other businesses to be forced to move someone would have to complain. Garton said it would not be her.
"I know what it takes to open a business, the risk, the money, it's so hard. Why would I do that to another business I respect?" Garton asked.
Garton said it's not fair that they were targeted when so many other similar businesses will be allowed to remain but she acknowledges the city is just doing its job.
Richmond said that the City Treasurer's Office issues Business Tax Certificates and it is incumbent upon all responsible parties to perform due diligence to confirm uses are allowed and appropriate permits are obtained when opening or operating a business. He said to avoid situations like this from occurring, the city's Economic Development Department can provide assistance for those looking to start new businesses.
Down the street from RAPA, Del Mar Ballet was faced with the same hard choices — they would also have to move but to where? The studio owned by Marie Arts and Ben Adams had been in their Sorrento Valley location for eight years.
A new beginning was announced last week, as Del Mar Ballet and Royal Academy of Performing Arts have decided to merge at Merge, a brand new mixed retail center on Carmel Mountain Road and Carmel Country Road. The studios will come together under the name Pacific Arts Dance Center and they hope to be the premier dance enterprise in all of San Diego. The studios will have most of the top floor with "wonderful" views and a huge balcony that converts to a performance venue.
"From something so sickening, something beautiful has come from it," Garton said. "At a time when I thought there was no light at the end of the tunnel I got with Marie and realized they shared the same standards and values and goals for their students."
"Through all of the ups and downs of the roller coaster that has been going on behind the scenes, we have charted an entirely new course with a new location beyond our wildest dreams," Arts wrote in a letter to her dancers. "A location where our artistic vision can truly shine and where we will find a new and lasting home."
It's a 6,000-square-foot space, half the size of Garton's Sorrento Valley studio. There will be four studios instead of five, and she will lose many of the amenities she "spoiled" her dancers and parents with. They will still have a dressing room, music and acting studio for performing arts programs and space for Zumba classes. And they will still be a family. A bigger, newer one.
"The toughest of times can bring out the greatest light in people and shine on new opportunities that would have never otherwise been discovered," Arts said. "It has been an incredibly tough time for all of us over the past few months. There is nothing like an attempted annihilation of our work and artistic expression to really show what can be accomplished when we all come together and support each other."
---
Get the Del Mar Times in your inbox
Top stories from Carmel Valley, Del Mar and Solana Beach every Friday for free.
You may occasionally receive promotional content from the Del Mar Times.