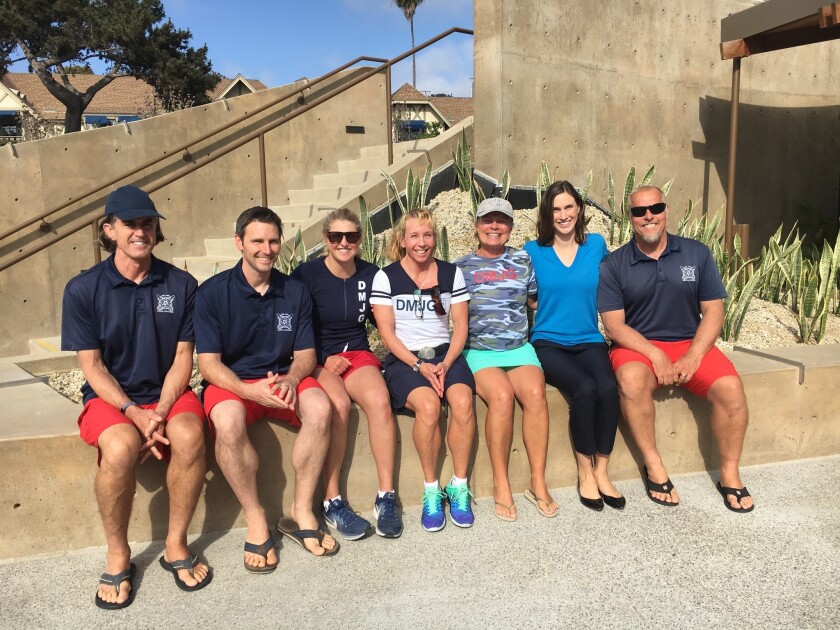 With summer almost here, the leader of Del Mar Junior Lifeguards told the Del Mar City Council on Monday, June 4, that for the 15th straight year the program is nearly full to capacity.
Since 2004, the program has served thousands of children, many of them residents of Del Mar, junior lifeguard Director Turtle Rudolph said. A limited number of slots remain available for summer 2018.
"I am proud to continue offering a program that teaches local children safety, respect and appreciation for the ocean," she said. "Teamwork, physical fitness and healthy living are core values for junior lifeguards."
Flanked by uniformed instructors, Rudolph outlined the program during a presentation that was the first of its kind to be delivered at the new Del Mar Civic Center. In addition to getting kids excited about the ocean and being active, she said, Turtleguard Inc. creates nearly 75 jobs every summer for young men and women to work as instructors and support staff.
A thriving intern program provides valuable experience for teens, ages 15 through 18. The intern program is an important feeder for the Del Mar Lifeguard Department. Nearly half of the city's professional ocean lifeguards are graduates of the program.
Junior lifeguards range from 7 through 17 and are admitted after passing a swim test. The youngest ones, at 7 and 8, belong to a pre-junior lifeguard program called Little Turtles.
Launched in Del Mar in 2007, the Little Turtle program is the first of its kind, with original content and uniforms. Many other cities have introduced programs that are modeled after Little Turtles, Rudolph said.
To train the next generation of ocean lifeguards, Del Mar Junior Lifeguards practice rescue techniques and learn how to recognize a distressed swimmer. They learn the basics of first aid, CPR, sun protection and a healthy diet. Junior lifeguards are taught basic oceanography and how to identify marine life. The program is enriched by strong collaboration with the city's lifeguard department.
While training is an important component, so is having fun, Rudolph said. Every day, junior lifeguards surf, bodyboard, bodysurf and enjoy the beach.
The Del Mar Junior Lifeguard program is supported entirely by user fees and requires no subsidy from the city or taxpayers. After the presentation, Mayor Dwight Worden said that Del Mar is proud of its junior lifeguard program.
"It's a really positive attribute of our city," Worden said.
Councilman Dave Druker added that he appreciated having Rudolph in charge of junior lifeguards.
"By us having you do this, it makes the program a whole lot more successful, easier to run," Druker said. "Really appreciate you doing this for us."
Learn more at secure.delmarjg.com. --News release
---