Design thinking shaping learning experiences in Del Mar Union School District
A "culture of thinking" is taking root in the Del Mar Union School District as the district has placed an emphasis on design thinking in its classrooms.
In implementing its "bold" new strategic plan District Design 2022, the Del Mar Union School District (DMUSD) uses design thinking to break away from the traditional school system by preparing students to solve large, complex, cross-curricular, real-world problems by teaching them effective ways of learning and collaborating. Design thinking includes maker-centered learning where students are asked to research, plan, reflect and build.
"When I was in school, I completed a lot of projects," wrote Laura Spencer, the district's new director of innovation and design in her blog, Igniting Awe in Learning. "I created clothing worn by a Native American tribe; I recreated a topographical map of California with salt dough; and I built a California Mission with sugar cubes. Most of us have similar memories from our school days. However, none of these projects truly prepared me for the challenges of life."
The projects were just projects, Spencer said, and they were defined for her by her teacher and were meant to teach a specific content standard. What they were missing, was the creation of an experience — that's what design thinking is.
"In design thinking, we want students to learn how to solve problems and truly make a difference in their community. We want them to develop empathy for others, and then use that empathy to see the world through a different lens," Spencer said. "We want students to grapple with solutions that aren't black and white, wrong or right. Mostly, we want students to experience the world, and then make that world a better place."
At the Oct. 25 DMUSD board meeting, Superintendent Holly McClurg, Assistant Superintendent of Instructional Services Shelley Petersen and Carmel Del Mar Principal Jessica Morales shared their reflections over a summer's work in professional learning in design thinking.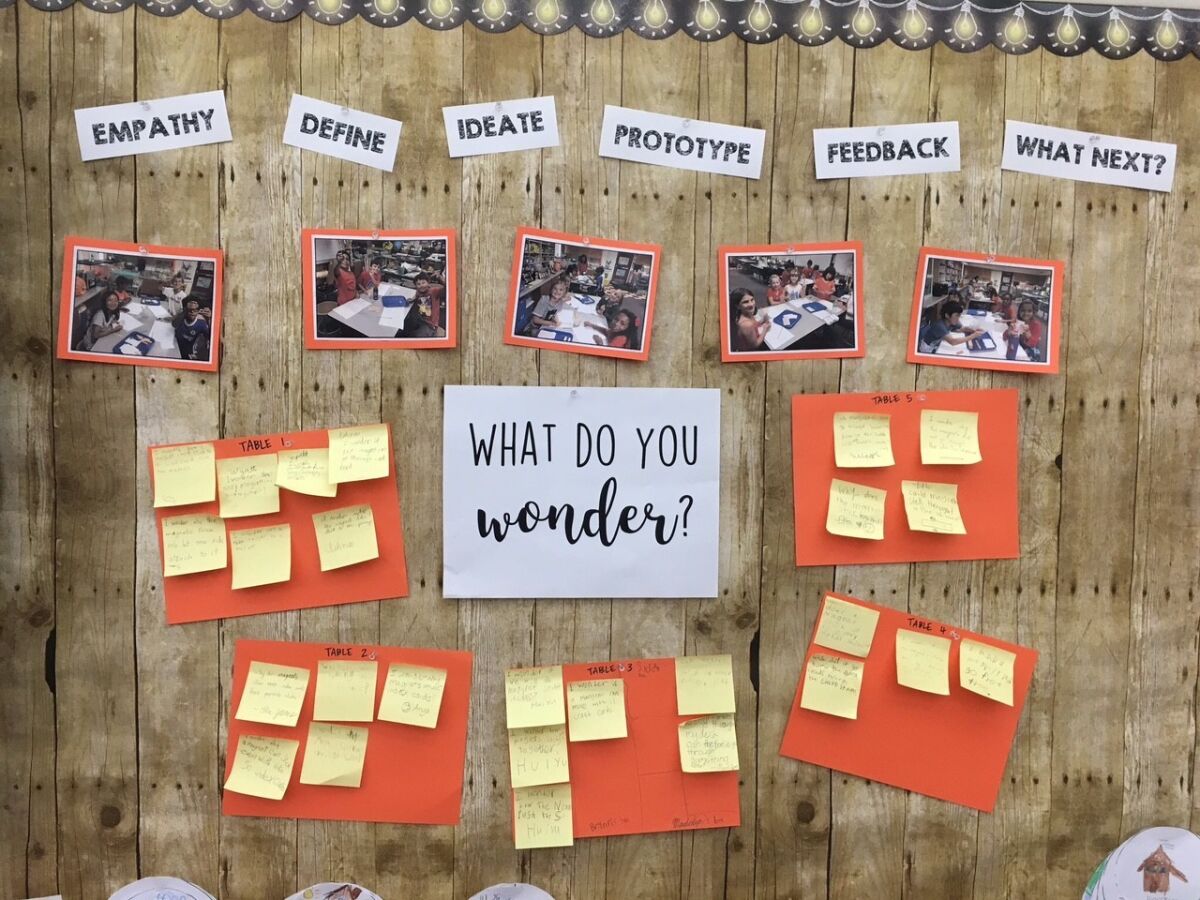 Together with Spencer, they visited Project Zero at the Harvard Graduate School of Education; a team from DMUSD also visited the Nueva School Design Thinking Institute in the Bay Area.
At Nueva, Morales said they were inspired by the school's highly rigorous curriculum and the social and emotional learning that was happening in "intentional learning environments made for collaboration, making, engineering and play." Those kinds of environments are what they are trying to achieve in Del Mar, according to Morales.
At Harvard, alongside "celebrities in education" such as Ron Ritchhart, author of "Creating Cultures of Thinking" and Mark Church, co-author of "Making Thinking Visible," they learned how to best nurture critical thinking and creativity, what it means for students to understand and how the district can design with a variety of learners and contexts.
The district's design engineers Paula Intravaia and Sarah Raskin have been working with teachers and students in the district to create authentic learning experiences this year.
Thinking routines implemented this fall include exercises in "I Think…" and "I wonder…." Anchored in the belief that student thinking leads to understanding, Morales said teachers have looked to make students' learning visual — they use a lots of post-it notes and take advantage of white board surfaces.
Experiential projects have students taking a "deep dive" into real-world issues. Students observe, research, collaborate, ask and listen, brainstorm, create prototypes, and learn about project management and planning.
"Through developing deep empathy, they can develop deeper understanding that can lead to insights," Morales said.
On Oct. 17, Del Mar Hills fourth graders presented prototypes for mitigating the impacts of local coastal erosion to the Deputy Mayor of Del Mar Dwight Worden. It was the culmination of weeks of intense, integrated learning and design thinking in which the students considered many different points of view: surfer, environmentalist, homeowner and taxpayer.
"These are real world problems and they have viable, relevant solutions considered by adults today," Petersen said. "It's happening now, it's relevant. That is the power of design thinking."
At Sycamore Ridge, students developed projects on renewable energy and Torrey Hills sixth graders used design thinking to design the ultimate backpack for fourth graders, interviewing users to identify a need. Carmel Del Mar students were asked "What are some of the needs in the Carmel Del Mar community?" to which students came up with everything from pencil boxes to recycling bins. At Ashley Falls, students worked to ensure safety of all students during recess with a playground safety design challenge.
"This process made me aware of many problems at the school, but I can solve them!" one sixth grader noted.
McClurg said their efforts with design thinking and transforming into a culture of thinking, like everything they will look to implement with District Design, is strongly research-based not done on a whim. She said the district is doing their own design thinking as they assess what students need and how they can "revolutionize" education.
"For years, education has been tame and traditional," McClurg said. "Students need for us to step into the wild and change and transform the system."
---
Get the Del Mar Times in your inbox
Top stories from Carmel Valley, Del Mar and Solana Beach every Friday for free.
You may occasionally receive promotional content from the Del Mar Times.