Meet the Del Mar Union School District candidates
The Del Mar Union School District has six candidates seeking to fill the three available seats on the board. The North Coastal Council of PTAs and Del Mar Hills PTA has scheduled a non-partisan forum for the DMUSD candidates on Monday, Oct. 15 at 6 p.m. at Del Mar Hills Academy.
Meet the candidates (in alphabetical order) in their own words: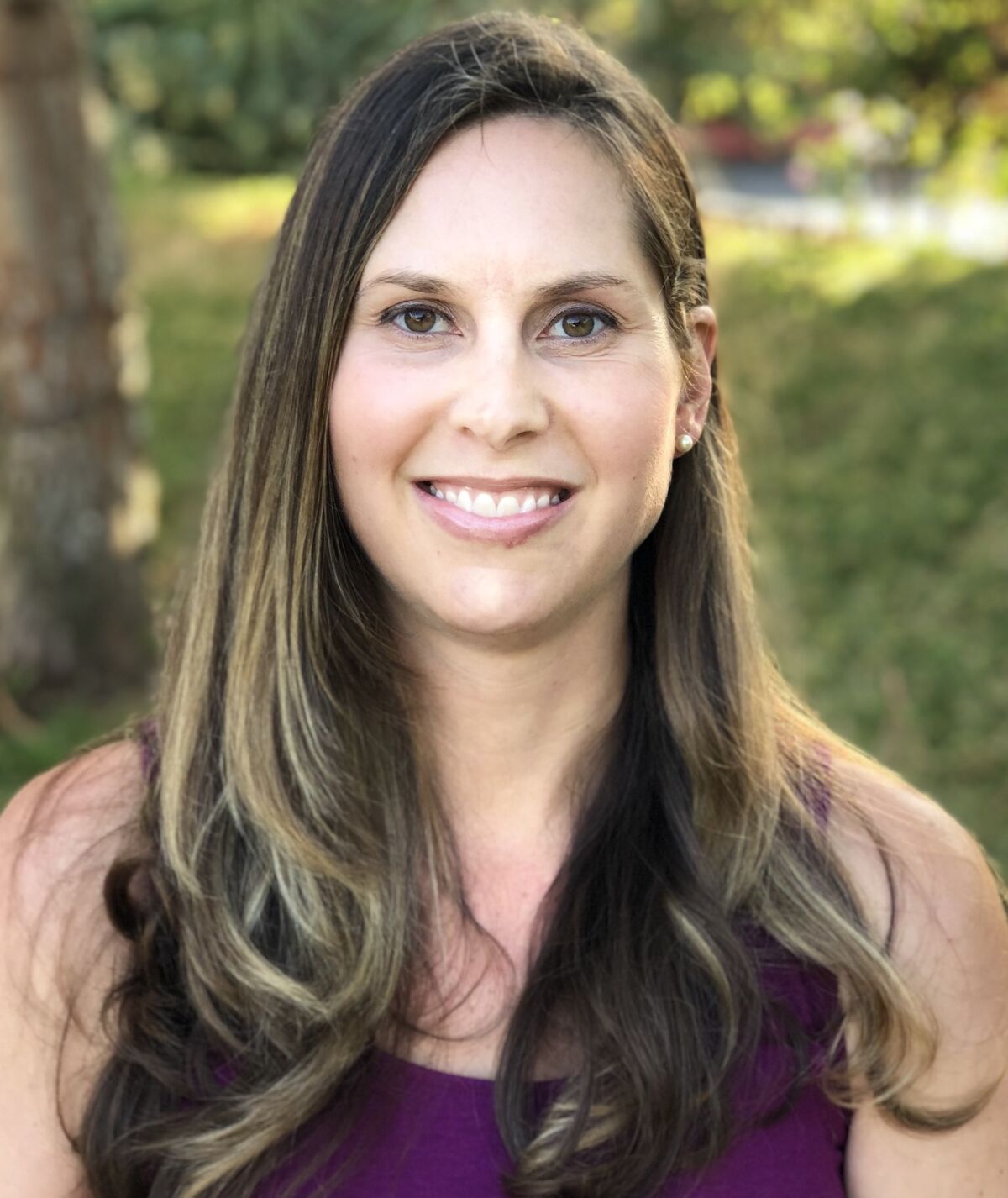 I grew up in Del Mar, attending Del Mar Heights, Earl Warren, and graduating from Torrey Pines HS in 1996. I received a BA from UCSD in Latin American Studies and hold teaching credentials in multiple subjects and Spanish and a masters in school counseling. I have studied and taught in various parts of Mexico offering me a distinct multi-cultural perspective. I have substitute taught in districts throughout the county, allowing me to experience a variety of instructional approaches and styles.
In Poway, I taught first grade and collaborated with dual-immersion language program teachers. At Hoover HS, I worked as a school counselor and at-risk intervention coordinator, identifying supports for hundreds of students. At UC High, I was on the School Site Council, providing oversight on federal and state funded programs.
My husband James is a math teacher at Hoover and we are the proud parents of three future DMUSD students.
What is the biggest issue facing the district and what do you hope to bring to the board?
Our district attracts the world's best and brightest families and with that growth comes the need to continually ensure we are remaining innovative in all areas, from curriculum and design, to maintenance and facilities. Many of our schools need repairs and updating while there is a need to build a ninth school in East Pacific Highlands Ranch that cannot be ignored. DMUSD has always been a district that puts students and families first so providing them with schools that are safe and easily accessible with small class sizes is essential. Funding for these projects is at a premium and state contribution is minimal. I support Measure MM and the district's Facilities Master Plan which will alleviate overcrowding and long commute times for families while also modernizing the Heights and each of our other schools. Every one of our neighborhood schools is unique and valuable and deserves equal representation and attention.
Offering every stakeholder a chance to participate in the direction of the district creates opportunities for productive dialogue and harmonious engagement. In addition to maintaining our facilities, we must continue working to remain on the forefront of delivering curriculum and instruction that matches the pace and progress of the world we live in. Lessons that are project-based, collaborative, and student-directed, ignite students' innate passion for exploration, empowering them to take ownership of their education. Lessons must be standards-based with targeted directions and outcomes and provide students with opportunities for constructive feedback and growth. Failure at a first attempt is something to be celebrated and built upon. Continuing to fund essential programs like STEAM+ and partnering with local community organizations taps into this potential.
Lastly, our district must be a leader in promoting the social and emotional well-being of the whole-child because healthy, well-supported students are the future we all depend on.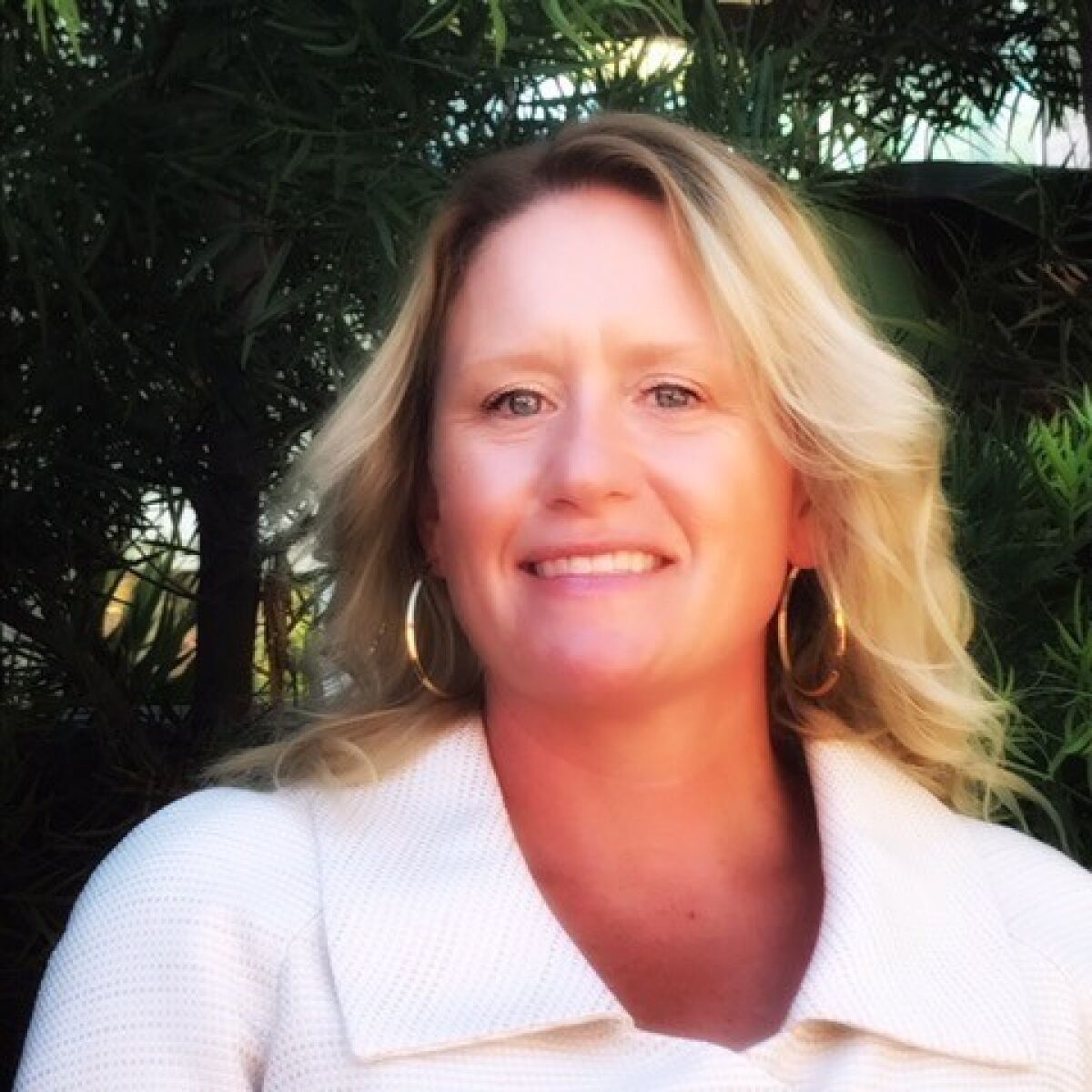 As the daughter of a career military officer and nurse, I grew up with a commitment to public service. I earned a BA in political science from West Virginia University, where I served on the board of governors, providing student perspective to the university.
My career began on Capitol Hill as a Congressional staffer, and spanned policy and management positions in government, non-profit and political sectors.
My husband, John, and I are long-time residents of Del Mar. Our three children, Patsy, Jack and Andrew, currently attend a DMUSD school. I actively volunteer in this district, spending many hours a week in the classroom.I serve on the PTA executive board of Del Mar Hills. I was elected as an executive board member of the DMSEF, where I was twice honored by the Governing Board for my leadership and service.
I am fully committed to the continued success of the DMUSD.
What is the biggest issue facing the district and what do you hope to bring to the board?
I believe the biggest issue facing the district is balancing a responsible budget with healthy reserves while optimizing funding that creates enriching educational experiences for all students. As one of about 100 basic aid districts, our funding comes mostly from local property taxes rather than the state. As a result, DMUSD has more dollars per student, providing highly trained teachers and small class sizes. However, we don't have the financial safety net of the state to fund retirement and unemployment plans nor to maintain and upgrade our facilities. We need to build a solid financial plan that ensures educational excellence and projects for the future. Beyond the benefit to our children, excellent schools help strengthen property values and create a strong sense of community. From my years working in government, I gained extensive experience in public administration that will enable me to effectively execute the duties of a DMUSD board member. I understand how to address the rules and regulations made in D.C. and Sacramento that flow down to our district.
My volunteer experiences have provided me with substantial insight into both teachers' and students' needs at specific school sites as well as the district at large.
If elected, I pledge to promote district unity and transparency. I will bring a collaborative, solution-oriented style to the board. I will concentrate on outcomes that represent district-wide priorities when advocating for students, setting goals, and providing direction to the superintendent. I will work to ensure decisions to spend hard-earned taxpayer dollars are made responsibly. I believe every student deserves a safe community school with small class sizes. I will advocate that school improvements are done with the community, not to the community. I believe that when stakeholders work together, students are more successful and the entire community benefits.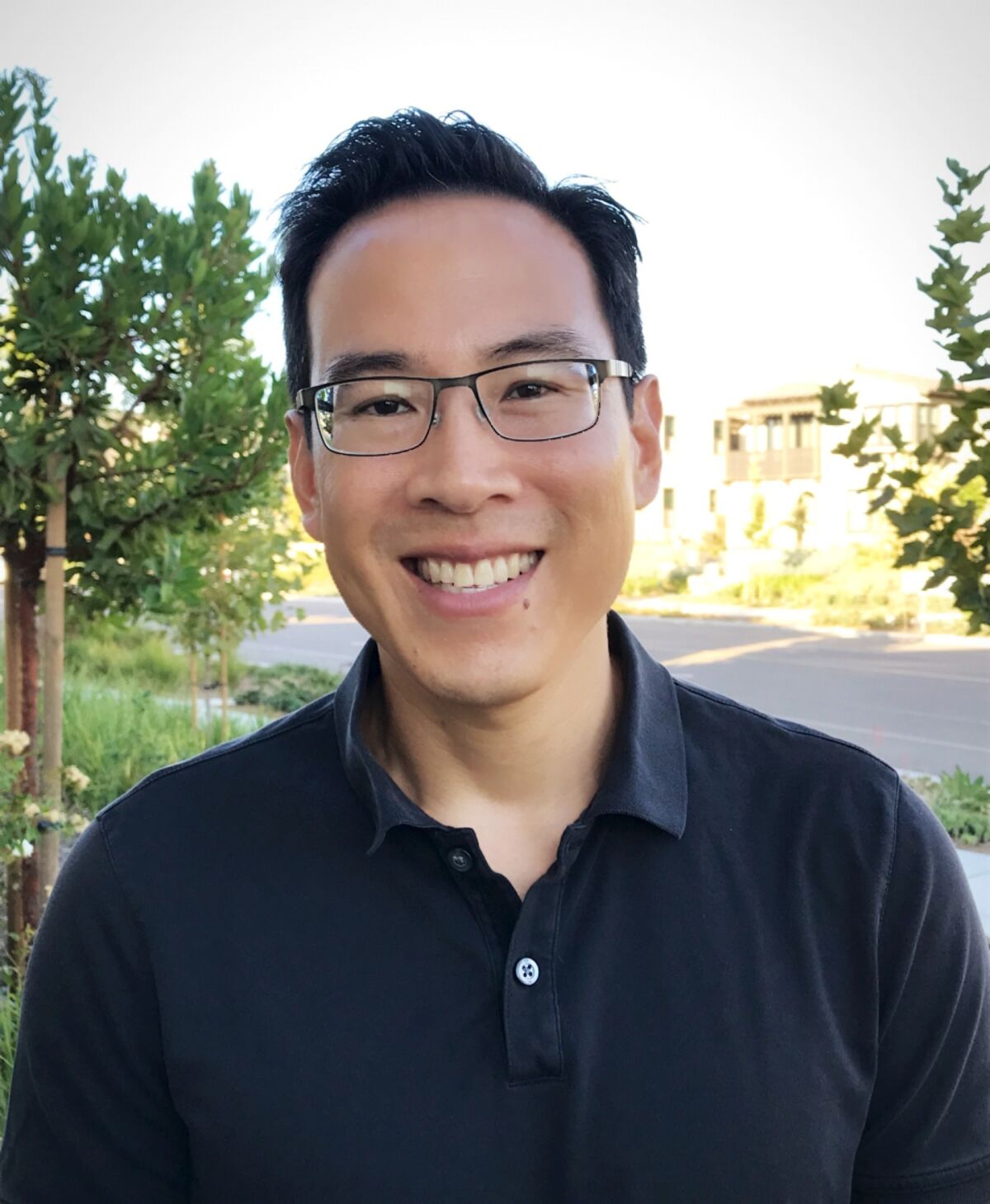 I was born and raised in San Diego's East County to immigrants from Hong Kong. My mother was a city librarian and she filled our home with a treasure trove of books. While our financial resources were limited, my parents promised to provide whatever I needed for my education. They knew a quality education opened the doors to allow one to succeed in life. I believe every child in the Del Mar Union School District should have the same opportunities for success.
I attended U.C. Berkeley and Cornell Law School and returned to San Diego to practice law. Like many of you, my wife and I settled in Carmel Valley to raise our now four-year-old child in the finest school district in the county. With another child due in December, we are heavily invested in the success of this district for our children and our community for years to come.
What is the biggest issue facing the district and what do you hope to bring to the board?
The biggest issue facing the district is meeting the critical needs of its aging and overcrowded facilities while maintaining the stellar quality of instruction for which the district is well-known.This is why I am helping co-chair the campaign for Yes on Measure MM. I am already actively supporting our school district and our community's children and I will continue to do the same as a board trustee. I am working tirelessly with civic groups, elected officials and community leaders – engaging the community's support in order to secure the necessary funding to address repairs and construct new schools. This will allow us to maintain small class sizes and retain our outstanding teachers. I am also an outspoken supporter that each community should have a neighborhood school which is a dynamic center of community life.
If elected, I will continue to bring the same energy, open communication and engagement to my role on the school board. I intend to be a visible presence in our schools and the community, collaborating with parents, teachers, community members and students in order to make educated decisions that reflect the community's values and put children first. I believe in making fiscally responsible decisions that are transparent so that we ensure our hard-earned tax dollars are spent wisely and responsibly to benefit all of our children.
As a father, my priority is ensuring the academic and emotional well-being of our children in a safe and supportive learning environment. The long-term health of our school district benefits the entire community, and I pledge to put my abilities and energy in service of this community and its children.
It has been my honor to have served the community on the Del Mar Union School District's Governing Board of Trustees for the last eight years and am hoping to serve another term. I served five of those years as president.
I have been an attorney in California since 1992 and was trained as a mediator in 2010 at the Straus Institute of Dispute Resolution at Pepperdine University School of Law. I am currently serving on the San Diego Superior Court's Mediation panel. I have taught mediation and negotiation at Thomas Jefferson School of Law. I am also a practicing attorney in the area of civil litigation.
I was raised in the San Fernando Valley, near Los Angeles. I attended California State University Northridge, where I earned my BA in communications.
I am married, and have three children, all of whom are DMUSD alum.
What is the biggest issue facing the district and what do you hope to bring to the board?
It seems to be a repetitive statement, but funding continues to be the biggest issue the district faces. It is funding that has caused the need for the district to seek a GO bond, in order to repair its facilities. It is funding that requires the board to maintain a healthy reserve to ensure the district is able any unforeseen financial pitfalls.
Our district is one of the best in the state, and that is not an accident. Our teachers are second to none, our students work hard and our parents and stakeholders provide consistent support ensuring our district's success.
Consistency, trust and knowledge are attributes I have brought and will continue to bring to the board if re-elected. Our district has succeeded by maintaining a helicopter's perspective on, and sharp focus on doing what is best for our children. Providing them with the safest environment to learn in, the most cutting edge tools to use, and a curriculum that drives them into the future as our next generation's leaders, is not just an idea our district uses, it is a mainstay. Our District's Design 2022 program helps to show students how their work can have real effects in the world. Our Facilities Master Plan, when implemented, will provide our students with the environment in which to succeed.
Having served on the board, and having graduated from the California School Board Association's Master's in Governance Program, I understand what is necessary to work with my fellow board members for the good of every student. I understand the need for transparency when working on behalf of the community. With the hopeful passage of our GO Bond, we will need to have a clear understanding of what is necessary for the future.
I grew up in Fairfield, California, where both of my parents were public school teachers. From them, I learned the value of education and hard work in achieving my goals. After putting myself through college, I moved to San Diego and began my career in finance. I later moved into information technology and business intelligence, and have worked at many of the area's best-known companies. I am currently an I.T. Enterprise Architect at a global genomics company where I have successfully implemented multiple large-scale projects.
Over the past 25 years, I have established a reputation as a thoughtful, collaborative leader who can solve complex business problems. I look forward to applying these skills to help DMUSD maintain its educational excellence while enhancing its reputation in the community. As an involved district parent of two, it would be a privilege to serve DMUSD's students, teachers and taxpayers.
What is the biggest issue facing the district and what do you hope to bring to the board?
The most important challenge facing DMUSD is maintaining educational excellence while also increasing transparency and fiscal responsibility.
Educational excellence stems from our exceptional teachers, small class sizes and integrated curriculum. At the same time, I want to ensure the district stays focused on proven, research-based approaches to education. I'd also like to explore new ways to provide an enriched educational experience to all students, especially those who are gifted and talented.
Increased transparency and trust are critical for DMUSD both now and in the future. During this upcoming election the district is asking taxpayers to approve a $186 million measure (MM) to address facilities needs for the next 30 years. Our schools directly affect the social and economic vitality of our neighborhoods, and taxpayers deserve increased transparency in a process that will affect their communities long after our own children have moved on. In addition, the community has voiced overwhelming support for a common-sense approach to gun safety, which has yet to be implemented. These are key opportunities to increase engagement and transparency, and assure the community that DMUSD is on the right track.
Equally important, DMUSD must ensure that every hard-earned taxpayer dollar is spent wisely. This means making decisions that improve educational outcomes while delivering the full value of our collective investment. It also means maintaining our reserve at appropriate levels.
If elected, I plan to address these issues by taking a thoughtful, data-driven approach that will help the district progress on its most important goals. I will ask the district and its advisors to deliver more detailed information behind recommendations and decisions, and I'll look for new ways to gather data, such as surveys and polls, so I can stay in step with constituents.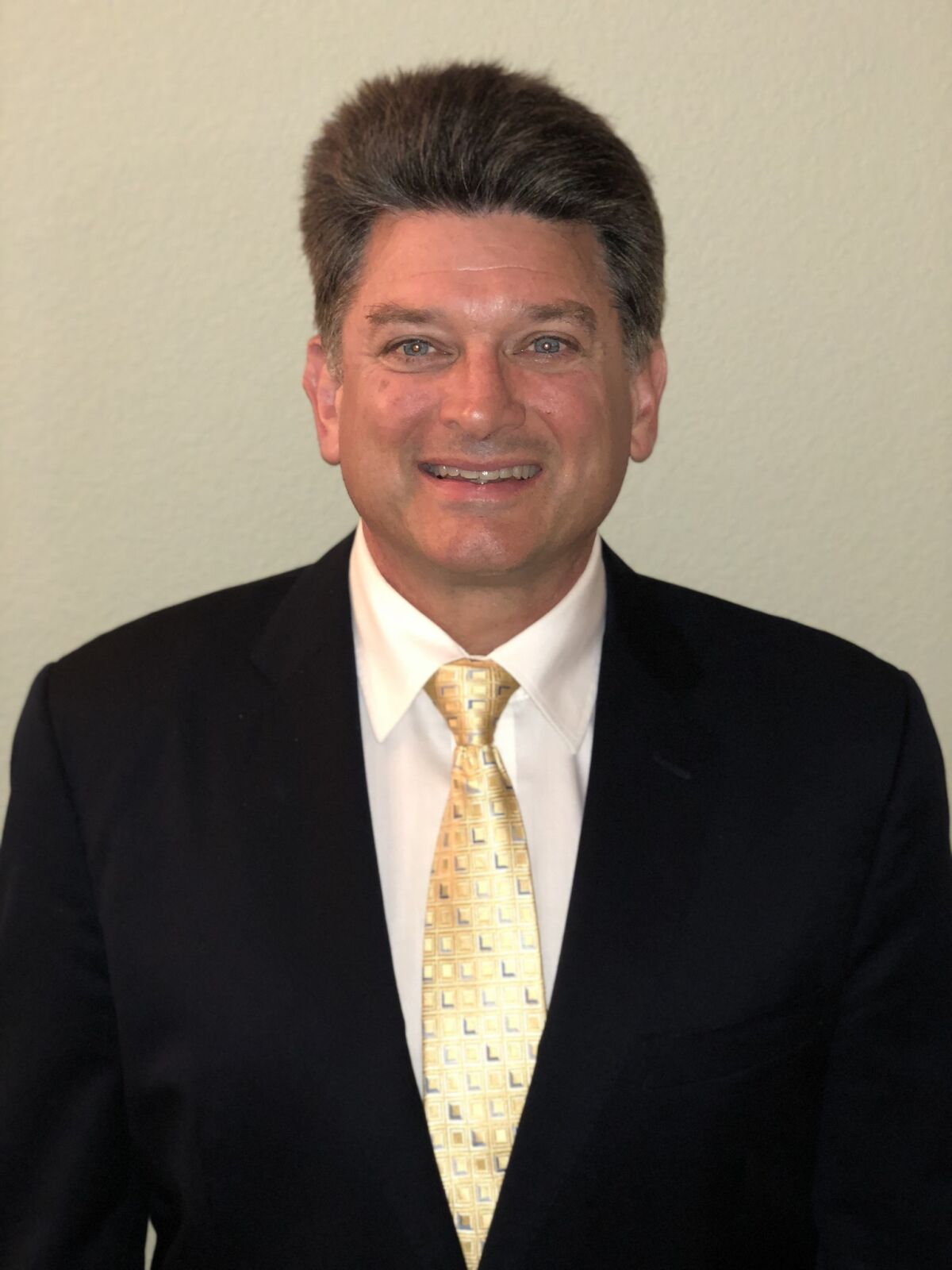 I have a BA in biology (Virginia) and a PhD in biochemistry (USC). I worked in the pharmaceutical industry as a molecular biologist, notably at Amgen and Ely Lilly. In 2010, I was elected to the Del Mar Union School board and have served as both President and clerk. I have completed the CSBA "Master's in Governance" program for school board members.
I am active with the Science Olympiad program, both in the Del Mar and San Dieguito districts, having run the CVMS program for one year and initiating the only invitational tournament in the San Diego region.
I am married with two children who attended Del Mar district schools, with the oldest currently at Canyon Crest Academy and the younger at Carmel Valley Middle School.
What is the biggest issue facing the district and what do you hope to bring to the board?
Del Mar schools are among the top in the state and our district is recognized as an example for effective governance between the superintendent and board members. We need to maintain this course. Our current priorities are the passage of proposition MM to avoid capital outlays from the general fund and to protect our reserves, build the east Pacific Highlands Ranch school, and implement the Facilities Master Plan for our nine community schools. In addition, we must maintain teacher professional development. and implement our long-range vision with full STEAM+ programs, small class sizes, and safety programs that excel.
During my tenure on the board, we have restored fiscal responsibility with budgetary decisions that follow clearly established goals and objectives. Or budget is balanced and our reserves are healthy. I completed the CSBA "Master's in Governance" program, and with the other board members, we have restored proper governance and decision-making through effective relationships between board, superintendent, administrators and teachers. During the past eight years we restored mutual respect and trust with leadership principles that put children first every time. That is what has made this district great.
It is important to maintain this effective governance and to avoid single issue board members who do not serve every student, but rather their school or their student. This could cause the district to revert to micromanagement by the board, an absence of long-range plans, budget-busting programs that do not serve all, and fiscal irresponsibility which would undermine what is otherwise one of the finest elementary school districts in the state. My wife and I chose Carmel Valley for the excellence of its schools. I am committed to maintaining the Del Mar Union School District's reputation for excellence and working as part of a successful team with teachers and administrators.
Get the Del Mar Times in your inbox
Top stories from Carmel Valley, Del Mar and Solana Beach every Friday for free.
You may occasionally receive promotional content from the Del Mar Times.