First sketches for Del Mar downtown facelift to emerge next month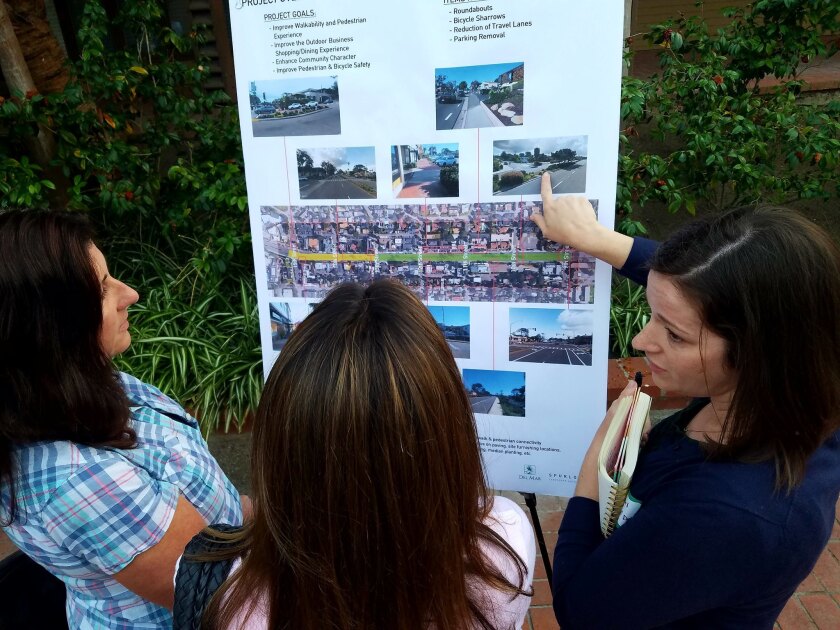 The first leg of Del Mar's downtown listening tour is nearly complete, and city officials are molding that input into a grand vision for a facelift of Del Mar's aging retail corridor.
City officials and the design firm Spurlock Landscape Architects — which led the corridor's overhaul in 1996 — did the rounds earlier this month as part of the Downtown Streetscape project, meeting three times with business leaders and hosting a public workshop on June 14.
An online webinar is set for 2 p.m. on June 26. Email citymanager@delmar.ca.us to register.
The mission is two-fold: to gather feedback on which, from a menu of projects, are the highest priority, and to take the community's temperature on the kinds of decorative flourishes that should be worked into a round of construction along Camino del Mar set to start in January.
The list of "have to do" projects includes bringing Camino del Mar into compliance with the Americans with Disabilities Act, repaving and restriping the roadway and overhauling the corridor's drainage system. A much longer list of "nice to do" projects includes a new landscaping plan, tree planting, outdoor furniture, public art, crosswalks, new light poles with banners and hanging flower pots, and amenities such as electric car plug-ins and free WiFi.
Most of the focus is on Camino del Mar from 9th to 13th streets. Several of the proposals — sidewalk connectivity, bicycle lanes and streetlights — will include to 14th and 15th streets.
Streetscape's overarching goal is to create continuity without quashing the unique character of the corridor's distinct pockets.
The lightly attended meetings have mixed disappointment with frustration and an urgency to move the project forward.
"I'm a little disappointed that there's no grand design," one business owner said at the June 14 workshop. "We've talked about this for 20 years at least, and it seems like the lines keep changing on the paper."
"On my block, there's seven different colors of concrete — and that's just from 14th Street down to the Starbuck's," said Jim Jelley. "This is a Band-Aid is what this really is. Needing new sidewalks is not something new, it's something that's been going on for 20 years."
After so many years of waiting, the city should take on as many of the projects as possible, said Zach Groban, chairman of the city's Business Support Advisory Committee.
"Our goal is to move people back and forth to help out the businesses and have people stay downtown," he said. "The nice-to-do's, all those should clearly be moved up. If we're going to disrupt businesses and start tearing up streets, I think the business community wants something that they feel is going to actually help them."
One of the biggest challenges will be to resolve the inconsistent curb lines, which in some places run ragged from one property to the next, with curb lines in some places overlapping onto private property.
The Streetscape team will meet next month with the city's Business Support Advisory Committee, Traffic and Parking Advisory Committee and the Del Mar Village Association, culminating in one more workshop with the general public.
The team hopes to present a preferred plan to the city council in September so that construction can begin in January and finish by May.
---
Get the Del Mar Times in your inbox
Top stories from Carmel Valley, Del Mar and Solana Beach every Friday for free.
You may occasionally receive promotional content from the Del Mar Times.