Council: Crafting a vision for Downtown Del Mar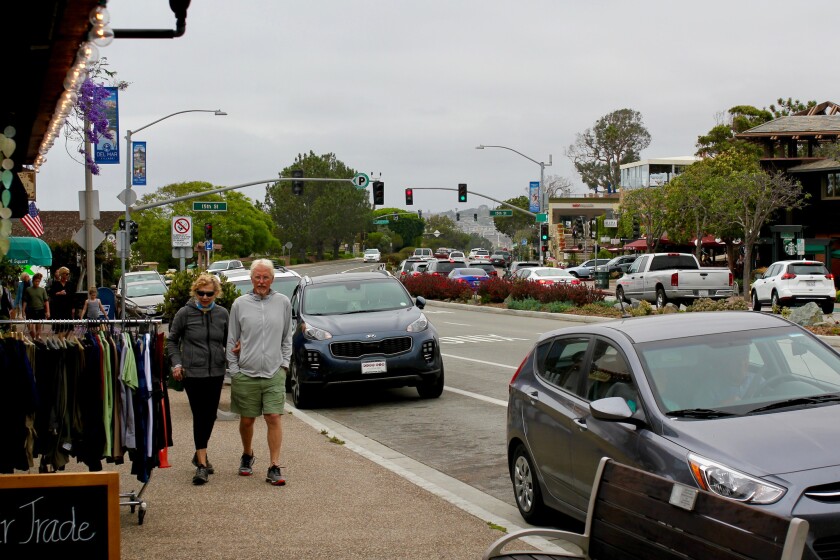 With a goal of getting shovels in the ground by January, outreach and planning are underway to choose the highest-priority projects from among a sweeping set of proposals for beautifying Del Mar's downtown.
City officials and downtown business owners have for years yearned to transform Del Mar's main thoroughfare, both via infrastructural upgrades and aesthetic touch-ups that would revitalize the pedestrian and shopping experience.
Camino del Mar from 9th to 13th streets is the primary focus, but several of the proposals — new sidewalks, bicycle lanes and streetlights — would extend to 14th and 15th streets. The so-called Streetscape project includes must-do work to bring Camino del Mar into ADA (Americans with Disabilities Act) compliance, repave and restripe the roadway and overhaul its drainage system. Part of the question is how many other high-priority improvements, such as new crosswalks, redesigned bus stops, tree planting and a landscape plan, the city will undertake right away.
Those projects need to be chosen in time for the city's upcoming budget so that work can fit into the January-May window for construction. Projects that don't come together in time for that window would fold into Streetscape's longer-term vision.
The Del Mar City Council wrangled with Streetscape for more than an hour at its meeting on Monday, June 5. A handful of downtown property owners conferred with city staff the following night, and two more sessions for business and commercial property owners are set for next week. The first is at 8 a.m. on June 12 at L'Auberge Hotel's library conference room and the second is at 11 a.m. on June 15 in the community room at the Del Mar Library. An online webinar is planned but has not yet been scheduled.
A workshop for the general public is set for 6:30 p.m. on June 14 at Del Mar's temporary city hall on Jimmy Durante Road.
The council's discussion on Monday night devolved into a frustrated back and forth over how widely to open the outreach, alarming downtown business leaders as to why the years-long effort had suddenly appeared to go backward.
Four years of work that has already gone into the project should have long settled any questions about the scope of work, Richard Earnest, president of the Del Mar Village Association, told the council.
"Please," implored Earnest, a former Del Mar mayor, "don't ask the community what kind of cement they want, and what style streetlights they want. We'll never come to an agreement. All you're going to do is create problems."
Councilman Dave Druker was flummoxed to see things like streetlights, pedestrian furniture and public art on the list of projects. He said that, to him, Streetscape was supposed to focus almost exclusively on a landscaping plan that would transform the downtown portion of Camino Del Mar into a lush parkway.
"Let's get on with our lives," he said. "We don't need to go through all this machination with everybody in the city to determine what is best. Everybody's going to say they want everything, all the time, every time."
For more information, visit www.delmar.ca.us/downtownstreetscape or call Rachel Beld at (858) 755-9313, Ext. 1135.
---
Get the Del Mar Times in your inbox
Top stories from Carmel Valley, Del Mar and Solana Beach every Friday for free.
You may occasionally receive promotional content from the Del Mar Times.