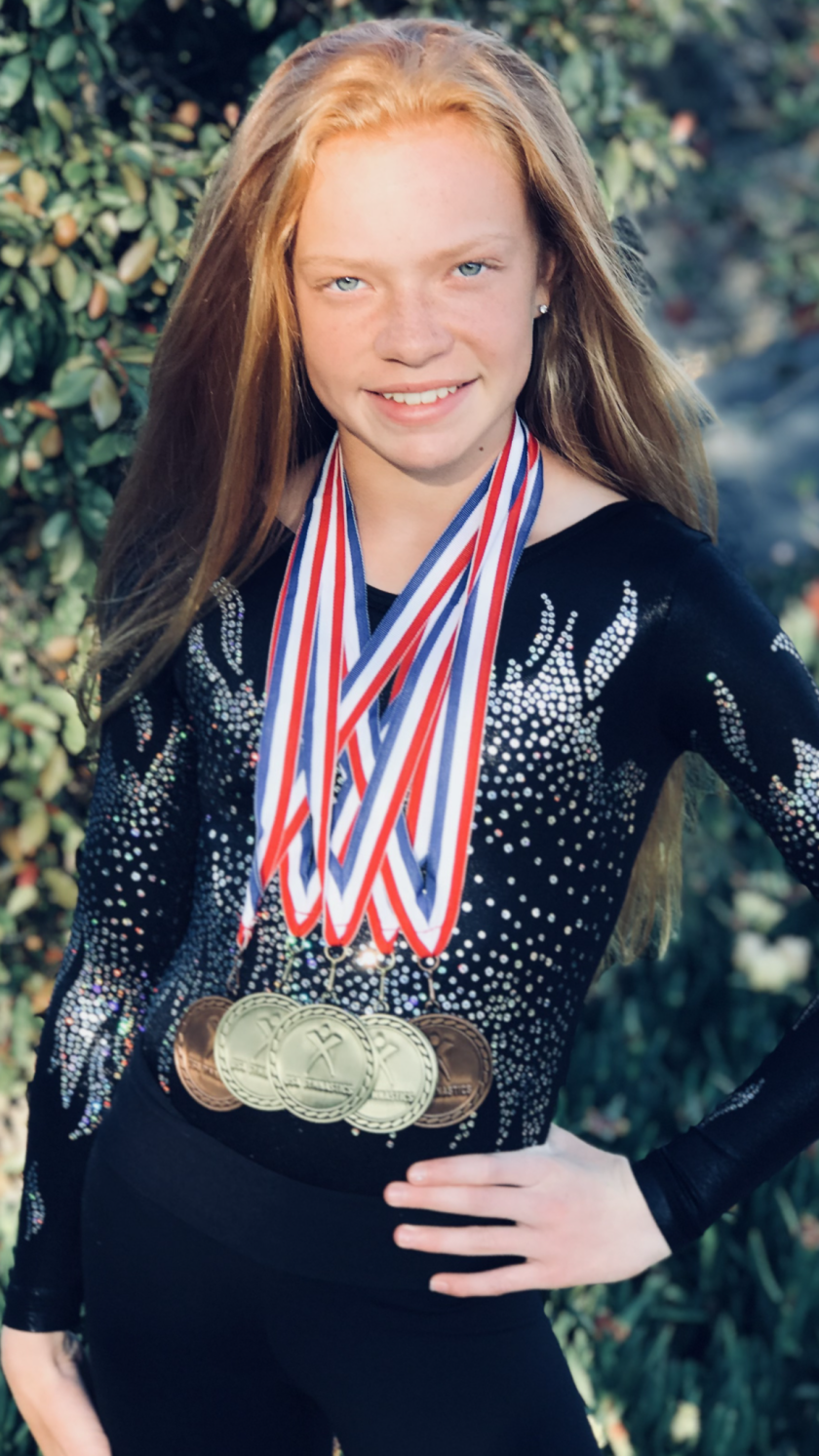 Solana Beach gymnast Dylin Dean recently captured the level 7 All Around title at the Level 6-7 Region 1 Gymnastics Championships in Chandler, Ariz. Dylin, 12, was the top gymnast in Level 7, bringing in first place medals in floor and bars with personal best scores.
"I was pretty happy," Dylin said.
Sidelined by the flu for two meets this season, Dylin was still able to pull out an All Around title at the Cactus Cooler Invitational in Las Vegas in February, scoring her personal best on vault—she also finished in the top 10 overall at the 2018 SoCal 6-10 State Championships.
Dylin is a sixth grader at Skyline Elementary School and plans to attend Earl Warren Middle School next year. She started taking gymnastics eight years ago as she had hopes of being a cheerleader. After a while, she became more interested in competing with TRC Gymnastics exclusively, starting at level 2 and steadily working her way up to level 7.
Dylin now spends 22 hours a week in the gym.
"It takes up a lot of time but I love it so it's ok," Dylin said.
Several of Dylin's TRC teammates had strong performances at the Level 6-7 Region 1 Championships with many finishing in the top 10 in several events, including Sara Janis, Reese Peterson, Lia Kragh, Mia Carpenter, Isabella Laws, Kathleen Beaton and Samantha Rubio. Mia came in second in the Level 7 All Around competition.
"We cheer for each other a lot," Dylin said of her close relationships with her teammates, all rooting for the other to perform their best.
TRC also sent five athletes to the Level 8-10 Regionals in Reno: Wanda Deriot, Julianna Love, Ryan Noonan, Moriah Seymann and Joyce Yen. In level 8, Ryan finished second in the bars and Moriah took third.
As the season is over, Dylin will now begin training for level 8 which includes increased difficulty such as more advanced vaulting. She is confident that with hard work, she will be able to conquer the new skills and that her two coaches, Darryl Davis and and Pam Durnin, will help her get better and better.
"I just adore gymnastics, my coaches are very helpful and they're just amazing. They encourage me a lot," said Dylin."I just hope I can do as well as I did this season and just keep improving and working up the levels."
---