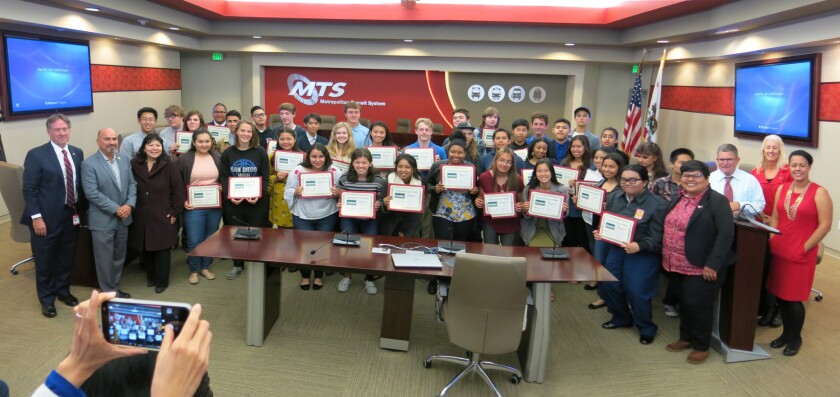 The Metropolitan Transit System (MTS) introduced the 40 winners of the annual MTS and Coca-Cola Laptop Scholarship Contest in a ceremony at the 12th & Imperial Transit Center on Friday, May 11. MTS had a record 400 students from 90 different high schools enter the contest.
Among the winners from local schools were: Nicholas Ciepley, La Costa Canyon High School; Megan Costello, Canyon Crest Academy; Jungwoo Seo, Torrey Pines High School; Sarah Teruya, Santa Fe Christian High School.
The top 40 scoring students were awarded a 15.6" HP Touch-Screen laptop and a Storm Contender laptop backpack by Under Armour. Students in grades 9-12 were required to submit a persuasive essay between 750 and 1,200 words to present why people should choose public transit instead of driving a personal vehicle.
"These students are very insightful. Their essays presented convincing ideas in favor of transit that focused on reducing emissions, saving money and meeting new people," said Georgette Gómez, MTS board chair. "We appreciate the partnership with Coca-Cola and the San Diego County Office of Education in making this contest a success. It's a great learning experience for the students."
The laptop scholarship contest is a long-standing event partnership between MTS, Coca-Cola Refreshments of San Diego and the San Diego County Office of Education. To be eligible to win, students had to be San Diego County residents and enrolled in a San Diego County high school.
Photo above: (Front row, L to R) Paul Jablonski, MTS Chief Executive Officer; Mike Diaz, MTS Boardmember/Chula Vista City Councilmember; Mona Rios, MTS Board Vice Chair/National City Councilmember; MTS Board Chair/San Diego City Councilmember, Georgette Gómez. (Second row, R to L) Music Watson, Chief Information Officer, San Diego County of Education; (behind Watson) Cory Holstein, Coca-Cola Account Executive; (behind Chair Gómez) Bill Sandke, MTS Boardmember/City of Coronado Councilmember.
---