Superfood specialist Everbowl expands into Carmel Valley
Craft superfood bowls have arrived in Carmel Valley as the latest Everbowl location opened in Carmel Country Plaza in August. Everbowl was founded by San Diego native Jeff Fenster to stoke a healthy lifestyle for all, specializing in build-your-own bowls of superfood fuels, "stuff that's been around forever."
Bowls can be customized with acai berries, acerola cherries, pitaya, the bright pink flesh of a dragonfruit or graviola—which has the flavor of strawberry and pineapple with the consistency of a banana— and layered and loaded up with unlimited toppings.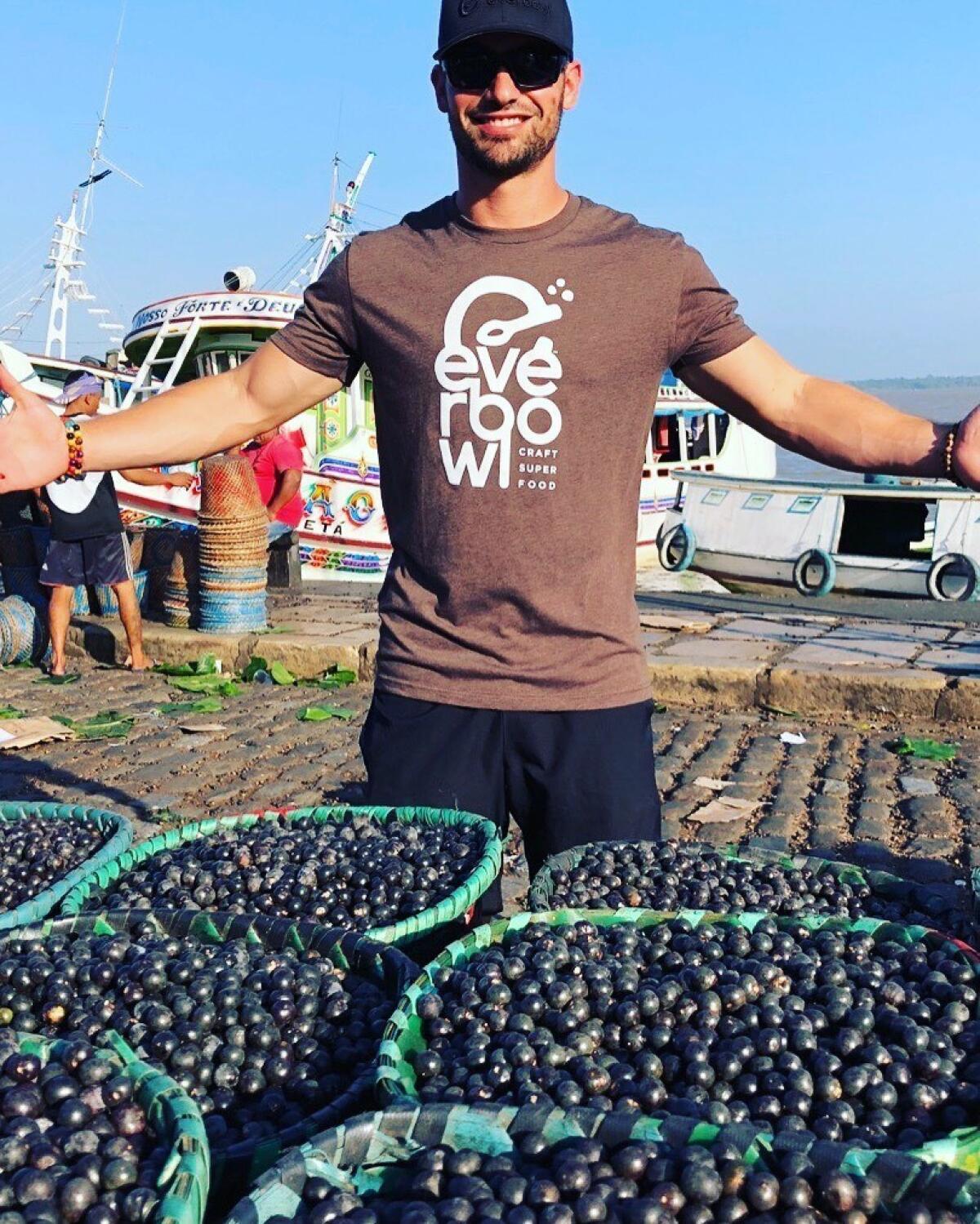 The first Everbowl opened in Poway in 2016 and Fenster has gone on to open 14 stores with locations throughout San Diego County and spots in Oceanside, Temecula and Menifee. In addition to Carmel Valley and a new Encinitas store that opened in July, Fenster aims to expand to 20 locations by the end of the year with new stores in San Elijo Hills and on the San Diego State University campus.
"I've been wanting to get into Carmel Valley forever," said Fenster, who was frequently in the area as a member at Bay Club Carmel Valley. "This is the perfect location, it's a great neighborhood and we're really excited."
Fenster, 35, is a self-described "serial entrepreneur" who created several companies before founding Everbowl. After graduating from Thomas Jefferson School of Law, Fenster started his own successful payroll company in his mother's kitchen at age 24: i-CHEX, which he sold to Canopy HR Solutions in 2010.
Fenster created five other smaller companies and a digital marketing agency before deciding to pursue his true passion in the health and wellness industry in 2016.
Fenster is a fitness enthusiast and healthy lifestyle advocate—he is known to put whipped cream on zucchini to get his kids to eat their veggies. For years he made his own bowls— his freezer was frequently stocked with superfood ingredients that many people never heard of. It was important to him to make healthy choices, it made him feel good, and he wanted to help make it easier for others to make those same good choices rather than settle on a fast food, fried and sedentary lifestyle.
"Everbowl is for everybody," said Fenster of his mission to promote happiness and health. "This is my passion. I was grateful to have success with my previous companies but to find a way to put my energy into something that I'm truly passionate about is a dream."
With Everbowl, Fenster tried to tackle all of the excuses of why people don't like to eat healthy: "It costs too much," "It doesn't fill me up," "It doesn't taste good," and "I can't find it." Everbowls cost $8 a bowl no matter how many toppings are loaded on and they are bigger than most bowls so it can fill you up, he said.
Everbowls have no added sugar so Fenster said some may find them to be less sweet than the average acai bowl—for those who want a sweeter bowl, natural sweeteners on the menu include honey and agave.
The "Whatever" bowls allow guests to pick a base of acai, acerola, graviola or pitaya and then choose a liquid to blend it with from options of almond milk, coconut milk, chocolate almond milk, apple juice or cashew milk.
The unlimited toppings include strawberries, pineapple, bananas, cacao nibs, chia seeds, flax seeds, granola, peanut butter, kiwis, dates and more. There are also "super stuff" options like bee pollen, hemp protein, maca or whey protein.
"There is no wrong way to build a Whatever bowl," Fenster said, noting that the combinations are endless and the carefully built bowls often end up looking like works of art.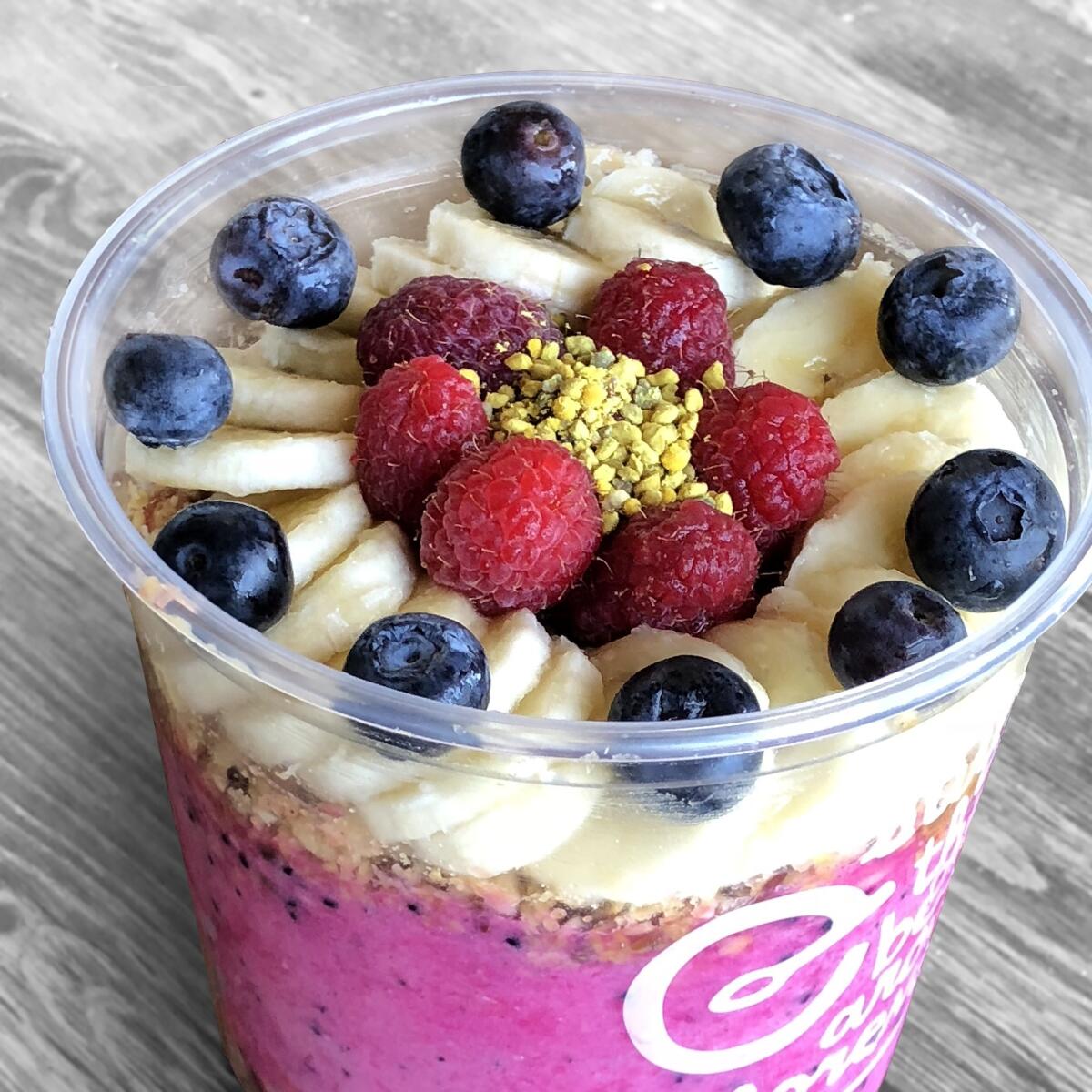 The menu also includes pre-designed "Local Favorites." Fenster's 13-year-old daughter is the brains behind the Chewy—a combination of acai with blueberries, strawberries, bananas, peanut butter and almond milk, topped with granola, peanut butter, more bananas and coconut.
"It's our second most popular bowl," Fenster said.
The family influence is also felt in the Everoats on the menu, which uses Fenster's mother Frima's recipe for overnight oats, raw oats soaked in nut milk which can be customized with toppings. Everbowl also has grab-and-go salads, smoothies and flavored fermented Kefir water on tap.
Fenster takes pride in the fact that Everbowl distributes its own product from Brazil, sourcing the highest-quality organic and sustainable berries. On a recent trip to the Amazon, he climbed a 30-foot-tall tree to pick his own acai berries and visited the Everbowl factory to track the process from start to finish. He met with the local artisans who make leftover acai seeds into bracelets called Everseeds that are stacked on his wrist and sold in his stores to provide income for the families. The leftover seeds are also used to help provide power for part of the factory, reducing the reliance on fossil fuels.
With Everbowl, Fenster created the word "un-evolve" as the company motto—the word appears on all of the employees' t-shirts.
"Un-evolve means getting back to living and eating the way we were meant to, eating stuff that's been around forever," Fenster said.
Fenster believes the key to life is movement and the key to motion is fueling the body with good foods. By making all that good fuel easy and accessible for more people, he likes to think of Everbowl as encouraging people to live an active lifestyle, eating stuff that makes people want to get out and enjoy life.
Carmel Valley Everbowl is located at 12750 Carmel Country Road. For more information, visit everbowl.com
Encinitas is now open on 114 Encinitas Boulevard in the Lazy Acres Shopping Plaza near Moonlight Beach.
Get the Del Mar Times in your inbox
Top stories from Carmel Valley, Del Mar and Solana Beach every Friday for free.
You may occasionally receive promotional content from the Del Mar Times.