Local's La Jolla Fencing leads to championships, college success
For the last 26 years, Carmel Valley's Dmitriy Guy has worked to grow the sport of fencing in San Diego. With his newly opened La Jolla Fencing Academy, the former fencing champion's studio offers "world class" instruction in beginning and advanced classes, private lesson for students as young as five to adults.
The sport requires both athleticism and discipline, as fencers use replica swords to score points by hitting one another while moving back and forth on an area called a piste.
"In our experience, fencing is a great sport for kids to become better people, better students, better citizens and to go to better colleges," Guy said.
Guy has coached World Cup medalists and members of the US National team of all ages and has sent kids to Harvard, Columbia, U-Penn and UC San Diego all with the help of fencing. The success story he and his wife Olga are perhaps the most proud of is their son Philippe, a Canyon Crest Academy graduate who is now a sophomore at Harvard.
Philippe won the US Open as a Cadet level, under-17 and represented the U.S. in the World Cup.
"We want to invite this community to come enjoy the great sport of fencing," Guy said.
Still relatively undiscovered in San Diego, the sport is huge in San Francisco and on the East Coast. Guy has modeled his studio after the Manhattan Fencing Center, run by friend Yury Gelman, the five-time coach for the US Olympic team — that Manhattan club is so popular that it has a lengthy waiting list.
"I want to bring that same level of fencing to San Diego," Guy said.
The school is Guy and his wife Olga's second jobs — Olga works in marketing for a biotech company and Dmitriy is a real estate agent and mortgage broker by day. The couple moved to Carmel Valley 13 years ago for the schools, their son attended Solana Pacific and Solana Highlands elementary schools and Carmel Valley Middle School.
Guy was a national fencing champion in the Soviet Union, a two-time US Open champion and a two-time gold and silver medalist at the World Maccabiah Games. He has coached the US National fencing team for several international competitions at the cadet, junior and senior level.
He started fencing at age 9 in Moscow, learning the sport from a two-time Olympic champion.
He moved to San Diego 27 years ago, meeting and marrying Olga, and continuing to fence representing the US National team.
Guy founded Spartak Fencing Club in 1991 and expanded his efforts when he retired from competitive fencing. The club bounced around to various locations, from the old JCC on 54th Street in San Diego to Rancho Bernardo, Escondido and Sorrento Valley.
Now Guy is thrilled to have a permanent home in La Jolla Village Square. The building features a main fencing floor, a lounge room and a pro equipment shop. The main floor features six electric fencing strips for bouting plus six wooden strips with a gym mirror for fencing classes and footwork.
With an open window to the academy's fencing floor, people passing by from the AMC La Jolla Movie Theater and other nearby businesses are able to check out what the academy is all about.
Guy has carefully built a roster of several internationally-acclaimed coaches with championship backgrounds and the school also has a great relationship with UC San Diego.
"UC San Diego Fencing is pretty strong on the international level. It's definitely one of the best in the United States and the second best in the state of California after Stanford," Guy said.
In addition to students being recruited to excellent universities, Guy said fencing has great physical and mental benefits.
Guy said another name for fencing is "physical chess"— athletes must use strategies and think about how to outsmart your opponent in a condensed amount of time. That critical thinking time crunch can be useful in other endeavors, such as in starndardized testing like SATs and ACTs.
"They can train their brains to work faster. A good student is a good fencer and a good fencer is a good student," Guy said, noting it helps kids to be focused, concentrated and to succeed. "My philosophy as a coach is what my old coach used to say to me. I don't want to create a good fencer, I want to create good people good citizens, good human beings. If they become a good fencer on top of all of that, it's just icing on the cake for me."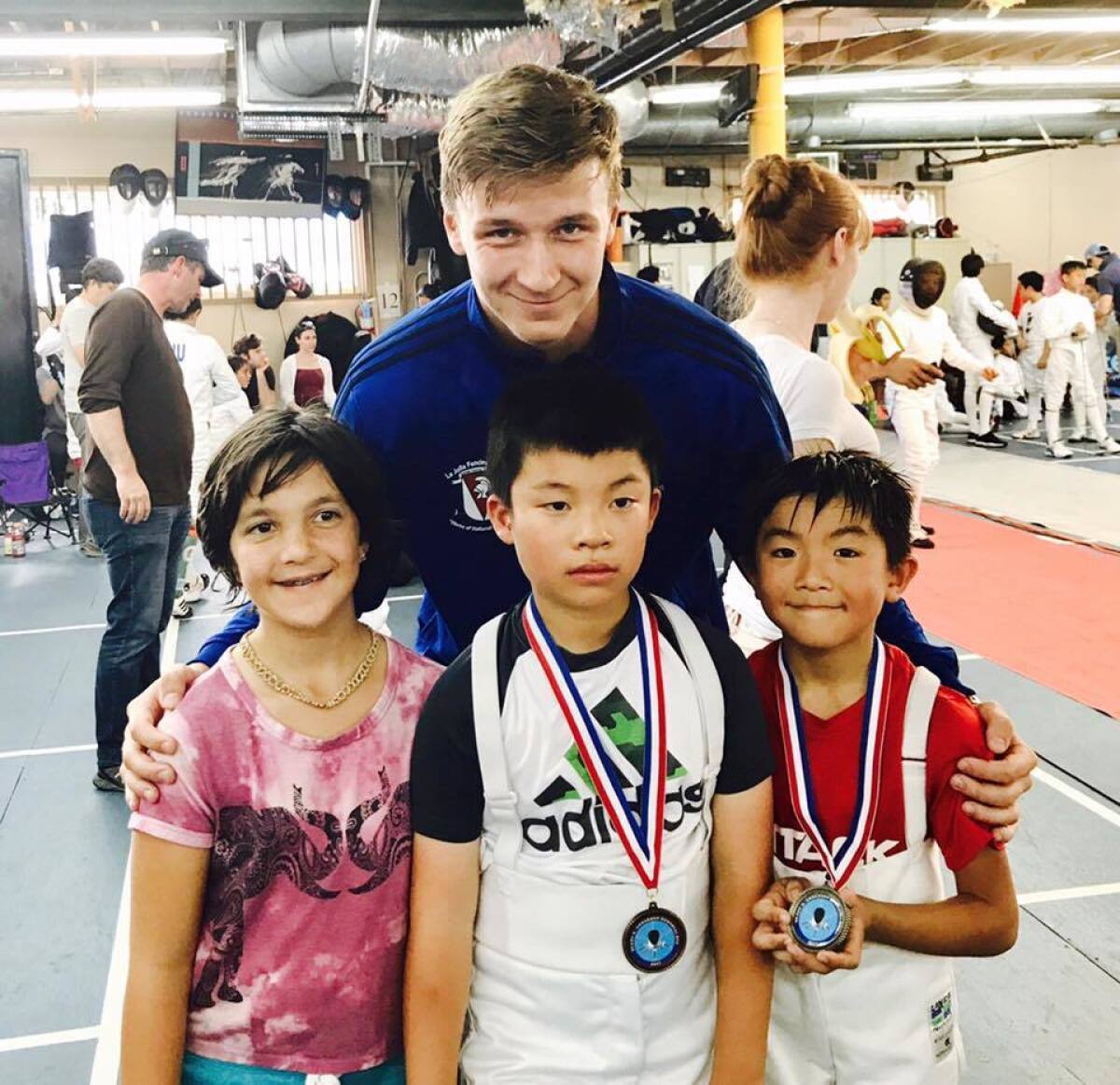 Kids from La Jolla Fencing have progressed quickly — performing well in regional tournaments and bringing home hardware. One student started only a few months ago and got second in regionals under-12.
Local fencers will compete in the US Open in Kansas City this month, the Junior Olympics in February and National Championships in July in St. Louis.
"My goal is for our young students to shine in the next Olympics," Guy said. "I would love to see some of our local kids represent our country in 2028 when the Olympics are held in Los Angeles. It's possible. Our students are already shining."
La Jolla Fencing Academy provides equipment for free for the first three months. For more information, visit lajollafencingacademy.com
Get the Del Mar Times in your inbox
Top stories from Carmel Valley, Del Mar and Solana Beach every Friday for free.
You may occasionally receive promotional content from the Del Mar Times.