Solana Beach to raze its iconic lifeguard headquarters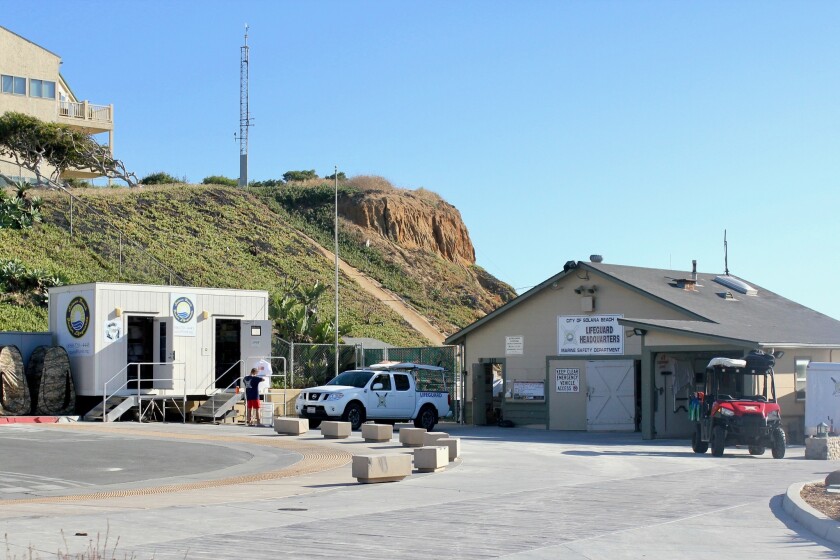 It has stood guard over Fletcher Cove for more than 70 years, but its reign atop the bluff is coming to an end.
With nearly every feature long having exceeded its useful life, the Solana Beach Marine Safety Center is heading toward a date with a bulldozer after the city council last week decided that two other options weren't up to snuff.
The council on Wednesday, June 14, heard a long-awaited report on three paths forward for the city's lifeguard headquarters: Option 1, a cluster of modular structures; Option 2, renovate and expand the existing building; and Option 3, tearing the whole thing down to start anew. After hearing the presentation, councilmembers were unanimous: the facility is too inadequate and the risks of renovating it are too high to pursue anything other than a total rebuild.
"I hope we build it, and I hope we build it now," said Councilwoman Judy Hegenauer. "We've been talking about this for pretty much as long as I can remember. I'm afraid to not do it. I could see the next council in 20 years, 30 years, not being able to move forward. I think it's a very important building to this community and I say Option 3 and let's go ahead."
The report by Steven Dalton Architects laid out a litany of failings: walls nearing collapse, cramped spaces and widespread violations of building codes and the Americans with Disabilities Act.
Modular structures would carry a $1.65 million price tag over the short term but would cost the city $7 million over a 50-year window, according to the report. Renovation would cost $3.37 million but would not meet the full range of lifeguards' needs. A new facility built from the ground up would cost $4 million.
From both an economic and functional sense, a new facility is the best option, said Solana Beach Mayor Mike Nichols.
"It's from the emotional [and] historical standpoint that you start to feel like, 'Oh man, wouldn't that be a shame to lose,'" he said. "That's where the challenge comes in for the architect or designer, is to really capture that texture, that feel, and make it feel like maybe it's been there for all of Solana Beach's history."
Another challenge could be the building's size.
A rough schematic envisioned a facility of 4,770 square feet in two stories — more than three times the size of the existing structure. Two councilmembers — Ginger Marshall and David Zito — expressed concern that something so big could feel far out of step with the rest of Fletcher Cove.
"Almost a 5,000-square-foot building just seems like it would be really monstrous compared to what's there right now," Marshall said. "Some people don't even like to go onto the sand; some people just like to hang out in the recreation area right there. I'd just hate to see the view and the bulk and scale of a 5,000-square-foot lifeguard property overshadow what our cute little Fletcher Cove park is right now."
Zito suggested minimizing the facility's footprint by recessing it deeper into the abutting hillside and by setting the facility further back from the bluff's edge. He and other councilmembers also noted the eye-popping price tag. Councilwoman Jewel Edson wondered whether the project can be split into phases to spread out the cost.
"We may not need all of those 4,700 square feet right now," she said.
Not included in that $4 million estimate: a $450,000 seawall and a $410,000 stairway for lifeguards that would go down the face of the bluff.
A seawall would be a problem for the San Diego Surfrider Foundation.
"There needs to be a deeper discussion before preemptive construction of a seawall," said Kristin Brinner, a Solana Beach resident and co-chair of the foundation's beach preservation committee. "We urge that a more thorough options analysis be performed before defaulting to a preemptive seawall."
City Manager Greg Wade said city staff will outline a funding plan at a future meeting, which could include the possibility of drawing funds from the first overhaul in more than a decade to the city's Transient Occupancy Tax levied on guests at hotels and vacation rentals in the city.
---
Get the Del Mar Times in your inbox
Top stories from Carmel Valley, Del Mar and Solana Beach every Friday for free.
You may occasionally receive promotional content from the Del Mar Times.