Frozen fun offered at Flower Hill Promenade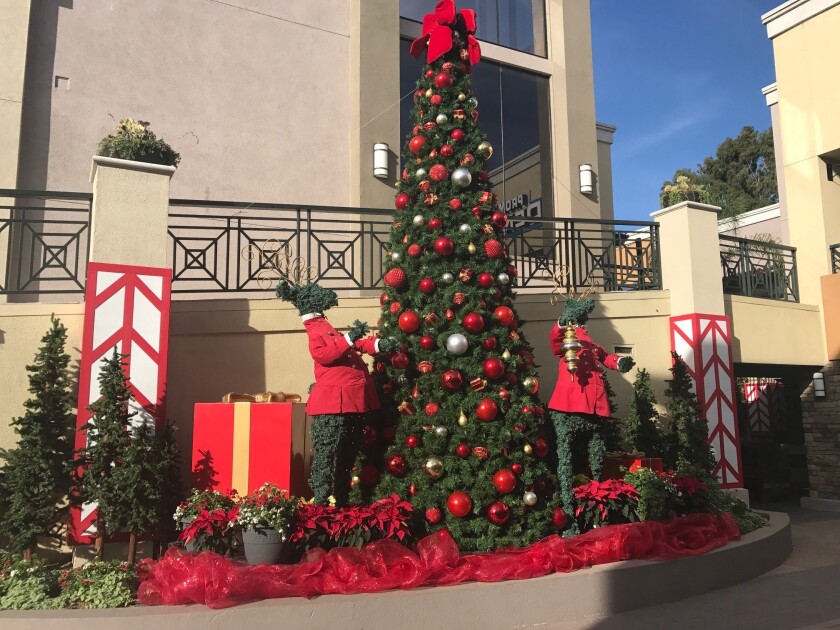 Del Mar's Flower Hill Promenade has been transformed into an Alpine Village filled with festive family fun and cheer. Through Dec. 23, Flower Hill will have real snow; falling snowflake flurries; laser light and magic shows; holiday movie nights at A Colorful Universe; holiday characters from Buddy the Elf to Elsa and of course Santa Claus himself, jollying around his alpine chalet at Flower Hill Promenade's winter wonderland every weekend in December.
A lineup of free events includes:
Dec. 2-3: Falling snow flurries at St. Nick's Chalet in the East Courtyard and the Snow Grove in the Upper West Plaza (near Starbucks) from 10-10:30 a.m.
Saturday, Dec. 2 at 4:30 p.m.: Movie night with "The Grinch" at A Colorful Universe
Thursday, Dec. 7 and Friday, Dec. 8 from 2 to 8 p.m.: Fairen Del is hosting "HOHO - Holiday Open House Occasion" where warm spiced nuts, homemade hot cocoa and gift-wrapping elves will be offered to spread holiday cheer. There will also be trunk shows with local designers and gift giveaways to the top 50 customers.
Friday, Dec. 8 at 10 a.m.: Story time with St. Nick at St. Nick's Chalet in the East Courtyard
Dec. 9 - 10: Snow Days Weekend. From 10 a.m. to 2 p.m. play in the snow in Alpine Village on Saturday and Sunday, and enjoy complimentary crafts, snacks, balloon artists, photos with Santa, a petting zoo and more.
Saturday, Dec, 9 from 10 a.m. to 6 p.m.: Holiday Bazaar in the courtyard
Saturday, Dec. 9 at 4:30 p.m.: "Polar Express" movie night at A Colorful Universe
Sunday, Dec. 10 at 9 a.m.: Breakfast with Santa at Flower Child
Sunday, Dec. 10 from 4:30 - 6:30 p.m.: Gather as real snow flurries fall and light up the night with a special Hanukkah Laser Show and Menorah Lighting
Saturday, Dec. 16 at 4:30 and 5:30 p.m.: All aboard the Jolly Trolley for a festive ride
Saturday, Dec. 16 at 4:30 p m.: "Elf" movie night at A Colorful Universe
Dec. 22 – 23: Play in the snow with snow flurries at St. Nick's Chalet in the East Courtyard and the Snow Grove in the Upper West Plaza (near Starbucks)
Flower Hill Promenade is located at 2720 Via de la Valle, Del Mar. For more information visit flowerhill.com
---