NFL's Drew Brees bringing flag football league to Carmel Valley
On Sunday afternoon, New Orleans Saints quarterback Drew Brees was on the road in Green Bay, leading his team to a 26-17 victory over the Packers. On Friday night in New Orleans, Brees was busy coaching the back-to-back games of sons Baylen and Bowen in his Football 'N' America Youth Flag Football League.
Brees founded the new flag football league in Louisiana this fall and hopes to take the league nationwide, starting next spring with Carmel Valley. His aim is for Football 'N' America, FNA for short, to be the best way for boys and girls in kindergarten through eighth grade to learn America's game in a non-contact, co-ed, family-friendly and community-focused league.
"I'm very excited to bring it to San Diego," said Brees, who started his career as a San Diego Charger and still lives in Del Mar in the off-season.
His children attend San Diego schools in the springtime and played flag football with dad as coach with Friday Night Lights — one memorable match-up in Carmel Valley last spring pitted Brees' son against LA Chargers quarterback Philip Rivers' son.
The 13-week season from March to June will have eight to 10 regular season games, all played on Friday afternoons and evenings. There will be end-of-season playoffs and a national championship tournament in Louisiana.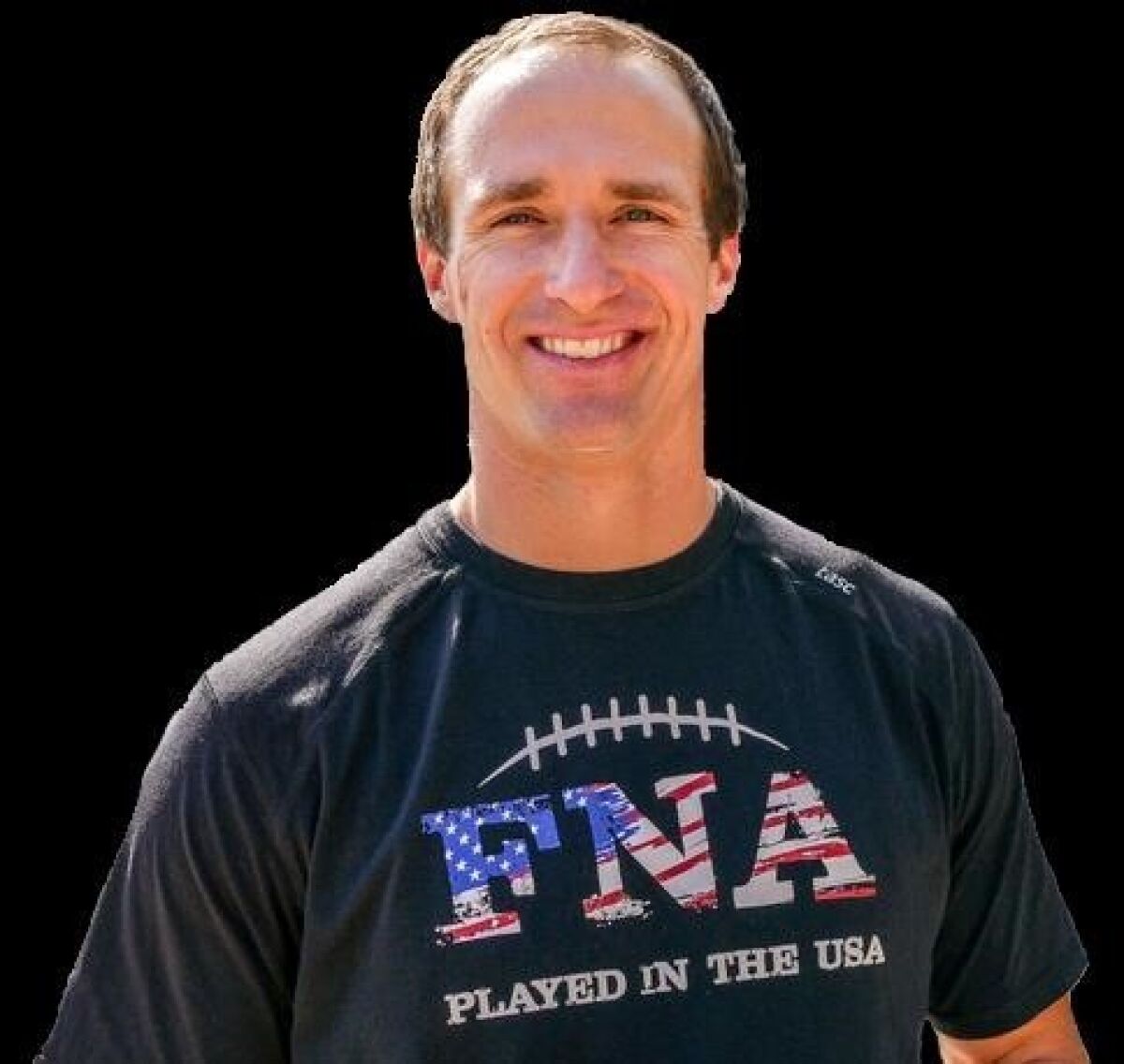 "Playing flag football were some of my best memories as a kid," said Brees, who played flag football until he reached high school — the first time he ever put on pads was as a freshman. "Flag football prepared me really well for tackle football, the techniques and the fundamentals that I learned through flag carried over."
Through non-contact flag football, FNA offers a safe way for kids to learn and play the game of football.
"Ultimately this sport teaches so many life lessons, I've learned so much from the game of football about team work, hard work, commitment and overcoming obstacles," Brees said. "The league provides an opportunity for kids to play the game, develop a love and passion for it, and enjoy time with families and friends."
Brees said one of the great things about flag football is that everybody touches the ball and everybody's included. He said sometimes in tackle football, only a couple players get the touches and everyone else kind of bounces against each other. In flag, regardless of a player's skill level or experience, they get to be involved in the game and have fun.
And it can be a great segue into tackle football if a player wants to take that next step, he said.
Brees founded FNA in partnership with Del Mar's Chris Stuart, president and CEO of Encore Sports, and ProCamps. Brees' target is to make the league "the gold standard of youth flag football," utilizing research of flag football leagues across the country and learning from his own experience and perspective as a player, coach and a parent.
"There is no standard for flag football in America. There's all different rules, philosophies, some play five on five, some play seven on seven, sometimes there's blocking, sometimes not, it's all over the place," Brees said. "The rules are the same in little league baseball all over the country, I feel like there needs to be the same standardization for flag football. And it needs to be done in a way that helps kids have as much fun as possible, to help them develop life skills and team-building in a family-friendly environment where everyone's on the same playing field."
FNA plays six vs. six, there's no kickoffs, quarterbacks can't run with the ball, spinning and jumping are permitted for a ball carrier but there's no diving. No blocking, tackling or stripping of the ball is allowed. Foul play or unsportsmanlike conduct by anyone is not tolerated. For safety, all players are required to wear a protective mouthpiece.
As a father of four, Brees feels very strongly about making sure coaching in his league is as easy as possible for any parent that has the time and desire to get involved.
He said he is lucky that so far his two boys have wanted to play a sport he knows and loves well but he has made a commitment to be involved in whatever his kids do — even if daughter Rylen and son Callen pick a sport or activity he is not as experienced with.
To help achieve that level-playing field and encourage parent volunteers, Brees' league has created a coach's portal online — there are instructional videos of drills that can be done with the kids, playbooks, and resources on pass routes, ball handling, flag pulling and defensive techniques so any can feel comfortable in their ability to be an effective coach and all players will have the same dynamic experience and develop the proper fundamentals.
In addition, there will be preseason coaching and players camps led by Brees in Carmel Valley.
"Even if the parent doesn't know a lot about the sport, they can step in and the league provides all the support and information needed to do this with your child," Brees said. "I think that's where we really differentiate from every other league with the consistencies and the support we provide."
This fall, with three leagues in Louisiana in New Orleans and Baton Rouge, Brees has been having a ton of fun and learning a lot along the way. The goal is to take the league national and Brees hopes to have seven to 10 more leagues in the spring, including Carmel Valley.
What he is most proud of is the America part of Football 'N' America, of bringing friends and family together around the sport. As a nonprofit, FNA will support local charities and initiatives and teams will get involved in giving back to their communities.
Brees is now in his third season of coaching the first and second grade Brees Buckeyes and the third and fourth grade Brees Boilermakers.
While in his 17th year in the NFL, he is in the third season of coaching his son Baylen's team and his second year with Bowen's. On Brees' team of first and second graders, the Brees Buckeyes, the best player on his team is a girl named Lucy Loomis. "She scores every time she touches the ball," Brees raved.
A player in the NFL maintains a pretty packed schedule during the season but Brees makes sure one of his rare free moments is under the Friday night lights.
"It's a great community event," Brees said. "My family looks forward to every Friday night."
Registration is now open for Carmel Valley's spring season of Football 'N' America at playfna.com
---
Get the Del Mar Times in your inbox
Top stories from Carmel Valley, Del Mar and Solana Beach every Friday for free.
You may occasionally receive promotional content from the Del Mar Times.