Torrey Pines honors athletes at Freddie Awards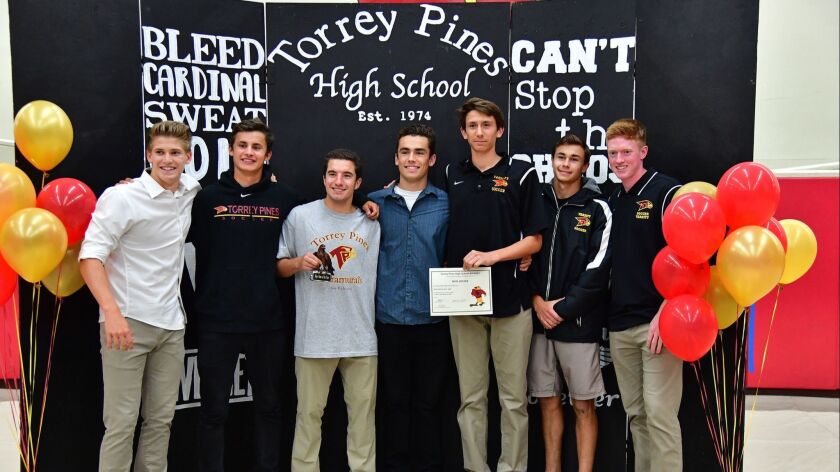 Torrey Pines High School hosted its 4th annual Freddie Awards show on May 30 to celebrate another great year of athletic achievement. The Falcons earned two state, nine regional and 15 league championship titles in the 2017-18 academic year.
Highlights included the boys soccer and golf teams winning the California CIF State Championships and the boys lacrosse team earning the equivalent with their #1 ranking by MaxPreps. Torrey Pines San Diego CIF Championship teams included boys and girls tennis (28th consecutive title), girls volleyball, boys and girls lacrosse, boys golf, boys and girls swim & dive and baseball.
Freddie award winners: Male Athlete of the Year: Joey Magrisi, baseball; Female Athlete of the Year: Sophia LeRose, girls lacrosse; Girls Team of the Year: Girls swim and dive; Boys Team of the Year: Boys soccer; Rookie of the Year: Tatum Lenain, soccer; Most Inspirational Team: Boys lacrosse; Sportsman of the Year: Kiara McNulty, Girls volleyball; JV/Frosh Team of the Year: JV boys lacrosse; Coach of the Year: Brennan Dean, Girls volleyball; Falcon Faithful (Fan of the Year): Jim Harrah.
Forty seniors were also honored with the "Next Level Falcon Award." These scholar athletes were acknowledged as one of the largest senior class of recruits from any high school in San Diego County.
The following are the Next Level Falcon Award honorees who have committed to continue their athletic and academic success at 33 colleges and universities nationwide:
Air Force Academy: Jonathan Farmer, golf
Bryant University: Ryan Ramirez, lacrosse
Brigham Young University: Kate Thomas, track
Cal Poly San Luis Obispo: Sully O'Brien, football
Carnegie Mellon: Brian Bae, soccer
University of Chicago: Lauren Zhang, lacrosse
Colorado Mesa University: Savanna Liedy, triathlon
Cornell: Jordan Blitz, swimming
Duke University: Sophia LeRose, lacrosse and Hannah Zhao, tennis
Cal State Fullerton: Joey Magrisi, baseball
McKendree University: Matthew Rodriguez, volleyball
University of Michigan: Spencer Grant, lacrosse
Naval Academy: Makail Fabroni, lacrosse
North Carolina: Evan Egan, lacrosse
Northwestern University: Kiara McNulty, volleyball
Notre Dame: Jonathan Ford, lacrosse
University of Pennsylvania: Daniela Forniciari, volleyball
Point Loma Nazarene: Nik Speshilov, tennis
University of Richmond: Shayne Grant, lacrosse
Texas Christian University: Isabella Aguiar, cross country/track
Temple University: Santiago Majewski, soccer
Sacramento State: Jade Cany track and Wanda Deriot, gymnastics
San Diego State University: Arielle Shahrabani and Kelli McKinnon, lacrosse
Southeastern Louisiana: Chloe Gallo, soccer
UC Berkeley: James Song, golf; Ryan Poe, field hockey; Louis Bickett, football; Bailee Monjazeb, lacrosse
UC Los Angeles: Jaden Whitmarsh, beach volleyball
UC Santa Barbara: Jessica Wright, soccer
UC San Diego: Bri Severino, volleyball
University of Southern California: Kendall Burnett, baseball
University of San Diego: Finnian Sullivan, basketball
Virginia Military Institute: Genevieve Petrassi, water polo
Westmont College: Rachal Jackson, tennis
---
Get the Del Mar Times in your inbox
Top stories from Carmel Valley, Del Mar and Solana Beach every Friday for free.
You may occasionally receive promotional content from the Del Mar Times.