Tony-nominated Susan Egan works with CCA students for Rendezvous in Paris Gala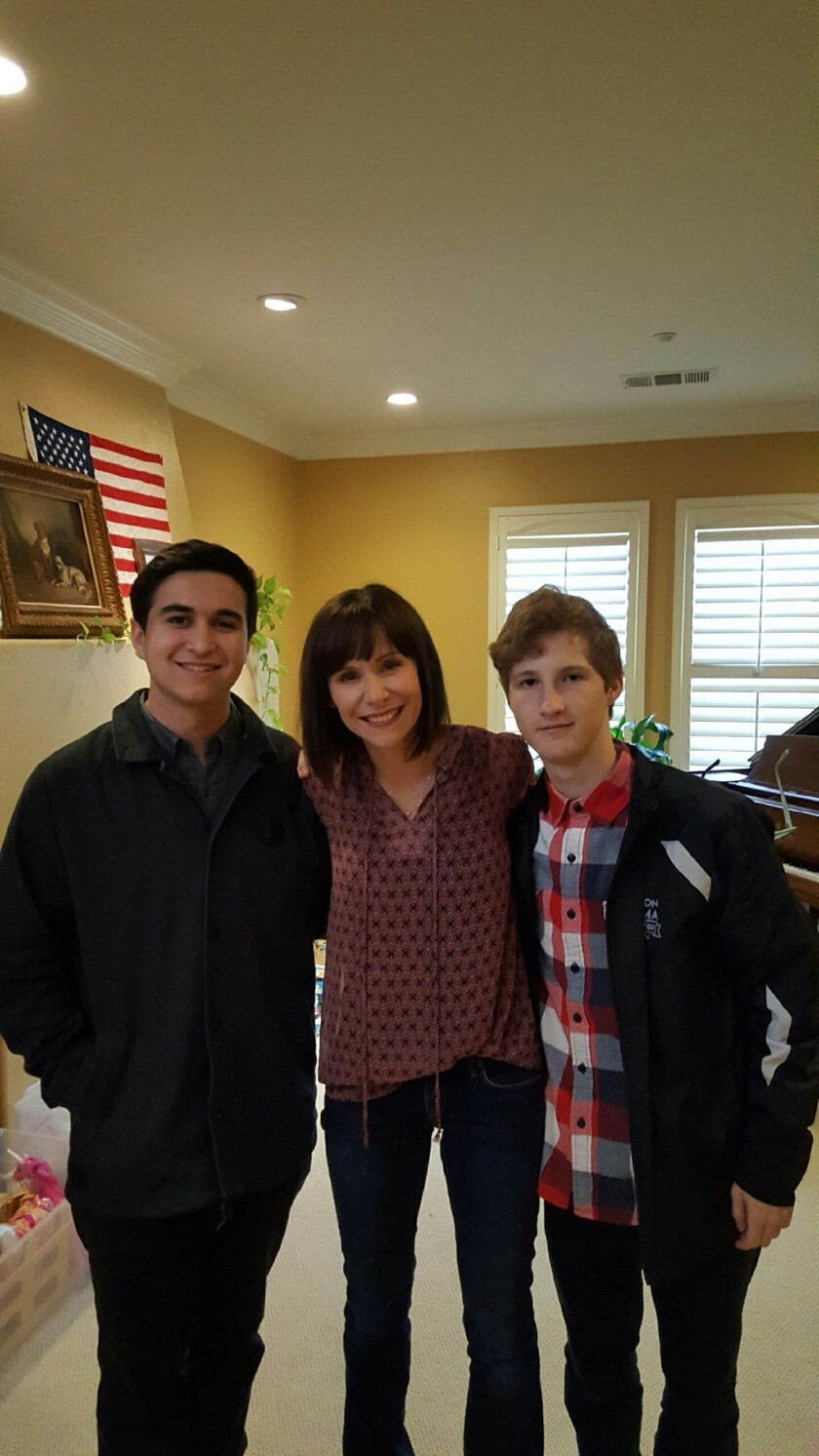 How many of us dreamed of being a princess? For Susan Egan, her dream came true on Broadway as Belle in Disney's Beauty and the Beast, and now she is headed to San Diego. Tony-nominated Broadway superstar Susan Egan, will be headlining the Canyon Crest Academy Foundation's Rendezvous in Paris Gala on Feb. 25. In preparation for the big event, two CCA Cinema students, Daniel Goodman and Christopher Razniak, volunteered for a learning experience of a lifetime: head to Orange County on a rainy Monday morning to shoot a promo video with Susan Egan.
Greeted with kindness and enthusiasm, Egan invited the students into her home. This was the first time the young filmmakers had worked with a professional performer, but also the first time the performer had been filmed by high school students. Egan was impressed with the professional equipment and training of the young director and filmmaker. The shoot was originally planned to be done outdoors, using natural light, but rainy conditions forced a move to the indoors, making lighting a challenge.
Once Egan tilted the blinds to just the right brightness, arranged the camera angle and tested the audio — they were ready. Promo video, take 1. …take 2. ..take 3. Perfect! That's it. The students will use the promo video footage as part of a student-produced video to be shown to the parents and staff at CCA's Back to School Night on Feb. 7.
Egan shared valuable information with the students — making sure they had the right lighting was one small piece of information they will not forget. The enrichment of CCA students will continue as Egan and 50 of CCA's finest singers and dancers prepare to take the stage on Feb. 25 for a performance, which will be staged and choreographed by Egan. The students are busy rehearsing a selection of Broadway's biggest hits, which they will perform with the Broadway star. Egan will attend rehearsal with the students, and work with them to create an experience that will broaden their educational and artistic experience, and ultimately result in a performance that will be central to the CCA Foundation's biggest annual fundraiser. The CCA Foundation's Executive Director, Joanne Couvrette, explained it like this, "Most schools hold their annual fundraisers off-campus, at a hotel or ballroom, adult-only affairs that are both costly and much removed from the students for whom they are fundraising. At CCA, we reject that model in favor of an event that centers on our students and our school."
Couvrette added that, "Our mission statement is to enrich the experience of every student, every day and what better way to do that than to use the gala fundraiser performance as an enrichment experience for our students."
According to gala chairs, Susan Jentzsch and Kimberly McSherry, Susan Egan has been very involved in the planning of the performance portion of Rendezvous in Paris, including selecting the music and working with the chairs to create a musical experience that will be both entertaining to the audience and educational to the students. Susan Egan will also be joining several other Broadway performers to teach a workshop to CCA Envision theater students in early February at the school.
Just like Scott Flower from Dolce, the gala after-party host, CCA continues to surround its students with community leaders, merchants and artists that enrich the lives of every student, every day.
This year's CCA Gala Rendezvous in Paris — featuring Susan Egan — will be held on Feb. 25. The event begins at 5 p.m. for dinner and live auction. Show time is 7:30 p.m.; the VIP After-Party follows immediately after the show and features a meet and greet with Susan Egan, dessert and bubbles. Tickets are available at ccagala.com.
The Canyon Crest Academy Foundation is a 501(c)(3) organization providing fantastic opportunities across academics, athletics, and the arts, and creating an environment where students can thrive. The mission of the foundation is to enrich the experience of every student every day.
---
Get the Del Mar Times in your inbox
Top stories from Carmel Valley, Del Mar and Solana Beach every Friday for free.
You may occasionally receive promotional content from the Del Mar Times.